EXPLAINER
How Career Guidance Can Improve Job Prospects for Young People
Published:
10 January 2018
Employment outcomes for young people can be maximized with career guidance and employment services.
Introduction
What you need to know
Many young people, particularly those from poor and disadvantaged backgrounds, struggle to find stable employment because they lack guidance and information on the demands of the labor market. They include those who are attempting to move from farm to off-farm employment in order to earn more and diversify their sources of income.
One way to improve labor market outcomes for young people is to provide them with career guidance and employment services.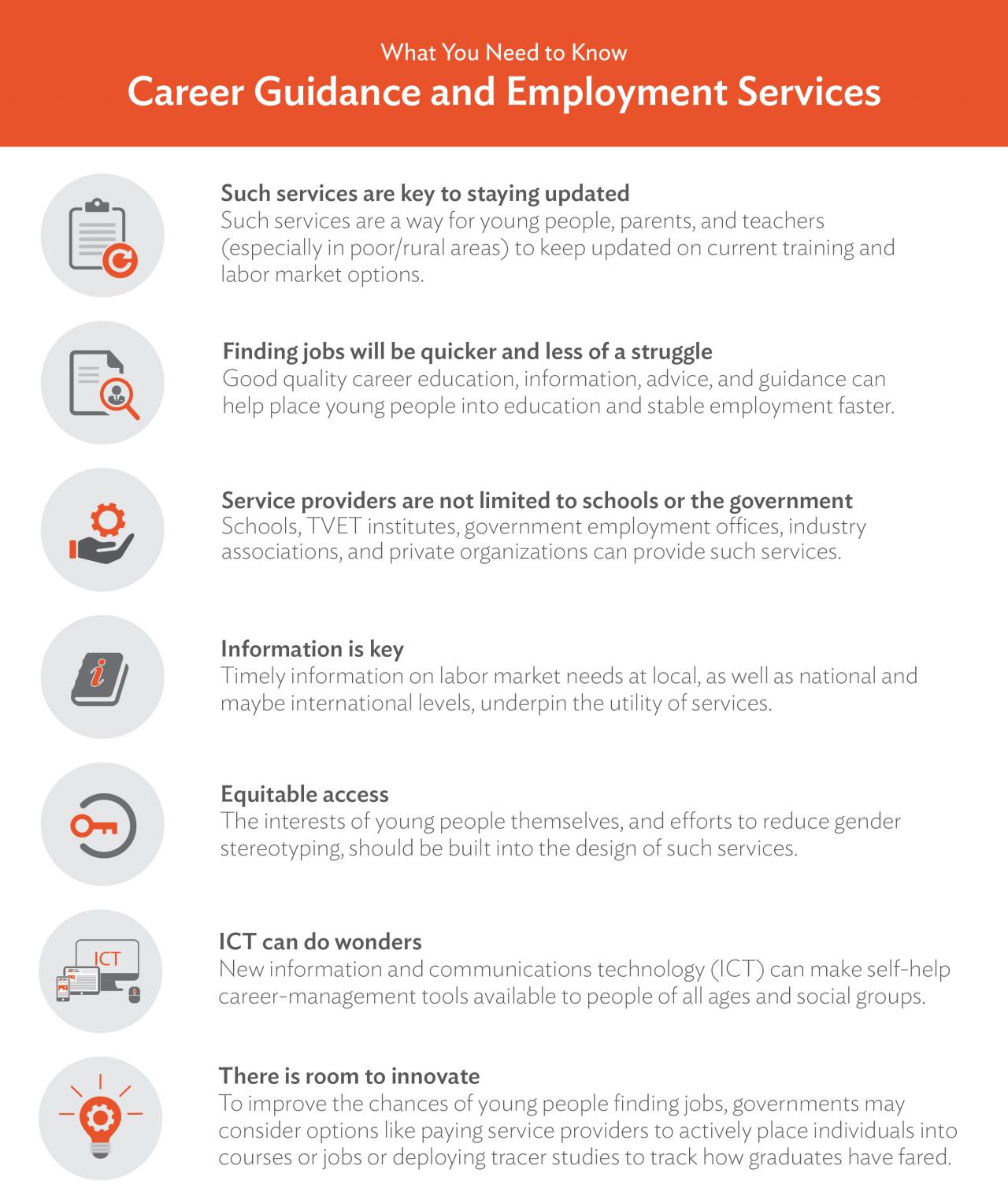 Defining career guidance and employment services
The Organisation for Economic Co-operation and Development (OECD) defines career guidance "as the services and activities intended to assist individuals, of any age and at any point throughout their lives, to make educational, training and occupational choices and to manage their careers."
Such services, OECD said, may be found in schools, universities and colleges, in training institutions, in public employment services, in the workplace, in the voluntary or community sector and in the private sector. The activities may include career information provision, assessment and self-assessment tools, counseling interviews, career education programs, "taster" programs that allow job-seekers to sample options before making a decision, work search programs, and transition services.
The International Labour Organization (ILO), in a 2006 handbook on career guidance, noted research by the OECD, the World Bank, the European Centre for the Development of Vocational Education and Training and the European Training Foundation, confirming the importance of career guidance, counseling, and information in helping achieve three goals:
lifelong learning;
improved labor market outcomes, including reducing mismatches between labor supply and demand; and
social equity and social inclusion.
Career advice and employment services support the aspirations of young people from poor and disadvantaged backgrounds in attaining stable employment, which the ILO defines as being employed for more than 12 months.
Career advice and support services should shorten the length of time to transition from school to further study and then into employment. In parts of Asia and the Pacific, a large number of young people find themselves looking for jobs for more than a year. In Bangladesh, they account for 45.3% of young job seekers and in Nepal, they account for 31.2%.  The long wait opens them to the risk of their skills becoming obsolete, financial loss, and developing low self-esteem. And the longer the wait, the lower the chances of finding stable jobs.
Unemployed youth by job search duration (%) 
| Duration | Bangladesh | Cambodia | Nepal | Samoa | Viet Nam |
| --- | --- | --- | --- | --- | --- |
| Less than 1 week |   | 12.1 | 2.5 |   | 6.7 |
| 1 week to less than 1 month | 14.31 | 16.4 | 24.6 | 46.33 | 15.5 |
| 1 month to less than 3 months |   | 32.6 | 20.7 |   | 38.9 |
| 3 months to less than 6 months | 25.22 | 7.7 | 10 | 27.4 | 26.9 |
| 6 months to less than 1 year | 15.2 | 14.5 | 11 | 9.4 | 4.7 |
| 1 year or more | 45.3 | 16.8 | 31.2 | 16.9 | 7.2 |
Stage 1: Transition from School to Further Study
High-quality advice and guidance are essential if young people are to make informed decisions on what course to take and where to take it when they leave secondary school.
Ways to help school-leavers find the right course
Where to find ideas
Stage 2: Transition from Study to Work
The transition from study to work can be "make-or-break" for anyone. Taking too long to secure a job can lead to financial hardships and loss of confidence that is hard to overcome—both for new entrants to the labor market and for more experienced workers who are changing jobs.
Ways to help young people to find stable employment
Job seekers need to know about skills in demand in different sectors, where and when job vacancies are occurring and the career pathways open to them;
Students need access to potential employers with an interest in their skill-set.
Guided reflection on personal circumstances may impact the jobseeker's decision, e.g. work experience, qualifications and specialized subjects, core skills, earning expectations, preferred working location and environment. Counselors can also help job-seekers search for jobs, draw up their curriculum vitae, and prepare for interviews and how to negotiate their salary package. They can also set up online job-matching services and job fairs.
Where to find ideas
What you need to do
Setting Up Programs and Resources
To determine what kind of interventions are needed, a checklist of what resources and programs are already in place may be useful. The checklist should help governments identify whether they already have a system of employment services and career counseling in place and identify the areas where they may be lacking.
The checklist should help countries determine if they have the following resources and services: trained and certificated career guidance practitioners, ICT tools for counseling, guidance and job-matching services, up-to-date and reliable career guidance information from employers, employment and career guidance services for learners and workers of all ages, employment and career guidance services for members of all social groups, and up-to-date local, national, and international labor market information informing guidance services.
Here are some pointers on how to set up successful career guidance and employment services:
Practical Considerations
Finding a job fast and keeping it requires five key factors:
Resources
C. Howieson and S. Semple. 2013. The Impact of Career Websites: What's the Evidence? British Journal of Guidance and Counselling 41:3, 287–301, DOI: 10.1080/03069885.2013.773960.
European Training Foundation. 2009. In Demand: Career Guidance in EU Neighbouring Countries. Turin. 
ILO. 2006. ILO Career Guidance: A Resource Handbook for Low- and Middle-Income Countries. Geneva.
ILO. 2014. Labour Market Transitions of Young Women and Men in Asia and the Pacific. Geneva.
JPMorgan Chase. 2016, Swiping Right for the Job: How Technology Is Changing Matching in the Workforce. New York.
Related Links
Explainer: Five Innovative Ways to Produce Job-Worthy Graduates
Summary: Job Hunting in the Digital Age
Insight: Key Policies to Get Young People Engaged in Social Development
Other TVET topics
Explainer: Creating Centers of Excellence to Fill Critical Skills Gaps
Explainer: Work-Based Learning for Skills Development
Explainer: Preparing TVET for the Digital Age
Leave your question or comment in the section below:
---
YOU MIGHT ALSO LIKE
---
---
Disclaimer
The views expressed on this website are those of the authors and do not necessarily reflect the views and policies of the Asian Development Bank (ADB) or its Board of Governors or the governments they represent. ADB does not guarantee the accuracy of the data included in this publication and accepts no responsibility for any consequence of their use. By making any designation of or reference to a particular territory or geographic area, or by using the term "country" in this document, ADB does not intend to make any judgments as to the legal or other status of any territory or area.
---
Was this article useful?
---