POLICY BRIEF
Strengthening India's MSMEs during Pandemic Recovery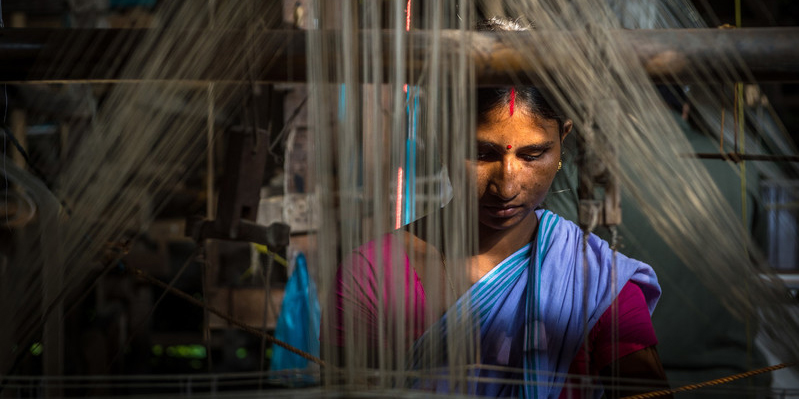 Published:
17 January 2022
Enhancing the competitiveness and sustainability of small businesses requires sustained reforms that include digitalization and innovation.
Introduction
Micro, small, and medium-sized enterprises (MSMEs) have been key contributors to inclusive growth and in creating sustainable livelihood in semi-urban and rural India. In 2015–2016, 63.4 million MSMEs employed 111 million workers, making the sector the second-largest employer after agriculture. MSMEs contributed around 30% to the country's gross domestic product (GDP) and about 40% to exports in 2018–2019 (Government of India, Ministry of Micro, Small and Medium Enterprises 2019; Government of India, Ministry of MSME 2015; and India Brand Equity Foundation 2013).
However, the COVID-19 pandemic severely disrupted production, logistics, and supply chains. The decrease in consumer demand in the domestic and export markets amplified the challenges faced by MSMEs.
India has taken pandemic recovery initiatives that strengthen the MSME ecosystem in India, improve cluster competitiveness, support women-led MSMEs, and promote exports. According to the Reserve Bank of India Expert Committee on MSMEs, these require sustained reforms in the following pillars: (i) integrated cluster infrastructure development; (ii) access to finance; (iii) skills training; (iv) product diversification; (v) marketing and branding; (vi) access to technology and digital tools; and (vii) institutional and regulatory support.
The Asian Development Bank (ADB) publication Enhancing Competitiveness and Productivity of India's Micro, Small, and Medium-Sized Enterprises during Pandemic Recovery discusses the key challenges faced by India's MSMEs and recommendations for each pillar and highlights the best practices.
Context
The nationwide lockdown between April and June 2020 hampered production and logistics supply chains of MSMEs. Unsold inventory, order cancellations, and lost sales opportunities increased, with around 73% of MSMEs reporting a drop in orders. About 40% attempted to borrow to survive as liquidity constraints grew due to delays in payments and continued outflows on wages, rents, and other fixed costs.
Women-led enterprises, which make up around 20% of MSMEs, were disproportionately affected by the pandemic due to the increase in unpaid work. Worst hit were sectors with high participation of women, such as personal services, beauty, textiles, and food processing. Prevailing gender-based digital divides prevented women's access to online marketplaces.
The Government of India has offered a special economic relief package worth 20,000 billion Indian rupees (approximately $271 billion). Called the Atma Nirbhar Bharat Abhiyan, it offers financial assistance to MSMEs, which includes a INR3,000-billion (about $40.6 billion) scheme for collateral-free automatic loans to 4.5 million businesses, INR500 billion (about $6.8 billion) for equity funding, and INR200 billion (about $2.7 billion) for distressed MSMEs through subordinate debt and equity infusion.
In October and November 2020, additional stimulus measures were announced under the relief package to boost job creation, consumer spending, and incentivize selected sectors. Other regulatory measures included (i) insulating MSMEs from insolvency proceedings by increasing the threshold from INR100,000 million to INR10 million, (ii) expediently issuing pending income tax refunds of small businesses, and (iii) permitting restructuring of MSME loans. The minister of finance also announced that a special framework for MSME debt resolution will be introduced to ensure faster disposal of cases in 2021–2022.
Challenges
MSMEs in India faced difficulties even before the COVID-19 pandemic. Dominated by micro enterprises, the sector lacks the scale, experience, and resources to stay abreast of latest technology, manufacturing processes, and business management practices. Insufficient local support for incubation of MSMEs, lack of guidance on entering new markets, and policies that disincentivized scaling up have prevented businesses from attaining their full potential.
Policy Recommendations
The Reserve Bank of India Expert Committee on MSMEs has recommended policy measures for developing an enabling ecosystem for enhancing competitiveness and sustainability of MSMEs. These initiatives require a medium-term reforms agenda based on seven pillars.
Conclusion
The COVID-19 crisis has prompted India's MSMEs to repurpose production lines, diversify supply chains, and borrow to meet working capital requirements. Pandemic recovery requires reforms toward an efficient manufacturing ecosystem that will enable greater digital service delivery, connect MSMEs with global value chains, and minimize market failures associated with digital transactions.
Robust institutional support at district and block levels is key to delivering on this reform agenda, so that the intended policies can enable growth of MSMEs located not only in large cities but also in semi-urban and rural areas.
---
Resources
A. Biswas. 2015. Impact of Technology on MSME Sector in India. EPRA International Journal of Economic and Business Review. 3 (2).
G. Balachandar. 2020. Adopting Digital Tools to Survive, Stabilize and Surge. The Hindu BusinessLine. 26 June.
Global Alliance for Mass Entrepreneurship. 2020. Improving Economic Dynamism and Accelerating MSME Growth.
Government of India. 2021. Speech of Nirmala Sitharaman, Minister of Finance.
Government of India, Ministry of Commerce and Industry. 2020. Press release. 16 September.
Government of India, Ministry of Finance. 2019. Nourishing Dwarfs to Become Giants: 03 Reorienting Policies for MSME Growth. In Economic Survey 2018–19. New Delhi.
Government of India, Ministry of Ministry of Micro, Small and Medium Enterprises website.
Government of India, Ministry of MSME. 2019. Annual Report, 2018–19.
Government of India, Ministry of MSME. 2020. Annual Report, 2020-21.
Government of India, Ministry of MSME. 2015. Udyog Aadhaar.
Government of India, Ministry of Statistical Office and Programme Implementation. 2020. Periodic Labour Force Survey Annual Report.
Government of India, Ministry of Textiles 2020. Press release. 18 September.
Grant Thornton. 2011. Vision 2020: Implications for MSMEs. New Delhi.
India Brand Equity Foundation. 2013. MSMEs and the Growing Role of Industrial Clusters.
KPMG and Confederation of Indian Industry. 2015. The New Wave of Indian MSME. New Delhi.
Reserve Bank of India. 2019. Report of the Expert Committee on Micro, Small and Medium Enterprises.
S. Mitra, K. Gupta, and M. Nikore. 2021. Enhancing Competitiveness and Productivity of India's Micro, Small, and Medium-Sized Enterprises during Pandemic Recovery. Manila: Asian Development Bank.
United Nations Department for Economic and Social Affairs. 2020. MSMEs and Their Role in Achieving the Sustainable Development Goals.
Leave your question or comment in the section below:
---
YOU MIGHT ALSO LIKE
---
---
Disclaimer
The views expressed on this website are those of the authors and do not necessarily reflect the views and policies of the Asian Development Bank (ADB) or its Board of Governors or the governments they represent. ADB does not guarantee the accuracy of the data included in this publication and accepts no responsibility for any consequence of their use. By making any designation of or reference to a particular territory or geographic area, or by using the term "country" in this document, ADB does not intend to make any judgments as to the legal or other status of any territory or area.
---
Was this article useful?
---