EXPLAINER
How Can Asia Reignite Its SME Growth Engine through Trade?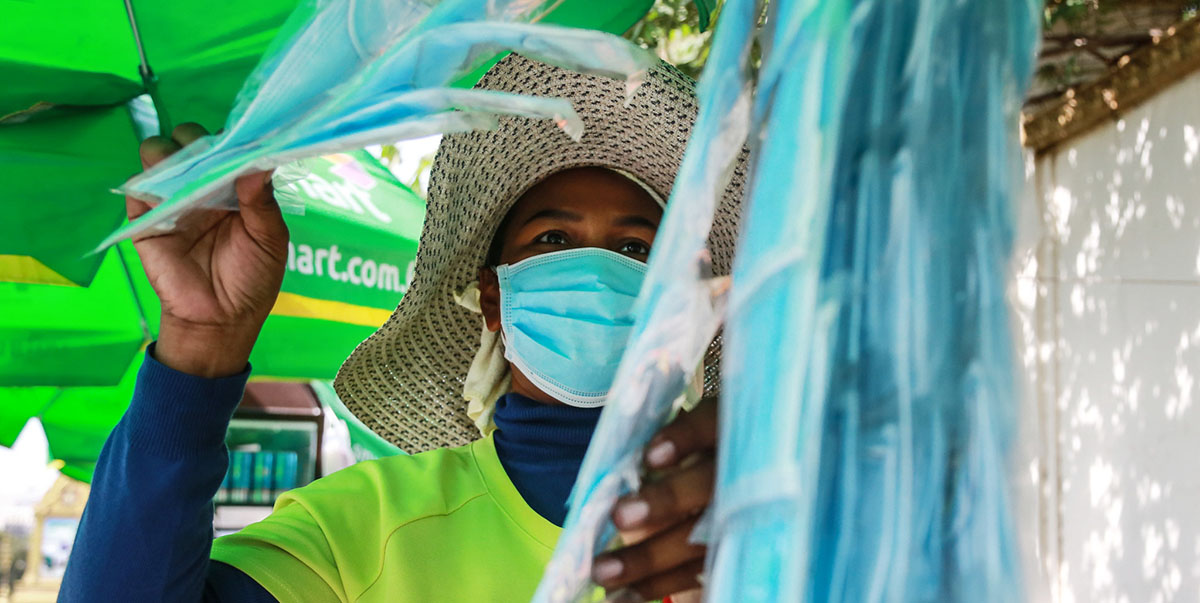 Published:
07 April 2021
Enable small and medium-sized enterprises to become part of global value chains to revive economies and promote inclusive growth after COVID-19.
Introduction
Small and medium-sized enterprises (SMEs) account for the majority of businesses and employment in Asia and the Pacific's developing economies. Reigniting the region's SME growth engine via trade will be key to advancing inclusive economic recovery and resilience in the face of the coronavirus disease (COVID-19) pandemic.
Increasing SME engagement in global value chains is particularly challenging during the COVID-19 crisis. Yet there are also significant cross-border production and supply chain opportunities for SMEs, such as the potential to help meet the demand for face masks.
This explainer is adapted from a podcast interview with Waseda University professor emeritus and Asian Development Bank Institute (ADBI) visiting fellow, Shujiro Urata. The discussion draws upon a new book that he edited, Enhancing SME Participation in Global Value Chains: Determinants, Challenges, and Policy Recommendations. The interview is part of the ADBI podcast series, Asia's Developing Future.
Why is SME development and participation in international trade still so important for economies in the region?
SMEs have an important role in spurring economic activities in Asia and the Pacific. They account for more than 90% of firms, 60% to 70% of employment, and more than 50% of production in many countries.
Successful development of SMEs contributes to the economic growth of a country in various ways. For example, SMEs support large firms by supplying parts and components to them. Innovative SMEs are also an important source of economic dynamism.
Many studies have found that internationalization offers many benefits to SMEs. For example, through internationalization of their activities, SMEs can obtain not only advanced technology from foreign countries but also high-quality parts and components. Furthermore, internationalization enables SMEs to expand their business in big foreign markets.
What are global value chains and how can they support SME growth?
Global value chains, or GVCs, refer to international production sharing. That is a phenomenon where production is broken into activities and tasks carried out in different countries. It may be easier to understand GVCs by using an example.
Think about automobile production, which requires more than 20,000 parts and components, including engines, steering wheels, air conditioning units, and electrical parts. In GVCs, parts and components are produced in different countries where these can be produced at the lowest cost. These parts and components are then delivered to a place or country for final assembly. The assembled automobiles are sold in the local market or exported to other countries.
GVCs have been developed and managed by multinational corporations (MNCs). These involve not only foreign affiliates of MNCs but also local firms. According to an estimate, GVC-related foreign trade accounts for approximately 80% of global trade. For SMEs, GVCs provide an easier way to engage in international trade. SMEs can take part in one task or process in the GVC and do not need to have an entire production process.
How is the COVID-19 crisis impacting SME capacity to participate in GVCs?
SMEs have been experiencing supply and demand shocks because of the crisis. Supply shock comes from the shortage of materials and parts, while demand shock comes from the decline in demand for their products. A shortage of imported materials and parts, on the one hand, and a decline in export demand, on the other hand, have made it difficult for SMEs to remain in GVCs. Their survival and continued participation in GVCs depend mostly on the availability of financial resources.
While the business environment for SMEs has been very difficult because of the pandemic, new opportunities for their participation in GVCs have emerged for various products because MNCs have diversified their GVCs. A case in point is health products, such as face masks. Faced with a sharp increase in demand, MNCs have become very active in looking for firms, including SMEs, that can supply face masks.
There are two major obstacles for SMEs to participate in GVCs for face masks. One is difficulty in producing masks that meet safety and health standards. And the other is a lack of financial resources to install new machines and equipment. Policy support could be very helpful for SMEs to overcome these obstacles.
What are other overarching barriers to increasing their participation in GVCs during the pandemic?
Lack of technical capability and shortage of human and financial resources are the primary barriers for SME participation in GVCs. MNCs look for high technical capability in suppliers of high-quality parts and components. In order to have high technical capabilities, SMEs need skilled human resources and sufficient amounts of financial resources.
Another serious barrier for SMEs is they lack information on possible opportunities for GVC participation. This problem is due to the absence of extensive networks by SMEs.
What is the progress of policy efforts to address these challenges?
Governments in Asia and the Pacific realize the importance of SMEs and their participation in GVCs not only for SME development but also for the development of their countries. Because of this, many governments have formulated and introduced various policies to support SMEs. Specifically, technical assistance and financial assistance have been given to SMEs in various forms, such as the provision of technical training and low-interest loans.
One serious problem is a lack of effectiveness of these policies. This may be due to at least two factors; one is inappropriate policies, and the other is a lack of effective implementation of the policies. To formulate appropriate policies, the government needs to understand the problems faced by SMEs by communicating with them. To solve the problem of implementing policies, the government needs to monitor and evaluate implementation.
How can new trade breakthroughs be achieved within the sector?
Aside from policies to increase participation in GVCs by dealing with the problems intrinsic to SMEs, government should improve the business environment. Liberalize trade and investment policies in order to establish a free and open environment that gives SMEs great opportunity to participate in GVCs. This may be achieved through free trade agreements (FTAs).
Two mega FTAs, the Comprehensive and Progressive Trans-Pacific Partnership or CPTPP and the Regional Comprehensive Economic Partnership or RCEP, have been enacted and signed in the region. Membership in these FTAs is recommended. Membership should include all Asia and the Pacific countries and economies.
How can SME trade be strengthened further amid the pandemic?
With the prospect of a prolonged COVID-19 pandemic, the possible emergence of new infectious diseases, and the advancement of digital transformation, electronic commerce (e-commerce) is likely to increase in importance in business, particularly for participating in GVCs. SMEs should learn how to use e-commerce to increase their business opportunities.
Resources
Asian Development Bank Institute. 2020. How Asia Can Boost Mask Production and Reignite Its SME Growth Engine through Trade. Asia's Developing Future. Podcast. 9 March.  
S. Urata, ed. 2021. Enhancing SME Participation in Global Value Chains: Determinants, Challenges, and Policy Recommendations. Tokyo: Asian Development Bank Institute.
Leave your question or comment in the section below:
---
YOU MIGHT ALSO LIKE
---
---
Disclaimer
The views expressed on this website are those of the authors and do not necessarily reflect the views and policies of the Asian Development Bank (ADB) or its Board of Governors or the governments they represent. ADB does not guarantee the accuracy of the data included in this publication and accepts no responsibility for any consequence of their use. By making any designation of or reference to a particular territory or geographic area, or by using the term "country" in this document, ADB does not intend to make any judgments as to the legal or other status of any territory or area.
---
Was this article useful?
---