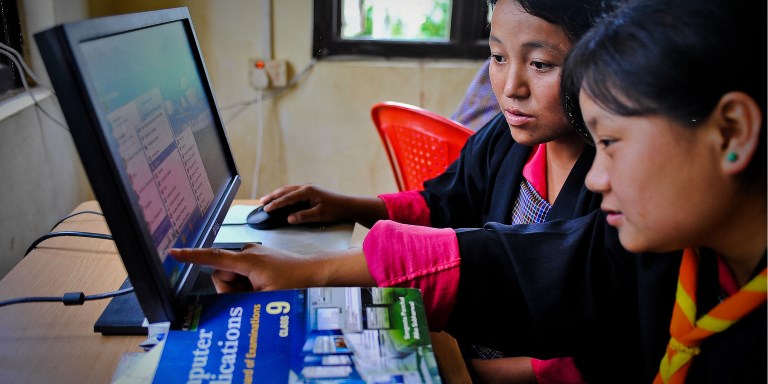 Published:
28 November 2017
Skills urgently needed in today's high-tech working environment are best acquired in technology-enabled settings.
Introduction
What you need to know
Information and communications technology (ICT) brings both challenges and opportunities to technical and vocational education and training (TVET).
Digital technologies have changed how organizations work, creating new jobs and replacing others. For workers, this means reskilling themselves in order to thrive in a high-tech working environment. For educators, this means integrating ICT in skills development, not just in the course materials but also in course delivery.
Technology can make it easier to deliver TVET to more people. More than 80% of the youth population are now online. Students can use their own digital devices to access courses through the internet. Skills for technology-oriented jobs are also best acquired in a high-tech learning environment.
However, many challenges remain for countries without reliable electricity, computers and internet connectivity, and where teachers are unable to use technology in their teaching. There is a danger that ICT will widen the gap between rich and poor, unless policymakers and educators can accommodate learners with poor computer literacy or lack access to digital devices.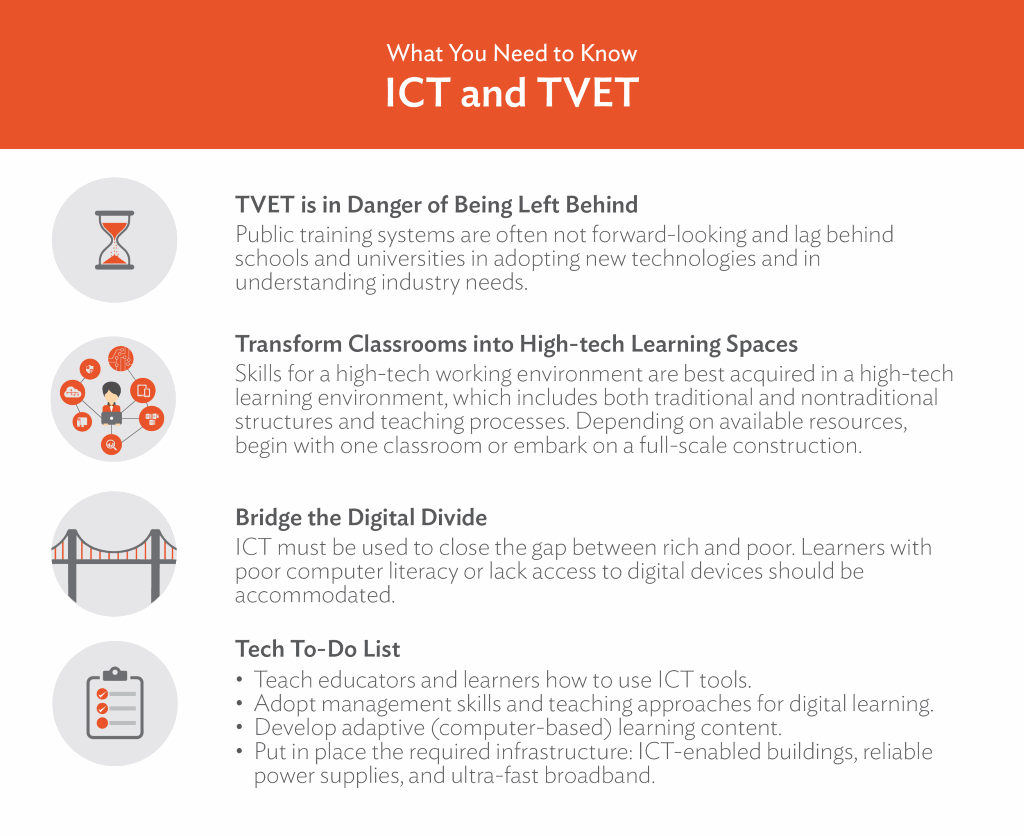 Four Steps to Take in Integrating ICTs in TVET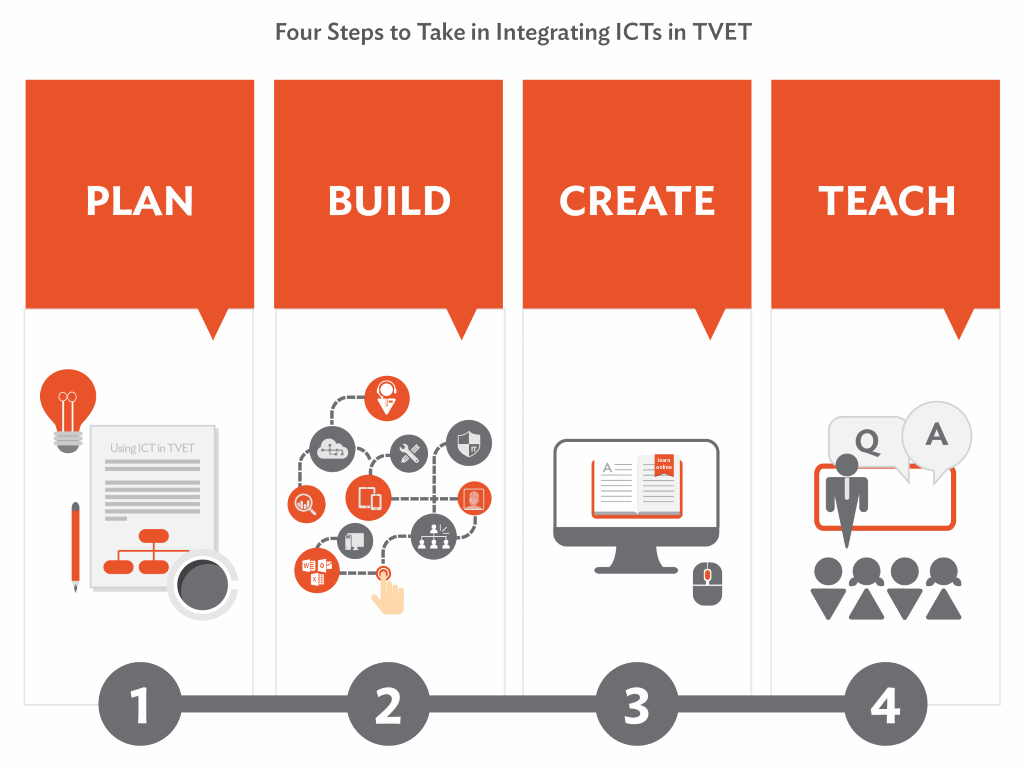 Step 1: Plan for technology enabled learning
Digitalization influences labor markets, job profiles and the way countries envision their education and training systems of the future.  Plans for ICT usage need to take account of training for new sectors, training for new jobs, and the impact of technology on existing jobs. Retraining and upskilling will be critical elements of the plans to make workers resilient to labor market changes, will require close collaboration with industry, and will impact on learning resources and teacher competency.
Step 2: Build smart buildings, outfit new laboratories, update old facilities
The following examples show how starting with small steps, collaborating among institutions, and partnering with the private sector can help create a digital learning environment.
Step 3: Create courses and materials for digital delivery
It is important to take stock of existing multimedia and ICT-enabled resources, and establish an online repository.
Step 4: Teach for the new learning environment
The task is to find and deploy competent, confident teachers to deliver learning in a digital environment.
What you need to do
Here's a list of questions to help countries identify issues and potential problems in implementing ICT-enabled learning.
Key Success Factors in Introducing Digital Learning in TVET
Successful introduction of digitalization is more likely if there is
a holistic approach, so that technology in TVET institutions is an integral part of a wider digital strategy with compatible technology at all levels of education;
use of public-private or public-public partnerships to create a vision and raise funds for the introduction of new technology;
future-preparedness and adaptability of facilities and equipment to prevent them from becoming obsolete and to allow for the incorporation of new technology;
blurring of the distinction between formal and informal learning, inclusion of technologies that do not require literacy (e.g., radio and videos), and local language content; and
teacher and manager training to maximize the use of new technology and the adaptation of teaching materials for ICT-enabled delivery.
Many developing countries will prefer to make a gradual transition to ICT-enabled learning, using technology to ensure wider access, more competent teachers, and better labor market forecasting. Countries just beginning the digital journey may adopt low-cost measures, e.g., allowing access to open educational resources online, placing existing text and presentations online, or producing videos demonstrating technical and behavioral competences.
Those countries that are further along the path may implement high-cost measures, such as building smart infrastructure with data-gathering devices, supporting personalized learning, and producing online programs.
Whatever stage a country is in, it is important that its approach to digitalization of TVET is coherent across institutions, compatible with other parts of the education sector, and an integral part of a comprehensive human resources development policy.
Resources
The list below provides further information and examples to assist planning and implementation.
Related Links
Explainer: Blended Learning and e-Learning, Explained
Case Study: How Funzi is Giving Millions Access to Quality Education
Case Study: Pulling Together Resources to Power Classrooms with Technology
Summary: Reshaping the Future of Education
Summary: Five Ways to Use Technology to Improve Education
Insight: Five Ways to Use Information and Communication Technology for Education
Insight: A Successful Example of How to Shift to Cyberlearning
Other TVET topics
Explainer: Creating Centers of Excellence to Fill Critical Skills Gaps
Explainer: Work-Based Learning for Skills Development
Explainer: How Career Guidance Can Improve Job Prospects for Young People
Leave your question or comment in the section below:
---
YOU MIGHT ALSO LIKE
---
---
Disclaimer
The views expressed on this website are those of the authors and do not necessarily reflect the views and policies of the Asian Development Bank (ADB) or its Board of Governors or the governments they represent. ADB does not guarantee the accuracy of the data included in this publication and accepts no responsibility for any consequence of their use. By making any designation of or reference to a particular territory or geographic area, or by using the term "country" in this document, ADB does not intend to make any judgments as to the legal or other status of any territory or area.
---
Was this article useful?
---