SUMMARY
Five Ways to Use Technology to Improve Education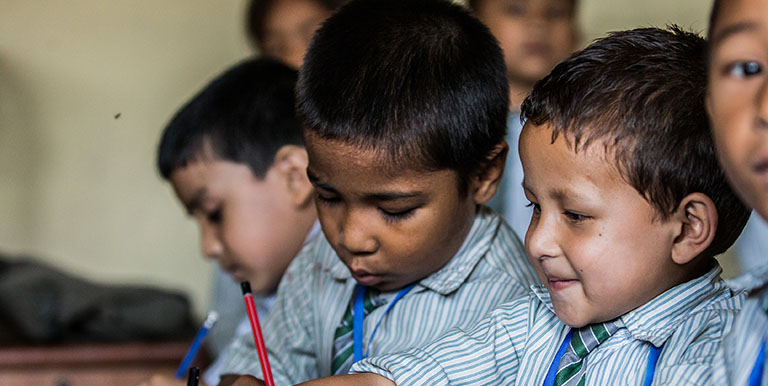 Published:
13 March 2018
Nepal is transforming its education system using information and communications technology.
Overview
Nepal is heavily investing in its education system, in support of the country's bid to achieve the Sustainable Development Goal 4: "Ensuring equitable and inclusive quality education and promoting life-long learning opportunities for all."
Primary school enrollment in Nepal has been increasing since the 1990s. The quality of education, however, remains low, as are secondary school completion rates. Inadequate training for teachers, lack of appropriate learning materials, and insufficient support at home prevent children from developing reading skills in the early grades that will allow them to learn throughout their academic career.
Nepal's School Sector Development Plan 2016-2023, supported by ADB, was designed to improve access, equity, and quality of the entire school education system. The plan includes the adoption of information and communication technology (ICT) to improve the quality and relevance of education in Nepal. Among the targets is the establishment of 1,000 model schools with improved learning environment, including the provision of ICT facilities.
In October 2017, education experts explored ways to strengthen ICT in the target schools and classrooms and discuss potential ICT options for enhancing education outcomes at a workshop organized by the Government of Nepal and ADB. The workshop identified ICT interventions that can lead to better returns for the students and teachers.
Key Findings
In Nepal, more than 4,000 schools now have access to the Internet, but many students remain unaware of its potential to advance their education and aspirations. Currently, a growing number of experiments and innovations on introducing ICT in the classroom are being implemented in Nepal in a bid to ensure equitable access to and quality of education for all by 2022. Among the innovations made in introducing ICT in Nepal's classrooms are:
Conclusions
Educators in the workshop believe that technology can play a big role in addressing the challenges in Nepal's education system. While there have been several ICT-for-education interventions, most were project based and consequently stopped when the project ended or were fragmented.
Two major factors that affect the delivery of ICT for education services are power supply and connectivity. In Nepal, both these utility services are not readily available outside main urban areas.
More schools need to be connected to the grid or alternatives such as solar power should be considered to advance the ICT for education interventions. Meanwhile, the government is issuing more licenses for wireless broadband services to increase internet speed, which currently only averages 128 to 512 kbps.
Teacher training on ICT use in the classroom is also necessary, including exposure to ICT-based interactive instructional design.
Resources
Report: Supporting Nepal's School Sector Development Plan: The Role of ICT
Case Study: Removing Roadblocks to Trade
Case Study: A Single Approach is Not Enough to Help Poor, Rural Women
Summary: Three Steps to Help Women Have More Say in Local Government
Leave your question or comment in the section below:
---
YOU MIGHT ALSO LIKE
---
---
Disclaimer
The views expressed on this website are those of the authors and do not necessarily reflect the views and policies of the Asian Development Bank (ADB) or its Board of Governors or the governments they represent. ADB does not guarantee the accuracy of the data included in this publication and accepts no responsibility for any consequence of their use. By making any designation of or reference to a particular territory or geographic area, or by using the term "country" in this document, ADB does not intend to make any judgments as to the legal or other status of any territory or area.
---
Was this article useful?
---