INSIGHT
How to Minimize Losses from Pandemics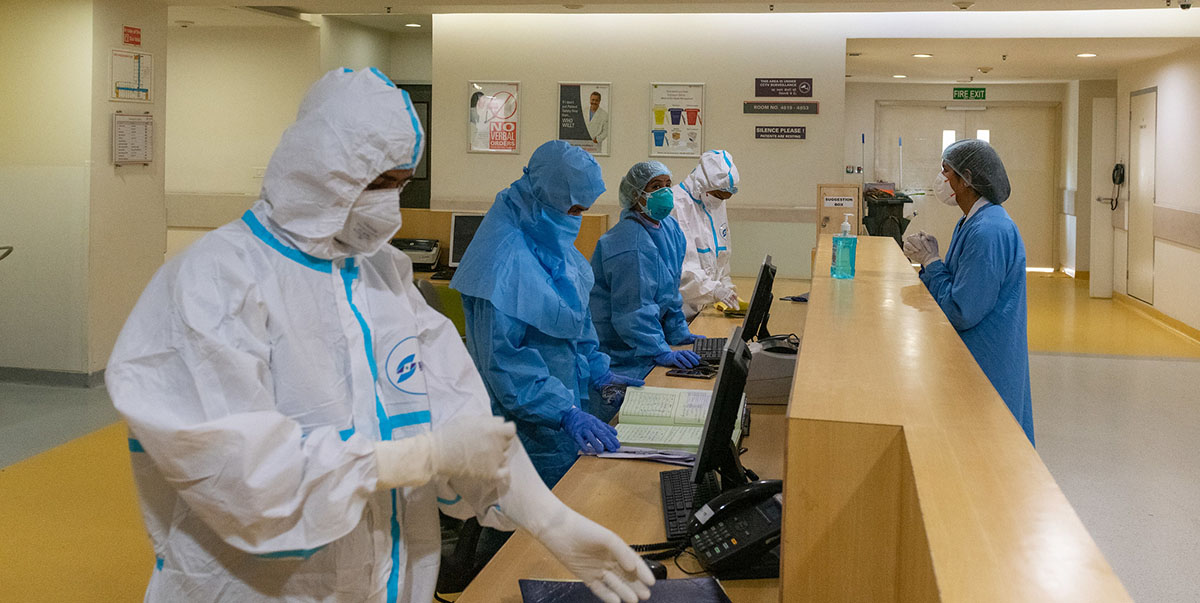 Published:
27 August 2021
Proactive government policies and strong institutions help reduce the human and economic costs of COVID-19.  
Introduction
The coronavirus disease (COVID-19) pandemic started as a public health concern but swiftly progressed into a major social, economic, and humanitarian crisis. With the emergence of new variants, COVID-19 will continue to stress health systems around the world. Policymakers face the dilemma of whether to maintain stringent containment measures or relax them to lower the socioeconomic losses.
Proper government policies and strong institutions are needed to manage costs and trade-offs effectively and enhance pandemic preparedness and response.
Analysis
The costs of a pandemic arise from two sources. First is the direct morbidity and mortality cost and related indirect costs. Next is the socioeconomic costs associated with containing the disease.
Countries need to take different approaches in managing these two. The poor are more likely to incur the consequences specially in the lack or absence of social protection or insurance.
Planning to prevent pandemics is not easy. They can occur anywhere in any form. Strong institutions and well-trained staff are therefore necessary for executing efficient, decisive, and quick response to outbreaks. Involvement of multiple stakeholders at different levels is also vital. To be effective, systems, procedures, and protocols for action should be determined prior to the occurrence of a crisis. There should be clear demarcation of authority (such as who should do what, at what level, and how) to avoid confusion and disagreements when executing a rapid response plan.
Most epidemics are caused by zoonotic (animal-borne pathogens) diseases. As such, farmers and farming communities are most likely to be immediately infected. Raising awareness among these communities and improving the capacity of public health officials to identify and contain the early stages of pandemics are the first steps toward handling outbreaks. There should also be an awareness of the synergies or the subsequent responses from regional, national, and the global level for proper coordination of tasks or processing of assessments.
As pandemic containment measures can lead to large economic and social costs, a clear understanding of the morbidity and mortality risks and the rate at which the virus spreads are important for strategic decision making. Implementation by various countries clearly shows that proper risk assessments can help save lives. For example, Italy and Spain delayed their lockdown measures at the onset of COVID-19. As a result, they were unable to control the escalation of cases in the initial stages, resulting in higher casualties.
Effective and clear communication of risk assessments and containment actions at different phases of the pandemic, and at different geographical levels, are very important in controlling the spread of a disease. The wider use of social media can also facilitate the spread of misinformation. To avoid confusion and disharmony due to false information, different lines of official communication channels must be used to keep communities better informed.
The ability of a country to respond to a disaster effectively depends largely on its fiscal capacity. Countries with sufficient funds can cushion the impacts of an adverse shock and can immediately facilitate recovery efforts. With weak public ­finance, there is the tendency to increase taxes and reduce spending during economic downturns, which is not helpful in recovery efforts. A long-term perspective in financial planning is needed to build stability so that countercyclical spending patterns—saving when an economy is expanding and spending more during downturns—can be practiced. 
Political considerations and lobbying from different interest groups can prevent countries from saving during expansionary periods. Fiscal authorities in many countries regulate government spending by imposing fiscal or debt targets. Maintaining these targets are more difficult in economic downturns as with contractionary economic activities as tax revenues fall and expenses increase. This restricts the ability of a country to spend more during a recession. More than 90% of developing countries adopt procyclical spending patterns, which result in fiscal instability.
Recommendations
Preparedness can reduce the socioeconomic costs of a disaster. Building the capacity of government institutions to efficiently implement long-term strategies must be prioritized. Strong or stabilized institutions can lead pandemic or disaster response even in a challenging political environment.
Relief and rehabilitation functions must be mainstreamed into the disaster response framework. Since there are different institutions involved, the integrated response mechanism can be established by combining or linking resources through committees. This can improve the coordination of activities and reduce the overlap in roles and responsibilities of various institutions.
Moreover, having a well-established social protection system can help governments provide timely relief to their people. Without this, authorities may inefficiently or erroneously extend social protection to wrong families at the expense of vulnerable populations. This can delay economic recovery and hold back development.
Resource
Institute of Policy Studies of Sri Lanka. 2020. COVID-19 and Beyond: Minimizing the Costs of Pandemics. Sri Lanka State of the Economy 2020: Pandemic and Disruptions – Reviving Sri Lanka's Economy COVID-19 and Beyond. Colombo.
Leave your question or comment in the section below:
---
YOU MIGHT ALSO LIKE
---
---
Disclaimer
The views expressed on this website are those of the authors and do not necessarily reflect the views and policies of the Asian Development Bank (ADB) or its Board of Governors or the governments they represent. ADB does not guarantee the accuracy of the data included in this publication and accepts no responsibility for any consequence of their use. By making any designation of or reference to a particular territory or geographic area, or by using the term "country" in this document, ADB does not intend to make any judgments as to the legal or other status of any territory or area.
---
Was this article useful?
---