POLICY BRIEF
Lessons We Can Learn from New Zealand's COVID-19 Strategy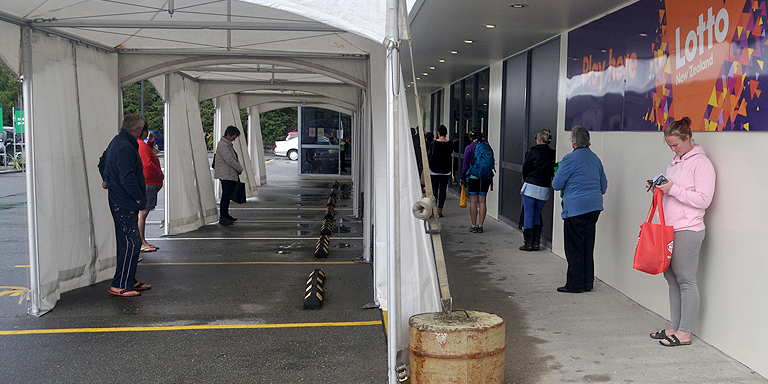 Published:
15 July 2020
Early and strong action mitigates health impact, while recovery measures focus on the long term.
Introduction
When the coronavirus disease (COVID-19) arrived late February 2020 in New Zealand, its government quickly responded with swift and tough measures: rapid mass testing, robust contract tracing, border closures, full lockdown, and a 14-day self-quarantine for those coming home to the country. The goal is to be "virus-free" after recording more than 1,000 confirmed cases in March.
New Zealand has since been seeing a steady decline in the number of new cases. By 8 June, its four-tiered alert system was brought down to level 1, the lowest level, after no new cases were reported for more than 2 weeks. Its relative success with its "go hard, go early" strategy in handling the health crisis has drawn global attention.
While it has managed to flatten the curve early, the government now faces the daunting task of jumpstarting its economy. It has put in place a broad range of initiatives to kick-start economic activity, create decent and sustainable jobs, ensure the security of the most vulnerable, and lay the groundwork for long-term recovery. Among the nonfiscal policy measures that is deemed critical to recovery is its trade recovery strategy.
This policy brief is based on a presentation by the New Zealand Treasury at the Policy Actions for COVID-19 Economic Recovery (PACER) Dialogues organized by the Asian Development Bank. The Treasury is leading work across the government on New Zealand's COVID-19 economic response.
Some Inherent Advantages
In tackling the health crisis, New Zealand has some distinct advantages:
Geography: New Zealand is a remote island nation and few flights transit through it. It can easily seal borders and control the entry of people.
Size: It has a sparse population of 5 million. Fewer people encounter each other so the virus cannot spread as easily.
Governance: The country is centrally governed and does not have states, making it easier to enforce policies.
Yet, the government still saw it fit to take a preemptive approach—go hard, go early—to stop the spread of the virus. One reason it took strong action is its role as the gateway or key departure route to the Pacific Islands. It needed to protect its Pacific neighbors from the pandemic, which also favors its people.
Some of the stringent measures, however, had a significant impact across its economy. The country's strict border restrictions have adversely affected the tourism industry, while the domestic lockdown saw most industry and services temporarily halted.
In the same way, it tackled the health crisis, the government is also acting swiftly in cushioning the economic impacts from the crisis, which have caused great uncertainty. New Zealand entered the crisis with a robust macroeconomy and a healthy fiscal position, with low debt levels. This enabled the government to fund its massive economic and fiscal stimulus packages.
Go Hard, Go Early
While New Zealand enjoys inherent advantages, such as being an island nation, its formula in dealing with the health crisis is replicable:
Swift and decisive action: The country only had five confirmed cases when COVID-19 was officially declared a global pandemic. It nonetheless responded fast by closing its borders to foreign travelers and enforcing a 14-day home quarantine for those coming home. Ten days later, it introduced full lockdown measures, among the strictest by international standards.
Massive testing: New Zealand ramped up testing to the point that it can now carry out up to 8,000 tests per day—one of the highest rates per capita in the world. It has also strengthened its contact-tracing capability, including the use of a COVID-19 tracer app that requires users to create a digital diary of their whereabouts.
Effective communication: Keeping citizens informed is a critical element of the COVID-19 response. One example is the four-level COVID-19 Alert System that assesses the risk level from infection and gets updated based on available scientific data and intervention measures taken. Daily press conferences featuring the Prime Minister and the Director-General of Health were also held.
Economic Response in Three Waves
New Zealand's economic response is guided by three principles: timeliness and fiscally sustainable; targeted to those who need it; and proportionate to the level of the economic shock. The responses are in three waves:
Wave One: Fight the Virus, Cushion the Blow
Wave Two: Kickstarting the Recovery
Wave Three: Resetting and Rebuilding the Economy
To inform its economic policy advice to the government, the New Zealand Treasury, took into account the potential impact on the "multi-dimensional well-being" of citizens. It is also taking a long-term view—how the COVID-19 pandemic will alter the future well-being of New Zealanders.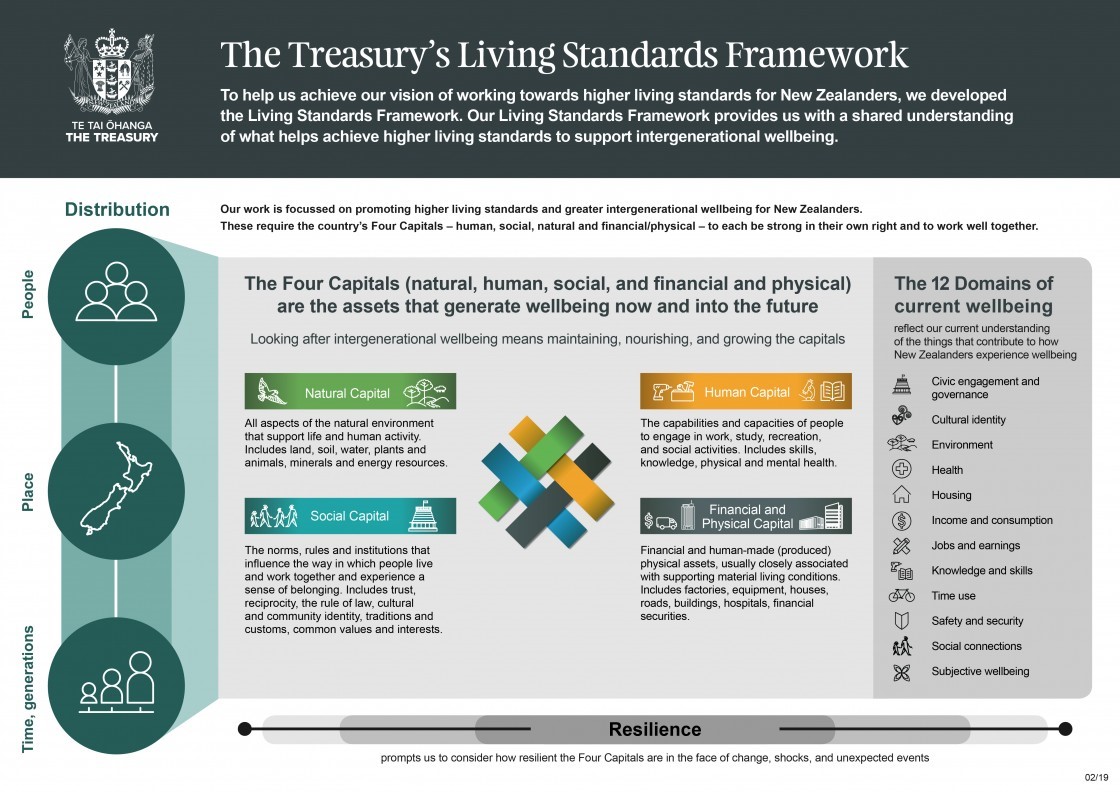 The Treasury uses a Living Standards Framework Dashboard, which provides indicators of current well-being across 12 domains (e.g., health, housing, safety, social connections) and around future well-being framed by natural capital, human capital, social capital, and financial and physical capital. The indicators are internationally comparable where possible while also reflecting some of what is unique about New Zealand and New Zealanders. The data shows the current and future well-being of New Zealanders, broken down by ethnicity, age, gender, region, family type, and area deprivation over time. It also shows the distribution of those having high, medium, and low well-being for each domain.
Wave One: Fight the Virus and Cushion the Blow
These measures were implemented swiftly to help various sectors, including the vulnerable ones, to cope with the immediate negative economic impacts of COVID-19. The government coordinated with the financial and business sectors for support.
Wave 2: Position for Recovery
These are measures to aid economic recovery, including exit from extraordinary measures adopted when the risk to COVID-19 was still high. These measures are expected to last for 12–18 months.
Wave 3: Resetting and Rebuilding
These are measures to address longstanding challenges to ensure a sustainable fiscal and economic position in New Zealand.
Trade Recovery Strategy
Because of the uncertainties brought about by the COVID-19 crisis and reinforcing international cooperation, the government adjusted its overall approach to trade policy and launched a trade recovery strategy on 8 June. The goal is three-pronged: to support exporters, reinvigorate trade, and renew key trade relationships. It engaged in bilateral agreements to facilitate the resumption of trade and essential cross-border travel while still safeguarding public health. These initiatives helped lay the foundation for the country's short- to medium-term trade recovery strategy.
Outcomes
As a result of the health and economic response measures above:
New Zealand has one of the lowest cases of COVID-19 per capita in the world.[1]
Daily life and activities in the country have essentially gone back to pre-COVID-19 norms and its alert level is back to its lowest as the risk of infection dissipates.
While New Zealand's border remains essentially closed, it has taken bilateral measures to keep trade flowing for goods critical to its COVID-19 response, such as importing personal protective equipment and medicine. It is also exploring ways to rebuild confidence in travel and tourism, also a major contributor to its economy apart from trade.
Extreme uncertainty remains as the country anticipates the economic cost of the pandemic to be substantial and the impact longer lasting.
The Treasury expects the pandemic to alter the well-being of future generations of New Zealanders, particularly in four areas: natural capital (i.e., impact on the environment), financial and physical capital (i.e., loss of wealth and decline in financial assets), human capital (i.e., disruption to learning, a decline in skills and life expectancy), and social capital (i.e., limited access to public services, feeling of isolation and discrimination).
---
Lessons
New Zealand's COVID-19 response offers lessons for countries facing similar challenges:
The government must be informed by data and science in its policy decisions and actions. New Zealand used scientific data to establish a level of certainty that the measures it will take will not result in an increase in COVID-19 cases and force it to reverse track and re-establish hard lockdown measures. The Treasury uses a multidimensional well-being approach to gauge the impact of its policy responses on New Zealanders' current and future well-being. This is tracked by the Living Standards Framework Dashboard, first launched in December 2018.
Speed, simplicity, and effectiveness of the measures are important. The government deemed it important to move quickly to cushion the blows of the pandemic, particularly to vulnerable sectors. An example is the Wage Subsidy Scheme meant to support those who have lost their jobs because of COVID-19. While the scheme is expensive for the government (more than NZ$15 billion or nearly $10 billion), it was simple to implement and effective (1.6 million jobs saved in the first phase). As New Zealand was on high-alert level for a short time, the scheme lasted for only 12 weeks. The government shifted to an exit strategy by tightening the eligibility of firms. Other measures are the Small Business Cashflow Scheme and Income Relief Payment, which are meant to protect small businesses.
Agility is important in government. The crisis has changed the short- to medium-term priorities of the Government of New Zealand. To manage the external shocks and mitigate the economic impact on New Zealanders' well-being, which it views as a more important indicator than GDP, the government acted fast in realigning its budget priorities, recalibrating policy measures like health spending and benefits payments and education, and resetting targets. Its healthy fiscal position and favorable credit rating enabled the government to fund COVID-19 response measures by issuing bonds: $3.5 billion in April 2020 and $7 billion in June 2020. 
Protect the most vulnerable sectors immediately and adjust to the needs accordingly. The government identified the most vulnerable sectors of the economy and responded with an initial financial stimulus package that it expanded as the need arose. One example is NZ$1.5 billion in loans for SMEs with less than five employees. The government announced the extension of the loans to SMEs till December 2020. The amount has not increased and there is no discussion at this stage on a further extension.
Keep trade open even with borders closed. New Zealand is heavily reliant on trade and tourism, but it had to seal off its borders and control the entry of foreigners to contain the spread of the virus. Now that it is slowly relaxing its border restrictions, the government has engaged its counterparts around the region to keep connections open and put in place specific measures with respect to aviation. These include temporary assistance to airlines, bilateral engagements on flights, and "travel bubbles," which allows people to hop off on planes without requiring self-quarantine. It also mounted initiatives to sustain trade and supply chain connectivity and to avoid protectionism measures. Earlier initiatives include the New Zealand–Singapore Air Freight Project and the bilateral agreement on trade in essential goods with Singapore, as well as the signing of ministerial statements.
Resources
All of New Zealand Government website.
D Parker. 2020. Trade strategy for the recovery from the impacts of Covid-19. Speech. 8 June. Government of New Zealand. 
Government of New Zealand. 2020. Budget 2020: Rebuilding Together. Feature. 14 May. 
Government of New Zealand. 2020. COVID-19 Economic Response Package. Feature. 15 April. 
New Zealand Ministry of Health. COVID-19. 
New Zealand Treasury. COVID-19 Economic Response Package at a Glance. 
New Zealand Treasury. 2020. COVID-19: A Summary of New Zealand Policy Response So Far. Presented at the Policy Actions for COVID-19 Economic Recovery Dialogues of the Asian Development Bank. 17 June.
New Zealand Treasury. 2020. COVID-19 Income Relief Payment Announced. News. 25 May. 
New Zealand Treasury. 2020. He Kāhui Waiora: Living Standards Framework and He Ara Waiora COVID-19: Impacts on Wellbeing (DP 20/02). Discussion Paper. 9 July. 
New Zealand Treasury. 2020. Summary of Initiatives in the COVID-19 Response and Recovery Fund (CRRF) Foundational Package. 29 May. 
New Zealand Treasury. 2020. Support for businesses affected by COVID-19 extended. News. 5 June. 
Leave your question or comment in the section below:
---
YOU MIGHT ALSO LIKE
---
---
Disclaimer
The views expressed on this website are those of the authors and do not necessarily reflect the views and policies of the Asian Development Bank (ADB) or its Board of Governors or the governments they represent. ADB does not guarantee the accuracy of the data included in this publication and accepts no responsibility for any consequence of their use. By making any designation of or reference to a particular territory or geographic area, or by using the term "country" in this document, ADB does not intend to make any judgments as to the legal or other status of any territory or area.
---
Was this article useful?
---