CASE STUDY
Digital Solutions for COVID-19 Control: The Case of Hong Kong, China
Published:
12 July 2020
An arsenal of digital tools, such as geofencing, location sharing, and 3D printing, is helping fight the spread of the coronavirus.
Overview
Digital technology is playing an important role in the fight against the coronavirus disease (COVID-19) pandemic in many parts of the world. In Hong Kong, China, it has enabled the government to respond quickly to the public health emergency and adapt to a fluid situation.
The Office of the Government Chief Information Officer (OGCIO) was given the responsibility of developing technology-driven solutions to control and prevent the spread of the virus. Its first and most urgent task was to support the mandatory 14-day home quarantine for those entering Hong Kong, China. A system was needed to ascertain that quarantined persons are staying at their dwelling places without violating data privacy regulations.
The OGCIO worked with the government-funded Logistics and Supply Chain Multi-Tech R&D Centre (LSCM), the University of Science and Technology (HKUST), and tech start-up Compathnion Technology Ltd. to develop and deploy the home quarantine support system.
Other digital solutions were also deployed, such as 3D prototyping by Hong Kong Polytechnic University (PolyU) of non-reusable face shield at the request of the Hospital Authority and reusable eye visor at the request of the Queen Elizabeth Hospital.
This case study is based on presentations made by OGCIO, LSCM, Compathnion Technology, and PolyU at a webinar organized by the Asian Development Bank. The webinar is part of a series that shares lessons learned from responding to the COVID-19 crisis.
Challenges
The World Health Organization declared COVD-19 as a public health emergency of global concern just after the Chinese New Year holidays and confirmed that there were 10 cases in Hong Kong, China in its 30 January report.
On 3 February, the government announced measures to require returnees from Hubei province to be home quarantined. Later it expanded the compulsory quarantine to travelers from other places and eventually required it for all those arriving in Hong Kong, China. This increased the number of people to be quarantined and monitored to the thousands.
Context
Hong Kong, China has embraced innovation and technology in line with its smart city initiative. It is building an ecosystem that nurtures homegrown information and communication technology (ICT) talent and develops technology-driven solutions and services.
Solutions
Location sharing and geofencing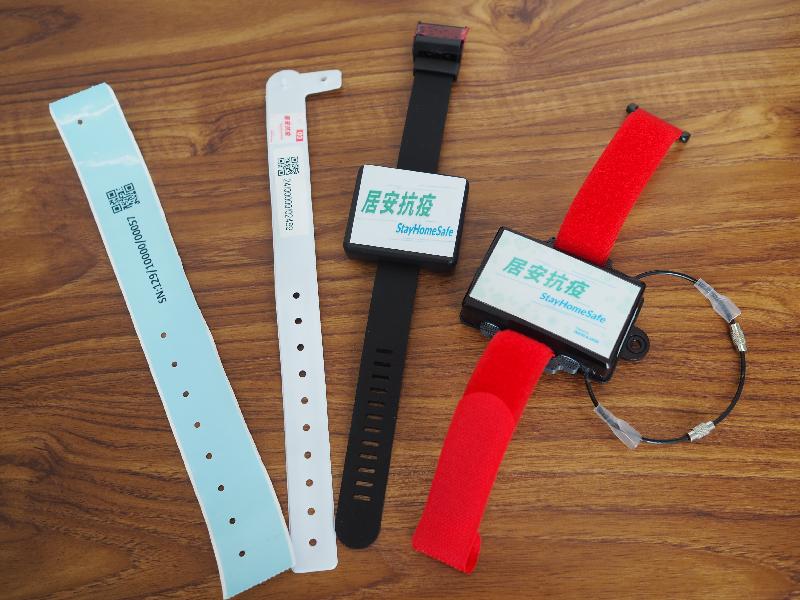 To get the tracking system up and running immediately, popular location-sharing apps, WhatsApp and WeChat, were used when the mandatory quarantine started. With factories still closed after the holidays, LSCM researchers made 500 Bluetooth Low Energy (BLE) electronic wristbands by hand. These were given to those to be quarantined at airports and border control points. The location-sharing app enabled remote monitoring by staff and volunteers and was supplemented by spot-check video calls and surprise home visits.
Continuous improvements to the system were made with the development of the StayHomeSafe mobile app and disposable QR code monitoring wristband. The needs of different users (e.g., older persons, children, persons with disabilities) also required adjustments to the system. For example, an android set-top box was made available as an alternative to a mobile phone.  By May, there were four monitoring centers to conduct data analysis for case investigation and spot checking.
The StayHomeSafe app uses geofencing technology, which is good for indoor locations and provides signature detection via mobile phone. Developers did not track people's location and movement to safeguard privacy and did not use GPS technology, which is difficult to use with high accuracy in a city dominated by buildings.
This is how it works. At service desks at the airport and other border control points, a unique QR code is given to each person to pair the wristband with the app that must be installed on the mobile phone. When the user gets home, the app will detect the environmental communication signals, such as Bluetooth and Wi-Fi and cellular networks, that create a unique signature for that specific location. It will not save personal data or read any information on the user's phone. What it does is it detects if the user removes the wristband or moves to another location.
After 14 days, the user may dispose of the wristband and remove the app.
Rapid prototyping with 3D Printing
PolyU developed reusable 3D-printed eye visors and face shields for hospitals to help fill the shortage in supply. These are used by medical workers together with face masks to protect them from infection.
Starting with the basic eye visor design, the university produced six design iterations of the face shield in 7 days with the help of 3D printing. The designs were tested by users. The final design used data from the "SizeChina" project of the School of Design of PolyU to improve fit and comfort for Asian users.
The university produced a small batch to meet the urgent need of medical workers. It has since worked with local manufacturers to use its design for mass production.
PolyU is also developing vacuum-formed face shields for the public.
Other initiatives
An interactive dashboard was developed to disseminate the latest information on COVID-19 to the public.
Local R&D results were also applied to other initiatives, such as face masks made with nanofiber technology developed by the Nano and Advanced Materials Institute (NAMI). The government also called for funding proposals for innovative projects to combat COVID-19 (e.g., diagnostic kits, contact tracing).
New technologies deployed included modular integrated construction technology, which was used for the speedy construction of additional quarantine facilities.
The Hospital Authority is also testing the use of meal delivery by robots.  And it worked with the Electrical and Mechanical Services Department and industry to develop a Mobile Modular "High-Efficiency Particulate Air" (HEPA) Unit to increase the capacity of hospital wards to take patients for isolation.
Results
Concerted efforts in tackling COVID-19 have kept the number of confirmed cases and deaths at a relatively low level and prevented community outbreak. As of 25 June, total confirmed cases were at 1,193, and seven people have died.
The strengthening of home quarantine arrangements as well as other digital solutions contributed to these efforts. As of end-May, more than 190,000 people were under home quarantine and supported by the system. More than 210,000 spot-check calls were made.
Lessons
The technologies used (e.g. geofencing, BLE) are not new, but their use for home quarantine at a large scale is innovative. Effective solutions were made possible by a combination of good people and good technology. Other governments have sought the advice of Hong Kong, China experts in implementing these digital solutions as part of their COVID-19 response.
An important lesson from this experience is being able to make improvements and adjustments as the requirements of home quarantines changed and the number of COVID-19 cases fluctuated.
Good communication and technical support also helped the home quarantine system work smoothly. There were service centers at all border control points to assist in putting on the wristband and app installation. User support helpdesks were also available by phone, SMS, email, and WhatsApp.
Location sharing was the quickest and easiest solution, but it was not bullet-proof as it shows the location only on a 2D map. The system has to be supplemented with video calls and surprise home visits, which were labor intensive. The support of civil volunteers proved valuable. More than 700 OGCIO staff and volunteers work in shifts to ensure continuous operation.  
Resources
Asian Development Bank. 2020. Digital Solutions for COVID-19 Control and Prevention—The Case of Hong Kong, China. Webinar. 4 May.
World Health Organization (WHO). COVID-19 Situation in WHO Western Pacific. Interactive dashboard accessed on 26 January 2020.
WHO. 2020. Novel Coronavirus (2019-nCoV) Situation Report No. 10. 30 January.
Leave your question or comment in the section below:
---
YOU MIGHT ALSO LIKE
---
---
Disclaimer
The views expressed on this website are those of the authors and do not necessarily reflect the views and policies of the Asian Development Bank (ADB) or its Board of Governors or the governments they represent. ADB does not guarantee the accuracy of the data included in this publication and accepts no responsibility for any consequence of their use. By making any designation of or reference to a particular territory or geographic area, or by using the term "country" in this document, ADB does not intend to make any judgments as to the legal or other status of any territory or area.
---
Was this article useful?
---