EXPLAINER
Keeping Workers and Communities Safe from COVID-19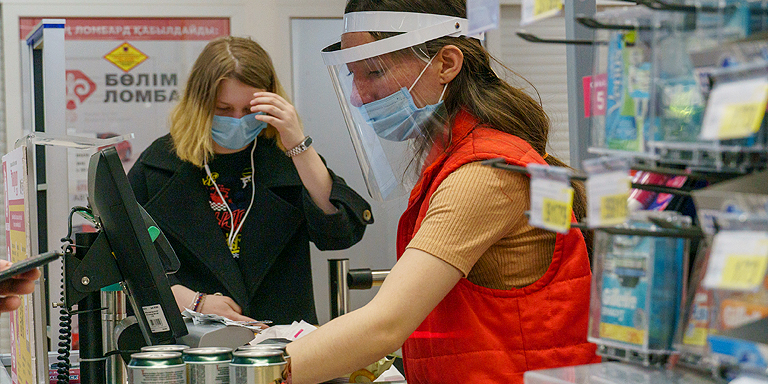 Published:
29 June 2020
Implementation of a health and safety plan based on international best practices can protect workers and communities from COVID-19 infection.
Introduction
The coronavirus disease (COVID-19) outbreak has drastically changed the way people work. Homes as offices, wearing of face masks, keeping social or physical distancing, use of hand sanitizers, and regular temperature checks have become part of the new normal.
With no end in sight for the pandemic, employers need to ensure that their workplace is safe for their workers and for surrounding communities. Otherwise, infection at work can result in project delays, job loss, and add more pressure to overburdened healthcare systems. Best practices to improve workplace safety are available from international organizations and can be adapted for a variety of working environments and situations.
This article is a summary of "Protecting the Safety and Wellbeing of Workers and Communities from COVID-19," an Interim Advisory Note issued by the Asian Development Bank in June 2020.
How can we make the workplace safe?
A review and risk assessment of workplaces for exposure to COVID-19 risk factors is necessary. Factors to be considered are (i) nature of work, (ii) stage of implementation, (iii) location of project activities, (iv) project status, and (v) impact on vulnerable groups, such as migrant workers, women, older workers, and those with underlying health conditions. The decision tree below may be used to assess adequacy of safeguard management plans and systems against the spread of COVID-19 at the workplace for ongoing and new projects/programs.
Figure 1: Decision Tree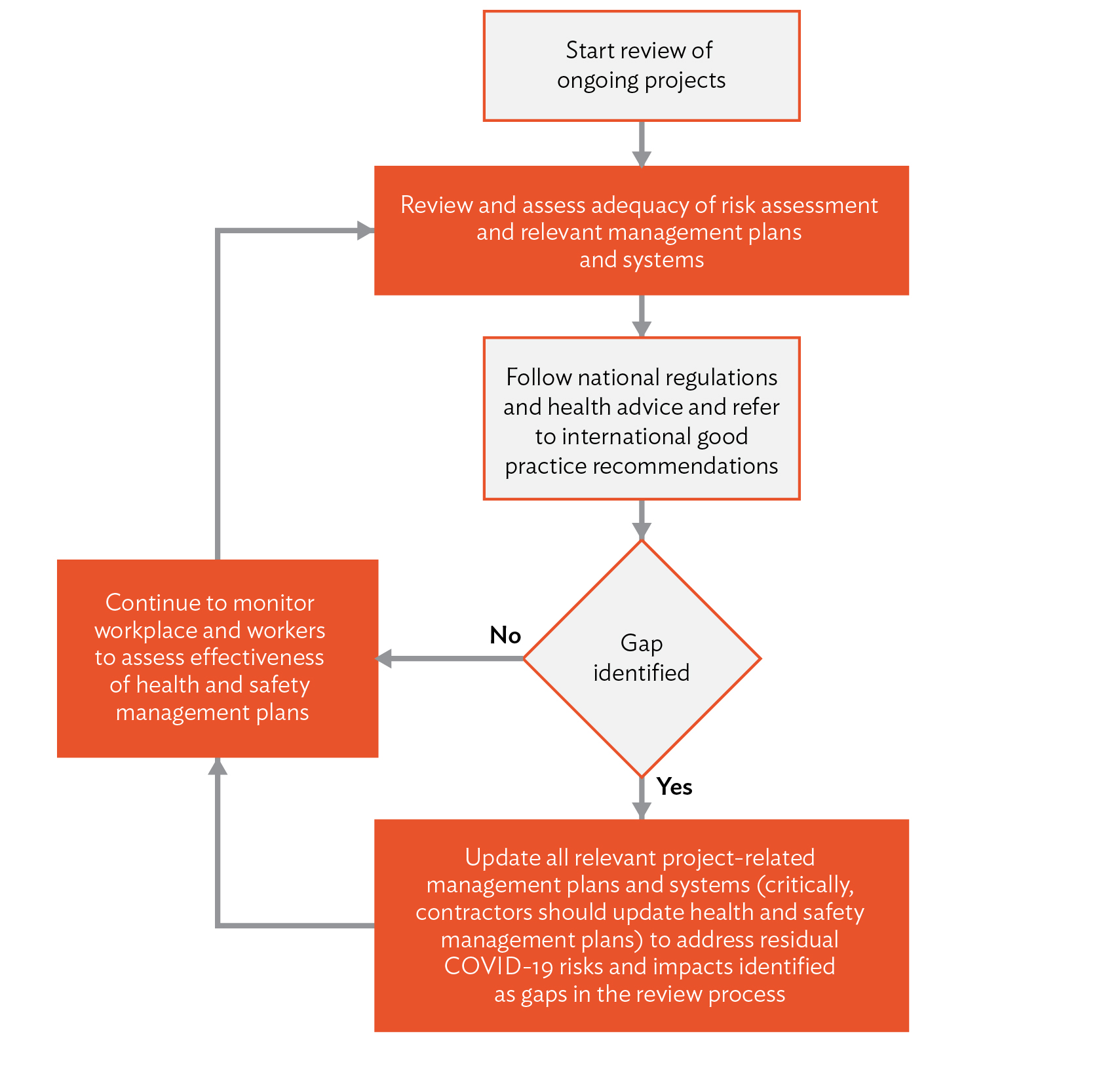 Source: Asian Development Bank. 2020. Protecting the Safety and Wellbeing of Workers and Communities from COVID-19, Interim Advisory Note. Manila.
Which sectors are most at risk?
COVID-19 may be more easily transferred among workers and local communities in the following sectors and activities:
projects and businesses where many workers are in close proximity;
construction and/or work camps, where physical distancing and hygiene measures may be harder to implement;
healthcare, including hospitals, laboratories, clinics, ambulances, and pharmacies;
food and agriculture, including facilities engaged in food processing and animal products;
education;
consumer businesses where there is a personal interaction with customers, such as retail and tourism-related sectors;
logistics and transport; and
businesses where workers come into contact with suppliers from areas affected by COVID-19
What are the steps to risk management planning?
Determine exposure risk

According to the World Health Organization (WHO), the risk level increases with proximity to those infected (less than one meter) or frequency of contact. Another risk factor is contaminated surfaces and objects.

Determine additional exposure risk factors

Risk assessment should be conducted for each specific work setting, taking into consideration these factors: environment, the task, the threat, if any, and resources available, such as personal protective equipment (PPE).

Some workers and surrounding community members may also be at higher risk of exposure due to age, pre-existing medical conditions, and the nature of their work, which includes essential public services, such as health care, security, food retail, public transport, deliveries, and water and sanitation.

Consult with workers

Regularly assess with workers the risks of exposure to COVID-19, preferably with the support of occupational health services, and local primary health care facilities. Consult with workers and their representatives regularly on outcomes of risk assessments and changes to site management plans.

Update or develop new health and safety plans

Use the results of the review and risk assessment to update or develop new health and safety plans and ensure continuous monitoring is in place to assess its adequacy.

Review international good practices

The WHO provides key guidance on how to prevent the spread of COVID 19 in the workplace. Recommended simple and cost-effective measures include hand hygiene, respiratory hygiene, physical distancing, reduction of work-related travels, regular environmental cleaning and disinfection, risk communication and education, and management of people who may be infected or their contacts.
What factors lead to effective implementation?
Preventive measures require cooperation between workplace managers, workers, and their representatives, surrounding communities, and primary health care facilities.
Employers need to be updated on international best practices related to COVID-19 to ensure the effective implementation of workplace safety measures.
The success of the workplace health and safety management plan may be evaluated through regular monitoring of site conditions and that of surrounding communities.
To address suspected cases of COVID-19 in the workplace risks communication, training, awareness campaign, and the development of an emergency action plan are essential. The decision to close or re-open workplaces and suspend or downscale work activities should be based on risk assessment, the capacity of contractors to implement proposed preventive measures, and recommendations of national authorities.
Resources
Asian Development Bank. 2020. Protecting the Safety and Wellbeing of Workers and Communities from COVID-19 (Interim Advisory Note). Manila. 
World Health Organization. 2020. Considerations in Adjusting Public Health and Social Measures in the Context of COVID-19 (Interim Guidance). Geneva.
Leave your question or comment in the section below:
---
YOU MIGHT ALSO LIKE
---
---
Disclaimer
The views expressed on this website are those of the authors and do not necessarily reflect the views and policies of the Asian Development Bank (ADB) or its Board of Governors or the governments they represent. ADB does not guarantee the accuracy of the data included in this publication and accepts no responsibility for any consequence of their use. By making any designation of or reference to a particular territory or geographic area, or by using the term "country" in this document, ADB does not intend to make any judgments as to the legal or other status of any territory or area.
---
Was this article useful?
---