EXPLAINER
How the Internet of Things Can Make Cities More Livable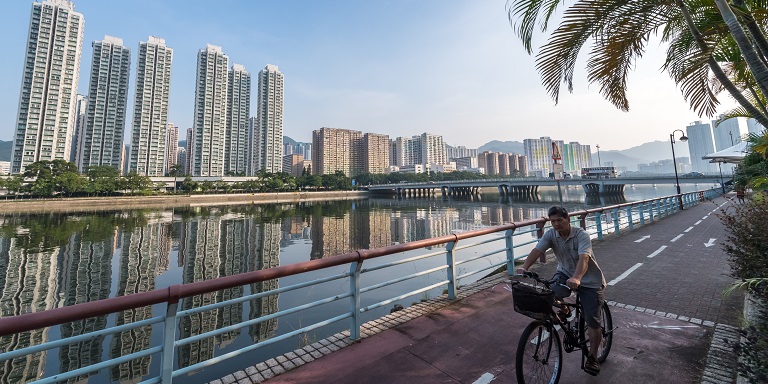 Published:
19 October 2017
Internet-connected "smart" devices can help transform fast-developing cities in Asia and the Pacific into safe and sustainable urban centers.
Introduction
Advancements in digital technologies, specifically the Internet of Things or IoT, is leading the fourth industrial revolution. The McKinsey Global Institute sees the economic impact of IoT to be in the range of $3.9 trillion to $11.1 trillion per year by 2025.
In urban development, IoT has the potential to help cities pursue a sustainable development path by increasing efficiency in the use of energy and other resources.
​This article was adapted from content featured on Asian Development Bank's Livable Cities website.
What is the Internet of Things?
Essentially, IoT deals with communication between people and machines, machines to machines, and machines to institutions, and vice versa. Its components include sensors, identified "things" on which these sensors are applied, programming algorithms, and communication equipment and networks (Figure 1).
Figure 1: The Internet of Things
What can solutions based on IoT technology do?
Any IoT-enabled solution has the following capabilities:
mechanisms to collect data from varied sources, and enable its secured storage, analysis, and decision making;
usage of different forms of information communication networks to enable machine-to-machine, people-to-machine, and machine-to-institutions flow of information; and
services components for creation and maintenance of software and hardware to execute smart functions.
How can IoT support the sustainable development goals?
IoT started with smart meters and smart thermostats, which are internet-connected devices that send data. Since then, the technology has been used not just in the energy sector but also in other infrastructure projects, such as urban development and transport. For example, the project can be a smart city, smart grid, or intelligent transport, with IoT serving as the central nervous system for the smart technology. ​
In urban development, IoT can help cities become more livable, making them green, competitive, resilient, inclusive, and sustainable. In Asia and the Pacific, where there is rapid urbanization, IoT solutions can enable cities to shift to a more sustainable development path.
In the urban development operations of Asian Development Bank, for example, IoT can be utilized in each of the five urban solution pathways—water, nature, equity, resilience, and digital—to add value and innovation, and thereby further enhance development. Figure 2 below is a schematic representation of the interconnection between livable cities and the Internet of Things.
Figure 2: Capitalizing on Internet of Things can lead to smart, competitive, and livable cities
For more information on IoT and how it can inform project design, read The Internet of Things in the Power Sector: Opportunities in Asia and the Pacific.
Resources
A. Ramamurthy and P. Jain. 2017. The Internet of Things in the Power Sector: Opportunities in Asia and the Pacific. Sustainable Development Working Papers. No. 48. Mandaluyong: Asian Development Bank.
A. Ramamurthy. 2017. Advancing the Internet of Things in Asia. Livable Cities. September.
Related links
Case Study: Sustainable Water Management for Smart Cities
Summary: Four Ways Smart Technology Can Help Farmers
Insight: A Surprising Strategy for Harnessing the Internet for Development
Leave your question or comment in the section below:
---
YOU MIGHT ALSO LIKE
---
---
Disclaimer
The views expressed on this website are those of the authors and do not necessarily reflect the views and policies of the Asian Development Bank (ADB) or its Board of Governors or the governments they represent. ADB does not guarantee the accuracy of the data included in this publication and accepts no responsibility for any consequence of their use. By making any designation of or reference to a particular territory or geographic area, or by using the term "country" in this document, ADB does not intend to make any judgments as to the legal or other status of any territory or area.
---
Was this article useful?
---