CASE STUDY
Sustainable Water Management for Smart Cities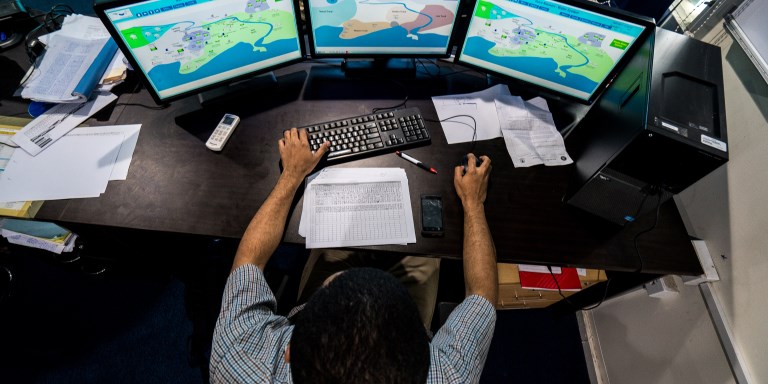 Published:
25 September 2017
In the Republic of Korea, K-water offers smart solutions for managing limited water resources to supply increasing demand in cities.
Overview
Korea Water Resources Corporation (K-water) showcases the latest smart technologies in water management.
Since 1967, K-water has been developing and managing the Republic of Korea's water resources, as well as conducting international training programs. With 50 years of experience in water resources development and management, it has become a model water organization in the Asia-Pacific region.
The K-water model offers knowledge solutions and best practices that may be adopted by other countries to address their water challenges.
This case study is based on the learning materials from the Asian Development Bank's exposure and study visit, Sharing Successful Implementation and Best Practices of Smart Cities on Water and Solid Waste Management. The visit to the Republic of Korea was organized for officials of the Government of India in support of its "100 Smart Cities Mission," which will transform a hundred cities into people-friendly and sustainable urban centers. ADB has committed to support this initiative through investments in better public services, including water supply and sanitation.
India needs to adopt smart water management practices and technologies, such as those used in the Republic of Korea, to improve the management of limited freshwater resources and meet the increasing demands of its growing cities.
Challenges
In the 1960s, the Republic of Korea embarked on a path of export-led industrialization. Korea Water Resources Development Corporation, K-water's predecessor, was established in 1967 to manage the country's water resources as well as support the development of heavy and chemical industries, and industrial complex projects.
By the 1980s, water consumption in the country began to surge, heralding a drastic change in water resources policy. K-water was made responsible for overall management of water resources-related projects. Aside from increasing demand for water, other challenges that K-water faces include the frequency and increasing intensity of floods and droughts, which affect supply.
Solutions
K-water's Integrated Water Operation Center is the hub of water management in the entire country. Using the K-water Hydro Intelligent Toolkit (K-Hit), the center operates 33 dams, 16 weirs, 25 hydropower plants (78 generators: 1,333 MW), 350 gauging stations, and 184 warning stations.
K-Hit is a smart water management system composed of a core set of integrated smart technologies capable of performing a variety of water management tasks.
The Real-time Hydrological Data Acquisition and Processing System gathers water level, water quality, and other data via satellite imaging and other communication technologies
The Precipitation Forecasting System measures and predicts rainfall.
The Flood Analysis System provides real-time flood analysis for flood control.
The Reservoir Water Supply System optimizes water supply by estimating demand.
The Generation Integrated Operation System monitors dam and weir operations remotely.
Satellite-based Flood Forecasting and Warning Equipment provides flood forecasts and early warning through satellite data.
The Water Disaster Monitoring System offers monitoring of hydrological data through a (geographic information system) GIS, CCTV cameras, and other tools.
The K-water Convergence Institute was set up to provide research and development support in policy, infrastructure, and technology, among other areas of interest. The institute houses six research centers.
The Water Policy and Economy Research Center focuses on research on water policy and economic analysis for more efficient water resources management.
The Infrastructure Research Center creates safe and efficient design, construction, and maintenance of water infrastructure.
The Water Resources Research Center develops advanced technology for integrated water resources management, river restoration, disaster prevention, and environmental management.
The Water Supply Research Center maintains a sustainable water supply for the public through high quality tap water production and wastewater treatment.
The Water Facility Research Center focuses on realizing low-carbon green growth through renewable energy and related technologies.
The Water Quality Research Center ensures rapid water testing, increases the accuracy of water tests, and improves the quality of drinking water. Internationally certified by ISO/IEC standards, the center provides healthy tap water to the whole country.
Foreseeing the need to strengthen the capacity of its workforce, K-water established the K-water Academy in 1982, initially as the corporation's arm for human resources development. Today, the academy works to advance water education through online and face-to-face training programs for water professionals. The academy also offers consulting services.
K-water also manages the Seoul Metropolitan Water Supply Operation Center, the world's largest integrated multi-regional (bulk) water supply operation center with high-end information technology facilities. The center oversees the overall water supply production and distribution system for the entire Seoul Metropolitan Area and has a daily capacity of 790 million cubic meters.
Aside from K-water, the private sector in the Republic of Korea offers cutting-edge technological solutions to the water, wastewater, and urban development sectors. Technologies range from information and communications technology-based water leakage management systems to wireless communication applications in water metering and water quality monitoring.
Results
Today, K-water is a successful government-owned corporation that oversees the Republic of Korea's precious water resources through smart water management and related technologies.
K-water has a total reservoir capacity of 15.83 billion tons. It provides safe drinking water and ensures the sustainability of the country's water resources for the future.
K-water's Integrated Water Operation Center manages the country's water resources 24 hours a day, 365 days a year. The Seoul Metropolitan Water Supply Operation Center provides safe drinking water to over 10 million citizens.
The K-water Academy has become a hub for training experts in water management. It conducts about 850 training courses every year for about 53,000 participants. Aside from in-house staff programs, the academy also offers tailor-made training programs for local governments, the private sector, foreign water utilities, and international water professionals.
K-water has also been providing operation and management services based on a concessional contract to 22 cities facing operational difficulties because of high levels of nonrevenue water, poor operation skills, and severe financial loss. Through smart drinking water management, K-water has reduced nonrevenue water in these cities from about 50% to 21.5%.
Lessons
The K-water experience offers operational, organizational, and business knowledge that can be useful for other water utilities in the region.
Integrated approach to water operations
K-water's smart water management model streamlines water operations and processes. With the aid of smart technologies, the K-water Integrated Water Operation Center is capable of online bulk water monitoring, rainfall and flood analysis and prediction, and water quality monitoring, among other functions.
Research and technology support
Research and development is one of major factors in K-water's success. New knowledge and technologies tested and developed by the K-water Institute play an important role in continuing to update and upgrade K-water's operations.
Preparing the next generation of water managers
Through the K-water Academy, K-water is molding the next generation of water professionals who would manage the country's water resources in the future.
Partnering with the private sector
In a workshop that was part of the exposure visit, Korean private companies presented their experiences and technologies that can be adopted in Indian cities. The interaction provided the Korean private sector with opportunities to understand policies and future projects opportunities with ADB-funded projects in India. Working with experienced private sector partners can help government agencies in planning and implementing smart water management in India's cities.
Resources
Kim Seungbeom. 2017. K-water Integrated Water Operation Center. A slideshow presentation from the Korea Water Resources Corporation for the exposure and study visit, Sharing Successful Implementation and Best Practices of Smart Cities on Water and Solid Waste Management. Incheon, Republic of Korea.
Park Ki-Chan. 2017. K-water Convergence Institute. A slideshow presentation from the Korea Water Resources Corporation for the exposure and study visit, Sharing Successful Implementation and Best Practices of Smart Cities on Water and Solid Waste Management. Incheon, Republic of Korea.
Event: Sharing Successful Implementation and Best Practices of Smart Cities on Water and Solid Waste Management
Video: K-water Academy
Leave your question or comment in the section below:
---
YOU MIGHT ALSO LIKE
---
---
Disclaimer
The views expressed on this website are those of the authors and do not necessarily reflect the views and policies of the Asian Development Bank (ADB) or its Board of Governors or the governments they represent. ADB does not guarantee the accuracy of the data included in this publication and accepts no responsibility for any consequence of their use. By making any designation of or reference to a particular territory or geographic area, or by using the term "country" in this document, ADB does not intend to make any judgments as to the legal or other status of any territory or area.
---
Was this article useful?
---