SUMMARY
Opportunities for Regional Cooperation on Low-Carbon Energy in Central Asia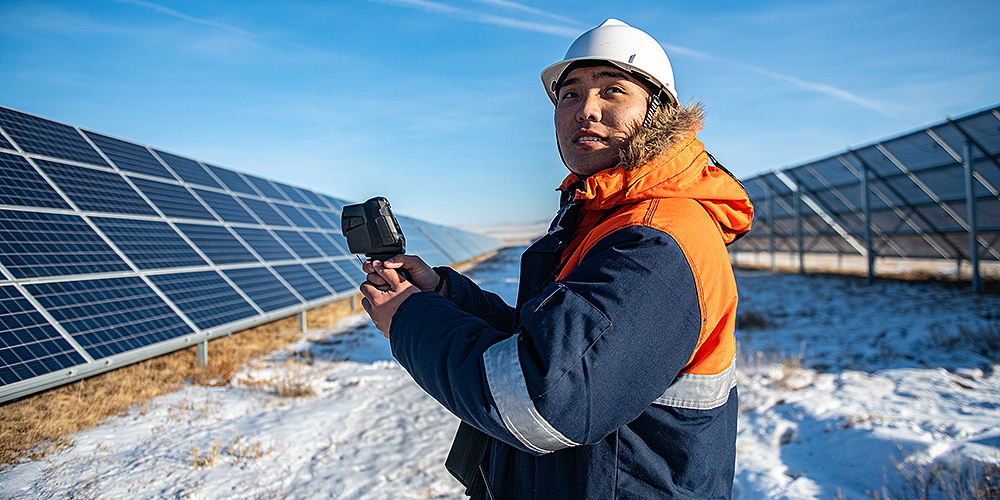 Published:
31 March 2022
Strengthen regional initiatives by harnessing advances in technology, promoting cross-border technology transfer, and harmonizing policies and standards.
Overview
International efforts and mechanisms to address the effects of climate change are becoming stronger, pushing countries to pursue low-carbon energy development. With the latest technological advancements and enabling market mechanisms, renewables and clean fuels are proving to be financially attractive because of their long-term benefits to the environment and the health of a growing population.
Since Central Asia Regional Economic Cooperation (CAREC) member countries[1] are highly energy-intensive and largely dependent on fossil sources of energy, there is significant potential for cooperation on low-carbon energy that will bring economic, social, and environmental benefits. This includes the development of renewables, improvement in energy efficiency, and adoption of low-carbon technologies and carbon storage to reduce greenhouse gas (GHG) emissions.
The study, Regional Cooperation in Promoting Low-Carbon Energy Development in CAREC: Challenges and Opportunities, provides an overview of potential regional collaboration and recommendations to strengthen low-carbon initiatives.
Based on comparative analysis and assessment involving two or more CAREC countries engaged in promoting renewable and energy efficiency areas, cooperation on low-carbon energy development is still at the infancy stage.
Shift to a Low-Carbon Economy
A few decades ago, the concept of a green economy was a myth, and the idea of clean energy development was regarded by many countries as an expensive dream to pursue.
But today's trends have completely changed the picture. The global call for climate action is pushing countries to adopt environmentally friendly technologies. Thanks to the latest advancements and lower costs of shifting to renewables and cleaner fuels, this has also become a financially viable option.
As the most populous region with fast-growing economies, Asia and the Pacific undoubtedly needs to shift from a fossil-based economy to a low-carbon economy to manage its GHG emissions. This is particularly relevant for the CAREC subregion, which is rich in oil and natural gas.
With an average population growth of 0.4%–2.4% annually, gross domestic product growth of up to 6%–7% in some countries, and growing urbanization, the energy demand in Central Asia is expected to increase yearly by 1.9% until 2030. In addition, energy intensity is substantially higher (0.35 total primary energy supply per thousand US dollars of GDP) than the average for Asia and the Pacific (0.29) and the world (0.2).
The energy sector is responsible for 50% of carbon dioxide (CO2) emissions in Asia and the Pacific. The sector's contribution to CO2 emissions within CAREC varies based on the energy mix. For example, its share of domestic CO2 emissions reached 60% in Kazakhstan and Mongolia where fossil fuels are the dominant energy source. Georgia, the Kyrgyz Republic, and Tajikistan have low emissions per capita due to the high hydropower use.
Existing wind, solar, and biomass resources, and large hydropower capacities in the subregion provide CAREC countries opportunities for tapping clean, cost-effective, and sustainable energy resources.
Figure 1: Share of Renewables in Final Energy Consumption, 2016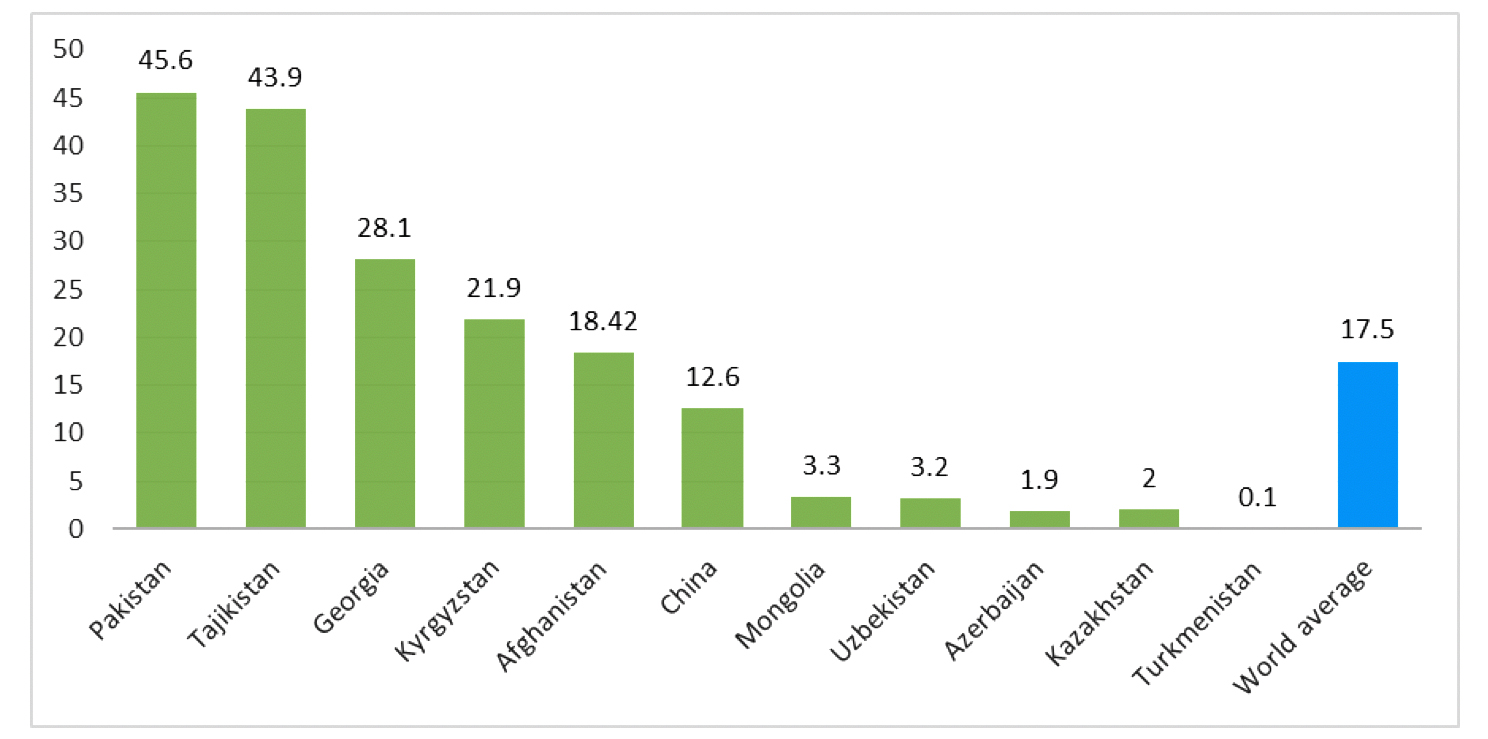 Deployment of renewable energy helps to reduce not only GHG emissions but also enables countries to secure national energy independence. All CAREC countries highlighted the role of renewable energy development and energy efficiency for reducing GHG emissions in their national strategies and energy sector policies and have set their emission reduction targets in their nationally determined contributions as part of their commitment to the United Nations Framework Convention on Climate Change.
In Georgia, the Kyrgyz Republic, Pakistan, and Tajikistan, the share of renewable energy in total energy consumption is higher than the global average of 17.5% due to their use of hydropower resources. Afghanistan and Pakistan also use biomass extensively in rural areas. However, Azerbaijan, Kazakhstan, Mongolia, Turkmenistan, and Uzbekistan are way behind.
Except for the People's Republic of China and the existing hydropower capacities in Georgia, Kazakhstan, the Kyrgyz Republic, and Tajikistan, the development of "new" or "non-hydro" renewables in CAREC is still at a very early stage. The current combined installed capacity of solar power surpassed 2 gigawatts (GW) only in 2019, and wind power is still below 2 GW today. Yet, the pace of renewable energy development has been remarkable in the last decade. The experience of other countries shows that increased competition, technological advancement, and policy support for low-carbon development led to an increased share of renewables in the energy mix.
Regional Energy Cooperation
It is important for CAREC countries to advance regional energy cooperation, especially with the imbalanced distribution of energy resources in the subregion.
Afghanistan and Pakistan have large growing energy needs without adequate local resources, while Georgia, the Kyrgyz Republic, and Tajikistan have abundant sources of hydropower, and Azerbaijan, Kazakhstan, Turkmenistan, and Uzbekistan are rich in oil and gas.
Since majority of CAREC countries can meet their domestic energy needs, regional energy cooperation is focused mainly on connecting Central Asia with Afghanistan and Pakistan and meeting the higher energy needs of some countries during winter months. CAREC energy cooperation can be characterized by i) a historical regional electricity trading mechanism based on Soviet energy cooperation, ii) strong linkages between water and energy, and iii) abundant regional resources of natural gas.
Table 1: Existing Energy Inter-linkages between CAREC Countries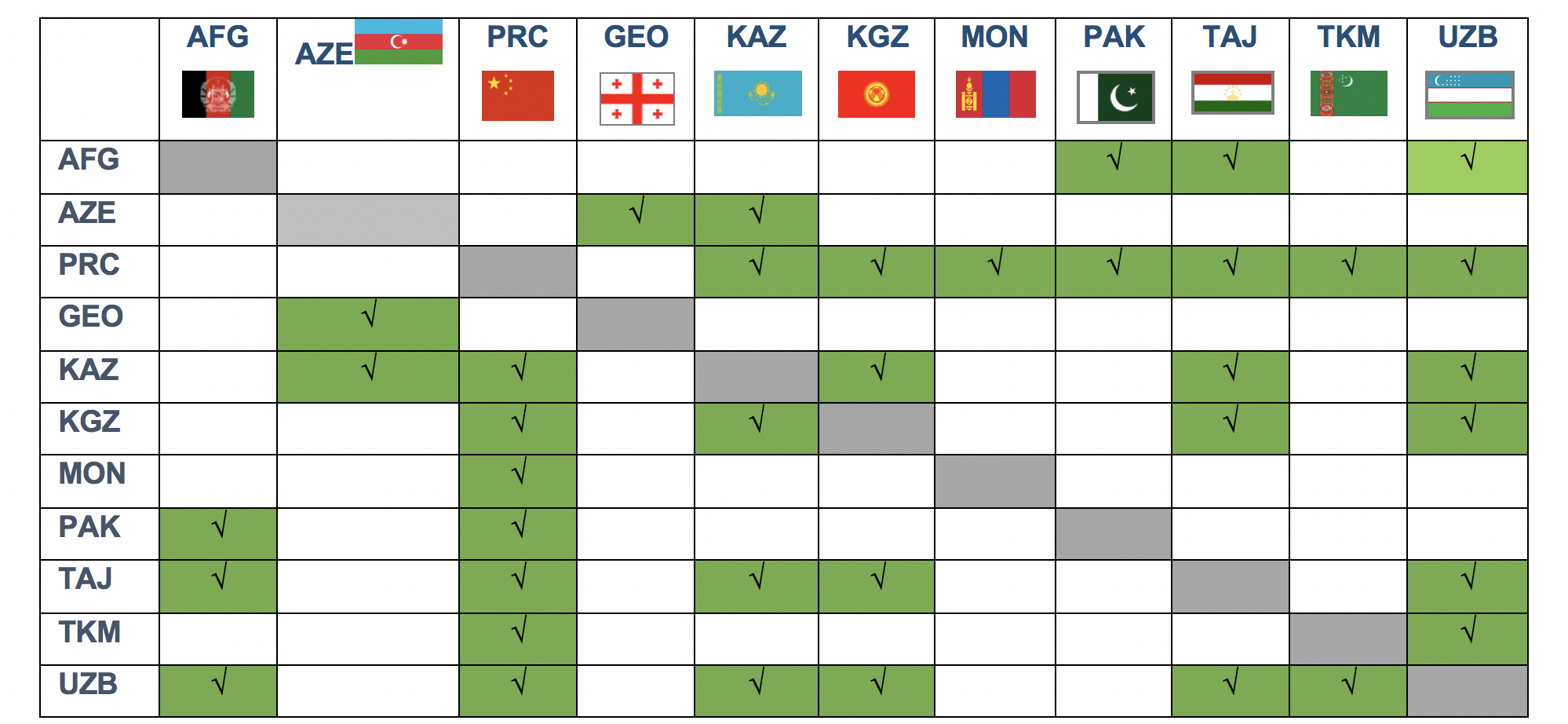 Recommendations
Investments in developing new electricity networks, modernization of existing networks to increase capacity and reliability of electricity grids, and alternative energy sources, such as hydro, solar, and wind, are needed to support the low-carbon transition process in the subregion. These offer opportunities for regional cooperation but will require the following:
Harmonization of legal and regulatory frameworks, and technical standards for power connectivity and trade within CAREC. The harmonization of frameworks and standards can reduce joint project costs while collective efforts will help optimize the use of resources, data, and information.
Cross-border technology transfer, knowledge exchange, research, and public awareness. Shared information, awareness, knowledge, and research and development will increase the interest and engagement of CAREC members in low-carbon development, promoting trust and cooperation within the subregion.
Participation of all relevant stakeholders. The engagement and participation of key stakeholders—particularly market participants and the private sector—will ensure pragmatic and practical solutions. Cooperation between government institutions transmission operators, development partners, investors, and market players increase the likelihood of successful regional cooperation.
Sustainable solutions for better integration of renewable energy into the electricity grid. A major challenge for the deployment and connection of large-scale renewable resources to the grid is capacity fluctuations, which are associated with the intermittent nature of solar power plants in the evening and at night. This can be resolved by improved renewable energy capacity forecasting mechanisms and battery storage facilities based on the latest innovative solutions.
---
Resources
B. Tsevegjav. 2020. Regional Cooperation in Promoting Low-Carbon Energy Development in CAREC: Challenges and Opportunities. Xinjiang. CAREC Institute.
Leave your question or comment in the section below:
---
YOU MIGHT ALSO LIKE
---
---
Disclaimer
The views expressed on this website are those of the authors and do not necessarily reflect the views and policies of the Asian Development Bank (ADB) or its Board of Governors or the governments they represent. ADB does not guarantee the accuracy of the data included in this publication and accepts no responsibility for any consequence of their use. By making any designation of or reference to a particular territory or geographic area, or by using the term "country" in this document, ADB does not intend to make any judgments as to the legal or other status of any territory or area.
---
Was this article useful?
---