INSIGHT
Designing a Low-Carbon and Resilient COVID-19 Recovery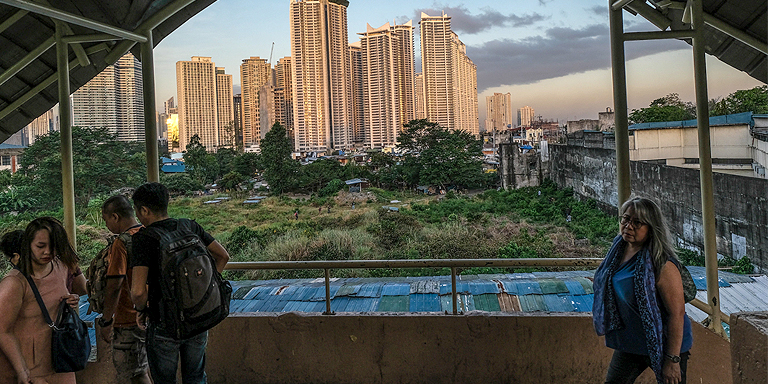 Published:
21 September 2020
Recovery interventions should provide not only economic stimulus but also address climate and disaster risk to ensure that gains are sustained.
Introduction
The world is facing two crises. The coronavirus disease (COVID-19) pandemic is an unprecedented global health crisis with economic losses estimated by the Asian Development Bank between $5.8 trillion and $9.1 trillion. Climate change is also making its impact felt and its effects are becoming more severe every year. Pre-COVID-19 analysis shows that it could push an additional 100 million people into poverty by 2030. COVID-19 has made the situation worse, making it even more urgent for countries to build resilience against future shocks.
Implementing the emergency response to COVID-19 has rightly taken priority. However, as countries begin to emerge from lockdowns and plan their recovery, governments have an opportunity to address both crises and adopt economic stimulus measures and reforms that support a sustainable, inclusive, and resilient future. Designing a low-carbon and resilient recovery can generate economic benefits, create employment, increase food and energy security, and have strong health co-benefits. It will also help countries meet international commitments under the Paris Agreement, Sendai Framework for Disaster Risk Reduction, and 2030 Agenda for Sustainable Development.
This article is adapted from COVID-19 Recovery: A Pathway to a Low-Carbon and Resilient Future from the Asian Development Bank (ADB).
Measures for Recovery and Resilience
Adopting a low-carbon and resilient recovery does not demand economic compromise and does not necessarily require an increase in total investment. There is a long list of possible COVID-19 recovery interventions that support low-carbon development and build climate and disaster resilience, while simultaneously creating jobs and jump-starting economic growth. Among these measures are direct investment, policy reform, and capacity building (i.e., hard and soft measures).
Some examples are
labor market programs to protect natural assets and green infrastructure;
health projects promoting disaster preparedness planning (e.g., long-term improvements in post-disaster disease surveillance systems);
construction of health facilities to disaster and climate resilience standards;
technical and vocational education projects to promote low-carbon industries and resilient livelihoods;
energy efficiency schemes, including support for retrofits (e.g., low-interest loans), construction of low-energy buildings, and skill development;
improvements in regional cooperation for a more sustainable food supply;
financial incentives, preferential loans, and grants for low-carbon and resilience-building programs, e.g., energy-efficient roofing and residences, low-cost housing, circular economy;
capacity building of grassroots women's groups to prepare them for disasters and emergencies;
rural green infrastructure projects, such as grid expansion and off-grid rural electrification;
rural low-carbon household programs, such as clean cooking programs (biogas capture, efficient woodburning stoves) and solar lighting; and
improvements in climate-friendly agriculture value chains and sustainable food supply management programs.
Some recovery interventions may do well in the short term but not be sustainable in the long term unless accompanied by policy or institutional changes. As experience from the Global Financial Crisis of 2008 shows, green measures included in stimulus packages achieved short-term goals, such as creating jobs and boosting clean energy but did not have lasting impact unless reforms were introduced (e.g., removing fossil fuel subsidies).
Countries should adopt a holistic approach (see 7 Steps) to designing robust recovery plans that focus on sustainability and make the systemic changes required to avoid experiencing similar losses in future crises.
7 Steps to Designing a Low-Carbon and Resilient Recovery
Assessment Framework
ADB has developed an assessment framework for evaluating potential low-carbon and climate- and disaster-resilient recovery interventions against economic recovery criteria. These criteria need to be defined by the country, depending on national context, recovery objectives, etc. but could include: a short implementation timeline; job generation or labor intensity (particularly in the early stages); skill development; minimized supply chain risk; and high economic multipliers. In the longer term, governments may look for measures that contribute to the productive asset base and promote positive transformation, while also delivering environmental and social outcomes.
Framework for Assessing Low-Carbon and Resilient Recovery Interventions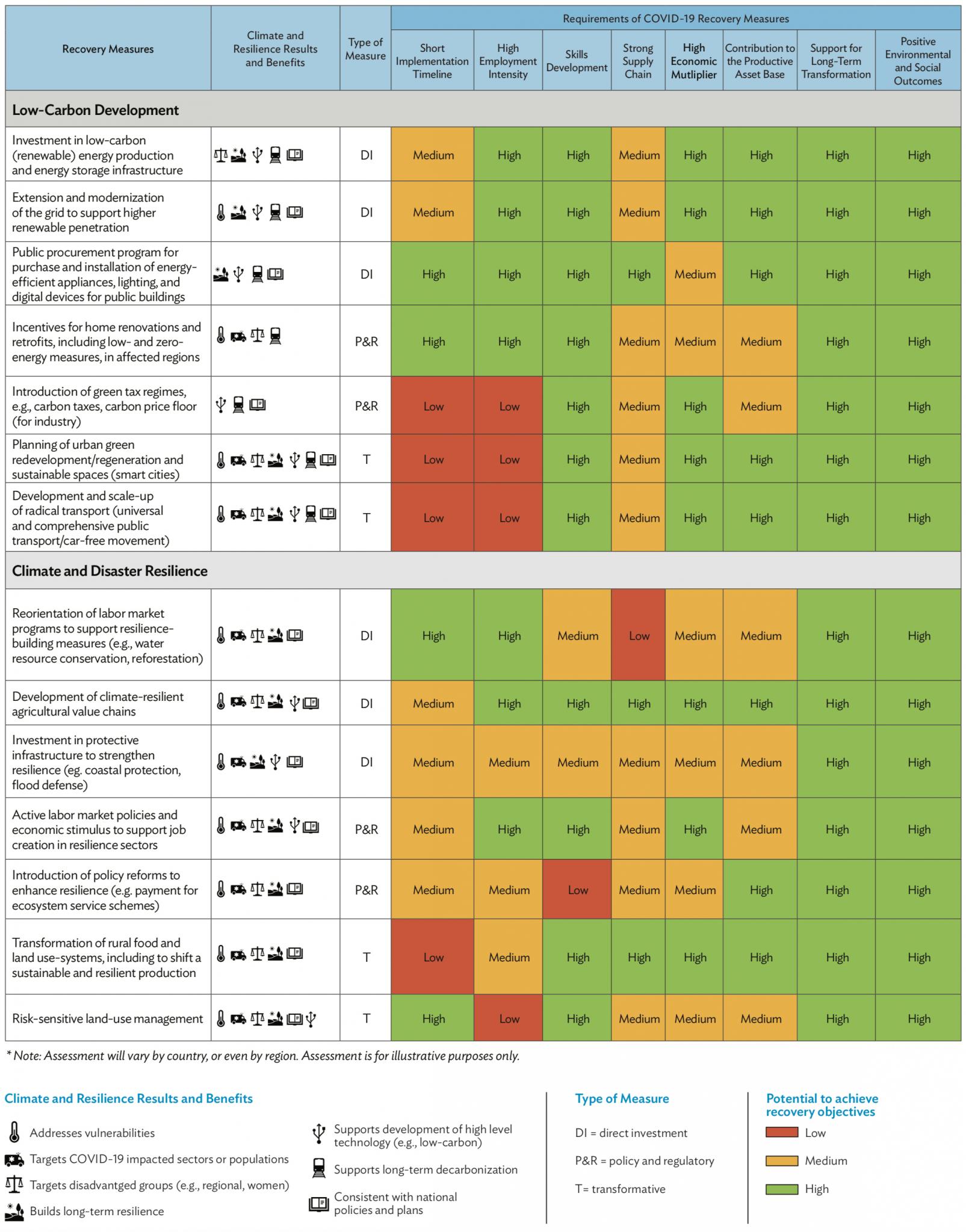 In addition to the economic recovery criteria, countries also need to define the benchmarks for assessing climate and resilience benefits as well as the basis for evaluating the performance of each measure against the criteria.  In the example presented in the Table, a qualitative "high"/"medium"/"low" assessment was used. This approach supports a more rapid assessment. A more detailed analysis could be done—by assigning weights or scores to certain criteria or by making a separate assessment for each phase of recovery, for example.  
COVID-19 has led to asymmetric socioeconomic impact across sectors, and within and between countries. For this reason, recovery interventions should also target the most affected groups or regions, where possible. In particular, it is critical to address gender-related impact on women and girls, especially those belonging to vulnerable groups.
Resources
Asian Development Bank. 2020. COVID-19 Recovery: A Pathway to a Low-Carbon and Resilient Future. Manila.
Leave your question or comment in the section below:
---
YOU MIGHT ALSO LIKE
---
---
Disclaimer
The views expressed on this website are those of the authors and do not necessarily reflect the views and policies of the Asian Development Bank (ADB) or its Board of Governors or the governments they represent. ADB does not guarantee the accuracy of the data included in this publication and accepts no responsibility for any consequence of their use. By making any designation of or reference to a particular territory or geographic area, or by using the term "country" in this document, ADB does not intend to make any judgments as to the legal or other status of any territory or area.
---
Was this article useful?
---