INSIGHT
Challenges in Harmonizing Food Safety Standards in Central Asia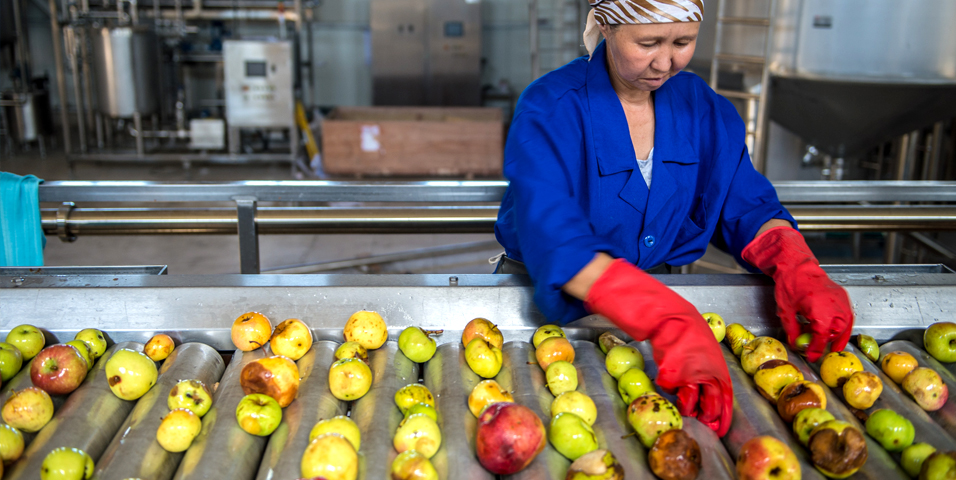 Published:
23 October 2019
There are no legal conflicts between the standards of the Eurasian Economic Union and Codex Alimentarius, but there is some confusion.
Introduction
International cooperation on food safety is necessary in a globalized economy. Every year, countries export food products in excess of $1.6 trillion. Goal 17 of the United Nations Sustainable Development Goals (SDGs) recognizes the importance of strong partnerships in trade.[1]
As part of Central Asia Regional Economic Cooperation (CAREC), the Asian Development Bank (ADB) aligns with this global agenda by helping CAREC member countries that were part of the former Soviet Union to transition to international food safety standards to facilitate international trade in agro-food.
Analysis
Most of ADB's support for CAREC countries from the time they became ADB members in the 1990s was directed toward greater integration and collaboration in the international sphere through a transition to market-oriented economic systems. The support to food safety was aligned with these aspirations.
Kazakhstan and the Kyrgyz Republic are two such countries that joined ADB in 1994. Both are members of the World Trade Organization (WTO),[2] which obliges them to comply with international food safety standards set by the CODEX Alimentarius. These countries have also maintained their historical and economical linkages with the Russian Federation and other countries of the former Soviet Union. They are members of the Eurasian Economic Union (EAEU).
Established in 2014, the EAEU aims to form an integrated single market among member countries for the free movement of goods, capital, services, and people.[3] Given its relatively new existence, there is much confusion at the national and regional levels on whether there are legal contradictions or conflicts between the food safety standards of the WTO and the EAEU and their implications to member countries.  Such clarifications would be helpful as more ADB member countries, such as Mongolia and Tajikistan, are posed to join the EAEU. 
Harmonization—still a work in progress
Overall the general principles of the WTO Sanitary and Phytosanitary (SPS) Agreement are firmly embodied within the laws of the EAEU and national legislation in Kazakhstan and the Kyrgyz Republic. Legal documents of the EAEU do not contain any conflicting or contradicting provisions, so they are fully WTO compliant and compatible.  
However, the confusion persists, mainly because harmonization takes time and therefore not all legal measures are in place. These have the following implications:
Lack of clear implementing provisions and therefore transparency of legal measures, causing lacunas in terms of practical application. In addition, food safety measures under the EAEU apply to certain categories of products only.
Food safety laws are enforced at the national level and therefore, there are differences among the EAEU member states, as the overall process of harmonization is not yet complete.
In the EAEU there is a clear trend for completing the transfer of rule-making powers to the Eurasian Economic Commission (EEC) for the establishment of the uniform sanitary and phytosanitary instruments for EAEU members. The goal of this harmonization is to ensure uniform requirements for the circulation of goods within the territories of the EAEU member states by adopting common technical regulations under the EAEU.
A practical example illustrating this situation can be provided by looking at the legal system of Kazakhstan. The country does not repeal a national law when the EAEU act applies but amends it to refer to the EAEU act. Pending this alignment, domestic sanitary and phytosanitary measures continue to apply if they do not conflict with the EAEU act. 
The process of EAEU harmonization is not complete and not all technical regulations are in place. National legislation remains in force and is applicable to the extent that it does not contradict the EAEU Treaty, Customs Union Commission Decisions, and EEC Council and Collegium Decisions.
Differences in maximum residue limits
A notable example of confusion is in relation to the maximum residue limits of veterinary drugs and pesticides. The EAEU regulation deviates from international food safety standards (Codex Alimentarius and OIE) in two specific areas: (i) EAEU takes a more stringent approach to maximum residue limits and (ii) the EAEU has not specified the maximum residue limit for veterinary medicinal products for antiparasitics.   As a general rule, any deviation on standards needs to be justified by science-based evidence as per the WTO SPS Agreement. 
Lack of clear implementing rules in EAEU
Another challenge is the lack of clear implementing provisions, guidelines, and manuals of procedures to ensure uniformity of application.
For example, the overall situation in Kazakhstan in terms of food safety is rather advanced, as the Law on Food Safety was adopted in 2007, with amendments and additions made on 10 January 2011. This law is almost fully compatible with international and European legislation. However, it could be emphasized that at present secondary legislation of Kazakhstan is strictly speaking not implementing the provisions of the primary legislation, i.e. the Law on Food Safety. This is clearly so in relation to risk assessment and Hazard Analyses and Critical Control Points. So, the de facto situation in relation to food safety deserves more attention and harmonization with international best practices.
Currently, the Kyrgyz Republic is in the process of approving its food safety law.
Implications
Steps forward for harmonization
The recently established EAEU does not have enforcement and technical regulation functions (i.e., control and surveillance, arbitration, the introduction of quarantines, banns, restrictions and temporary sanitary and phytosanitary measures). These functions should be guided and aligned to the WTO SPS Agreement for international agro-food trade.
To fast-track harmonization, priority should be given to three areas: 
Develop manuals and codes of practices to guide the value chain operators at the national and regional levels.
Develop guidelines and procedures to verify and correct for non-compliances to be comparable.
Align national legal normative documents with international best practices. 
These would support trade facilitation greatly, as their absence not only impacts on the efficiency of work of the national competent authorities but also undermines the principle of transparency of sanitary and phytosanitary procedures.
---
Resources
Asian Development Bank. Regional: Strengthening International Food Safety Standards in Agricultural Value Chains in the Central Asia Regional Economic Cooperation Member Countries.
Central Asia Regional Cooperation Program (CAREC). About CAREC.
United Nations. World Food Safety Day.
Leave your question or comment in the section below:
---
YOU MIGHT ALSO LIKE
---
---
Disclaimer
The views expressed on this website are those of the authors and do not necessarily reflect the views and policies of the Asian Development Bank (ADB) or its Board of Governors or the governments they represent. ADB does not guarantee the accuracy of the data included in this publication and accepts no responsibility for any consequence of their use. By making any designation of or reference to a particular territory or geographic area, or by using the term "country" in this document, ADB does not intend to make any judgments as to the legal or other status of any territory or area.
---
Was this article useful?
---