EXPLAINER
The Role of Ocean Finance in Transitioning to a Blue Economy in Asia and the Pacific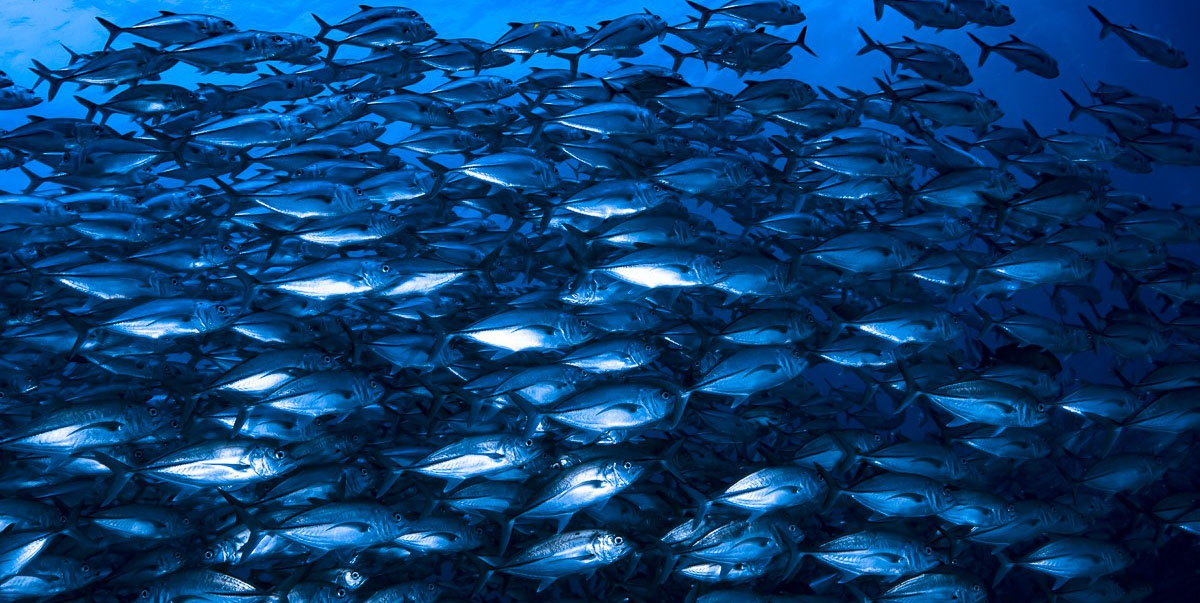 Published:
08 June 2020
Invest in innovative and bankable projects to support healthy oceans and resilient, sustainable blue economy sectors.
Introduction
The sustainable development of many economies in Asia and the Pacific depends on healthy oceans.
The "blue economy" is an emerging concept that promotes the sustainability of economic activities that use or affect ocean resources.
Ocean finance is essential to transition to a blue economy by defining standards and metrics, developing a pipeline of bankable ocean investments, innovating finance instruments, mobilizing capital, aligning taxes and subsidies, and strengthening policy, knowledge, and capacity.
Why is the ocean so important to the region?
Asia and the Pacific has some of the most diverse and productive marine areas in the world. They provide valuable ecosystem services to poor and vulnerable communities, which bring benefits, such as disaster resilience, livelihood, and food security, as well as drive economies through tourism, fisheries, and aquaculture.
Six out of the 10 largest fisheries in the world are in Asia (the People's Republic of China, Indonesia, India, Japan, Viet Nam, and the Philippines) and 34 million people in our region are engaged in commercial fishing.[1]
The region's ocean ecosystems however have been pushed to the brink of collapse. Half of all coral reefs have disappeared, fish stocks and marine species are in decline, the ocean is getting warmer and more acidic, and sea levels are rising. If fish stocks continue to deteriorate as predicted, the implications could be catastrophic for millions of people who depend on fisheries for food and livelihood to survive.
View infographic: Why Healthy Oceans Are Valuable to Asia and the Pacific.
What is the blue economy and the sustainable ocean economy?
The ocean supports many economic activities, which are growing rapidly and projected to reach at least $3 trillion in 2030.[2] Yet, parts of the ocean economy, for example deep sea mining, are undermining ocean health and therefore undermining the long-term viability of the economy.
The portion of the total ocean economy that is sustainable is unknown, partly because there is no universal definition of the synonymous terms "blue economy" and "sustainable ocean economy."[3] Various definitions have been proposed by the World Bank, European Commission, the Centre for the Blue Economy, and the High Level Panel on the Sustainable Ocean Economy. In simple but inclusive terms, the goal of the blue economy is environmental, social, and economic sustainability of sectors that impact and/or derive economic activity from the ocean. 
To further define and support the blue economy, a coalition including the European Commission, World Wildlife Fund for Nature, the European Investment Bank, and the Prince of Wales' International Sustainability Unit developed the Sustainable Blue Economy Finance Principles. The 14 overarching principles are being adopted by investors, banks, and other ocean economy actors around the world.
The Asian Development Bank (ADB), which is a signatory to the global principles, is preparing an Ocean Finance Framework to be launched in the third quarter of 2020. It will include a typology of blue economy sectors and segments, alongside limitations and boundaries. In the framework, the blue economy includes 1) ecosystem and natural resource management (fisheries, aquaculture, marine and coastal ecosystem management and restoration), 2) pollution control (solid waste management, wastewater management, circular economy, and nonpoint source pollution management), and 3) sustainable development and infrastructure (coastal resilience, ports and shipping, renewable energy, tourism, and community infrastructure). See Figure 1.
Figure 1: Ocean Finance's Composition, Challenges, and Opportunities to Support the Blue Economy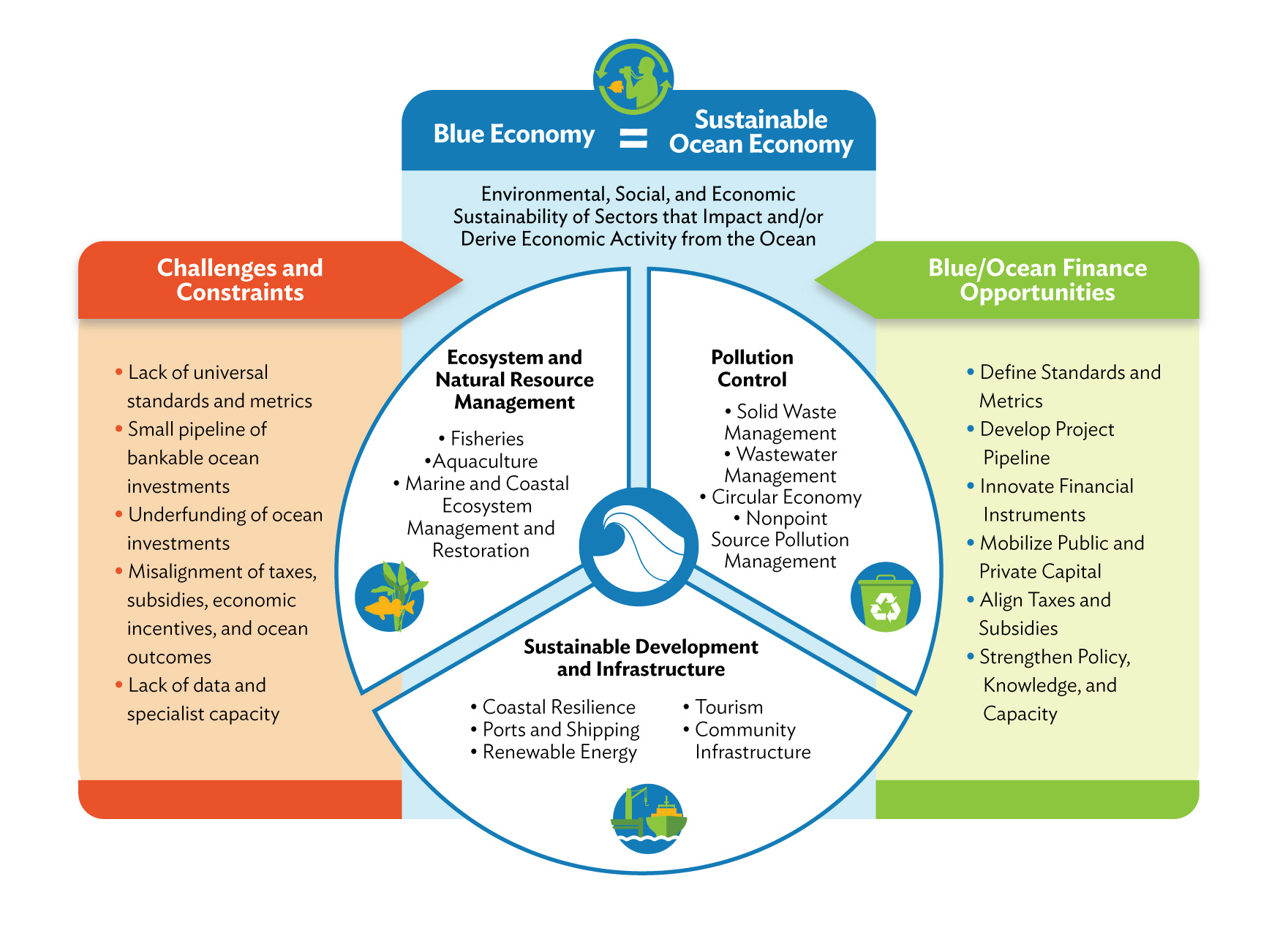 What are the primary challenges and threats to investing in the blue economy?
Figure 2: Project Pipeline of Blue Economy Segments Alignment with Financial Returns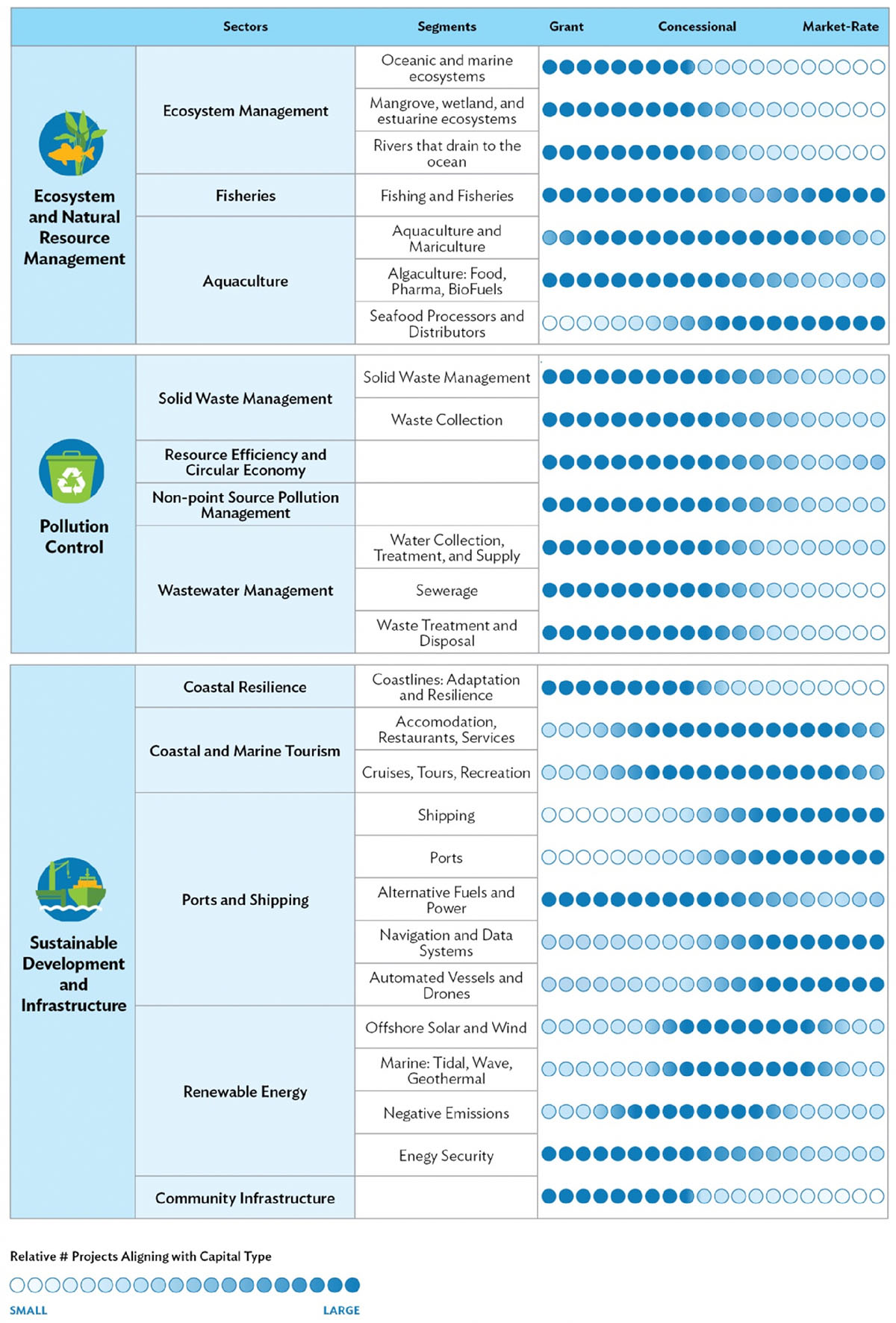 What is the role of ocean finance in transitioning toward a blue economy?
Blue finance (synonymous with ocean finance) can be defined as generating, investing, aligning, and accounting for financial capital to achieve sustained ocean health and governance.[30] A holistic and strategic approach to finance is required to support a blue economy. ADB's Ocean Finance Initiative includes six objectives to lead the creation of a blue economy in Asia and the Pacific (Figure 3). These six objectives can be more universally applied for a global blue economy, as described below.
Figure 3: ADB Ocean Finance Initiative Objectives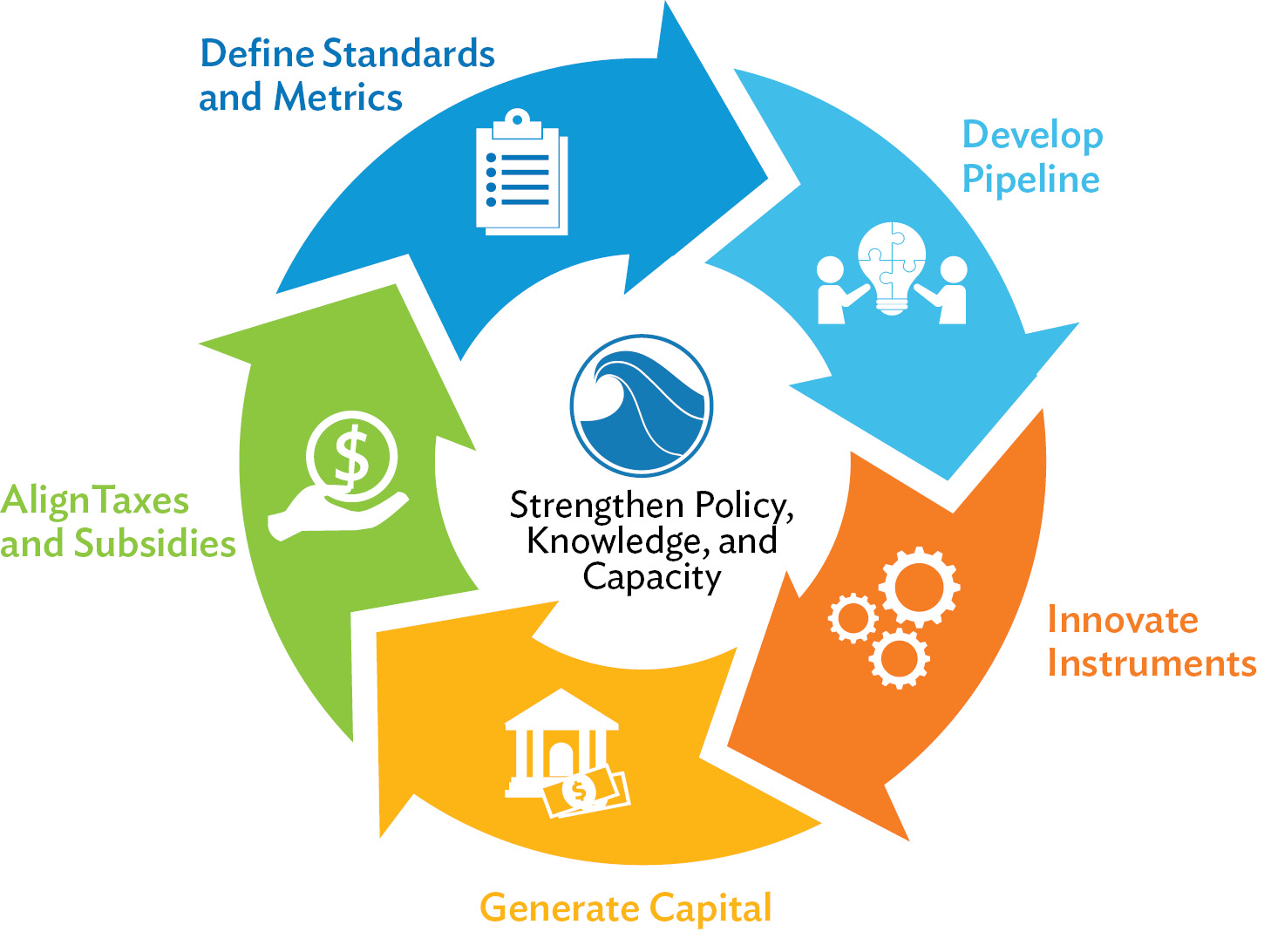 Box 1: Example Innovative Finance Instruments for the Blue Economy
Blue bonds. Proceeds of this fixed-income debt instrument are invested into projects that meet the bond criteria. Blue bonds can generate jobs, economic growth, and healthy oceans by investing in fisheries, marine and coastal tourism, coastal pollution and circular economy, marine renewable energy, and green ports and shipping.
Results-based lending. Also known as sustainability-linked loans or impact loans, results-based lending is a debt instrument in which the financing and sometimes the interest rate are tied to the delivery of specific environmental, social, and governance (ESG) targets. This asset class is growing much more rapidly than green loans and bonds. As business faces increasing liquidity shortages due to the coronavirus disease (COVID-19) pandemic, there is an increasing opportunity to use these instruments in a blue economic recovery.
Ocean Risk Insurance.  Parametric insurance products, such as coral reef insurance, may address ocean risks, including loss of income in fisheries or performance shortcomings of new technologies. Subsidized insurance premiums may be used as a reward for environmental compliance.
Payments for Ecosystem Services (PES). By capturing and monetizing benefits from marine ecosystem services, PES schemes help to pay the protection and management costs of marine resources. For example, coastal mangroves often provide the service of filtering contaminated water before it enters the coastal ocean; a marine tourism provider operating in the coastal ocean could pay for this service through voluntary or regulated payments.
---
Resources
Asian Development Bank (ADB). 2019. Action Plan for Healthy Oceans and Sustainable Blue Economies. Manila.
ADB. 2019. Oceans Financing Initiative. Manila.
ADB. 2019. ADB Launches $5 Billion Healthy Oceans Action Plan. News release. 2 May.
ADB. 2019. Republic of Korea Pledges $355 Million to Support ASEAN Green Infrastructure and Ocean Health. News release. 4 May.
I. van Wees. 2019. Deep Clean: How 'Blue Finance' Can Save Our Oceans. Asian Development Blog. May.
Leave your question or comment in the section below:
---
YOU MIGHT ALSO LIKE
---
---
Disclaimer
The views expressed on this website are those of the authors and do not necessarily reflect the views and policies of the Asian Development Bank (ADB) or its Board of Governors or the governments they represent. ADB does not guarantee the accuracy of the data included in this publication and accepts no responsibility for any consequence of their use. By making any designation of or reference to a particular territory or geographic area, or by using the term "country" in this document, ADB does not intend to make any judgments as to the legal or other status of any territory or area.
---
Was this article useful?
---