EXPLAINER
How Oil Rigs Can Help Preserve Marine Life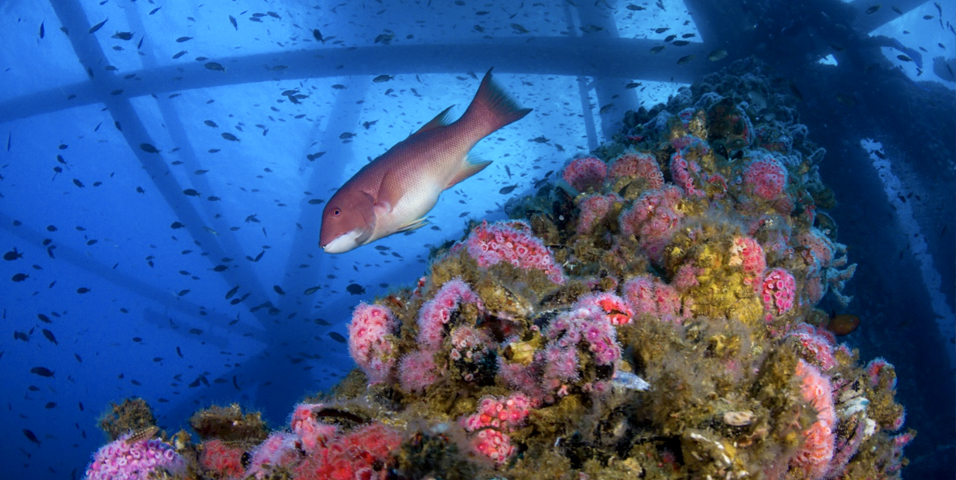 Published:
28 August 2019
Converting oil platforms into reefs not only results in millions of dollars in cost savings but also results in the preservation of some of the most productive ecosystems on earth.
Introduction
Globally there are over 6,000 offshore oil and gas platforms, and in Southeast Asia alone there are over 1,000 (University of California, Santa Barbara 2019). Many of these are aging relics, leftover designs from an era in hot pursuit of developing and extracting the world's offshore oil reserves, with little thought given to their eventual removal. However, as the global economy has begun to shift away from traditional energy resources (i.e. offshore oil and gas) towards renewables (i.e. offshore wind, wave and solar energy), the removal of many of these structures has become inevitable, and the technical, economic and environmental implications associated with their decommissioning must now be addressed.
Completely removing or decommissioning an offshore oil and gas platform presents several unexpected ecological complexities, many of which pertain to the age-old question of production versus attraction. Are these platforms merely temporarily providing a shelter for passing marine life? Or are they actual producing additional biomass? If they are producing biomass, as many studies indicate, then their value ecologically becomes increasingly important (Claisse et al. 2014).
For Emily Hazelwood and Amber Sparks, founders of Blue Latitudes, the Rigs to Reefs program is a less costly option to remove an offshore oil rig that would benefit marine life as well.
What is Rigs to Reefs?
Rigs to Reefs provides an alternative to complete platform removal, enabling oil companies to modify their platform structures so that they might continue to support marine life as an artificial reef. Through this decommissioning process, the oil well is capped, and the upper 85 feet of the platform structure is towed to another location, toppled in place, or removed. Rigs to Reefs can save oil companies millions of dollars in decommissioning costs, however, not all platforms are suitable as reefing candidates. Each platform must undergo extensive ecological evaluations to assess any potential value it might add to the local ecosystem.
Rigs to Reefs was born in the late 1980s in the Gulf of Mexico, and since that time the Gulf states have reefed between 500 and 600 of their oil platforms, incorporating them into state artificial reef programs. In Asia, the program has been implemented in Malaysia and Brunei Darussalam.
What happens when the oil wells dry up?
Decommissioning is the last phase of any offshore oil and gas project. When an oil reserve, and its associated wells, reaches the end of its economic life, the process of decommissioning begins. All of the wells must be safely plugged and abandoned, the topside facilities, the platform jacket and drilling infrastructure must be disconnected and removed from the seafloor and towed to shore for disposal or recycling, and finally the sea floor is returned to its original unobstructed condition. 
Decommissioning must be expensive. What other options are available?
Costs can run as high as $200 million to completely remove a large deep-water platform in the Gulf of Mexico, with daily derrick barge costs running as high as $700,000 a day to transport the structure to its final disposal site (Harrington 2014). In the Asia-Pacific region, an average 6,000-ton oil platform will cost approximately $35 million to completely remove. However, there is another decommissioning option available for these towering steel structures, Rigs to Reefs, the practice of converting decommissioned oil and gas platforms into artificial reefs. 
Decommissioning via the Rigs to Reefs approach would result in decommissioning costs being cut in half, with average cost savings amounting to nearly $22 million per platform decommissioned (Twomey 2010). In the United States, the established Rigs to Reefs programs mandate that these cost savings be shared with the state to fund the Rigs to Reefs program, marine education and conservation. These funds incentivize the state to accept liability for the structure and ensures that both the oil company shareholders and the state benefit financially. 
Can oil platforms really become reefs?
It's true. Recent publications have indicated that the oil platforms off the coast of California, some of the most well-studied platforms in the world, are home to some of the most productive ecosystems on the planet. When a platform is first installed, it quickly attracts a variety of marine species, and eventually, that attraction shifts into production, each platform forming small ecosystems that in some cases, may evolve into habitats that are more productive than mangrove forests, rocky reefs, and even estuaries (Claisse et al. 2014).
Several studies have documented a connection between marine life, fishing, and oil platforms in the marine environment (Claisse et al. 2014; Grossman et al. 1997). An average eight-leg platform structure can provide a home for up to 14,000 fish, while a smaller, four-leg structure can provide between 2-3 acres of habitat for a variety of marine species. The reality is that while near shore habitats are being degraded by anthropogenic impacts, such as pollution, erosion, and over-fishing, oil platform structures have developed into hotspots for life. Their location, typically far from near shore impacts, combined with the complexity of their structures, creates an ideal environment for the development of marine communities, and provides an excellent home for a variety of near-shore species.  
What other benefits can Rigs to Reefs provide?
Re-purposing oil platforms as reefs presents an opportunity to save costs while minimizing impacts to the environment. Further, commercial and recreational fishing and recreational scuba diving prosper from the enriched marine habitat resulting from the conversion, which in turn, increases local tourism. Off the coast of Mabul, Malaysia, a jack-up rig has been converted into an eco-resort for diving enthusiasts to explore the surrounding marine ecosystem and the reefs that have grown up around the converted rig. 
The Rigs to Reefs program has proven to be a replicable and scalable solution which can catalyze sustainable ocean resource development. With more than 500 structures converted during the last 30 years in the United States, Rigs to Reefs is a proven circular economy approach which helps maintain the value of ecosystem services and redefine industrial growth while providing a platform for new industries such as offshore wind, marine aquaculture, and ecotourism.
Resources
Asian Development Blog. Rigs to reefs: How offshore oil platforms could prevent the next great ocean extinction
J.T. Claisse et al. 2014. Oil Platforms off California are among the most productive marine fish habitats globally. [PNAS] Proceedings of the National Academy of Sciences of the United States of America. 28 October. v. 11, no. 43. 
G.D. Grossman et al. 1997. Do artificial reefs increase regional fish production? A review of existing data. Fisheries (Bethesda, Md) 22 (4). pp. 17–23.
K. Harrington. 2014. 2014. Rigs-to-Reefs Program Saves Time, Money and Boosts Marine Life. ChEnected. 24 June.
B.G. Twomey. 2010. Study Assesses Asia-Pacific Offshore Decommissioning Costs. Oil and Gas Journal, 15 May.
University of California - Santa Barbara. 2019. Transitioning old oil rigs into permanent reefs. ScienceDaily. ScienceDaily, 31 January.
Leave your question or comment in the section below:
---
YOU MIGHT ALSO LIKE
---
---
Disclaimer
The views expressed on this website are those of the authors and do not necessarily reflect the views and policies of the Asian Development Bank (ADB) or its Board of Governors or the governments they represent. ADB does not guarantee the accuracy of the data included in this publication and accepts no responsibility for any consequence of their use. By making any designation of or reference to a particular territory or geographic area, or by using the term "country" in this document, ADB does not intend to make any judgments as to the legal or other status of any territory or area.
---
Was this article useful?
---