CASE STUDY
Increasing Economic Activities through Night Markets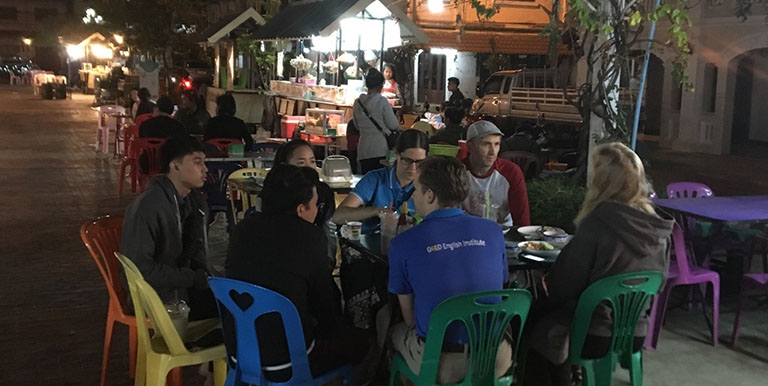 Published:
12 August 2019
A livelihood project sets up night markets in border towns of the Greater Mekong Subregion and provides microfinance support to vendors.
Overview
A pilot project has developed night markets in selected border towns in the Greater Mekong Subregion (GMS) to take advantage of the economic opportunities opened by infrastructure projects in the area.
Poverty is still substantial in the subregion, where its incidence ranges from 9%–34% of the population. In Cambodia, one of the three GMS countries covered by the project, poverty incidence from 1992–2007 was at 36%. In the Lao People's Democratic Republic (Lao PDR), an estimated 34% of the population live under the poverty line. Although Viet Nam's progress toward reducing poverty has been impressive, declining to 10.6% in 2010 from 58% in 1993, urban areas such as those in the Mekong Delta still have high poverty rates at 13.5%.
The Livelihood Support for Corridor Towns project built night market facilities, provided access to finance, and enabled poor communities to run sustainable businesses along the Mekong River. The Asian Development Bank (ADB) supported the project with a $2.5 million grant from the Japan Fund for Prosperous and Resilient Asia and the Pacific (formerly Japan Fund for Poverty Reduction).
Project information
Project snapshot
November 2013: Approval date
December 2018: Closing date
$2.5 million : Japan Fund for Prosperous and Resilient Asia and the Pacific (formerly Japan Fund for Poverty Reduction)
$0.3 million : counterpart funding ($0.1 million from each of the three countries)
Financing

Asian Development Bank : financed by Japan Fund for Prosperous and Resilient Asia and the Pacific (formerly Japan Fund for Poverty Reduction)
Executing agency
Cambodia: Ministry of Public Works and Transport
Lao People's Democratic Republic: Ministry of Public Works and Transport
Viet Nam: People's Committee of Quang Tri Province
Implementing agency
Cambodia: Municipality of Battambang
Lao People's Democratic Republic: Local Government of Kaysone Phomvihane
Viet Nam: People's Committee of Dong Ha City
Challenges
Communities spanning the Mekong River have been highly dependent on agriculture, particularly on rice production, which is highly vulnerable to fluctuating rice prices, climate change, and other factors. Residents do not have enough capital to set up any kind of business.
Investments in infrastructure and connectivity in economic corridors in the Greater Mekong Subregion have increased trade and tourism and improved transport. However, poor communities lack the capacity to take advantage of the opportunities these improvements would bring.
Context
GMS corridor towns are potential trading hubs—centers of growth that can cater to businesses from tourists and nearby agricultural areas. Once developed, they can greatly contribute to economic growth and poverty reduction in the subregion.
Three projects supported by ADB are enhancing trade and transport infrastructure in several towns of Cambodia, Lao PDR, and Viet Nam in two of the three GMS economic corridors: East–West and Southern corridors. These infrastructure projects are expected to help transform these towns into economic hubs.
Solutions
Three towns strategically located near areas of agricultural production, tourism, and cross-border trade, and with many engaged in informal trading—Battambang in Cambodia, Kaysone Phomvihane in Lao PDR, and Dong Ha in Viet Nam—were chosen for the pilot project. These towns are expected to benefit in particular from the flow of tourists to Siem Reap passing through Battambang and from Thailand crossing the Lao PDR and Viet Nam via Kaysone Phomvihane as well as those visiting the beaches and war memorials in Dong Ha.
The project adopted a two-pronged approach to expand opportunities for people in the East-West and Southern Economic Corridors—economic stimulation and community empowerment. It built night markets and integrated the activities of micro and small vendors into the new facilities.  
Provision of market facilities
Three night markets were built for each of the towns, creating a recreation hub for people to eat, drink, and shop. Street markets help revitalize city centers, promote livable cities, and provide job opportunities. The markets were opened in 2018 with reserved stalls for women and separate toilets for males and females.
Provision of microloans
The project offered microloans ranging from $500 to $1,000 per market vendor. It used attractive rates channeled through a local microfinance provider. The borrowers must be members of the market vendors' association and engaged in informal market trading.
Capacity building and outreach
Training programs enhanced the capacity of the market vendors and the local governments in the management and operation of market facilities. Market management committees and members of the market vendors associations learned about market operation and maintenance, marketing, accounting, and facilities management.
Information and awareness campaigns promoted the night markets. The project distributed leaflets and brochures, and advertised through newspaper, radio, and television.
Results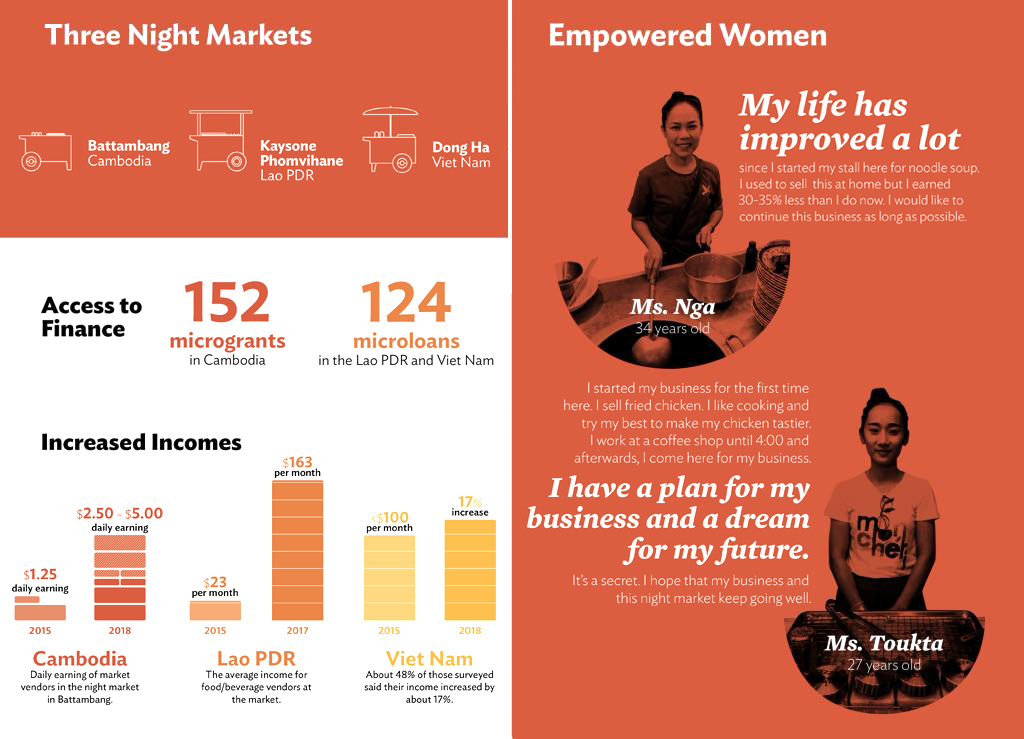 Some 450 vendors are formally engaged in trading and microenterprises at the night markets.
A preliminary poll[1] among market vendors in Cambodia showed that their daily earnings reached $2.50 to $5, compared with only $1.25 or less in 2015. The average income for food/beverage vendors at the market in the Lao PDR was $163 per month—a big leap from the $23 per month baseline. In Viet Nam, the average monthly income of poor market vendors was below $100, and 48% of those surveyed said their income increased by about 17% compared to 2017.
The project provided a total of 124 microloans in the Lao PDR and Viet Nam. In Cambodia, the microloans were converted to microgrants, which benefited 152 vendors. About 70% of the financing beneficiaries are women.
The market in Cambodia was completed in April 2018 and has 100 fixed and 52 mobile stands. In the Lao PDR, the market has mobile stalls and featured upgrades to the existing market grounds. It was also completed in April 2018. Meanwhile, the market in Viet Nam was completed in June 2018, and its structure resembles a day market.
Governance structures (market management committees and market vendors associations) were set up to maintain and operate the markets. As of December 2018, the market vendors associations had a total of 407 members (152 in Cambodia, 98 in Lao PDR, and 157 in Viet Nam).
In addition, the project conducted 22 training courses and trained 450 people.
Lessons
While the project yielded promising results, it could have achieved more if there was more time to monitor and ensure that all the activities such as the construction of facilities and provision of training sessions ran smoothly. Activities were scheduled one after the other so when one activity was delayed, all other activities were also delayed.
Construction of the markets was severely delayed, and this shortened the time allotted for other aspects of the project such as the implementation of capacity building activities that would have helped market management committees and market vendors associations better manage the markets.
In addition, the project was not able to reach its target 600 beneficiaries because the delay provided less time for training and outreach. Construction of the markets and the training and outreach could have been done simultaneously.
The pilot was relatively small compared to other ADB projects, but its elements required knowledge and skills in civil works, governance building, and microfinance. This was a challenge for the project management units as its capacity was limited. Hence, its personnel focused on the civil works component. Another entity could have been assigned to implement the soft components of the project, such as training and provision of microfinance, to ensure parallel progress.
Despite the delays, the project demonstrated that providing the poor with spaces where they can actively help their local economies grow can potentially reduce poverty. It empowered the urban poor along the Mekong Delta by providing a venue and capital for livelihood activities that can give them a higher income and create more jobs. Testimonies from market vendors, who are mostly women, showed that it became easier to sell their products and earn more profits.
Resources
Asian Development Bank. 2019. Implementation Completion Memorandum: Greater Mekong Subregion: Livelihood Support for Corridor Towns. Manila.
ADB. April 2013. Proposed Grant Assistance Greater Mekong Subregion: Livelihood Support for Corridor Towns. Manila.
Leave your question or comment in the section below:
---
YOU MIGHT ALSO LIKE
---
---
Disclaimer
The views expressed on this website are those of the authors and do not necessarily reflect the views and policies of the Asian Development Bank (ADB) or its Board of Governors or the governments they represent. ADB does not guarantee the accuracy of the data included in this publication and accepts no responsibility for any consequence of their use. By making any designation of or reference to a particular territory or geographic area, or by using the term "country" in this document, ADB does not intend to make any judgments as to the legal or other status of any territory or area.
---
Was this article useful?
---