EXPLAINER
Participation Tools for the Pacific - Part 4: Assessment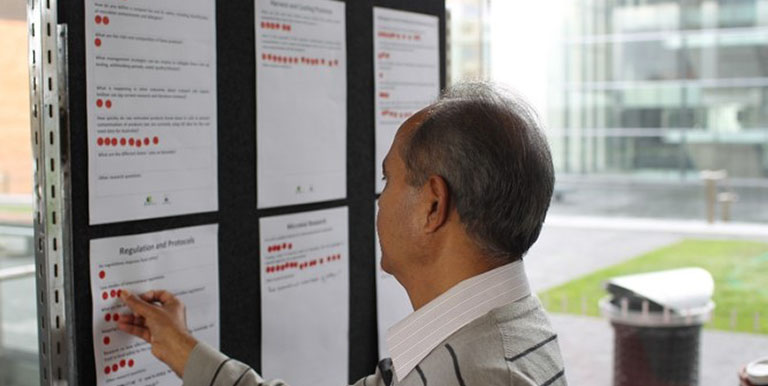 Published:
02 May 2019
Baselining, Ten Seed Technique, Seasonal Calendar, Community Mapping, Transect Walk, and Visioning are all participatory tools used for assessment.
Introduction
What you need to know
Engagement of key stakeholder groups in operations financed by the Asian Development Bank (ADB) promotes good governance, transparency, innovation, responsiveness, and development effectiveness. Effective engagement of stakeholder groups, including civil society, project beneficiaries, and project-affected people, requires the understanding and effective use of participatory tools throughout the project cycle. However, while one participatory tool may work well in one context, it may not be appropriate in another. This series of explainers provides a range of tools from which practitioners can pick and choose, according to different phases of the ADB project cycle, context, and available time/resources. Some tools may be specific to particular phases in the ADB project cycle, such as monitoring and evaluation tools, while others may be used throughout the project cycle, such as participatory assessment tools.
This piece focuses on the Tools for Assessment.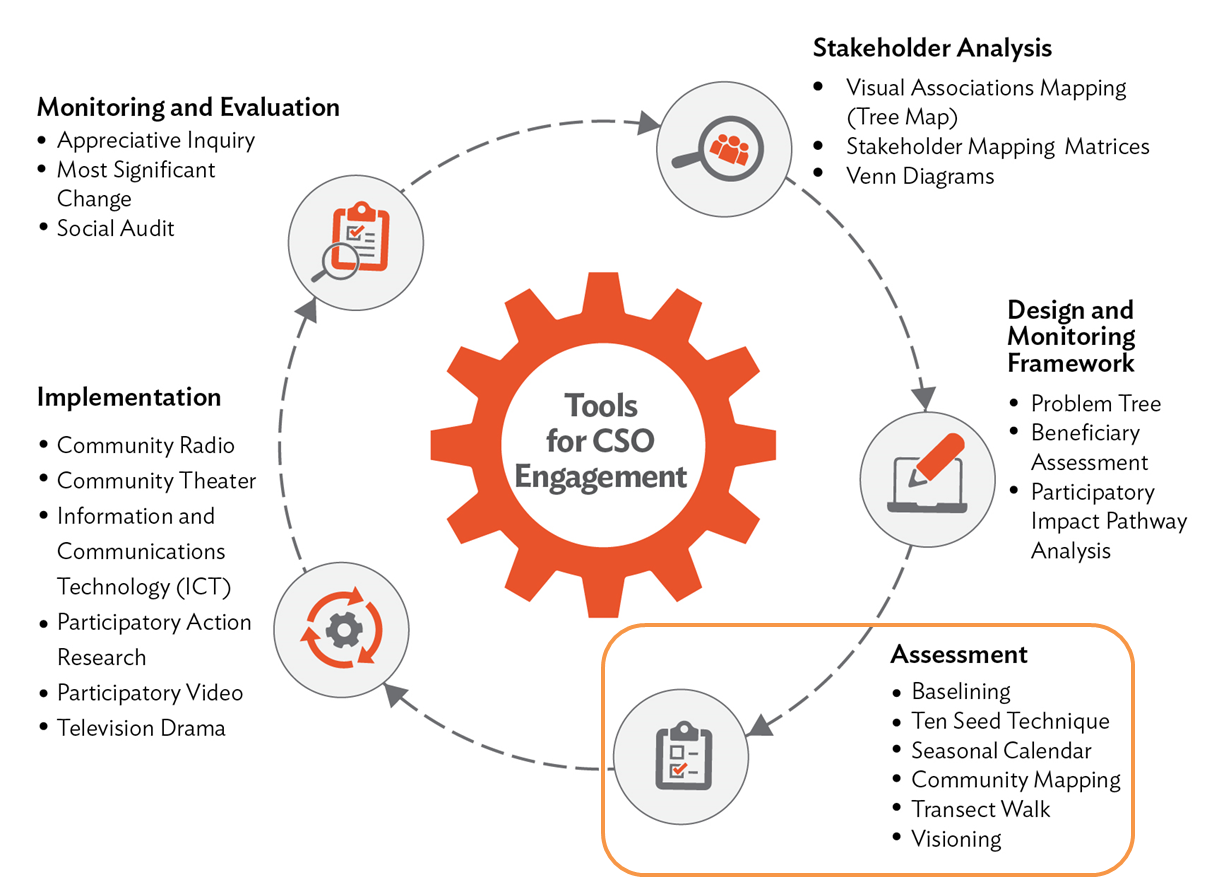 Tools for Assessment
Participatory assessment methods are used to work with beneficiaries and stakeholders to examine their own strengths and weaknesses. Beneficiaries and local communities should be included in assessments of their situation.
Baselining
Ten Seed Technique
Seasonal Calendar
Community Mapping
Transect Walk
Visioning
Some Do's and Don'ts
Do
Allow enough time for the use of the tools: rich learning is possible by engaging a range of stakeholders, but this process should not be rushed.
Fully explain to the participants the purpose of the participatory exercise: explain why you are collecting this information, how the exercise will work and how the information gathered will be used.
Use tools that are contextually appropriate: use images, phrases, terminology and languages that the participants understand.
Be flexible: while there are guidelines for using each tool, they can be adapted as needed.
Use other methods of data collection to triangulate the data collected during participatory assessments.
Research and investigate power and gender relations prior to starting participatory assessment activities. In the Pacific, prior engagement with the local power structures (chiefly system) is important to gaining community trust and engagement.
Start with a conversation/use talanoa: many Pacific cultures value informal conversations and getting to know one another before starting work or business.
Don't
Assume that all community members have the time or willingness to be involved.
Hold activities and workshops at times when the community or parts of the community is busy.
Skimp on catering! Be aware that many community members may have to travel long distances, often by foot, to join your meeting. Food is a very important part of meetings and facilitated workshops in the Pacific.
Use highly detailed questionnaires or surveys or large clipboards, laptops, tablets: many Pacific cultures are based on storytelling and conversation. Where possible, transcribe data immediately after the exercise instead of during. 
Be a FIFO (fly in, fly out) expert: the Pacific development community responds to commitment and local knowledge.
Related Links
Participation Tools for the Pacific - Part 1: Engaging Pacific Civil Society Organizations
Participation Tools for the Pacific - Part 2: Stakeholder Analysis
Participation Tools for the Pacific - Part 3: Design and Monitoring Framework
Participation Tools for the Pacific - Part 5: Implementation
Participation Tools for the Pacific - Part 6: Monitoring and Evaluation
Downloadable Copy
Participation Tools for the Pacific - All Parts
Participation Tools for the Pacific - Part 4
Leave your question or comment in the section below:
---
YOU MIGHT ALSO LIKE
---
---
Disclaimer
The views expressed on this website are those of the authors and do not necessarily reflect the views and policies of the Asian Development Bank (ADB) or its Board of Governors or the governments they represent. ADB does not guarantee the accuracy of the data included in this publication and accepts no responsibility for any consequence of their use. By making any designation of or reference to a particular territory or geographic area, or by using the term "country" in this document, ADB does not intend to make any judgments as to the legal or other status of any territory or area.
---
Was this article useful?
---