INSIGHT
Beyond the Pandemic: Building Back a Better Water Sector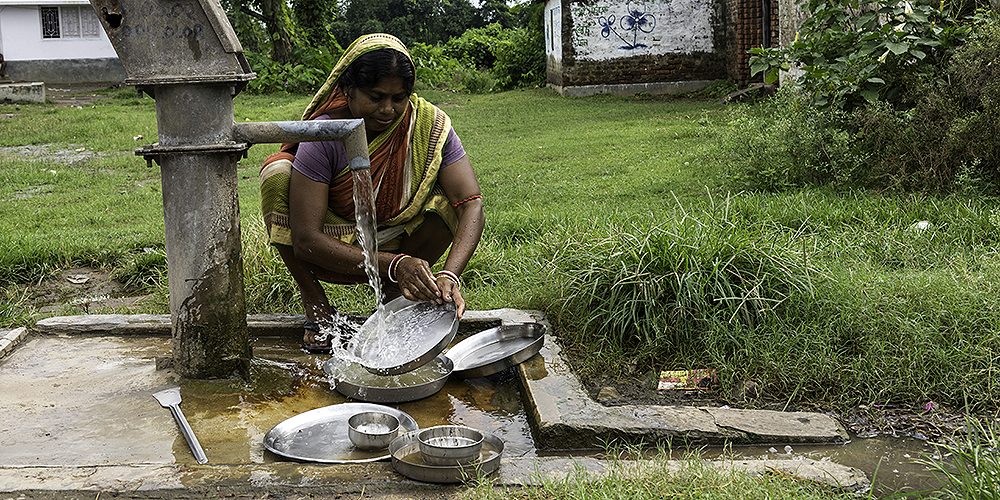 Published:
30 August 2021
Accelerating universal access to water and sanitation is critical to preventing and managing future health crises.
Introduction
Getting Asia and the Pacific on track to achieve the Sustainable Development Goals (SDGs) is a tall order. This is especially true in developing economies where government budgets are spread thinly across many priorities.
Raising global alarms on public health and safety, the coronavirus disease (COVID-19) however makes achieving Goal 6—clean water and sanitation for all—even more urgent. Inequality of access and inefficiency in services hinder good hygiene practices, which are essential in avoiding infection.
On the other hand, the pandemic serves as a unique opportunity to revisit water management and improve service delivery in ways that help countries in Asia and the Pacific better manage future crises and improve equitable access to water.
The Asian Development Bank (ADB) developed a guidance note for the water sector based on a survey of service providers in the region, who are at the forefront of ensuring regular water supply to their communities during the pandemic. Analysis of water sector impacts and responses shows the potential pathways for shaping a resilient post-pandemic recovery for the sector.
Challenges
The pandemic hit the service providers in all aspects: water security, technical operations, commercial operations, financial, and socioeconomic. Respondents identified the following issues that affect continuous clean water and sanitation service delivery:
Water security
The pandemic underscored the importance of sanitation and wastewater management amidst initial fears that the COVID-19 virus may persist in sewage or bodies of water. Contact with recreational water (e.g., river water contaminated with untreated sewage) appears to be low risk, but it is not entirely free of risk. These fears emphasized the importance of adequate disinfection of water for domestic use and human consumption as well as wastewater treatment and monitoring of environmental waters.
Impacts on technical operations
The pandemic altered key drivers of the water sector: water demand and wastewater discharge. The survey showed that 41% of respondents experienced a reduction in commercial and industrial demand, while 50% experienced an increase in household water demand. These changes triggered the need for rapid operational adjustments in allocating and reallocating supply across the system amid significant challenges to the workforce and human resources management. Service providers had to balance the need for an adequate level of service while ensuring the safety of their personnel in a pandemic environment. 
Water quality and wastewater treatment also became a key focus for service providers. There was a 30% increase in both the frequency of water quality testing and the number of testing locations, specifically because of COVID-19. However, this was not conducted in many middle- and low-income countries where wastewater treatment facilities do not exist.
Impacts on commercial operations
Many governments intervened to ensure the continuity of critical water services to households during the pandemic. Financial aid to customers was given by reducing tariffs, providing free water services, or payment plan extensions and discounts. About 43% of respondents have implemented deferred payment schemes. 
Due to mobility restrictions and to protect staff, many service providers had to suspend commercial operations such as meter readings, billing, payment collections, and customer service. As a result, 33% of the service providers created new electronic payment channels (mobile or online), and 19% improved their existing electronic channels.
Financial impacts
The biggest single financial impact on service providers is revenue decline. The decrease in commercial and industrial water consumption has not been fully absorbed by the increase in household water consumption. With customer financial relief efforts, some utilities have been unable to collect payment from residential customers.
Financial support from the government has become a saving grace for service providers who have taken a hit in revenues and financial reserves. But in countries where there is an absence of government relief, the financial burden to jumpstart capital spending is borne by the water service providers alone.
Socioeconomic impacts
The pandemic further highlighted the inequalities in water and sanitation access. Although handwashing is crucial in preventing and containing the spread of COVID-19, proper hygiene practices remain challenging in areas with limited or no clean running water.
Water sector response was particularly difficult for urban slums. Those living in high-density slum areas remained vulnerable due to intermittent water supply or lack of access to water services. Communal or shared water resources also posed health risks as long queues present a risk of exposure.
Priorities for Recovery
The resumption of many, although not all, kinds of commercial and social activities is both an opportunity and a challenge to water service providers. Properly managed, this can lead to improved economic and public health outcomes. However, careless execution can put more people at risk of COVID-19, and may mean reverting to response or emergency mode.
To support the water sector, the immediate priorities for recovery include the following: 
Ensure public safety through continuous provision of essential services while protecting the health of the staff 
Support the financial recovery of water service providers by finding a balance between the need to extend continuing financial relief to customers and ensuring the resumption of critical capital works 
Enhance service providers' resilience by integrating the lessons of the COVID-19 pandemic into planning and operations 
Protect the well-being and ensuring social outcomes for the vulnerable sectors
Moving Forward
It is important to start rebuilding a more sustainable and resilient water sector, and this can be achieved by the following:
Preventing and responding to future health crises. Health crises can be addressed more effectively by integrating water, sanitation and hygiene (WASH) into the public health strategy. Water service providers must also improve their crisis preparedness and response management, and use wastewater-based epidemiology.
Accelerating universal access to water and sanitation. Accelerating universal WASH access in line with SDG 6 will require large investments and innovative methods for water and sanitation services, such as decentralization and employing nature-based solutions. 
Adopting digital technologies. Water service providers should use digital innovations that are increasingly available at cost-effective pricing, and adopt technologies that add the most value to service providers and customers.
Increasing the resilience of the water sector. After the pandemic, key focus should be on adopting approaches and innovations to enhance resilience and sustainability, encouraging the circular economy especially towards achieving net zero carbon status, and promoting climate adaptation measures.
Exploring public–private partnerships (PPPs). Private sector investment is another important component of financing water sector recovery and rejuvenation. Service providers could explore PPPs to help fund water and sanitation projects. Financing support must be coupled with capacity building of service providers, including planning for crisis preparedness for pandemic scenarios. 
Resources
Asian Development Bank. 2021. COVID-19 and Water in Asia and the Pacific: Guidance Note. Manila.
Leave your question or comment in the section below:
---
YOU MIGHT ALSO LIKE
---
---
Disclaimer
The views expressed on this website are those of the authors and do not necessarily reflect the views and policies of the Asian Development Bank (ADB) or its Board of Governors or the governments they represent. ADB does not guarantee the accuracy of the data included in this publication and accepts no responsibility for any consequence of their use. By making any designation of or reference to a particular territory or geographic area, or by using the term "country" in this document, ADB does not intend to make any judgments as to the legal or other status of any territory or area.
---
Was this article useful?
---