EXPLAINER
Participation Tools for the Pacific - Part 5: Implementation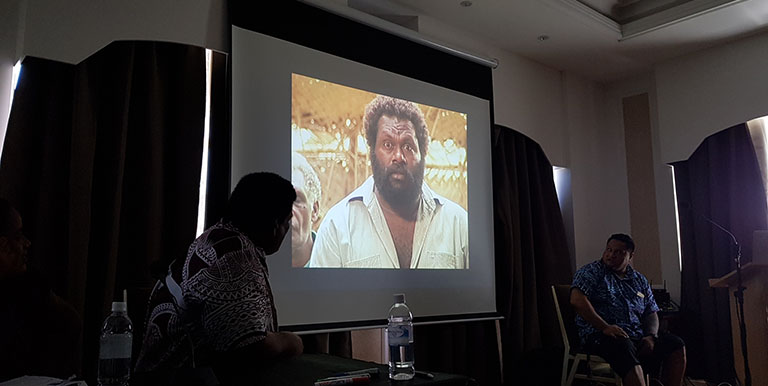 Published:
02 May 2019
Community Radio, Participatory Action Research, and Television Drama are some of the implementation tools for communications and behaviour change.
Introduction
What you need to know
Engagement of key stakeholder groups in operations financed by the Asian Development Bank (ADB) promotes good governance, transparency, innovation, responsiveness, and development effectiveness. Effective engagement of stakeholder groups, including civil society, project beneficiaries, and project-affected people, requires the understanding and effective use of participatory tools throughout the project cycle. However, while one participatory tool may work well in one context, it may not be appropriate in another. This series of explainers provides a range of tools from which practitioners can pick and choose, according to different phases of the ADB project cycle, context, and available time/resources. Some tools may be specific to particular phases in the ADB project cycle, such as monitoring and evaluation tools, while others may be used throughout the project cycle, such as participatory assessment tools.
This piece focuses on Tools for Implementation.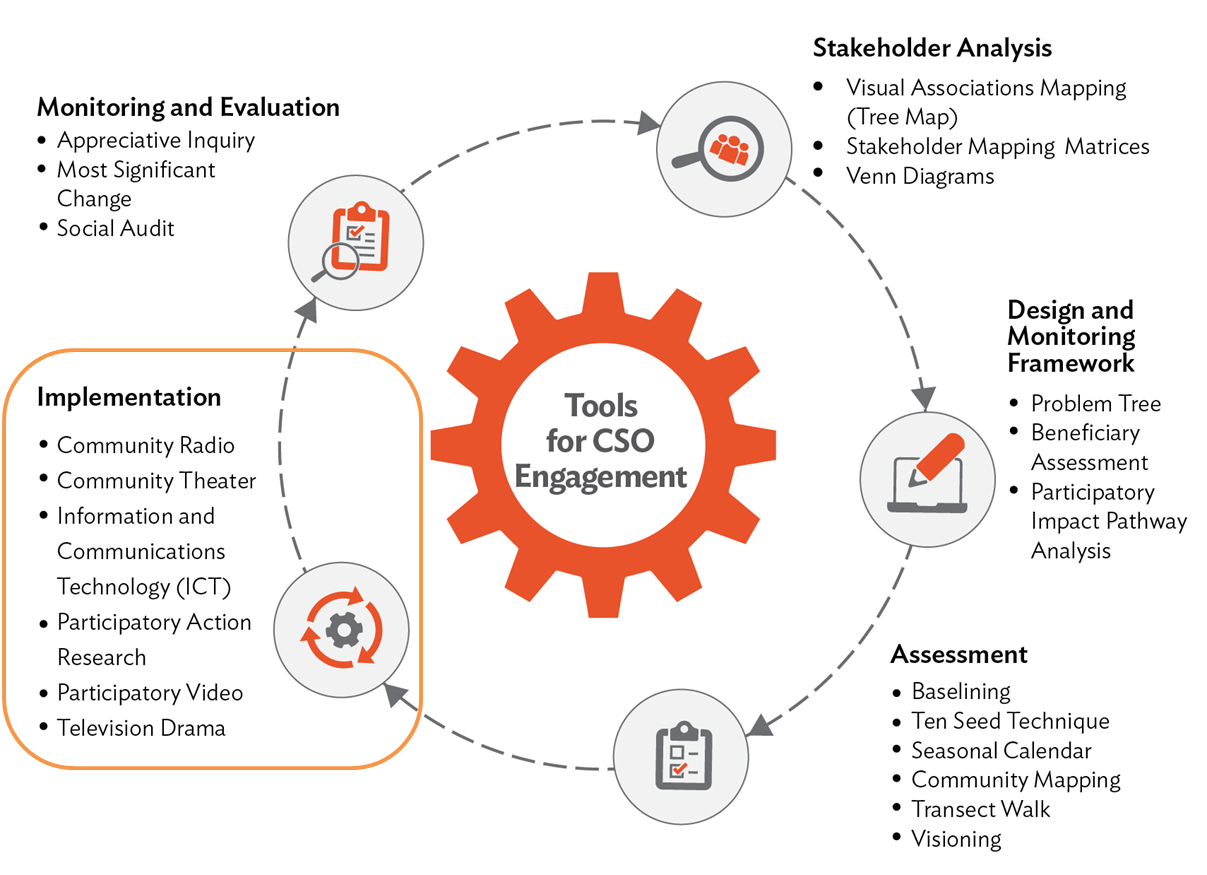 Tools for Implementation
Tools for participation in project implementation often focus on the soft skills associated with an ADB-financed project, such as training beneficiaries on road safety (for a road project), raising awareness on HIV/AIDS or encouraging healthy behaviors such as handwashing (for a water/urban project). Many, but not all, of these implementation activities have a communications and behavior change element, which is explored in the participatory tools in this section.
Community Radio
Community Theater or Theater for Development
Information and Communications Technology (ICT)
Participatory Action Research
Participatory Video
Television Drama or Edutainment
Some Do's and Don'ts
Do
Plan for participation in implementation during the design phase using participatory approaches.
Be clear with participants on the purpose of their participation and the use of the results and outputs.
Take the lead from the community on how to tackle sensitive issues.
Encourage the use of local languages, situations, actors, and idioms for implementation activities.
Be aware of and promote child and gender rights, confidentiality and informed consent.
Conduct pilot tests to ensure that implementation activities encourage the desired behavior, skill, or knowledge.
Provide adequate resources, time, capacity-building training and support.
Recognize that the process of participatory implementation is as important as the outcome.
Don't
Emphasize the role of the expert and Western values: participatory methods of implementation, especially in communications for development, is about empowering the community to put the expert/researcher/facilitator on an equal footing with the participants.
Assume that people want to be involved in participatory implementation activities.
Ignore the challenges of using mass media for implementation activities such as ownership of media outlets, cost, time, and access to electricity/internet by project beneficiaries.
Assume the community has one 'voice': communities have diverse opinions and often conflicting views.
Under-resource the implementation phase.
Forget traditional gender dynamics.
Assume that the learning will be one-way: facilitators and experts are learners, too.
Related Links
Participation Tools for the Pacific - Part 1: Engaging Pacific Civil Society Organizations
Participation Tools for the Pacific - Part 2: Stakeholder Analysis
Participation Tools for the Pacific - Part 3: Design and Monitoring Framework
Participation Tools for the Pacific - Part 4: Assessment
Participation Tools for the Pacific - Part 6: Monitoring and Evaluation
Downloadable Copy
Participation Tools for the Pacific - All Parts
Participation Tools for the Pacific - Part 5
Leave your question or comment in the section below:
---
YOU MIGHT ALSO LIKE
---
---
Disclaimer
The views expressed on this website are those of the authors and do not necessarily reflect the views and policies of the Asian Development Bank (ADB) or its Board of Governors or the governments they represent. ADB does not guarantee the accuracy of the data included in this publication and accepts no responsibility for any consequence of their use. By making any designation of or reference to a particular territory or geographic area, or by using the term "country" in this document, ADB does not intend to make any judgments as to the legal or other status of any territory or area.
---
Was this article useful?
---