SUMMARY
Investments that Can End Hunger in Indonesia by 2030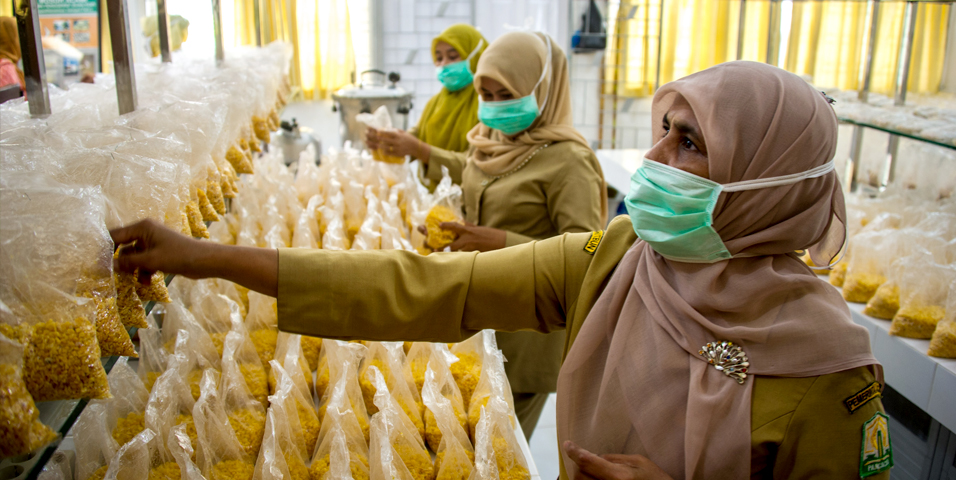 Published:
02 December 2019
A study looks at combined investments in research and development, infrastructure, technology, and policy reforms to achieve food security goals.
Overview
Indonesia's economy has made significant progress over the past decades. Prevalence of undernourishment has been declining and the country needs to continue its efforts to fully eradicate it.
Increased investment in agriculture—to modernize production and marketing systems—is key to eliminate hunger in the country. This will not only help improve the country's food production but also enable rural households to engage in more productive livelihoods and increase their income.
This article is adapted from Policies to Support Investment Requirements of Indonesia's Food and Agriculture Development during 2020–2045, an Asian Development Bank, International Food Policy Research Institute and BAPPENAS report. The joint study looks at how investments in agriculture could improve food security and boost economic growth.
Scenario Analysis
Agriculture retains an important role in the Indonesian economy, even if its share in the gross domestic product (GDP) has declined over time.
In the Global Food Security Index 2018 published by the Economist Intelligence Unit, Indonesia ranks 65th among 113 countries—below Southeast Asian neighbors Singapore (1st), Malaysia (40th), Thailand (54th), and Viet Nam (62nd).
The country has managed to reduce the number of undernourished people from 42 million in 2000 to 20.7 million in 2015. Additional efforts are needed to speed up the rate of reduction of the prevalence of undernourishment in the country. 
The study analyzes different policy and investment scenarios for three subsectors, namely: agricultural research and development, irrigation and water resource management, and infrastructure development to reduce postharvest losses. Simulations were run under different assumptions about policy, agricultural R&D, and investments to understand possible impacts on food security and other agricultural outcomes, and the GDP.
In addition to the investment scenario, fertilizer subsidy policies and trade policy were simulated.
Key Findings
The findings of the analysis showed Indonesia can end hunger by increasing annual agricultural investment:
Investments in agricultural R&D are particularly effective in boosting productivity and improving food security while cutting hunger in half. 
Investments in rural infrastructure to reduce postharvest losses and marketing costs will markedly improve food security.
Investments in irrigation expansion and water efficiency will reduce hunger, although not by as much as the other types of investments. However, they will reduce agricultural water use by 7%.
Removal of the fertilizer subsidy and reinvestment of the saved funds into agricultural R&D will increase agricultural productivity and reduce hunger.
Some specific policy recommendations are as follows:
Resources
Asian Development Bank, International Food Policy Research Institute and BAPPENAS. 2019. Policies to Support Investment Requirements of Indonesia's Food and Agriculture Development during 2020–2045. Manila.
ADB. Regional: Investment Assessment and Application of High-Level Technology for Food Security in Asia and the Pacific.
B. Arifin, et al. 2018. Modeling the Future of Indonesian Food Consumption: Final Report. Research report submitted to the National Development Planning Agency (Bappenas), World Food Programme (WFP), and Food and Agriculture Organization of the United Nations (FAO). Jakarta.
The Economist Intelligence Unit. 2018. Global Food Security Index 2018: Building Resilience in the Face of Rising Food Security Risks. London. The Economist.
World Bank. 2019. The World Bank in Indonesia.
Leave your question or comment in the section below:
---
YOU MIGHT ALSO LIKE
---
---
Disclaimer
The views expressed on this website are those of the authors and do not necessarily reflect the views and policies of the Asian Development Bank (ADB) or its Board of Governors or the governments they represent. ADB does not guarantee the accuracy of the data included in this publication and accepts no responsibility for any consequence of their use. By making any designation of or reference to a particular territory or geographic area, or by using the term "country" in this document, ADB does not intend to make any judgments as to the legal or other status of any territory or area.
---
Was this article useful?
---