INSIGHT
Enhancing Livability through a New Approach to Stormwater Management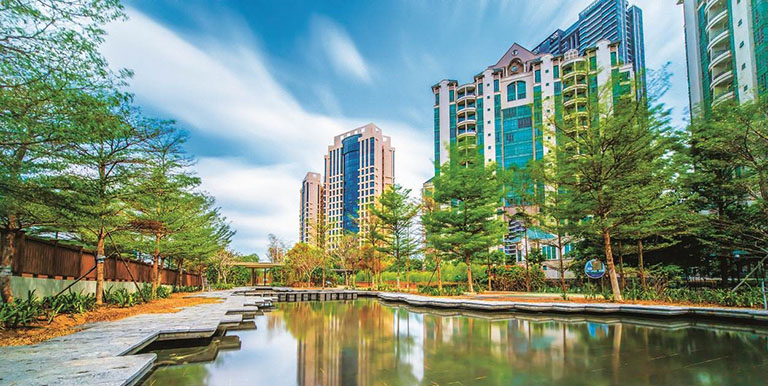 Published:
13 April 2018
Singapore is transforming its drainage system into re-naturalized streams and bioswales that enhance urban living.
Introduction
Over 5.5 million people live in Singapore in an area of just 720 square kilometers. Yet, it is considered one of the world's more livable cities. This is due to many factors, but it is its greenery that most distinguishes the city-state from other densely populated cities.
Roadside greenery, the backbone of Singapore's vision of a "city in a garden," forms a pervasive green matrix, together with ample parks, nature areas, community gardens and skyrise or high-rise greenery.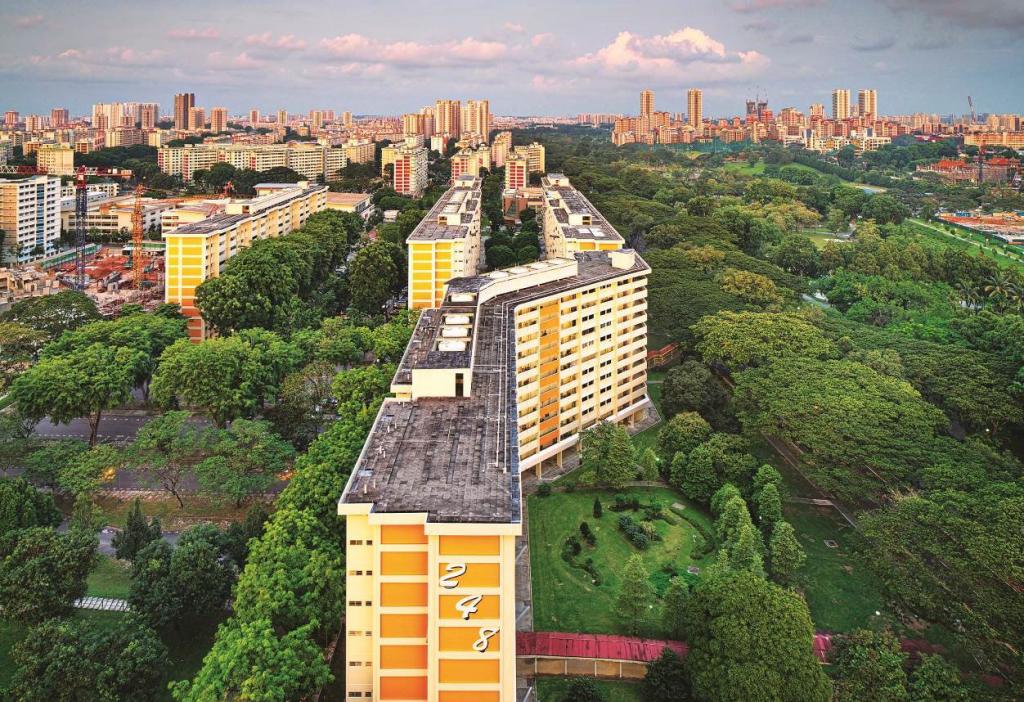 Over the span of 2 decades from the mid-1980s, Singapore's population grew 1.7 times, and its economy, 6.6 times. Yet, the proportion of green cover—including roadside tree canopies, nature areas and parks—was able to grow more than 1.3 times.
There is a robust ecosystem of government policies and programs together with industry and citizen participation supporting the greening of Singapore. Now that greenery has been mainstreamed, Singapore is focusing on integrating a blue layer into the green matrix to boost its livability to a new level.
Redesigning Engineered Waterways
Singapore has 17 reservoirs and 8,000 kilometers of waterways, including 32 rivers. In comparison, its iconic roadside greenery lines much of the road network of just 3,500 kilometers. However, most of this extensive water network was not designed to be aesthetically pleasing; it consisted of functional concrete drains, canals, and stormwater collection ponds built to alleviate flooding and meet water supply needs in Singapore's early years.
From the 1960s to 1970s, the national water agency PUB focused on addressing critical challenges, like droughts, floods, and pollution. The Singapore River and other waterways were cleaned up. Drainage improvement projects across the city-state drastically reduced flooding. The PUB built up the water supply from domestic catchment (as well as recycled and desalinated water in later years) to supplement imported water. With the basics in place, there began a shift toward unlocking the full potential of water as an urban asset.
In the 1980s, the Urban Redevelopment Authority developed a vision to re-naturalize engineered waterways. This led to the setting up of the Waterbodies Design Panel to serve as an advisory body within the government to evaluate and advise on the design and aesthetics of major waterways. It was a government-wide effort involving the Ministry of Environment, the Urban Redevelopment Authority, the Housing and Development Board, and others.
The Waterbodies Design Panel created some outstanding projects. Amid the high-rise public housing of Pasir Ris Town, Sungei Api Api became a scenic river lined with lush mangroves, instead of becoming a typical monsoon canal. In another town, Bukit Panjang, what might have become a bare stormwater pond became an attractive wooded lake. By the late 1990s, however, implementation had petered out, and the panel was dissolved in 2000.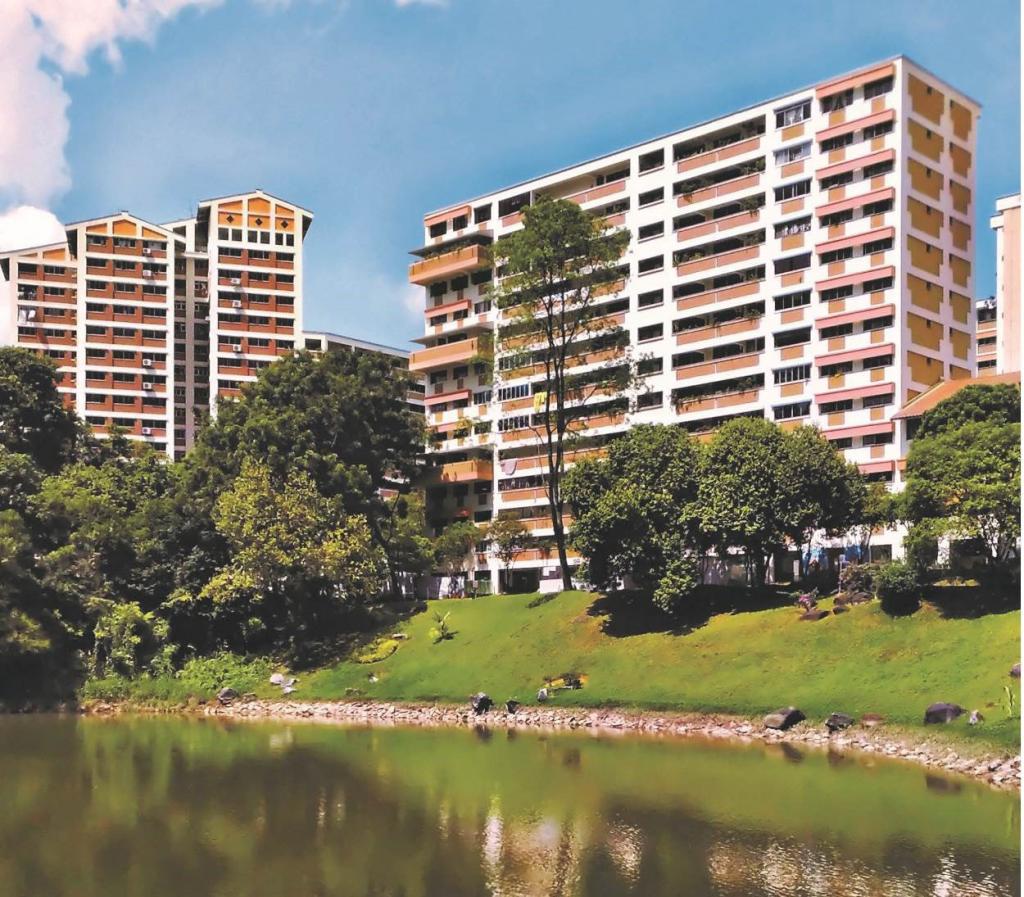 The Waterbodies Design Panel had shown the potential of water as an asset that could enhance livability, and set a precedent for incorporating waterbodies in urban planning. Based on this approach, the Urban Redevelopment Authority drew up the Parks and Waterbodies Plan, which made provisions for a network of green spaces and improved access to waterways and waterbodies for recreation under Singapore's 2003 land use master plan.
The PUB started the Active, Beautiful, Clean (ABC) Waters Programme in 2006. This complemented the Parks and Waterbodies Plan and aimed to transform blue spaces into beautiful recreational spaces to be enjoyed by people.
Engaging Community Support
The PUB developed a master plan to coordinate efforts under the ABC Waters Programme. This was necessary to ensure the overall success of the program. Based on Singapore's Blue Map, the master plan identified some 100 projects that could be undertaken over 20 years, involving public agencies, the private sector, and the community.
The PUB began with three demonstration sites in Bedok Reservoir, MacRitchie Reservoir, and Kallang River, consulting the community to improve the designs. These showed the viability of ABC Waters projects to other government agencies as well as the public. Other proof-of-concept pilots were also conducted to test specific ideas, such as the rain garden at Balam Estate (now Balam Gardens) where land depressions were designed to cleanse rainwater runoff by filtering it through vegetation and soil.
To incentivize the private sector to participate in the program, the PUB launched a certification scheme to give recognition to developers who incorporated ABC Waters' design features in their projects. It published design guidelines and engineering procedures to establish technical standards.
The PUB also conducted seminars and talks to develop industry capacity. It partnered with the Institution of Engineers Singapore to run an ABC Waters Professional Programme to train and certify individuals, while universities and polytechnics introduced related modules and courses.
As of June 2017, the PUB has completed 36 ABC Waters projects, like Bishan-Ang Mo Kio Park and Alexandra Canal. More than 100 projects are currently being carried out by the PUB, other public agencies, and even the private sector.
Momentum is growing, as people have started to see the value of these projects. When he toured the ABC Waters Exhibition in 2007, the late former Prime Minister Lee Kuan Yew said: "People will support this program as they will very soon realize that their property value will increase if there is an ABC Waters project next to their home." Anecdotal evidence indicates he was right.
Beyond monetary value, the community can now get much closer to water and appreciate the beauty and nature that comes with it. Unlike monsoon drains, the re-naturalized canals allow children to walk up to the stream, get their feet wet, catch fish and see all sorts of wildlife, like egrets and otters. Water sports, like sailing and rowing, are also enjoying a revival in Marina Bay and other reservoirs.
Indeed, we see many benefits from ABC Waters projects. Conventional drainage engineering generates high peak flows, and washes land pollutants into canals. The projects offer a better alternative to stormwater management; special design features slow down and treat the water, making it safer and cleaner. In terms of land use, it is more efficient for traditionally mono-functional water infrastructure to perform multiple roles in a land-scarce city, such as combining recreation with water storage. Importantly for Singapore, as the population grows, enhancing the surroundings and amenities and providing green and blue relief areas make high-density living more tolerable, even enjoyable. Finally, ABC Waters sites also tend to be rich in plant and animal life and contribute to biodiversity.
Yet, after more than a decade, many planners, architects, and engineers still see ABC Waters projects as a special feature and do not routinely incorporate them in their work. In contrast, most Singapore planners and even the public expect landscaped areas alongside roads and buildings as a matter of course, instead of the unremitting concrete that other cities consider normal. Developers and designers are also highly aware of the value of incorporating greenery in buildings, although it often incurs additional costs.
The Way Forward
Although there more than a hundred ABC Waters projects are in the pipeline, the PUB is looking for ways to move things even further. Can the concept be applied to all water infrastructure?
The scenic, man-made Punggol Waterway in the Housing and Development Board's (HDB) first eco-town is a landmark project at the doorsteps of thousands of families. Completed in 2011, it demonstrates what can be achieved with ABC Waters. The housing authority has since collaborated with the PUB on Waterway Ridges in Punggol town, which is a pilot project where ABC Waters design features are integrated extensively in a public housing precinct. With the vast majority of the population living in public housing estates, can all HDB towns be designed based on ABC Waters principles?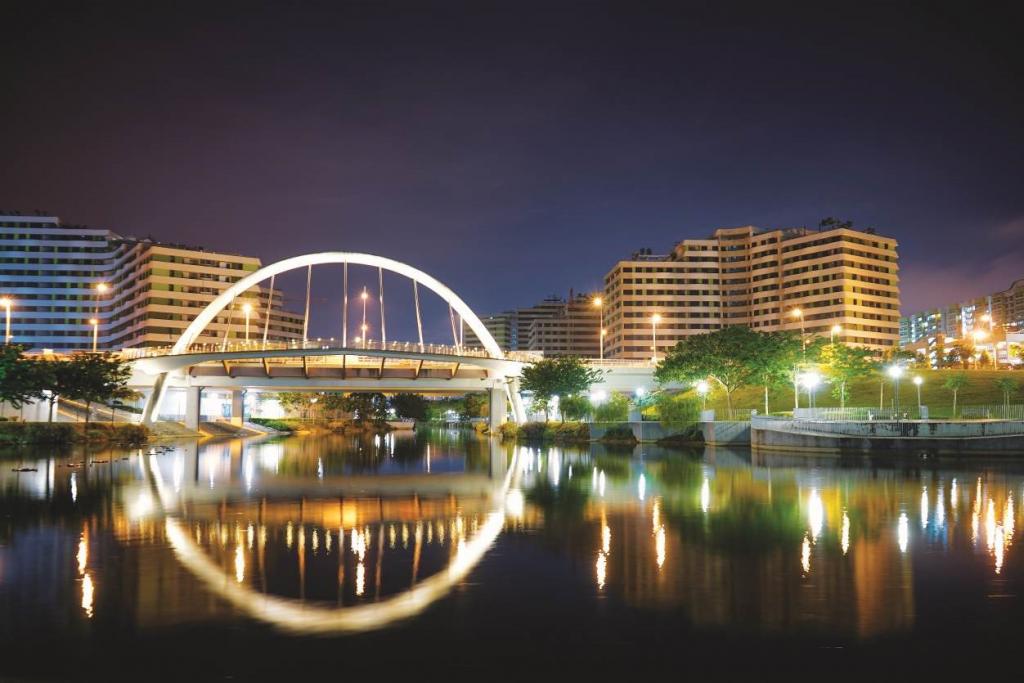 Turning to private housing estates, the PUB has piloted the incorporation of ABC Waters design features in Windsor Park, one of the first projects of its kind under the Ministry of National Development's Estate Upgrading Programme. It introduced features like vegetated swales, retention basins, little wetlands and rain gardens on top of the drains, so one would see landscaping instead of concrete drains. The question is: can all residential areas be designed with such principles?
Similarly, all roads can be designed with bioswales instead of concrete drains. Experiments have been carried out to test the feasibility of this idea, and the PUB is working with the Land Transport Authority to do more.
Prime Minister Lee Hsien Loong coined the phrase "A City of Gardens and Water" when he launched the ABC Waters Exhibition in 2007. He thought that more should be done in this area. To realize the exciting potential of the ABC Waters Programme, we should mainstream it in our vision for the future. Much has been achieved already. The challenge now is to take it to a new level, creating a much more livable and sustainable City of Gardens and Water for all to enjoy.
Resources
Khoo Teng Chye. 2016. Stormwater Management: City of Gardens and Water. Urban Solutions, Issue 8: Building with Nature. February 2016. The Centre for Liveable Cities, Singapore.
Related Links
Case Study: Strengthening Water Resilience through Diversified Sources and Conservation
Case Study: Designing a Communication Strategy for Multi-Stakeholder River Management
Case Study: How to Revive an Ailing River
Case Study: Revitalizing a City by Reviving a Stream
Summary: Nature-Based Solutions for Building Resilient Cities
Leave your question or comment in the section below:
---
YOU MIGHT ALSO LIKE
---
---
Disclaimer
The views expressed on this website are those of the authors and do not necessarily reflect the views and policies of the Asian Development Bank (ADB) or its Board of Governors or the governments they represent. ADB does not guarantee the accuracy of the data included in this publication and accepts no responsibility for any consequence of their use. By making any designation of or reference to a particular territory or geographic area, or by using the term "country" in this document, ADB does not intend to make any judgments as to the legal or other status of any territory or area.
---
Was this article useful?
---