EXPLAINER
How to Design Safe Roads for Wildlife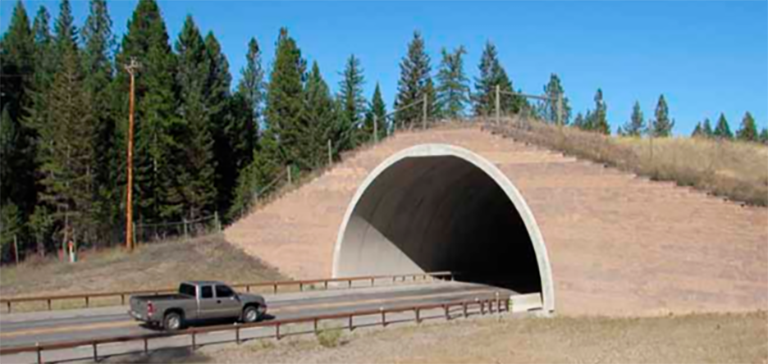 Published:
10 February 2020
Integrating road ecology principles and green infrastructure designs can balance construction with environmental conservation.
Introduction
Asia harbors immense biodiversity that is increasingly threatened by expanding road and rail networks across the region. Much of the world's terrestrial biodiversity is concentrated within the rainforest landscapes of Asia, which hosts half of the eight global biodiversity "hotspots." Biodiversity is of tremendous importance to the region's teeming population that depends on natural and diverse ecosystems for livelihood and well-being.
Roads and railways are widely regarded as a primary driver—gateway and catalyst—for the loss of natural ecosystems even if they are considered essential for economic development and support to vital human activities. Transport development projects must consider the habitats and wildlife species present in project areas if they are to properly address and conserve biodiversity values.
Adapted from Green Infrastructure Design for Transport Projects: A Road Map to Protecting Asia's Wildlife Biodiversity, this piece highlights the variety of green infrastructure and other conservation measures available—from environmentally sensitive road design to animal passage structures and management guidelines—to reduce negative impacts of transport projects on wildlife.
Ecological impact associated with roads, highways, and other transportation infrastructure
Roads are widely regarded as a "gateway" to the loss of biodiversity within roadless areas. Poorly planned and implemented roads have been characterized as the "enemy" of rainforests (Laurance et al. 2009). Tropical forests, including those prevalent in Asia, are especially susceptible to the impacts of linear infrastructure since they have evolved as stable, complex ecosystems exhibiting minimal forest edge effect. Associated species are often quite specialized in their use of contiguous forest habitats and are not well adapted to the presence of narrow, linear openings in the forest canopy.
In particular, roads within Asia's tropical forests are regarded as the primary driver of habitat destruction and the catalyst for the spread of major threats, including modification of forest habitats, intensification of forest destruction, and illegal hunting and trade in animal parts (Clements et al. 2014). New roads that permeate pristine, biodiversity-rich areas have been identified as the potentially most dangerous, with paved roadways exhibiting much greater impact than unpaved roads due to enhanced access (Laurance 2015). The most rapid rates of deforestation occur within 10 kilometers (km) of roads, especially if they are paved (Selva et al. 2015). In East Asia's developing countries, the percentage of paved roads increased dramatically from 16% to 51% during 2005−2010, which correlates with the region's high rate of tropical forest destruction and fragmentation (Clements et al. 2014).
While poorly planned roads are characterized as the "enemy" of rainforest biodiversity, roads are still recognized as essential for economic development and support to vital human activities in developing nations (Laurance et al. 2009).
Green infrastructure and other measures available to minimize the effects of highways and roads to wildlife and biodiversity
The ability to implement road projects in high-biodiversity areas may hinge on the commitment to pursue comprehensive transportation and conservation strategies that employ a range of measures from environmentally sensitive road design to passage structures and management activities.
The components of any comprehensive road and conservation strategy are most effective if planned and implemented as integrated systems. Such components include but are not limited to wildlife passage structures, associated funnel fencing, wildlife escape measures, and motorist- alert signage. It is critical to properly design and maintain not only the functionality of the individual components, but more importantly, to also maintain the functionality of the entire integrated system. When any one component of the system is not adequately constructed or maintained, it becomes a weak link that can compromise the entire system with potential road safety implications from wildlife– vehicle collisions to failure to meet biodiversity objectives.
Road design and management guidelines for incorporating effective green infrastructure and other measures
Overarching Design Principles
When planning and designing roads, highways, and railways through biodiversity-rich areas, the following design principles should be kept at the forefront. After due diligence has been exercised to consider alternative alignments that altogether avoid impact on high biodiversity areas, these principles along with green infrastructure and active management in the case of roads can help minimize impacts. In some, and likely in most instances, adherence to these principles will add cost to the construction of a new road or railway on the short term. But these higher upfront costs potentially represent a tradeoff in yielding longterm benefits such as maintenance of ecosystem service values (Turner et al. 2007) from minimizing transport infrastructure's impact on biodiversity and preserving ecological functions and services.
Road Management Activities
The manner in which a road is managed after construction has the potential to further minimize road impacts and complement the benefits of green infrastructure. Aside from posting lower speed limits within protected and high-biodiversity areas where potential wildlife-vehicle collisions are a concern (Rajvanshi et al. 2001), there are also a wide range of management activities that may be pursued to reduce impact on, and even achieve a net benefit to biodiversity.
Reconstruction and retrofitting opportunities
Many roads in Asia were constructed in the past, there was a propensity to implement initial design standards that reduced upfront construction costs but necessitate subsequent upgrading and widening of the roadway to accommodate increasing traffic volume. And while such reconstruction of existing roads may impact vegetation and soil stability associated with widening of roadbed formations, such projects also present excellent opportunities to address ongoing impact on wildlife and biodiversity, including wildlife-vehicle collisions and connectivity/barrier effects.
Including bridges and large concrete box culverts, they may be linked with wildlife fencing (or alternatives) to create costeffective and potentially effective wildlife passage structures (Kintsch and Cramer 2011; Gagnon et al. 2015).
"Drop- in" applications of prefabricated underpasses (metal-plate or precast concrete arches) can be accomplished with minimal disruption
Integrate passage and drainage function into upgraded drainage structures during widening and reconstruction projects when drainage structures are being enlarged or even oversized
Many green infrastructure measures may be pursued and implemented as standalone "retrofit" applications to address priority wildlife biodiversity issues outside of road construction or reconstruction projects (Gagnon et al. 2015, 2017), though funding such projects can be problematic. However, where roads or other linear infrastructure (railways, canals) are limiting recovery efforts for threatened or endangered wildlife species, funding for standalone retrofitting may be more readily available. The downside of such projects, however, is since they are not part of a larger road construction or reconstruction project, they will have to bear the full costs of project mobilization, overhead, and contingencies.
Resource
Asian Development Bank. 2019. Green Infrastructure Design for Transport Projects: A Roadmap to Protecting Asia's Biodiversity. Manila. 
Leave your question or comment in the section below:
---
YOU MIGHT ALSO LIKE
---
---
Disclaimer
The views expressed on this website are those of the authors and do not necessarily reflect the views and policies of the Asian Development Bank (ADB) or its Board of Governors or the governments they represent. ADB does not guarantee the accuracy of the data included in this publication and accepts no responsibility for any consequence of their use. By making any designation of or reference to a particular territory or geographic area, or by using the term "country" in this document, ADB does not intend to make any judgments as to the legal or other status of any territory or area.
---
Was this article useful?
---