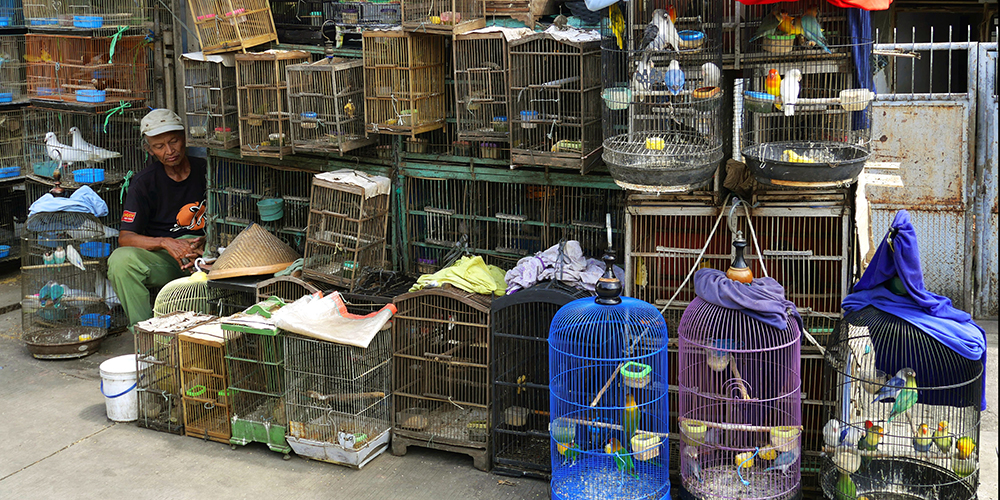 Published:
06 December 2021
Studying the prominent implications of banning legal wildlife trade can help design effective policies for mitigating the spread of zoonotic disease.
Introduction
The catastrophic effects of the coronavirus disease (COVID-19) pandemic have highlighted the need to tackle the root cause of zoonotic disease spread. Investigations by the World Health Organization (WHO) have indicated that the suspected origin of the COVID-19 virus possibly lies in a wet market.
Wildlife trade has been identified as a source of infectious zoonotic disease transmission because of the mixing of taxonomically diverse species or close interaction between humans and animals, especially when hygiene is not properly maintained.
Interconnections between human, animal, and ecosystem health and the increasing frequency of zoonoses have made it more important to devise policy solutions that follow a One Health approach in regulating wildlife trade.
Some countries have already instituted bans on legal wildlife trade in response to previous and current pandemics. In reaction to COVID-19, the People's Republic of China (PRC) prohibited the trade of terrestrial wildlife for consumption while Viet Nam strengthened its regulations on wildlife trade and protection.
An analysis of the ban policies of the PRC and Viet Nam shows the implications of wildlife trade regulations and can serve as a guide on key considerations for formulating regulations that are tailored to the specific context of a country.
Wildlife Trade Bans
There are different ways of imposing trade bans. Deciding on policy design and implementation require in-depth study of features, such as the range of the ban, degree of legalization, type of wildlife banned, and purpose of wildlife utilization.
Figure 1. Features of Wildlife Trade Bans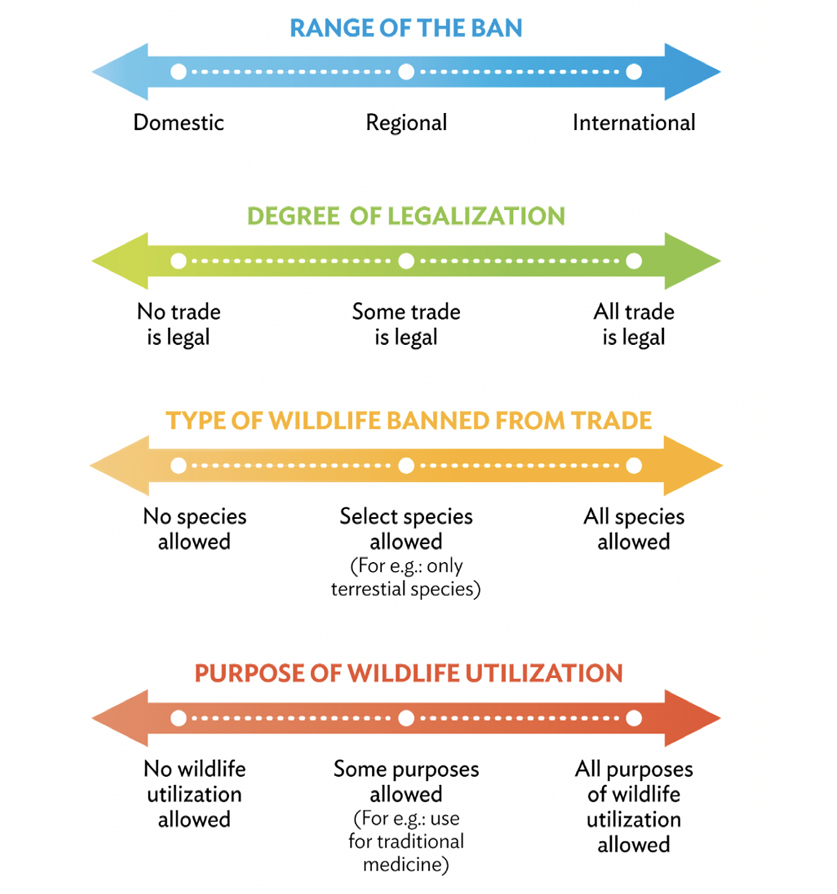 Range of the ban. The ban could be domestic, regional, or international. The trade restrictions introduced by the PRC and Viet Nam would qualify as domestic bans.
Degree of legalization. This defines the extent to which trade is legal. It can range from no trade ban to partial legalization to a complete ban. For partial trade, there are different trade channels to consider: (i) international trade, such as imports and exports; (ii) one-off sales, such as the ivory trade administered by the Convention on International Trade in Endangered Species of Wild Fauna and Flora (CITES) in 1999 and 2008; and (iii) wildlife farming.
Type of banned wildlife. Some bans are specific to certain species, taxonomic groups, or derivatives. For example, the ivory trade ban by CITES in 1990 was a ban only on the trade of a derivative.
Purpose of wildlife utilization. Some trade bans prohibit wildlife trade based on specific purposes. The PRC's recent trade ban—focusing only on the consumption of terrestrial wildlife—is an example of a partial ban based on purpose and type of banned wildlife.
Implications of Ban Policies
The design of trade regulations design should balance wildlife conservation and reduction of zoonotic disease risks by considering the potential positive and negative implications. For this purpose, legal wildlife trade bans are defined as complete bans on domestic trade of terrestrial wildlife.[1] Discussions on the implications are based on the three pillars of sustainable development: economic, social, and environmental.
Incorporating a One Health Approach
Given the far-reaching effects of zoonotic diseases, a multisector approach to improve human, animal, and environmental health benefits must be incorporated in the design of a policy response. The One Health approach is a well-rounded strategy that helps target the root cause of the virus such as commercial trade of wild animals and destruction of wild habitats.
The Tripartite Alliance on One Health has established a One Health High Level Expert Panel to prepare for future zoonotic outbreaks, devise surveillance frameworks, and identify best practices for disease prevention. The panel advises and supports the work of the alliance partners: WHO,  Food and Agriculture Organization, World Organization for Animal Health, and United Nations Environment Programme.
Setting up domestic inter-agency One Health panels can be equally effective in facilitating the design of a more holistic strategy to prevent pandemics. These panels could explore the risks of disease transmission associated with wildlife trade at the local and national levels, along with other activities impacting wildlife habitats through human activities, such as production and distribution of food, urbanization, construction, and travel.
The inter-agency panels could use COVID-19 recovery funds for pandemic prevention activities. High-income countries could support such efforts through the WHO and other members of the Tripartite One Health Panel to facilitate the delivery of funds to developing countries in need of financial assistance for pandemic prevention.
Designing a Ban Policy
Since the internal dynamics of countries differ, the design of a fit-for-purpose policy should be adapted to the local context. There are several key issues that need to be considered for domestic trade bans.[2]  
A study of the degree of legalization shows that legal channels of trade must be opened with caution given that many emerging infectious diseases are suspected to have originated in animal reservoirs. Even partial legalization of trade can carry a risk of disease transmission and facilitates the laundering of illegally caught wildlife through legal trade routes.
Implications of complete trade bans, such as loss of livelihoods must be absorbed by provisions for short-term compensation and long-term alternatives. To identify a suitable degree of legalization for a country, there is a need to first gauge the volume of trade conducted across various channels and the affected stakeholders. This can help determine if there are channels through which trade can be conducted in a sustainable and safe manner or whether a complete trade shutdown is required to prevent future zoonotic disease transmission.
Exploring the type of wildlife banned, a targeted approach is a necessary and precautionary step toward the prohibition of trade with a focus on high-risk taxa associated with the spread of zoonotic diseases, such as bats, primates, pangolins, civets, and rodents. The taxonomic groups that pose the highest risk of disease transmission vary from country to country, which warrants their evaluation before designing a domestic ban policy. Consequences of a ban should be reviewed, especially if they are of high economic value or wildlife is traded in large volumes. A prohibition may have positive or negative impacts on the economy, livelihood of those engaged in the trade, and consumer behavior.
There is a need to consider the effects of allowing selective wildlife utilization. In the PRC and Viet Nam, wildlife use for traditional Chinese medicine is widely practiced, and trade regulations by both countries grant exemptions to wildlife trade for medicinal purposes. However, the medicinal use of wildlife carries not only a high risk of zoonotic disease spillover but also makes farming of animals like tigers for medicinal use more acceptable.
The variation in wildlife utilization habits across the world indicates that an understanding of the nature of wildlife use at the domestic level is required to gauge the impact of banning selected wildlife for both consumption and production activities.
Coordinated Action on Pandemic Prevention
In addition to robust domestic regulations, international trade is required to prevent the rerouting of trade flows.
CITES regulates the international trade of wildlife to ensure that the survival of species is not threatened. However, it is primarily a trade agreement and does not directly cater to concerns of zoonotic disease transmission through wildlife trade. It does not address issues related to the economy, human development, and governance. It only provides a framework for member states and requires the passage of domestic policies for effective implementation.
But the existing framework of CITES can be built on to enact regulations aimed at mitigating the risk of zoonotic diseases at the international level. This could be achieved by listing species of high risk to human health in a new appendix of the agreement.
---
Resources
Asian Development Bank. 2021. Protecting and Investing in Natural Capital in Asia and the Pacific: Implications of a Wildlife Trade Ban. Consultant's report. Manila (TA 9461).
Convention on International Trade in Endangered Species of Wild Fauna and Flora website.
E. Bulte and R. Damania. 2005. An Economic Assessment of Wildlife Farming and Conservation. Conservation Biology. 19 (4). pp. 1222–1233.
F. Brooks-Moizer, et al. 2009. Avian Influenza H5N1 and the Wild Bird Trade in Hanoi, Viet Nam. Ecology and Society. 14(1).
Leave your question or comment in the section below:
---
YOU MIGHT ALSO LIKE
---
---
Disclaimer
The views expressed on this website are those of the authors and do not necessarily reflect the views and policies of the Asian Development Bank (ADB) or its Board of Governors or the governments they represent. ADB does not guarantee the accuracy of the data included in this publication and accepts no responsibility for any consequence of their use. By making any designation of or reference to a particular territory or geographic area, or by using the term "country" in this document, ADB does not intend to make any judgments as to the legal or other status of any territory or area.
---
Was this article useful?
---