EXPLAINER
Graduation Approach: A Unique Value Addition to Resettlement Projects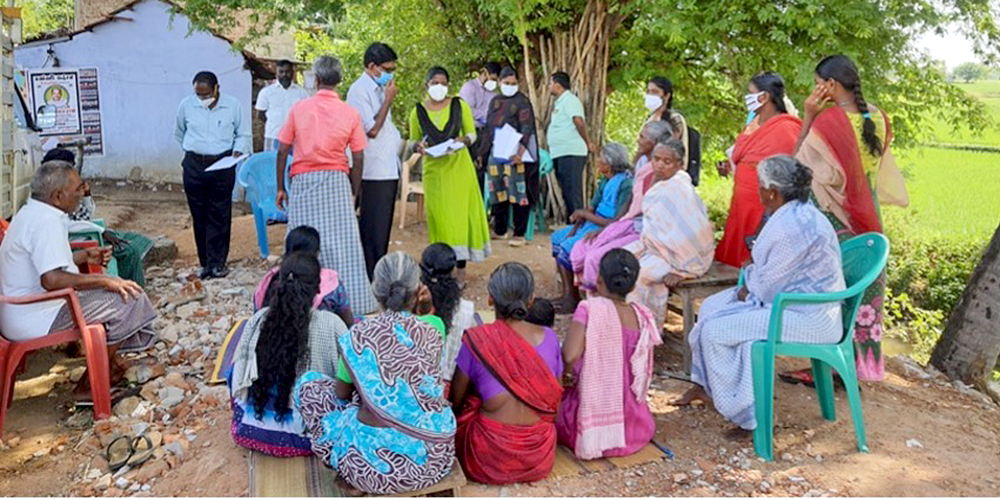 Published:
17 February 2022
An urban housing project in India is using carefully sequenced interventions to help climate-vulnerable households relocate to safe areas and sustainably rebuild their lives.
Introduction
With more than 72 million people, Tamil Nadu is the sixth most populous state in India. It contributes 8.54% of gross domestic product, with strong economic growth accompanied by increased rural–urban migration. However, sharp increases in the urban population and rapid urbanization have not been well-managed. The supply of urban infrastructure and services, including housing, does not meet the high and increasing demand.[1]
Tamil Nadu faces an acute housing shortage. Problems beset existing housing programs, which are costly and have stringent qualification requirements. There are limited housing options for the urban poor. The designs of housing projects are not culturally and gender-sensitive, and they are far from city centers, which limit access to jobs and urban services. Housing supply is insufficient because of inadequate public resources for urban housing and a mismatch between housing policies and procedures of central and state governments and the capacity of the poor.
Unplanned urbanization and housing deficits have contributed to informal settlements and intensification of slums. Informal settlements and slums are often situated in hazard-exposed areas. These are congested, lack appropriate services, and exposed to natural hazards.
The Asian Development Bank (ADB) is supporting a project of the Government of Tamil Nadu that will promote access to inclusive, resilient, and sustainable housing and urban development in the state. It will (i) relocate vulnerable communities living in high-risk areas to safe shelter; (ii) provide affordable, proper housing for households and migrant workers from lower-income groups; and (iii) strengthen the state's capacity to design and implement an integrated development plan for its region.
The project is piloting the Graduation approach to reduce the negative impacts of relocation of climate-vulnerable communities and help them rebuild their economic and social welfare post resettlement.[2]
What are the challenges associated with resettlement?
Relocating households from high-risk flood prone zones to safer areas will lead to significant involuntary resettlement, with affected persons experiencing loss of livelihood and linkages to basic services. Previous relocations came with the challenge of low occupancy rates in the long term as the affected persons were bereft of their past economic and social ties. They had low access to services and felt alienated in a new environment. Their psychological well-being was also often compromised due to the challenges of relocation.
Resettlement projects usually provide households with a subsistence allowance, along with livelihood assistance and training. This helps them kick-start their work and invest in income generating activities. However, these interventions can be made more successful with a holistic form of support. Given the uniform nature of livelihood assistance, a market assessment can be included to identify the most viable opportunities in the new sites. Further, an assessment of the households' skills, interests and resources can enable a better livelihood match for participants. Together, this can enhance economic opportunities for households to thrive in the new sites.
Relocation can also have a considerable psychosocial impact on the participants. After decades of living in an area, they move to a new space. They are likely to have low awareness of the nearby services, lack a support system to help them cope with the change, and feel isolated in this journey. This often leads to re-encroachment of their previous locations. However, the presence of trained field coaches who can mentor households in this new phase, connect them to services, and work closely with them to achieve their goals can make a huge difference. Resettlement packages can do more to provide comprehensive support with the objective of enabling households to sustainably rebuild their lives.
What is the Graduation approach?
To reduce the negative impacts of relocation, the Graduation approach was introduced in the project.
The Graduation approach is a holistic, time-bound, and carefully sequenced set of interventions to place households on an upward trajectory from poverty. It is usually implemented over a period of 18 to 36 months, and includes four key components:
Social protection. Provide a subsistence allowance and enable beneficiaries to meet immediate needs, such as health and education, after relocation,
Livelihood promotion. Conduct localized market assessment and provide household-level asset package or employment matching and tailored technical training,
Financial inclusion. Improve financial literacy and access to savings and financial services for economic resilience.
Social empowerment. Provide psychosocial support and induce positive behavior change among families and communities.
How is it being implemented?
The Graduation program will be implemented by the the Tamil Nadu Urban Habitat Development Board under the Housing and Urban Development Department (HUDD), which is the executing agency for the project. It aims to support existing resettlement activities for eligible urban poor households to restore their livelihoods and rehabilitate social welfare post relocation. It integrates with the project resettlement plan and builds off existing programs and services of government, non-government, and private organizations in the new sites. It is different from a typical Graduation program as it entails supporting newly relocated households, which comes with diverse challenges and opportunities.
The program will be piloted in two project sites: Kalanivasal (Sivagangai district) and Reddiyarpatti (Thirunelveli district). The planning and design of the program has been supported by ADB's NGO and Civil Society Center. The comprehensive package of interventions under the Graduation program were contextualized to support households in building sustainable economic and social ties and to thrive in the new sites (Figure 1). While we wait for project outcomes, a significant achievement has been gathering data on critical household needs and contextualizing the program design to incorporate needs and available resources in the area into resettlement site planning.
Figure 1: Contextualized design of the Graduation Program for the Inclusive, Resilient, and Sustainable Housing for Urban Poor Sector Project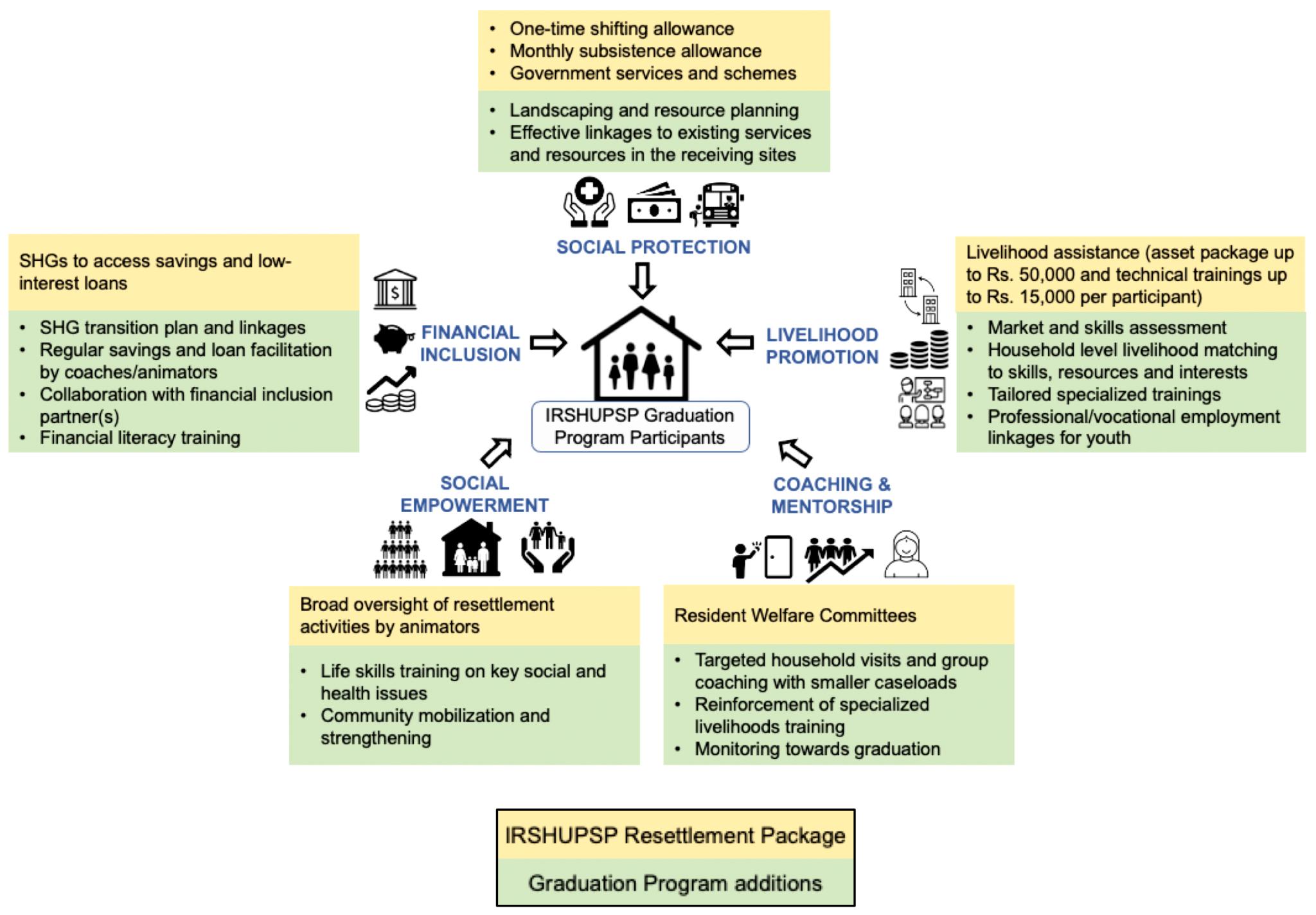 The master plan for the receiving sites, or where the beneficiaries will be relocated, incorporates sustainable site solutions, such as preservation of trees and water and waste management techniques.
Figure 2: Master Plan Design for A Resettlement Housing Site
The integration of the Graduation approach in a resettlement project comes with its own set of challenges, primarily the time gap between planning and implementation. Given the time taken for construction of new housing, many components of the Graduation program design need to be refined closer to the relocation date.
Further, the program planning needs to include additional measures to mitigate community resistance through consultations and continuous engagement. A stronger understanding of the resettlement context and sensitivities by the Graduation program partners can help resolve these challenges.
What are the expected benefits of the graduation program?
The Graduation approach adopted in this project is expected to contribute to the overall economic and social welfare of vulnerable households, post relocation. A set of graduation criteria developed as part of the program will measure its impacts. With higher access to viable economic opportunities, financial services, tailored technical training, and social support system, households are expected to be economically and socially empowered.
The design and planning of every Graduation pillar is based on community insights, facilitated by the local technical support partner. For instance, the assessment of households' current livelihood status included focus group discussions with diverse community groups, such as women headed households, persons with disability, daily wage laborers, elderly households, and below poverty line families. The findings from the assessment were used to recommend suitable and diversified asset packages for livelihood promotion. Through such measures in every component, the program is expected to contribute to equitable and inclusive development for the community.
Given the unique value addition of the Graduation program, it can become an example of mitigating adverse impact and enabling positive change. The feasibility of applying this approach as a comprehensive model of development can be explored at the household level in infrastructure projects involving relocation and livelihood impacts, affordable housing projects and other unique contexts. This can contribute to building resilient communities in the long term.
Way Forward
The Graduation approach can add immense value to resettlement planning and implementation and contribute to the sustainable economic and social welfare of communities. ADB will continue to support the Tamil Nadu Housing and Urban Development Department in implementing the Graduation program in pilot sites and capture lessons for wider and more effective application to other areas.
---
Resources
Asian Development Bank (ADB). 2008. Evaluation Study: ADB's Involuntary Resettlement Safeguards- Project Case Studies in India. Manila.
ADB. India: Inclusive, Resilient, and Sustainable Housing for Urban Poor Sector Project in Tamil Nandu.
ADB. 2021. Report and Recommendation of the President to the Board of Directors: Proposed Loan and Technical Assistance Grant to India for Inclusive, Resilient, and Sustainable Housing for Urban Poor Sector Project in Tamil Nandu. Manila.
ADB. 2021. Resettlement Framework. IND: Inclusive, Resilient and Sustainable Housing for Urban Poor Sector Project in Tamil Nadu.
Reserve Bank of India. 2020. Handbook of Statistics on Indian States. Mumbai.
S. Barnhardt, E. Field, and R. Pande. 2015. Moving to Opportunity or Isolation? Network Effects of a Randomized Housing Lottery in Urban India. NBER Working Paper Series. Massachusetts: National Bureau of Economic Research.
Leave your question or comment in the section below:
---
YOU MIGHT ALSO LIKE
---
---
Disclaimer
The views expressed on this website are those of the authors and do not necessarily reflect the views and policies of the Asian Development Bank (ADB) or its Board of Governors or the governments they represent. ADB does not guarantee the accuracy of the data included in this publication and accepts no responsibility for any consequence of their use. By making any designation of or reference to a particular territory or geographic area, or by using the term "country" in this document, ADB does not intend to make any judgments as to the legal or other status of any territory or area.
---
Was this article useful?
---