CASE STUDY
Making Resettlement Work through Partnerships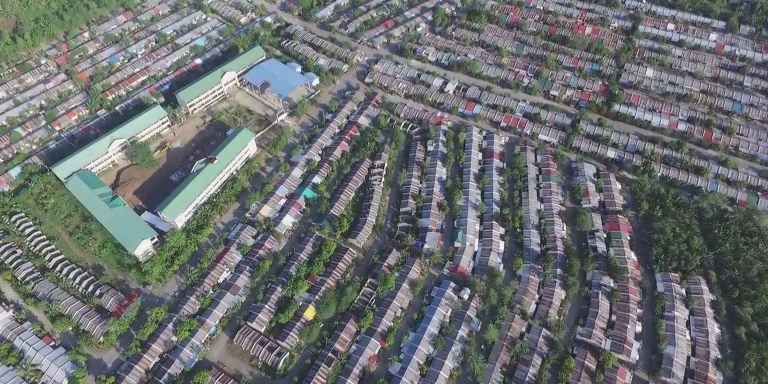 Published:
10 November 2016
The Southville 7 community in the Philippines shows how different sectors of society worked successfully together to turn a basic housing project into a livable community for 5,000 resettled families.
Overview
Southville 7 is regarded as a model resettlement site in the Philippines. Its success is mainly because of multisector and multistakeholder efforts led by the National Housing Authority (NHA) and ABS-CBN Lingkod Kapamilya Foundation, Inc. (ALKFI).
Building the resettlement community in partnership with multiple agencies with a range of mandates and operating styles was not easy. The partners of Southville 7 overcame challenges through close collaboration and by focusing on a common vision for the community.
This case study shares the impact and lessons from the experiences in Southville 7, along with a framework that outlines the steps other organizations can take to make resettlement work. It is based on a detailed report, Southville 7: Making Resettlement Work, by the Asian Development Bank (ADB), which provided a $1.5 million grant in 2012 to support multisector partnerships.
Project information
Project snapshot
2000: NHA completes Southville 7 Housing Project.
2006: Southville 7 becomes a resettlement site.
2009: NHA and ALKFI formally agree to share management of Southville 7.
2009-2011: About 3,000 families in Metro Manila, who were displaced by Typhoon Ondoy (Ketsana), arrive.
2010: Habitat for Humanity begins building houses.
2011: Local government of Calauan issues a moratorium on relocation to Southville 7, citing a lack of resources.
2012: ADB's Japan Fund for Poverty Reduction provides a $1.5 million grant.
2013: First homeowners' associations register with Housing and Land Use Regulatory Board.
2013: Businesses start setting up shop, creating jobs for 300 residents.
2016: Partners formally reaffirm commitment and support for Southville 7 until 2020.
ADB's Japan Fund for Poverty Reduction (Grant) :US$ 1,500,000
Government (In-kind) :US$ 2,540,334
Government (Cash) :US$ 250,000
Private sector contribution (In-kind) :US$ 1,338,180
Community contribution (In-kind) :US$ 380,230
Total:US$ 6,008,744
Executing agency
Implementing agency
Others
Homeowners' associations
Municipal Government of Calauan
Ayala Foundation, Consuelo Foundation, Habitat for Humanity Philippines, Life Project 4 Youth, Salesians of Don Bosco (NGO partners)
Challenges
For a long time, Southville 7 in Calauan, a second-class municipality in Laguna province, was one of NHA's more challenging resettlement areas. Nestled between Laguna de Bay and Mount Kalisungan about 75 kilometers south of Metro Manila, Southville 7 is home to about 5,000 families.
The housing project was built in 2000, but its relatively isolated location and a lack of services and local jobs meant that only a few took up residence. In 2006, it became a relocation site for families displaced from informal settlements and later for those who lost their homes to Typhoon Ondoy (also known as Ketsana) in 2009. This was a time before housing projects and resettlement sites were designed to include local services and social infrastructure, so conditions were not conducive to rebuilding lives after displacement.
The local government of Calauan also has limited resources for the growing community. It issued a moratorium on relocation to Southville 7 in 2011.
In 2009, NHA asked ALKFI to co-manage Southville 7.  The housing agency took charge of estate management, while ALKFI facilitated the delivery of services not covered by the local government's limited resources. ALKFI also invited private sector and nongovernmental organizations (NGOs) to provide more housing, basic services such as water and electricity, and livelihood.
ALKFI also approached the ADB, which approved a $1.5 million grant in 2012 to support multisector partnerships and address the growing challenges in Southville 7. Funded by ADB's Japan Fund for Poverty Reduction, the Promoting Partnerships and Innovation in Poor and Underserved Communities project piloted public-private partnerships to provide basic services, such as safe drinking water, and supported community development, innovation, and entrepreneurship through the Community Assistance Fund (CAF) and Community Innovation Fund (CIF).
Working with many partners involved complex arrangements. The Southville 7 project faced several challenges.
Livelihood prospects for residents were limited.
There were many livelihood initiatives at the site, but there were just too many people out of work. Activities funded by CIF and CAF did create some jobs, as did a few companies who outsourced some of their operations to Southville 7. Skills training also helped develop entrepreneurs.
Partners saw cooperation as too time consuming.
Each organization had its own way of working, and usually operated independently. The model of collaborative governance challenged every partner as it took more time and seemed unnecessary.
Partners faced the pressure of their own project timelines and bureaucratic processes. For example, ALKFI proposed adding recreation spaces, a public market, health clinic, and livelihood center to Southville 7's development plan. NHA however had to go through the complex process of requesting land use reclassification for such changes, and reporting it to the Commission on Audit.
Responsibilities were not clear, slowing progress.
Roles and duties of partners were not clearly defined when the project began. There was overlapping of efforts and gaps in implementation.
For example, NHA is the lead agency in Southville 7; however, it was not always clear if decisions were to be made at the national or at the local level.
NHA cited the lack of coordination as the reason behind the relocation moratorium in 2011, which forced displaced residents from Metro Manila to look for other sites. NGOs worried about what would happen to the vacant housing units they had built and their commitment to donors.
Poor coordination and communication affected service delivery.
No coordinating agency emerged among the partners. NHA had little experience in working with the private sector, especially in a resettlement project. The same applied to ALKFI, for whom handling such projects was a first.
As a result, service delivery was less efficient. Several NGOs conducted their own household surveys, leading to consultation fatigue among residents and inconsistent data. There was competition for community members to join projects and initiatives. Community leaders received multiple and conflicting requests from partners. Some services were not availed because of lack of referrals between agencies.
Solutions
The grant project piloted a model for strengthening multisector partnerships to support sustainable development of poor and underserved communities that can be replicated in the Philippines and other countries in Asia and the Pacific. It developed a partnership framework, which is at the core of Southville 7's success and sustainability.
Framework: 12 Steps that Made the Southville 7 Experience a Success
Initiatives that the Southville 7 partners started include:
forming a public-private partnership for water, involving homeowners' associations;
promoting entrepreneurship through livelihood assistance and training;
organizing and strengthening homeowners' associations; and
developing a sustainability plan for Southville 7.
Southville 7: Making Resettlement Work discusses the challenges, impacts, and lessons learned from these initiatives in detail.
Numbers and facts
107 hectares Land area, divided into 3 sites
Location Municipality of Calauan, Laguna. Southville 7 Sites 1 and 2 are located in Barangay Dayap, and Site 3, in Barangay Sto. Tomas
About 5,000 Number of families
10 Number of homeowners' associations
Results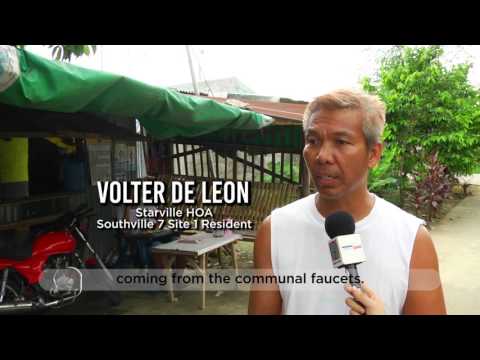 Employment opportunities increased.
Residents applied the skills gained from training activities as employees and as entrepreneurs. Some opted to go to Metro Manila for higher-paying jobs but others were hired in enterprises that set up shop in Southville 7.
Delivery of basic services improved.
Four years after the project began, 92% of households now enjoy access to either piped water or communal water stations, while 43% have electricity. Facilities in Southville 7 include playgrounds, daycare, a health clinic, and livelihood center.
Voter registration in Calauan and community participation increased.
The May 2016 national elections showed registered voters from Southville 7 increased, indicating successful integration into the resettlement site.
The 10 homeowners' associations in Southville 7 represent their communities in budget and planning sessions of the local government, and women play an active role as heads of homeowners' associations, committee members, and entrepreneurs.
Lessons
Southville 7 has become a model resettlement site, influencing other resettlement efforts, such as in Tacloban City, after super Typhoon Yolanda (Haiyan) in 2013. Groups, including public officials from Myanmar, have visited the site to learn about its resettlement and housing practices.
Private sector partners of all sizes bring value.
ALKFI invited both small and big companies to invest in Southville 7 and NGO partners, including the Salesians of Don Bosco, Consuelo Foundation, and the Ayala Foundation, also started livelihood development projects.
A common vision sets a clear direction for better collaboration.
The shared vision of improving lives at Southville 7 united the partners. All NGOs working in Southville 7 are now committed to supporting the community through 2020, having signed a memorandum of agreement at a workshop in March 2016.
All agencies must be involved from the onset and enter the partnership as equals.
The municipal and barangay governments were involved from the earliest stages, but better coordination among NHA, ALKFI, and the sending and receiving local governments would have prevented many problems. Consultation and participation take time, but experience suggests they add value. 
Facilitation by an outsider keeps the focus on community priorities.
A third-party facilitator, perceived by all partners as neutral, proved critical to the success of the multistakeholder discussions. The facilitator ensured that inputs of community representatives were placed front and center—a process that proved encouraging and empowering.
Resources
Asian Development Bank (ADB). 2012. Grant Assistance Report - Republic of the Philippines: Promoting Partnerships and Innovation in Poor and Underserved Communities. Manila.
ADB. 2016. Southville 7: Making Resettlement Work. Mandaluyong.
ADB. Philippines: Promoting Partnerships and Innovation in Poor and Underserved Communities.
ABS-CBN Lingkod Kapamilya Foundation. ALKFI, Southville 7 Stakeholders Forge Partnership on Empowered Communities.
To visit Southville 7, please contact:
Engr. MARIA BELINDA V. SEVALLA
Division Manager A, Southville 7 Housing Project
National Housing Authority
Mobile: +63 998 9687943, +63 922 8747595
Email: belindasevalla@yahoo.com

Engr. Raymund Abad
Division Manager A, Laguna
National Housing Authority
Mobile: +63 998 9687944
Email: ray_abad@yahoo.com
For inquiries on how to become a Southville 7 partner, please contact:
Leah S. Bautista
Operations Manager of Bayanijuan
ABS-CBN Lingkod Kapamilya Foundation, Inc.
Tel +63 2 4152272, extension 3714
Mobile: +63 937 3753059
Email: LSBautista@abs-cbnfoundation.com
Leave your question or comment in the section below:
---
YOU MIGHT ALSO LIKE
---
---
Disclaimer
The views expressed on this website are those of the authors and do not necessarily reflect the views and policies of the Asian Development Bank (ADB) or its Board of Governors or the governments they represent. ADB does not guarantee the accuracy of the data included in this publication and accepts no responsibility for any consequence of their use. By making any designation of or reference to a particular territory or geographic area, or by using the term "country" in this document, ADB does not intend to make any judgments as to the legal or other status of any territory or area.
---
Was this article useful?
---