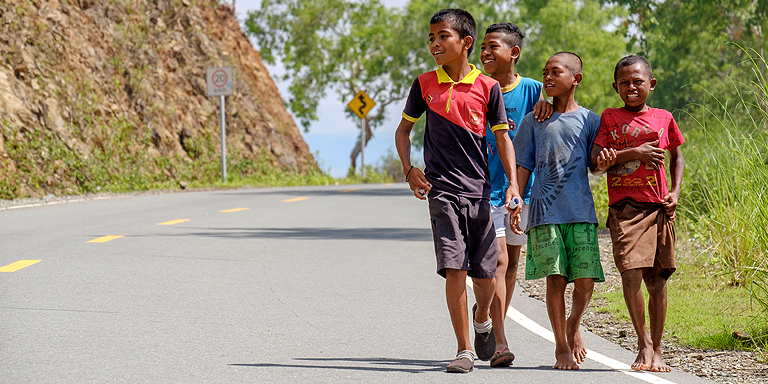 Published:
09 December 2019
Tackling undernutrition in children under 5 years of age requires political will, resources, and a focus on results.
Introduction
Timor-Leste is in the midst of a silent emergency—poor nutrition. Despite progress in improving public health services, almost half of children aged under 5 still show signs of serious undernutrition. The most pressing concerns relate to micronutrient deficiency and stunting.
Poor nutrition among mothers and young children poses an immediate burden on health and reduces the potential of the population to be productive. At an individual level, undernutrition can lead to a tragic waste of human potential. At a collective level, the failure to address undernutrition will impose a long-term burden on the country through lower human capital and reduced productivity.
This policy brief is adapted from the Pacific Economic Monitor of the Asian Development Bank. It discusses the economic impact of undernutrition, some of the causes of poor nutrition, and measures to accelerate improvements in nutrition.
Analysis
Economic impact of undernutrition
Undernutrition in children leads to increased burden from other illnesses, higher rates of mortality, and permanent reductions in cognitive ability. Nearly a third of child deaths in the country can be linked to the poor nutritional status of either the mother or the child. Cross-country analysis has shown that children who are stunted typically begin school later, have lower educational attainment, and earn lower wages as adults. Part of the link between undernutrition and poor educational performance is due to the impact of nutrition on physical health.
Children who are stunted are also likely to experience a permanent reduction in their lifetime earnings as a result of undernutrition. A 2014 analysis estimated that the current cost of undernutrition in Timor-Leste is $41 million per annum. The country has one of the highest rates of childhood undernutrition in the world.
Figure 1: Prevelance of Stunting in Timor-Leste and Other Countries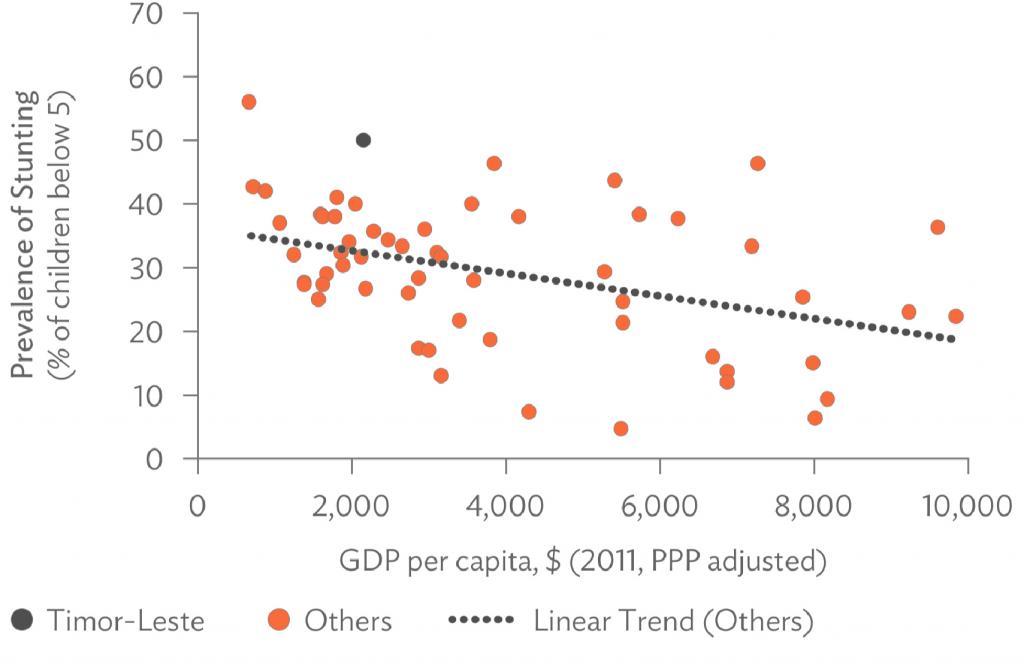 The legacy of past undernutrition will have far-reaching impacts in Timor-Leste. Even if undernutrition is eliminated tomorrow, the country would continue to experience some loss of productivity until around 2080 when the last workers who experienced undernutrition as children reach retirement age. There is, therefore, an urgent moral and economic case for investing in improved nutrition.
Causes of undernutrition
The immediate causes of undernutrition are disease and inadequate diet. Underlying causes include a lack of food, poor sanitation, poverty, illiteracy, high fertility rates, and high rates of teenage pregnancy. In Timor-Leste the prevalence of stunting in children aged under 5 increases as children grow from newborn babies into toddlers. This pattern is partly caused by poor feeding practices.
Figure 2: Conceptual Framework on Causes of Malnutrition in Timor-Leste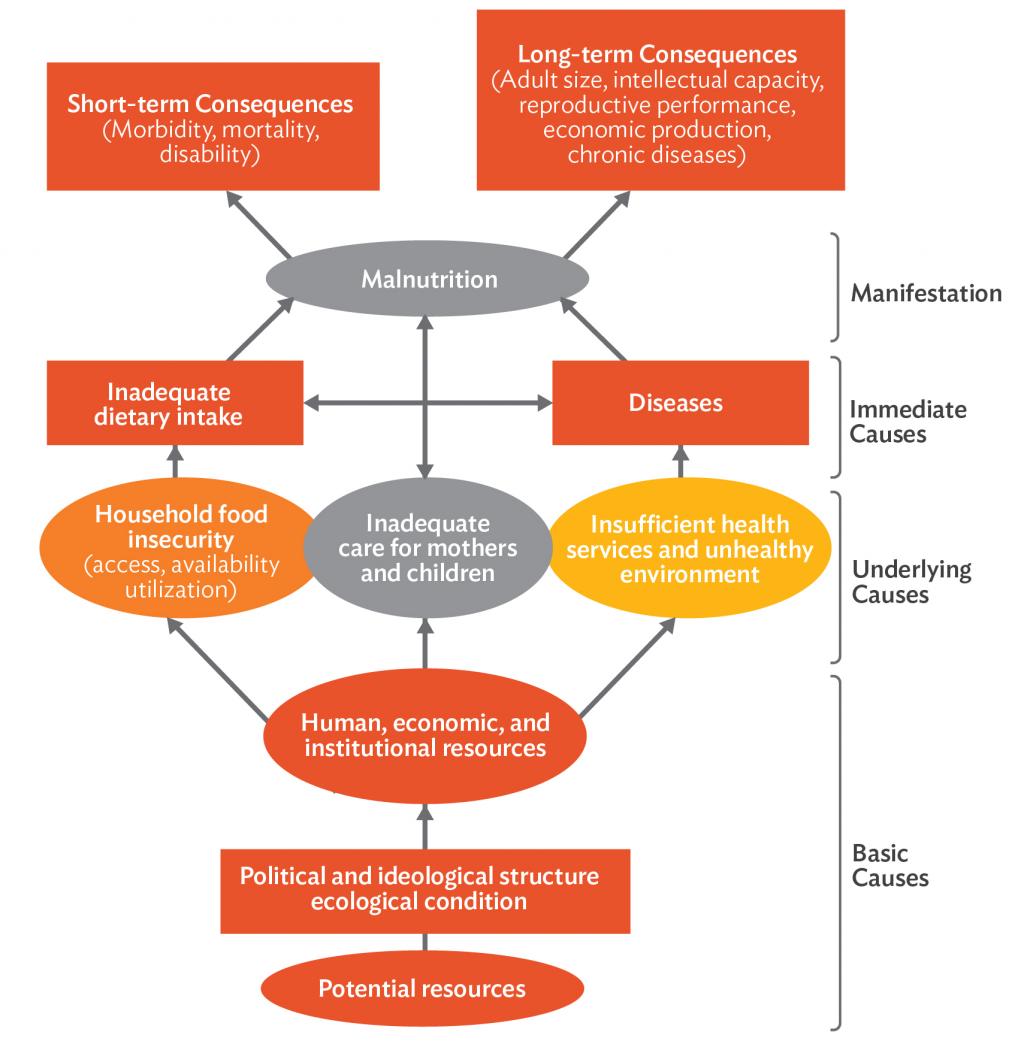 The World Health Organization recommends that newborn babies should be breastfed within 1 hour of birth and should be fed exclusively on breast milk during the first 6 months of their life. In 2009, 81.7% of Timor-Leste babies began breastfeeding within the first hour of birth. However, by 2016 this had fallen to 75.2%. There is also evidence that parents struggle to manage the introduction of solid foods and ensure sufficient nutritional diversity and frequency of feeding.
Poor infant feeding practices also reflect broader problems with food availability. Analysis suggests that around one-third of Timor-Leste's population suffers from chronic food insecurity and this is partly due to low agricultural productivity. In 2015, 73.4% of all households in Timor-Leste lived in rural areas and 46.0% of households were involved in subsistence agricultural production.
Cross-country studies have also found evidence that access to clean water and improved sanitation is an important enabler of improved nutrition outcomes. The most recent Demographic and Health Survey highlighted that many households in rural areas still lack access to improved water sources and that a significant proportion of households in both rural and urban areas do not treat water to ensure potability.
Public health services play an important role in providing support to pregnant women and mothers of young children. Unfortunately, the health system is not currently able to identify and treat most underweight children
Challenges in policy implementation
The Government of Timor-Leste has committed to ending hunger and undernutrition and has developed policies and plans to achieve this goal. It established the National Council on Food Security, Sovereignty, and Nutrition in 2010 to promote interagency coordination on nutrition. Its Strategic Development Plan 2011–2030 and Roadmap for Achieving the Sustainable Development Goals both emphasize nutrition.
In 2014, Timor-Leste was the first country in Asia to join the Zero Hunger Challenge. The associated action plan for eliminating hunger and malnutrition comprises 170 actions with an indicative budget of $176 million over 10 years. This action plan is complemented by the National Nutrition Strategy 2014-2019 and the 2017 Food and Nutrition Security Policy.
While the development of national policies and plans can be taken as a sign of political commitment, there is a need for greater urgency in tackling undernutrition.
A 2017 review identified several key challenges including gaps in coordination, challenges in translating national policies into practical local level action plans, lack of budgetary commitment, and lack of effective monitoring and accountability.
Policy Considerations
Resources
D. Freedman. 2019. Improving nutrition in Timor-Leste. Pacific Economic Monitor. July. pp 17–24.
L. Fewtrell et al. 2005. Water, Sanitation, and Hygiene Interventions to Reduce Diarrhoea in Less Developed Countries: A Systematic Review and Meta-Analysis. The Lancet Infectious Disease. 5. pp 42–52.
M&E House. 2017. Timor-Leste Nutrition Strategic Review. Dili.
Timor-Leste Ministry of Health. 2014. The Economic Consequences of Under-nutrition in Timor-Leste. Dili.
Leave your question or comment in the section below:
---
YOU MIGHT ALSO LIKE
---
---
Disclaimer
The views expressed on this website are those of the authors and do not necessarily reflect the views and policies of the Asian Development Bank (ADB) or its Board of Governors or the governments they represent. ADB does not guarantee the accuracy of the data included in this publication and accepts no responsibility for any consequence of their use. By making any designation of or reference to a particular territory or geographic area, or by using the term "country" in this document, ADB does not intend to make any judgments as to the legal or other status of any territory or area.
---
Was this article useful?
---