CASE STUDY
Promoting Social Equity through Public Housing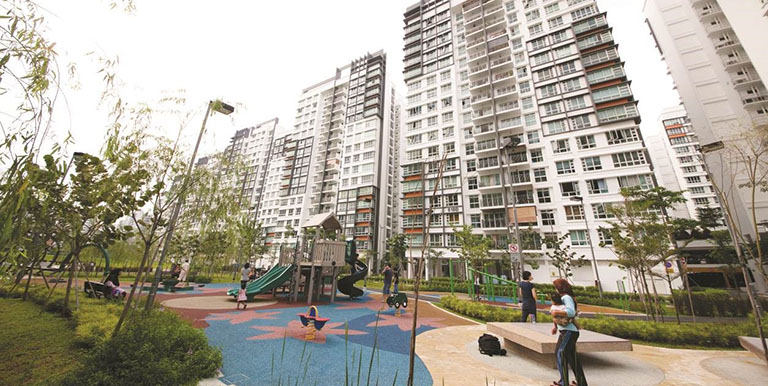 Published:
06 April 2018
Singapore's tiered housing subsidies have made it possible for nearly everyone to own a home in the city-state.
Overview
Singapore's public housing authority, the Housing and Development Board, has won accolades for its work in providing high-quality affordable housing. Since the 1960s, it has sought to encourage Singaporeans to own their homes through various policies and subsidies. From 2006, it began providing housing subsidies to low-income families to help promote greater social equity in the country.
Project snapshot
March 2006 : Additional Central Provident Fund (CPF) Housing Grant
March 2011 : Special CPF Housing Grant
S$1.6 billion:As of November 2015: Additional CPF Housing Grant
S$297.6 million:As of November 2015: Special CPF Housing Grant
Executing agency

Housing and Development Board (HDB)
Others
Central Provident Fund (CPF) - Disbursement of funds
Challenges
When Singapore attained self-governance in 1959, the new administration faced a rapidly growing post-war population, high unemployment, and a critical shortage of sanitary housing. Overcrowded slums with no sanitation, water, or basic facilities were home to more than half a million people. These squatter colonies were breeding grounds for disease and crime, and were vulnerable to fires. Such dismal living environments fueled social disharmony and frustration among the different communities.
In February 1960, the Housing and Development Board (HDB) was set up to undertake the formidable task of providing sanitary and affordable housing for the population. Within 10 years, it resolved the severe housing shortage. However, housing a nation was a long-term challenge, with various social and economic objectives.
HDB flats began as rental units for low-income families. However, in 1964, the government started encouraging citizens to purchase their flats instead to promote a sense of ownership not just for their homes, but also for their country. With nation building, community development, and racial harmony in mind, the government introduced leasehold ownership flats with the Home Ownership for the People Scheme.
At that time, many of the lower-income households were unable to obtain bank loans to finance the purchase of their flats because of their poor credit standing. To address this, the HDB took on the role of mortgage financier.
Still for many, owning an HDB flat seemed to be out of their reach. To help more people become homeowners, the government introduced the Public Housing Scheme in 1968 to allow Singaporeans to use their money in their Central Provident Fund (CPF) accounts to make the down payment and service their loan installments. CPF is a comprehensive social security savings plan. The scheme enabled them to own homes with minimal impact on their disposable income. This proved to be highly effective, as homeownership in Singapore took off after its introduction.
In the early 2000s, Singapore's economy was hit by the global downturn and the outbreak of the deadly SARS virus. Gradually, global markets recovered from 2004 to 2006, restoring Singapore's economy.
While 2006 data showed that continual growth offered some respite, with more people finding jobs and household incomes rising, the wages for the lowest 10th to 20th percentile of the population saw little improvement.
Singapore needed an effective way to remain competitive amid globalization while ensuring that its people benefited from the country's progress. Homeownership offered a tangible way of sharing in Singapore's prosperity. Besides being a home, HDB flats had also come to serve as a store of value that could be used to build a better life for Singaporeans. Owning a home is a means of social mobility, helping lower-income households to rise above their circumstances. Hence, the HDB needed to explore how to enhance allocation of housing subsidies to give everyone a more equitable chance of owning a home.
Solutions
In 2005, Prime Minister Lee Hsien Loong set up the Inter-Ministerial Committee on Low Wage Workers to address these challenges. Following the committee's recommendations, a package of workfare measures was introduced in 2006. This included the Additional CPF Housing Grant, which gives lower-income households a larger subsidy. It is given on top of existing housing subsidies that are available for first-time buyers of HDB flats. Prior to this, there was no specific subsidy scheme targeting lower-income groups.
The subsidy scheme was enhanced twice, in 2007 and 2009. It now offers higher subsidies to a larger pool of residents under an expanded income range, including young middle-income couples looking to own their first homes.
To further help low-income families buy their first HDB flat, the public housing authority introduced the Special CPF Housing Grant in 2011. Unlike the first subsidy scheme, which was applicable to all types of HDB flats, this housing grant may be used to purchase only new two-room and three-room standard flats in non-mature estates.
The Special CPF Housing Grant was also tiered such that those with lower household incomes received a larger subsidy. One in four citizen households was expected to benefit from this scheme, which was to be disbursed on top of the regular housing subsidy for new flats and the Additional CPF Housing Grant.
The Special CPF Housing Grant was enhanced three times, in 2012, 2013, and 2015. The grant amount has increased significantly, and the eligibility criteria have been revised to include middle-income households buying four-room flats in non-mature housing estates.
Today, both the Additional CPF Housing Grant and the Special CPF Housing Grant are also available to eligible individual citizens wanting to buy an HDB flat as their first home, in addition to married couples.
The HDB also helps a small percentage of the population who are not yet able to own a home. It provides heavily subsidized rental housing for these families while they work at improving their financial situation. Currently, public rental flats make up about 5% of public housing in Singapore. Monthly rents are from as low as S$26 (US$20) for a one-room flat.
Results
As of November 2015, the Additional CPF Housing Grant had benefited 82,873 households, while the Special CPF Housing Grant had been given out to 19,542 households.
Besides giving subsidies, the HDB also offers a wide range of flats of different sizes and locations to cater to buyers with varying needs and budgets.
With the generous subsidies that encourage homeownership, many former tenants of rental housing have progressed to become HDB flat owners. The public housing authority maintains a lower income ceiling for eligible buyers of new two- and three-room flats to prevent competition from higher-income households. In this way, virtually everyone has a fair chance at homeownership, although some may take longer to achieve it.
The HDB's homeownership program has been highly successful. More than 80% of the population live in HDB flats, and 9 in 10 HDB dwellers own the flat they live in.
Resources
Cheong Koon Hean (2014) Promoting Social Equity through Public Housing. Urban Solutions, Issue 4: Social Equity. Published Feb 2014. The Centre for Liveable Cities, Singapore.
Related Links
Case Study: Rejuvenating an Old Residential Area by Crafting and Activating New Civic Spaces
Summary: A Dynamic Approach to Urban Development
Case Study: Making Resettlement Work through Partnerships
Leave your question or comment in the section below:
---
YOU MIGHT ALSO LIKE
---
---
Disclaimer
The views expressed on this website are those of the authors and do not necessarily reflect the views and policies of the Asian Development Bank (ADB) or its Board of Governors or the governments they represent. ADB does not guarantee the accuracy of the data included in this publication and accepts no responsibility for any consequence of their use. By making any designation of or reference to a particular territory or geographic area, or by using the term "country" in this document, ADB does not intend to make any judgments as to the legal or other status of any territory or area.
---
Was this article useful?
---