CASE STUDY
Park Connectors: Living Large in Small Spaces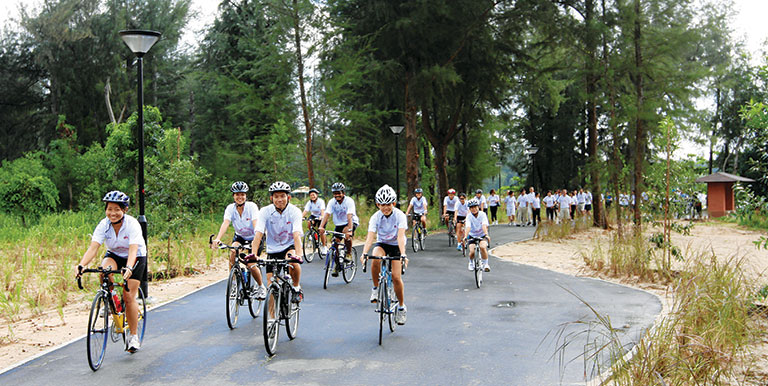 Published:
09 October 2018
Singapore's limited land availability did not prevent the National Parks Board from providing open recreational spaces through its Park Connector Network, which converts underused spaces along existing infrastructure into green public spaces that create a sense of openness and livability.
Overview
The Park Connector Network is an innovative program that allows busy Singaporeans to enjoy the outdoors more. Developed in cooperation with other government agencies by the National Parks Board (NParks), it involves the development of a green matrix of paths connecting parks and nature areas from underused spaces along roads, canals and railway corridors. In land-scarce Singapore, these spaces promote diverse benefits – from healthier lifestyles and sustainable transport, to social interaction and biodiversity. The program proved to be a popular and relatively low-cost solution that has brought recreation and nature much closer to people's doorsteps and continues to evolve in interesting ways.
This case study was adapted from Urban Solutions of the Centre for Liveable Cities in Singapore.
Project snapshot
1992: Completion of Kallang Park Connector, the first Park Connector
2007: Completion of Eastern Coastal Loop, the first Park Connector Loop
Implementing agency
Housing Development Board
JTC Corporation
Land Transport Authority
Public Utilities Board
Urban Redevelopment Authority
Challenges
In the 1960s, Singapore began to systematically plant trees, shrubs, hedges and creepers across the city – along roads, bridges, car parks, fences and retaining walls. Parks were also developed or safeguarded for this purpose in city plans. Amidst rapid industrialization and urbanization, government leaders anticipated that these efforts would improve livability and help attract foreign investments by differentiating the city-state as a clean and green oasis. These early initiatives earned Singapore its reputation as a Garden City.
Over the last half century, Singapore sustained rapid economic and urban growth, while its population grew from 1.6 million in 1960 to three million in 1990 and 5.6 million in 2016. As a result, the built environment is increasingly dense, and people have to cope with the stress of a fast-paced, big-city life. In this context, NParks sought ways to keep the city attractive and livable by bringing nature closer to people.
Solutions
NParks conceptualized the Park Connector Network in 1990. The network utilizes linear spaces that are too narrow for other uses by converting these into landscaped footpaths and bicycle lanes that link parks and nature areas. These marginal spaces include road and drainage reserves, and land beneath elevated railway tracks.
NParks completed its first park connector in 1992. First-generation connectors were basic tree-lined trails, simply furnished with benches and garbage bins. Today, where there is space, fitness equipment, small playgrounds and simple shelters for community gatherings are provided. Fast-growing and preferably native trees and shrubs are planted along connectors to provide shade and to attract birds and other wildlife. Besides offering pleasant recreational spaces, these connectors help Singaporeans access parks and nature areas more easily. In linking these areas, they also support biodiversity by helping wildlife access more food sources and mates.
With pavements, drainage reserves, utility service pipes, and roadside greenery squeezed into the narrow spaces beside roads, finding enough space to build a Park Connector is often difficult. Where there are short stretches with less-than-ideal connections, design and management solutions are considered, such as barriers to slow down cyclists or signs asking them to dismount and push their bikes. However, proposed Park Connector stretches are sometimes abandoned after months of planning due to unsatisfactory conditions, and alternative stretches have to be explored.
Park Connectors often visually utilize existing greenery from adjoining land to enhance the recreational experience, achieve better conservation results, and create a sense of space. This requires close cooperation and negotiation with other government agencies and private land owners. There are many examples of Park Connectors running beside public housing developments, which are not fenced up. It is also not unusual for Park Connectors to be laid within adjoining properties, with the consent of land owners.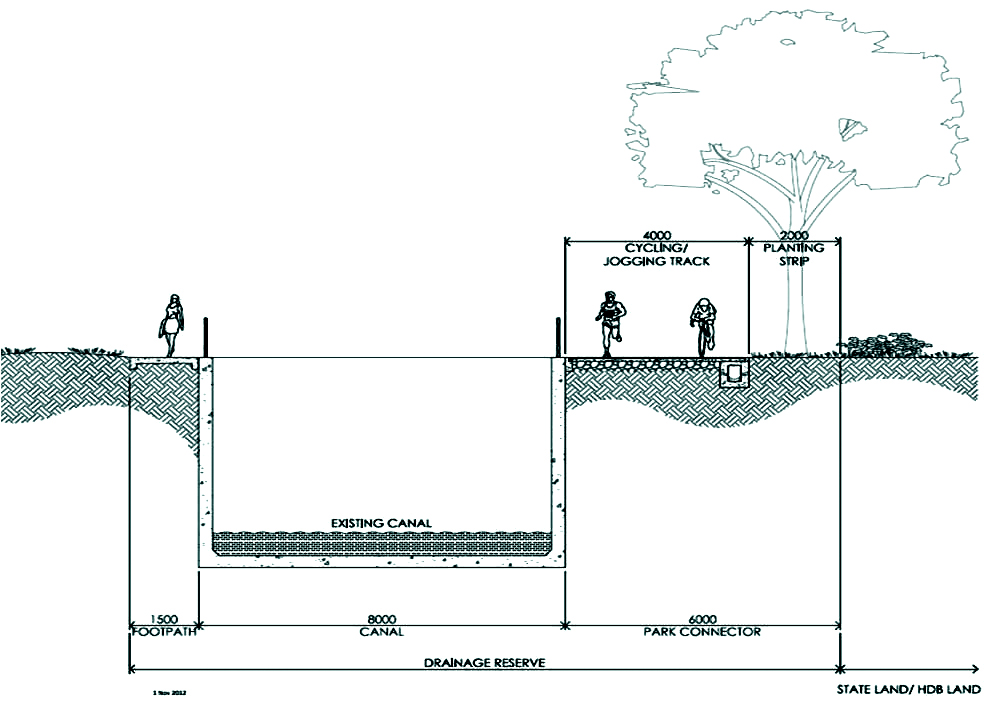 Results
Today, more than 300 kilometers of Park Connectors have been built, with the network is expected to expand to 360 kilometers by 2020. Parts of the network are linked up to form Park Connector Loops to further improve access to parks and nature areas.
NParks surveys show that the proportion of people visiting the Park Connector Network had grown from 1% in 2006 to 26% by 2011. An earlier survey also revealed an increase in park visits in 2008. This suggests that, besides being appealing in their own right, Park Connectors may be encouraging more people to visit other parks in general.
Surveys also indicate that people use Park Connectors mainly for exercise-related activities, such as cycling, jogging, and rollerblading. People living nearby have also started to use the connectors for social gatherings and even daily commuting. Given this growing popularity, Singapore's public housing agency and even private property developers have started to build tracks to let their residents access the Park Connector Network.
The Park Connector Network has also benefitted wildlife. Surveys of various Park Connectors have turned up a total of 90 species of birds, including the White-throated Kingfisher, Grey Heron and Scaly Breasted Munia; 57 species of butterflies like the Common Mime; and 22 species of dragonflies. Some locally uncommon species that usually reside in forests have been sighted near trails bordering nature parks and reserves.
The success of the Park Connector Network has precipitated plans to develop exciting new projects, like a 150-kilometre-long Round Island Route along the coast. This will take Singapore another step closer to its vision of truly becoming a Garden City.
Resources
Poon Hong Yuen. 2013. Park Connectors: Living Large in Small Spaces. Urban Solutions Issue 2: High-Density Cities. February 2013. The Centre for Liveable Cities, Singapore.
Related links
Case study: Enhancing Urban Spaces with Pedestrian-Friendly, Mixed-Use Development
Case study: Rejuvenating an Old Residential Area by Crafting and Activating New Civic Spaces
Leave your question or comment in the section below:
---
YOU MIGHT ALSO LIKE
---
---
Disclaimer
The views expressed on this website are those of the authors and do not necessarily reflect the views and policies of the Asian Development Bank (ADB) or its Board of Governors or the governments they represent. ADB does not guarantee the accuracy of the data included in this publication and accepts no responsibility for any consequence of their use. By making any designation of or reference to a particular territory or geographic area, or by using the term "country" in this document, ADB does not intend to make any judgments as to the legal or other status of any territory or area.
---
Was this article useful?
---