SUMMARY
Enhancing Motorcycle Safety Policies to Keep Roads Safe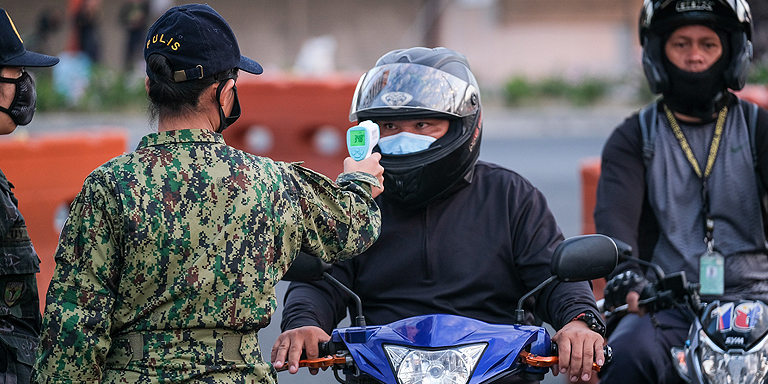 Published:
08 September 2020
Increased road crashes linked to motorcycles call for improving policies on their use for public transport and logistics.
Overview
As the worldwide population has increased in recent years, so has the use of motor vehicles, particularly motorcycles. Data from the World Health Organization (WHO) showed that from 2013 to 2016, total registered vehicles rose 12.4% worldwide, 18.8% in Asia, and 22.2% in Southeast Asia. This figure includes a 26.6% growth in motorcycle units to 322 million in Asia.
In Southeast Asia, the number of registered motorcycles increased by 21% to 201.7 million during the 3-year period. Viet Nam, Indonesia, and Malaysia were the top three countries in the world with the highest number of motorcycles for every 1,000 population in 2016.
The Philippines was among the countries in Southeast Asia with the lowest number of vehicles and motorcycles per 1,000 population, but it posted a higher percentage increase in registered motorcycles than the total registered vehicles from 2013 to 2016. Motorcycle units surged by 25.4% to 5.3 million in 2016 from 4.3 million in 2013. This growing preference for motorcycles for daily commuting in the country can be attributed to the lack of better and effective public transport systems. At the same time, motorcycle use for delivery services has become popular through mobile applications and the internet.
However, the increasing popularity of motorcycles has brought up issues on road safety. A rising trend in road crashes had even been observed in the Philippine capital, Metro Manila due to increased motorcycle use. With more motorcycles being used for mobility and logistics, capacity building and behavioral strategies are needed to make roads safer for all users.
This summary is based on a study of motorcycle use in Metro Manila from the Asian Development Bank.
Key findings
Motorcycles started to become essential to many households in the Philippines in 2010. Respondents to a census on ownership of convenience devices considered motorcycles as a convenience device alongside other transportation options, such as cars, jeepneys, motorized boats, and bancas. About 10% (around 1.7 million) said they own cars while close to 22% (around 4 million) reported that they own motorcycles. In Metro Manila, about 14% (377,224) of households owned cars and almost 12% (316,893) owned motorcycles.
The population of Metro Manila in 2015 was 12.9 million or about 13% of total population, growing at an annual average of 1.67% since 2010. The growth in population resulted in outward expansion, especially toward the south and the east, which increased traffic volume and road congestion in major thoroughfares. Many started using motorcycles, which they found more convenient for their daily commute.
A study by the Japan International Cooperation Agency (JICA) showed that the number of cars did not increase significantly in Metro Manila and adjacent regions in 2006, 2010, and 2015. Meanwhile, motorcycles, including tricycles, showed increasing overall growth, particularly in Metro Manila.
Another JICA study in 2015 indicated that based on the number of trips by transport mode in Metro Manila, motorcycles and cars were primarily used for private travel while motorcycles in the form of tricycle and habal-habal, among others, were used for public transport. According to the ADB study, the preference for habal-habal—two-wheeled motorcycles wherein passengers ride at the back of the driver—increased during the past 10 years as it became more accessible through wireless mobile applications, including GrabBike and Angkas.
The rise of motorcycle usage for online delivery and its popularity among consumers highlights the need to look deeper into these services, particularly on the behavior of drivers and whether or not it correlates to the increase in motorcycle-related crashes. Drivers of commuter and delivery services have regular day jobs and drive for ride-hailing or logistics services during their free time, usually at night and on weekends, to supplement existing income. Thus, they may be more susceptible to fatigue.
The Metropolitan Manila Development Authority (MMDA) reported that motorcycles contributed to the surge in road crashes from 2010 to 2017. In 2010, there were 17,666 motorcycles involved in road accidents. The number reached 24,058 in 2017. Thus, strategies toward minimizing road crashes involving motorcycles are needed.
Policy and Responsive Initiatives on Motorcycle Usage
The initial policy framework below is presented with the intention of addressing motorcycle-related
 crashes, particularly in Metro Manila. It is anchored mainly on "soft" and "hard" measures that are considered based on best practices and literature on motorcycle crashes. The road safety policy framework should include usage of motorcycles since this affects the behavior of the motorcycle drivers.
Figure 1: Motorcycle Road Safety Policy Framework

Under this framework, the following are to be considered:
Proper training and education of motorcycle drivers. The Technical Education and Skills Development Authority can 
help professionalize and provide proper guidance and accreditation
 to motorcycle drivers. A new training program to include driving and road safety education, proper conduct and behavior, and social manners.

Local planning and development of road infrastructure. Designing facilities, such as terminals, either for public transport or delivery service, to help minimize the presence of motorcycles on major roads and thoroughfares.

Proper lane markings for motorcycles to help ensure appropriate segregation of vehicles.

Incorporation of safety measures being advocated by the MMDA for new policies on motorcycle use as public transport and delivery service. Review and amend if necessary the pertinent laws, such as the Public Service Act.
Motorcycles have become ubiquitous in many countries, including the Philippines. Their popularity continues to grow because of developments in technology, particularly the internet and mobile applications. As these two-wheeled vehicles have become integral to daily commuting and logistics services, road safety policies need to take into consideration motorcycle usage in the context of user behavior.
Resources
Asian Development Bank. 2020. Growth of Motorcycle Use in Metro Manila: Impact on Road Safety. Manila.
Government of the Philippines, Metropolitan Manila Development Authority. Metro Manila Accident Reporting and Analysis System (2010–2017).
Government of the Philippines, Philippine Statistics Authority. 2018. 2018 Philippine Statistical Yearbook. Quezon City.
Japan International Cooperation Agency. 2015. Metro Manila Urban Transportation Integration Study Update and Capacity Enhancement Project Study. Makati.
JICA. Philippines: Follow-up Survey on Roadmap for Transport Infrastructure Development for Greater Capital Region. Unpublished. Quoted in Government of the Philippines, Philippine Statistics Authority. 2018. 2018 Philippine Statistical Yearbook. Quezon City.
Leave your question or comment in the section below:
---
YOU MIGHT ALSO LIKE
---
---
Disclaimer
The views expressed on this website are those of the authors and do not necessarily reflect the views and policies of the Asian Development Bank (ADB) or its Board of Governors or the governments they represent. ADB does not guarantee the accuracy of the data included in this publication and accepts no responsibility for any consequence of their use. By making any designation of or reference to a particular territory or geographic area, or by using the term "country" in this document, ADB does not intend to make any judgments as to the legal or other status of any territory or area.
---
Was this article useful?
---