CASE STUDY
How to Make Pedestrian-Friendly Streets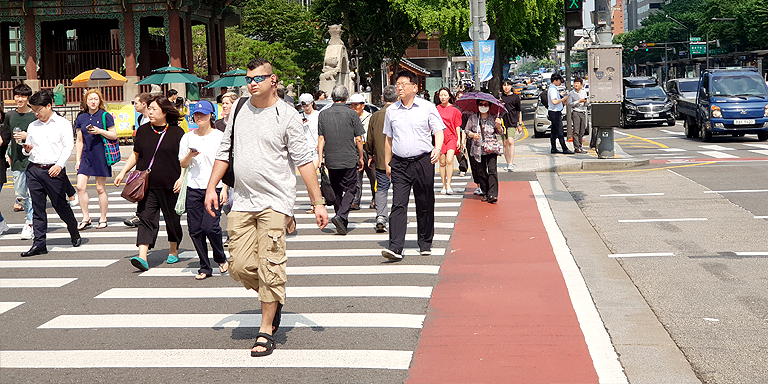 Published:
04 July 2019
Close cooperation between civil groups and authorities is needed to make the streets more walkable and safe for pedestrians.
Overview
A comparison of past and present cities from various nations, including the Republic of Korea, shows that car-oriented cities tend to lose vitality, but they become livable and lively urban spaces when people become the focal point.
The change in the transit system from being auto-oriented to people-oriented needs to start with re-prioritization—giving top priority to pedestrians and bicyclists, public transport users in the middle, passenger cars at the bottom. However, changes in public awareness do not come naturally. In the Republic of Korea, the pedestrian environment improvement was the result of aggressive civil campaigns that eventually led to the enactment of pedestrian ordinances and pedestrian acts.
Context
Streets should serve both vehicles and pedestrians. They should be convenient, safe and pleasant for pedestrians. However, the pedestrian environment in Seoul in the 1990s was far from ideal. Walking around the municipality at that time was dangerous and inconvenient. Many problems threatened pedestrian safety.
In 1997, nearly half of all intersections in Seoul were not equipped with crosswalks or at best only partially. And where there were crosswalks, some did not have pedestrian safety islands. Also, only a short time was allotted for pedestrians crossing the street or intersections. The traffic lights did not take into account those who walked slowly, and cars already enter the intersection when the crosswalk signal turns red.
Even sidewalks were a problem for pedestrians. Obstacles, such as subway station entrances and protruding objects, including traffic signal controller boxes, street lamps, utility poles, and electrical boxes, block their way. Many sidewalks are also too narrow or broken without clear separation between pedestrians and vehicles. Some sidewalks were occupied by drivers and tenants. There were even streets without sidewalks.
Solutions
The public awareness of pedestrian rights or people-oriented green transportation began with the effort to gain balance and harmony between pedestrians and motor vehicles. Since the beginning of the civil movement for pedestrian rights in 1993, various efforts have been made to secure pedestrian rights and improve green transportation. The Republic of Korea has consistently improved pedestrian rights along with relevant legal systems despite some bumps in the road.
The country's capital Seoul, which is also its largest city, led the efforts to improve pedestrian safety.  In 1997, the Seoul Environment Improvement was enacted, and in 1998, the 1st Pedestrian Environment Basic Plan was established. In the wake of the ordinance enactment, various efforts were made to establish a framework act for Pedestrian Safety and Convenience Enhancement since 2005, which finally came to fruition in 2011. It is the world's first law that clearly provides the legal rights of pedestrians and spells out that the improvement of the pedestrian environment is the responsibility of the nation and local governments. It urged the government to draw up basic plans for enhancing these environments and pushed forward with a project to improve them.
Street environment improvement schemes were implemented in various areas over the next 15 years. Initiatives aimed at improving the pedestrian environment was led by the national government and local governments for ensuring pedestrian rights and safety. These cases include the Pedestrian Priority Zone Project conducted by the Ministry of Land, Infrastructure and Transport; car-free streets, transit malls, green parking led by Seoul City; and the Pedestrian Environment Improvement Project led by the Ministry of Security and Public Administration.
Results
Lessons
Involve civil society
Various movements staged by civic organizations and changes in governmental transport policies have significantly affected Korea's pedestrian environment and public satisfaction with it. For instance, there have been widespread efforts to transform the car-oriented areas like Gwanghwamun and the stonewall street around Deoksugung Palace into people-friendly places which has resulted in consistent improvement in public satisfaction with the pedestrian environment.
Improve pedestrian experience
Pedestrian experience should be pleasant and any inconvenience and danger pedestrians may feel in sidewalks or crosswalks should be minimized. Sidewalks best suited for walking should be expanded citywide and boulevards in residential districts with motor vehicles present should be transformed at the fundamental level.
Enact laws
In order to firmly establish pedestrian-centered green traffic, the legal system should be changed and a dramatic transformation should be conducted concerning budget allocation, updating administration systems, understanding held by traffic operators and administrators, and improvement of civic awareness.
Resources
Lim, Sam-Jin, et. al. 2015. KOTI Knowledge Sharing Report Issue 18: The Improvement of the Pedestrian Environment in Korea: Policies and Achievements. Sejong-si: The Korea Transport Institute.
Leave your question or comment in the section below:
---
YOU MIGHT ALSO LIKE
---
---
Disclaimer
The views expressed on this website are those of the authors and do not necessarily reflect the views and policies of the Asian Development Bank (ADB) or its Board of Governors or the governments they represent. ADB does not guarantee the accuracy of the data included in this publication and accepts no responsibility for any consequence of their use. By making any designation of or reference to a particular territory or geographic area, or by using the term "country" in this document, ADB does not intend to make any judgments as to the legal or other status of any territory or area.
---
Was this article useful?
---