CASE STUDY
Changing People's Perception of Mass Transit in Ha Noi
Published:
25 June 2020
In Viet Nam, where the motorcycle is king of the road, convincing the public to support a metro rail project required a strategic communication plan.
Overview
The rapid growth of the Viet Nam economy has put pressure on roads, including those of its capital Ha Noi. To ease traffic congestion, the government is adopting an urban transport strategy that focuses on mass transit and intermodal transport, discourages the use of private vehicles, and improves urban livability and the environment.
The integrated public transport system in Ha Noi's six districts will include the Ha Noi Metro Rail System Project (Line 3), one of four priority lines planned for the capital's metropolitan area. The mega project is co-financed by the Asian Development Bank (ADB), the European Investment Bank, the Government of France, and the Agence Française de Développement. The budget for the project is almost $1.4 billion. It is expected to provide convenient, comfortable, safe, affordable, and low-carbon means of transport.
The project's success, however, hinges on getting the people's support through awareness and education campaigns on the benefits of a metro rail system.
Project information
Project snapshot
10 December 2015: Approval date
Executing agency

Ha Noi City People's Committee
Implementing agency
Ha Noi Metro Company
Ha Noi Metropolitan Railway Management Board
Financing
European Investment Bank (EIB)
Government of France
Agence Française de Développement (AFD)
Challenges
Convincing people in Ha Noi of the benefits of public transportation is a major challenge. Motorcycles and cars make up about 90% of vehicles on the road, which is heavily congested during peak hours. Growth in household income is expected to further increase private vehicle ownership and promote the shift from motorcycles to cars. More vehicles on the road will make the traffic problem worse.
Negative sentiment about the metro rail project was high. Concerns included the environmental impact, such as removal of mature trees, as well as noise and traffic disruptions during construction. There was also an overall skepticism, with many not inclined to switch from motorcycles or cars to the metro rail.
Context
Ha Noi is the second-largest city in Viet Nam. The population of the greater urban area is expected to grow to more than eight million by 2025 from about 7.5 million in 2015.
The city's road network is expanding slowly. Most inner-city areas do not have space to expand road capacity.
The government's strategy is to actively develop public transport and road infrastructure to alleviate congestion and open new areas for urbanization. An integrated public transport system will help meet the needs of high-density areas, support a high quality of life and work environment and attract investments.
Solutions
ADB is also supporting the metro rail project through the development and implementation of a stakeholder communication strategy to promote metro line 3. The communications plan aimed to raise public awareness and get the public's support by disseminating key project information to stakeholders, mainly communities, employees, students, and other affected individuals. The Ha Noi Metro Company and the Ha Noi Metropolitan Management Board were implementing partners.
To ensure effective communication with stakeholders during project implementation, and to enhance project outcomes, the project adopted a two-pronged communication strategy:
1. Deliver relevant project information to those affected and other stakeholders possibly impacted by the project in a culturally appropriate, gender-sensitive, and timely manner, and foster a regular two-way flow of information between project implementers and these stakeholders; and
2. Support intensive, sustained, broad and repetitive communication, education, marketing, and advocacy about the benefits of the project to foster positive public behavior change and encourage widespread use of the new Line 3 and other metro lines.
Toward these objectives, the following activities were conducted:
Results
Public perception of the project improved significantly because of the communications campaign.
According to a presentation made by communication officer Hoai Thu Nguyen of the Ha Noi Metropolitan Railway Management Board at the Urban Transport for Livable Cities Forum in October 2019 at the ADB, 70% of articles about the project were negative in 2016–2017. In 2019, the results of the media review showed that half of all articles and public opinion on the Ha Noi Metro were neutral to positive. Major online publications also quoted information from the monthly newsletters released by the project communications team.
More than 20,000 regular followers have visited, liked, and commented on news related to the metro rail as posted on its Facebook, Twitter, YouTube, and Instagram pages.
A survey of 1,000 respondents ages 18 to 60 years old showed that more than 80% highly appreciated the train design and that 90% were willing to ride the metro, she added.
Figure 1. Social Media Followers of the Ha Noi Metro Rail Project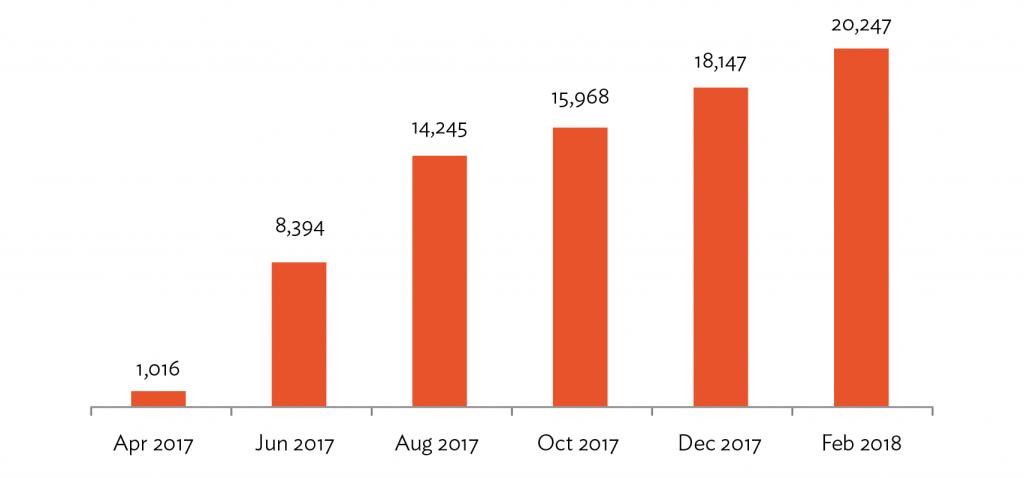 Lessons
Strategic communication plays a critical role in encouraging the use of the mass transit network. Proactive dissemination of information on sustainable construction and operation of such projects through multiple channels is needed. This includes utilizing traditional mass media and social media, especially on projects that require behavioral changes on the part of the public.
Community outreach activities can help inform, educate, and communicate project updates to stakeholders as well as public commuting options during the construction phase.
Marketing, customer service, and advertising should be integral to planning any public transportation project. Marketing and advertising are crucial to the metro system's fiscal success while customer service training will make sure that the metro will provide quality facilities and services.
Resources
Asian Development Bank (ADB). Viet Nam: Ha Noi Metro Rail System Project (Line 3: Nhon-Ha Noi Station Section). Manila.
ADB. 2015. Ha Noi Metro Rail System Project (Line 3: Nhon-Ha Noi Station Section) - Additional Financing: Project Administration Manual. Manila.
ADB. 2015. Ha Noi Metro Rail System Project (Line 3: Nhon-Ha Noi Station Section) - Additional Financing: Report and Recommendation of the President. Manila
H.T. Nguyen. 2019. Communication Strategy for Ha Noi Metro Projects. Presented at the Urban Transport for Livable Cities Forum at the Asian Development Bank in October.
J. Rush. 2018. If You Build It, Will They Come? Our Ha Noi Metro Experience. Asian Development Blog. May.
Leave your question or comment in the section below:
---
YOU MIGHT ALSO LIKE
---
---
Disclaimer
The views expressed on this website are those of the authors and do not necessarily reflect the views and policies of the Asian Development Bank (ADB) or its Board of Governors or the governments they represent. ADB does not guarantee the accuracy of the data included in this publication and accepts no responsibility for any consequence of their use. By making any designation of or reference to a particular territory or geographic area, or by using the term "country" in this document, ADB does not intend to make any judgments as to the legal or other status of any territory or area.
---
Was this article useful?
---