POLICY BRIEF
High-Value Crops Help Central Asia Revitalize Agriculture Sector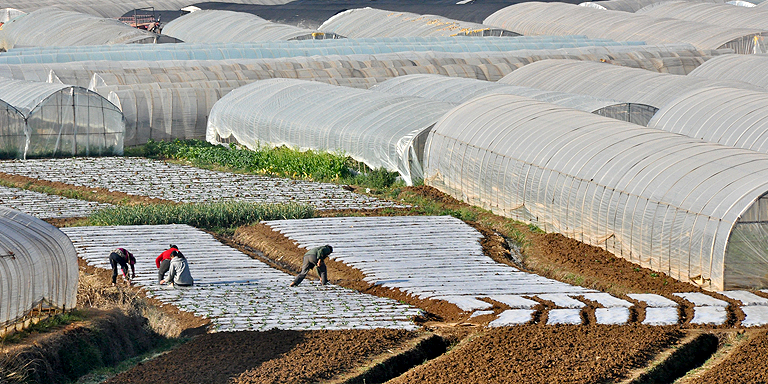 Published:
28 October 2020
CAREC countries adopt diversification strategies as they shift to a market-oriented agriculture.
Introduction
The 11 member countries of the Central Asia Regional Economic Cooperation (CAREC) program—Afghanistan[1], Azerbaijan, People's Republic of China, Georgia, Kazakhstan, Kyrgyz Republic, Mongolia, Pakistan, Tajikistan, Turkmenistan, and Uzbekistan—have undertaken institutional reforms to improve the performance of their respective agriculture sectors.
Previous policies emphasized food security. Now, governments are pursuing diversification strategies by highlighting high-value agriculture, such as horticulture and oilseed production. These policy reforms steered the region from a centrally planned to a market-oriented agriculture sector.
The paper, Agriculture Development in the Central Asia Regional Economic Cooperation Program Member Countries: Review of Trends, Challenges, and Opportunities, takes a comprehensive look at the agricultural and food systems of each country with focus on crop and livestock production, agri-food value chain development, and international agricultural trade.
Conducted by the International Food Policy Research Institute in partnership with the Asian Development Bank and the CAREC Institute, this review provides policy-relevant information that can serve as basis for designing policy interventions for revitalizing the region's agriculture sector.
Context
The region represents a diverse group of countries in terms of history, economy, culture, and population. Compared with other large global regions, the drive for regional cooperation and integration is relatively recent for CAREC members.
For decades, CAREC countries have engaged in efforts to improve the performance of their agricultural sectors. In the People's Republic of China, reforms were implemented in the late 1970s while countries in Central Asia, the South Caucasus, and Mongolia started in the 1990s in response to the economic decline after the fall of the Soviet Union.
While specific efforts varied, most reforms were centered on redistributing collective farming management to individual farmers through lease rights or private ownership. Afghanistan and Pakistan, however, failed to implement widespread land reform.
Policy Implementation
Opportunities for Growth
While the agricultural systems of CAREC countries are too diverse to suggest a one-size-fits-all strategy, some common threads appear when considering avenues for further growth.
Agricultural development policy should focus on improving the capacities of small farmers throughout the region. Smallholder farming is an important engine for agricultural development and a crucial employer of the CAREC region's large rural population. A primary and immediate need is to establish systems that allow farmers to access modern technology, technical know-how, and production inputs to promote productivity growth.
Investment in public goods, such as water, energy, and road infrastructure, can provide the kind of support that would aid household farmers and farm businesses of all types. Because most of the CAREC countries occupy arid or semiarid land surrounded by challenging terrain, investing in irrigation systems and transportation infrastructure must be key elements of agricultural policy.
Improvements in agricultural infrastructure should include the development of support structures for trade, such as storage and logistics facilities. Many CAREC countries have the potential to become global exporters of agricultural products but are constrained by the lack of facilities that would sustain export activities.
Institutional and regulatory frameworks will help regional agricultural products gain access to lucrative markets that are relatively close by, including East Asia, South Asia, the Middle East, and Europe.
The breadth and interconnectedness of the challenges confronting CAREC's agriculture sectors afford governments, development organizations, and other stakeholders of agriculture a look at opportunities for collaborative research and development interventions.
The diversity of expertise and experiences among member countries—which applies not only to technical capacities and financial resources but also to institutional best practices and policy lessons—can be leveraged to facilitate research and knowledge exchanges.
---
Resources
Central Asia Regional Economic Cooperation Institute. 2019. Agriculture Development in the Central Asia Regional Economic Cooperation Program Member Countries: Review of Trends, Challenges, and Opportunities. Xinjiang.
K. Akramov. 2012. Foreign Aid Allocation, Governance, and Economic Growth. Philadelphia: University of Pennsylvania Press.
S. Mahnovski et al. 2006. Economic Dimensions of Security in Central Asia. Santa Monica: RAND Corporation.
Leave your question or comment in the section below:
---
YOU MIGHT ALSO LIKE
---
---
Disclaimer
The views expressed on this website are those of the authors and do not necessarily reflect the views and policies of the Asian Development Bank (ADB) or its Board of Governors or the governments they represent. ADB does not guarantee the accuracy of the data included in this publication and accepts no responsibility for any consequence of their use. By making any designation of or reference to a particular territory or geographic area, or by using the term "country" in this document, ADB does not intend to make any judgments as to the legal or other status of any territory or area.
---
Was this article useful?
---