SUMMARY
Lessons Learned from Agricultural Eco-Compensation Schemes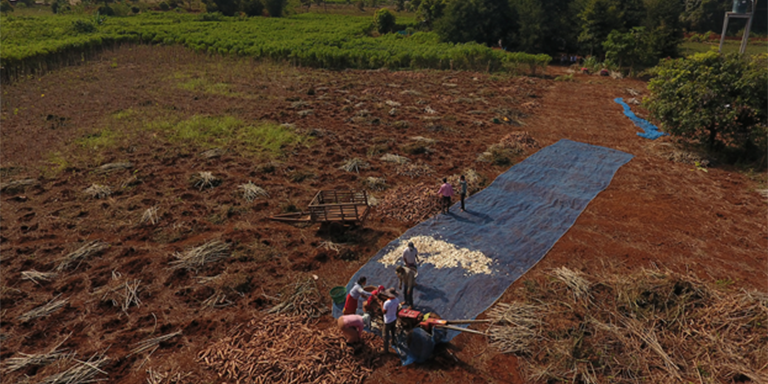 Published:
02 February 2018
Well-designed and participatory eco-compensation schemes with proper technical assistance can help small farmers in some of the poorest and most ecologically sensitive areas in the People's Republic of China.
Overview
Agriculture is essential to human survival, and is recognized as the most significant type of land use on earth. While its development has been the basis of most successful national development strategies, it is also recognized as the human activity with the most severe negative impacts on the environment. The initial ecosystem destruction, conversion to farmland, and conventional farming practices are often associated to the loss of biodiversity, soil erosion, desertification, and water and air pollution.
Agriculture is also responsible for 1/5th of the global greenhouse gas emissions. A recent study by the Institute for Agriculture and Trade Policy found that emissions from the top 20 meat and dairy companies on earth are greater than those of Germany, the world's fourth largest economy.
In the United States and the People's Republic of China, government policies and agri-food industries are strongly biased in favor of conventional agriculture, referring to monoculture farming supported by the heavy use of chemicals. This agricultural model is responsible for tremendous environmental damage, so much so that many policies and programs for ecosystem protection focus of halting agricultural activities altogether. This was observed in the United States in the 1930s and in the People's Republic of China after 1998, with the initiation of large programs that compensated farmers to stop all farming on ecologically fragile lands.
But this can't be the solution everywhere. As it is not feasible to eliminate all agricultural activities despite its large threat to the ecosystem, it is important to look into existing mechanisms that incentivize farming practices that maintain or improve ecosystem functions on farmlands.
This is a summary of Jim Harkness's presentation at the 6th International Conference on Eco-Compensation and Payments for Ecosystem Services.
Agricultural related Payments for Ecosystem Services in the United States
The most effective tool in reducing pollution in the United States is the Clean Water Act, a regulatory law introduced in the 1970s that dramatically reduced pollution from industrial and municipal sources. But environmental damage from agriculture comes from many small sources instead of a few large sites, which makes it much difficult to control.
To complement the Clean Water Act, the United States federal government introduced other major mechanisms to try and improve ecosystem services through repayments to farmers:
Challenges from the United States experience
There has been a number of problems associated with the United States government's efforts to reduce nonpoint source pollution in agriculture:
The voluntary and time-limited nature of these programs resulted in temporary benefits. In 2009, the prices of United States agricultural commodities went up rapidly. This led farmers to withdraw 7 million hectares of land from the program, and the $10 million spent on taking the land out of agricultural production ended up with no permanent ecological benefits;
The generous terms and low requirements for participation in programs meant that and the money tends to go to wealthier farmers rather than smaller and poorer farmers who need it most;
There is a lack of focus on places where ecological problems are most severe;
There was a focus on outputs rather than outcomes. Instead of looking at indicators that measure the improvement of ecosystem functions (such as water quality or biodiversity), indicators of success tended to be more administrative in nature, such as the amount of money spent, the number of farmers participating, and the area covered by the program;
There was a lack of proper monitoring of these programs. As a result, many of the results of these programs were unsatisfactory;
Core problems have to do with assumptions on farming and the politics of decision making in the United States. When United States environmental laws were being drawn up, there was a notion that agriculture did not have a negative impact on the environment. But as the United States agricultural sector was being industrialized at a rapid rate, it's adverse impact was tremendous;
The United States political system gives a lot of political power to agricultural states. As such, representatives from such states are able weaken environmental laws, and exempt agriculture from many anti-pollution regulations.
Lessons from the United States experience
Based on the 50 years of experiments and programs that the United States has undertaken to try and protect ecosystems in agricultural areas, a number of important lessons emerged:
The most successful programs in the United States tend to be smaller programs run by local governments or the United States Environmental Protection Agency.
The introduction of cover crop incentives in Iowa gives farm insurance subsidies in exchange for planting cover crops has has proved extremely popular. Cover crops helps prevent erosion and improve water quality and soil health. As a result, participating farmers have reduced their nitrogen pollution by 30% and phosphorous pollution by 50%.
There are a lot of theoretical interest in creating markets and trading systems for PES, but there are only a few successful schemes in the United States that tend to be controversial.
Importance of operating and coordinating programs on a watershed basis rather than focusing on individual farms or technologies.
Importance of establishing an effective system for targeting areas where the ecological damage is most severe.
Importance of focusing on program outcomes rather than outputs.
Importance of clear monitoring.
Important to identify sufficient incentives for farmers to participate in programs.
Lessons for the People's Republic of China
The People's Republic of China shares many of the same issues as the United States. Agriculture is a major source of water pollution, more than industry or municipal sources. Due to the heavy use of chemicals in agriculture, the People's Republic of China is faced with a severe food safety issue. The livelihood of the country's 700 million people depends on the effective protection of working farmlands.
The People's Republic of China's eco-compensation schemes in agriculture mostly involves removing farmland from cultivation. But because of food security requirements, this can only be applied to a small fraction of farmlands. There is a need to develop better mechanisms for improving the ecological services provided by working farmlands without taking them out of agricultural production. This involves helping farmers transition from more polluting, high-erosion agriculture to farming that restores or maintains ecosystem services such as clean water, reduced soil erosion, and biological diversity. The important principles that this transition will need to develop the following:
Minimizing bare soil that can be eroded by maintaining green cover;
Improving the quality of soil (i.e. soil moisture, organic matter);
Increasing diversity of crops, while allowing natural diversity to be integrated into the system; and
Reducing chemical use.
Eco-compensation programs can also subsidize certification for organic production in order to improve incomes for farmers adopting more ecological friendly agricultural practices.
Challenges for the People's Republic of China
A major challenge for the People's Republic of China is the technical support system required to implement eco-compensation programs. The country's current agricultural extension system is very focused on 20th century agriculture, which depends on chemical use. Such a system is now commercialized, with agricultural extension agents depending on selling chemicals to farmers in order to maintain their livelihoods. As long as this kind of extension system is in place, the People's Republic of China cannot make the transition to a more ecological friendly agricultural model.
Another challenge has to do with the reality that upland areas that are environmentally fragile and need protection are areas where the poor and vulnerable live. While the complexity and diversity associated with these areas are an advantage for ecological farmers, the mainstream system for agricultural development focuses on a top-down engineering approach that requires less complexity and more specialization.
Conclusion
There are tremendous co-benefits from working lands programs for eco-compensation. They can improve rural livelihoods, improve food quality and safety, maintain beautiful agricultural landscapes, and prevent social and cultural disruption. Fortunately, the People's Republic of China's senior leadership has already recognized that for much of the country, large-scale mechanized agriculture is not practical. Because of this, small-scale farming must continue to play an important role in the rural economy.
A well-designed and participatory eco-compensation scheme that has proper technical assistance can also help small farmers in some of the People's Republic of China's poorest and most ecologically sensitive areas. This is essential to avoid the traps of 20th century agriculture, and instead move into 21st century agro-ecological farming that can provide ecosystem services, and improve rural livelihoods.
Resources
Environmental Working Group. 2016. Data Show Farmers Must Do More to Protect the Environment, Public Health. 13 October.
Natural Resources Defense Council. 2017. Iowa Breaks New Ground with Innovative Cover Crop Incentive. Blog. November 17.
National Sustainable Agriculture Coalition. Grassroots Guide to Federal Farm and Food Programs
Perez, M., and S. Walker. 2013. Improving Water Quality: A Review of the Mississippi River Basin Healthy Watershed Initiative (MRBI) to Target U.S. Farm Conservation Funds. Washington, DC: World Resources Institute.
Tang, Qiang et al. 2014. Farmers' Sustainable Strategies for Soil Conservation on Sloping Arable Lands in the Upper Yangtze River Basin, People's Republic of China: Sustainability 6 no.8: 4795-4806.
United States Environmental Protection Agency. Nonpoint Source Success Stories
Walker, S, and M. Perez. 2014. Improving Water Quality: Overcoming Barriers to better Targetting of U.S. Farm Conservation Funds. Washington, DC: World Resources Institute.
Related links
Explainer: Eco-Compensation and What It Means for the World
Explainer: Improving Watershed Management through Eco-Compensation
Summary: Effective Payment Strategies for Ecosystem Services
Summary: Fighting Poverty by Protecting the Environment Through Payment for Ecosystem Services
Summary: How to Mainstream Natural Capital Accounting 
Leave your question or comment in the section below:
---
YOU MIGHT ALSO LIKE
---
---
Disclaimer
The views expressed on this website are those of the authors and do not necessarily reflect the views and policies of the Asian Development Bank (ADB) or its Board of Governors or the governments they represent. ADB does not guarantee the accuracy of the data included in this publication and accepts no responsibility for any consequence of their use. By making any designation of or reference to a particular territory or geographic area, or by using the term "country" in this document, ADB does not intend to make any judgments as to the legal or other status of any territory or area.
---
Was this article useful?
---