SUMMARY
Fighting Poverty by Protecting the Environment Through Payment for Ecosystem Services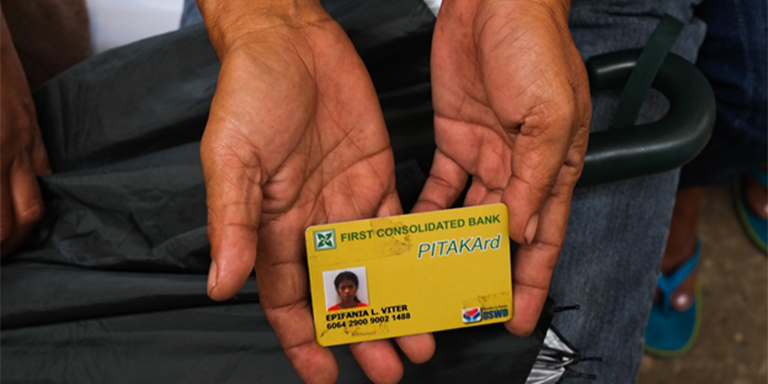 Published:
02 February 2018
Combining market-based instruments, such as payments for ecosystem services and conditional social transfers, alleviate poverty while conserving ecosystems.
Overview
Environmental protection is often deemed as important, but usually fails to receive the necessary political and budgetary support to pursue action towards it. On the other hand, social objectives linked to poverty alleviation often easily gain more political traction. Over the last two decades, these two objectives have typically been pursued in isolation using separate instruments. The establishment of the United Nations Sustainable Development Goals provided an opportunity and much needed momentum to reshape how economic instruments are utilized to successfully tackle multiple objectives simultaneously.
Examples of such instruments are payments for ecosystem services and conditional social transfers. Payment for ecosystem services programs rewards people or communities who agree to take certain actions to manage and protect ecosystems. Conditional social transfers are a form of social protection, typically in the form of cash that governments utilize to help the poor in exchange for satisfying specific goals or undertaking actions with positive social impacts or which deliver public goods. Conditional social transfers predominantly benefit the receiver of the incentive, whereas actions promoted by payment for ecosystem services benefit other stakeholders beyond the individual or communities undertaking ecological services.
This is a summary of Inna Porras's presentation at the 6th International Conference on Eco-Compensation and Payments for Ecosystem Services.
Payment for ecosystem services as conditional transfers
In practice, payment for ecosystem services is an incentive paid as a conditional social transfer with two main conceptual differences. First, payment for ecosystem services often develop a theoretical or empirically grounded narrative on the existing link between land-use managers and those who benefit from environmental services (such as water utilities, tourism companies, water consumers, and polluting companies). Second, such services are critically important for the economy or the satisfaction of the beneficiaries' needs.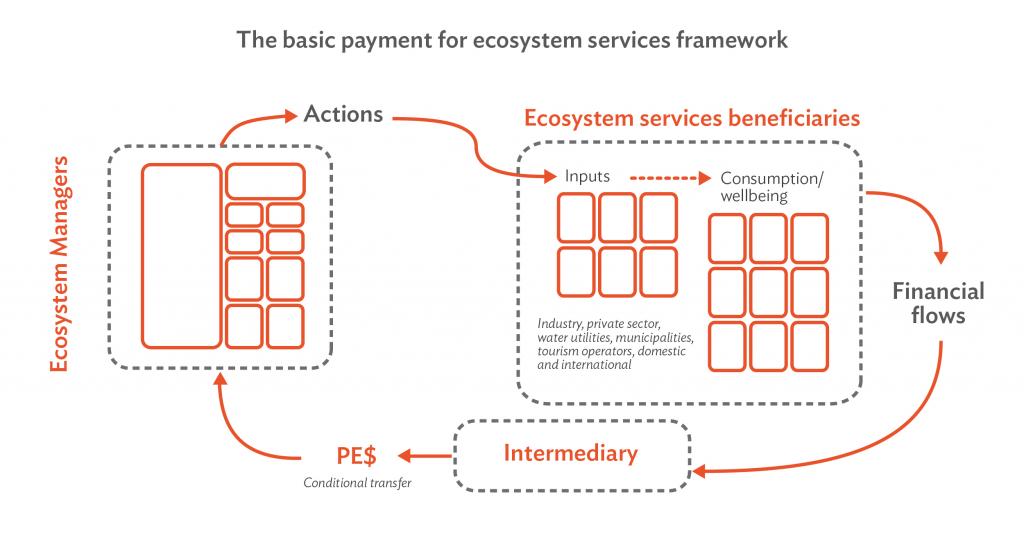 Poverty potential of payment for ecosystem services
The theory underpinning the mainstream definition of payment for ecosystem services supports a clear separation between environmental and poverty alleviation objectives in order to avoid the risk of "payment for ecosystem services overloading", defined as trying to both protect environmental services and reduce poverty. This is due to the tendency for such payment for ecosystem services programs to encounter expensive trade-offs, inefficiencies, and dilution of policy focus. It is only by explicitly linking ecosystem services and poverty alleviation objectives that payment for ecosystem services will achieve the political acceptance to become mainstreamed in developing countries.
Payment for ecosystem services programs can address poverty alleviation in at least three ways:
By looking directly at the providers of payment for ecosystem services and targeting poor or vulnerable communities in areas that are providing ecosystem services;
Looking at the beneficiaries of ecosystem services who usually depend very heavily on these services. They also wouldn't normally have access to alternative livelihoods, thus are the first ones affected by when ecosystem services disappear.
Looking at financing flows, and linking it up to other type of programs that look into social issues.
The global experience
There is a wealth of experience that shows payment for ecosystem services can bring about environmental improvements, such as improved land practices in watersheds to provide cleaner water, and increased climate resilience in supply chains by planting trees in small coffee plantations. Conversely, there is also evidence that demonstrates the struggle of payment for ecosystem services initiatives to match theory with practice due to the complex and diverse implementation contexts. This makes it challenging for implementers to follow some of the original theoretical principles of payment for ecosystem services, such as establishing a clear link between beneficiaries and providers, and the provision of ecosystem services.
Having an understanding of the heterogeneity of environmental service providers, the levels of poverty, and multidimensional aspects of poverty, incentives that can be tied to specific actions can be determined.  A variety of instruments were examined, such as conditional public works, hybrid instruments, and more traditional payment for ecosystem services instruments.
Three different types of conditional schemes were observed:
Social conditional transfer programs, which are usually focused on social outcomes such as jobs and poverty alleviation, but have measurable environmental impacts that have reached large scales. Examples of these programs include India's Mahatma Gandhi Employment Guarantee Act program and South Africa's environment public works program.
"Hybrid" CT/payment for ecosystem services programs, which combines elements of both schemes. Bangladesh's Jatka conservation program and Brazil's Bolsa Floresta program have adopted such a scheme.
Traditional payment for ecosystem services programs, which are either top-down or bottom-up programs. Top-down payment for ecosystem services programs includes the People's Republic of China's Sloping Lands Conversion and Eco-Compensation Programs, Costa Rica's payment for ecosystem services program, Mexico's Payments for Hydrological Services Program, and the Philippines' National Greening Program. Bottom-up initiatives include water shared in Bolivia, Colombia, Ecuador, and Peru; payments for mangrove protection in Kenya; community carbon projects Scolel-Te in Mexico; and Trees for Global Benefits in Uganda.
Lessons learned
Experience from the ground shows that while there are no "magical triple wins", there is a lot potential for conditional social transfers to support ecosystems and alleviate poverty. Successful payment for ecosystem services/conditional social transfer schemes from around the world exhibit many of the enabling conditions for scaling up.
| Condition | Description |
| --- | --- |
| 1. Political support | Includes the ability to make a compelling case for initial (meaningful and sustained) investment and for the use of conditional transfers within a portfolio of economic and regulatory instruments. |
| 2. Sustainable financing | Looking at how projects and programs manage to take the step from one-off, usually donor funding, to a program/process with financial sustainability that allows for replication and upscaling. |
| 3. Lean institutional setup | Focusing on how are these programs designed to operate in the practice, including the ways to coordinate across different government sectors (linking environmental and social departments to ministries of finance). |
| 4. Tools and systems for effective implementation | Including examples of how to improve program effectiveness, such as using the latest scientific and technological advances to help inform the design, implementation, replication and monitoring of these programs.  |
| 5. Ability to demonstrate impact | Including how these programs reach people, how they manage ecosystems, how the incentives help reduce poverty or prevent people from falling into poverty, and how conditionality/compliance are implemented. |
Enabling conditions for upscaling payment for ecosystem services
Social improvements are often an important factor in increasing momentum and creating political will and financial resources for payment for ecosystem services. There are also many examples of science-based policy tools that help these programs improve their governance structures and conditionality, while at the same time providing robust evidence on their social and ecological outcomes.
Other lessons learned are as follows:
Payment for ecosystem services schemes need to be upscaled to have a meaningful impact;
Cash payments are important, as it can have an impact in the short term and helps alleviate the immediacy of the poverty component. However, undertaking ecological investments can help to build up the resilience required to deal with the long-term aspects of poverty;
As there is evidence that suggest that not everyone is able to meet conditions set by conditional social transfer programs, there is a need to make sure that people are able to satisfy these conditions;
Importance of working with governments, as it is difficult for the private sector to lead payment for ecosystem services initiatives with social components;
Bringing in a social component such as financial inclusion or gender agenda can bring the political pull that payment for ecosystem services needs, and can be used as a leverage to mainstream poverty and ecological investments;
There are interesting examples of how payment for ecosystem services can really help the financial inclusion of otherwise "unbankable" groups.
Conclusions
Research can help, but they need to reach practitioners. Importance of research into the gaps and potential of including poor and vulnerable people into environmental policy, and needs to reach a wider audience that includes Finance ministries, and the banking sector. Knowing the potential problems can help design programs that enable transformative and sustainable livelihoods for vulnerable people. Acknowledging the benefits and trade-offs is the first step towards designing response actions. Further linkages to the impacts on value chains can be catalytic to increase the participation of the private sector.
The tools to help design payment for ecosystem services schemes are out there. There are many useful tools developed by academic researchers that can help policy makers to design and improve the efficiency and effectiveness of conditional transfers for environmental protection and poverty alleviation.
Need for more practitioner-friendly tools. These tools help program implementers understand the layers of complexity involved with the design of payment for ecosystem services programs.
Importance of capacity-building and south-south exchanges. much can be learned from countries who are already carrying out payment for ecosystem services/conditional social transfer schemes. Learning from these different models is a cost-effective way to build capacity and to improve payment for ecosystem services/conditional social transfer programs worldwide from the ground up.
Resources
International Institute for Environment and Development (IIED).
Leshan, Jin et al. 2017. Sloping Lands Conversion Program, People's Republic of China. London: International Institute for Environment and Development (IIED).
Porras, Ina and Essam Mohammed. 2016. Policy Workshop: Conditional transfers for poverty reduction and ecosystem management. London: IIED.
Porras, Ina. 2015. Solutions for less poverty and better ecosystems. London: IIED.
Porras, Ina et al. 2016.Upscaling solutions: The role of conditional transfers for poverty reduction and ecosystem management. London: IIED.
Toward a National Eco-compensation Regulation in the People's Republic of China
Related links
Explainer: Eco-Compensation and What It Means for the World
Explainer: Improving Watershed Management through Eco-Compensation
Summary: Effective Payment Strategies for Ecosystem Services
Summary: How to Mainstream Natural Capital Accounting 
Summary: Lessons Learned from Agricultural Eco-Compensation Schemes
Leave your question or comment in the section below:
---
YOU MIGHT ALSO LIKE
---
---
Disclaimer
The views expressed on this website are those of the authors and do not necessarily reflect the views and policies of the Asian Development Bank (ADB) or its Board of Governors or the governments they represent. ADB does not guarantee the accuracy of the data included in this publication and accepts no responsibility for any consequence of their use. By making any designation of or reference to a particular territory or geographic area, or by using the term "country" in this document, ADB does not intend to make any judgments as to the legal or other status of any territory or area.
---
Was this article useful?
---