INSIGHT
Practical Solutions for Keeping HIV/AIDS Off the Job Site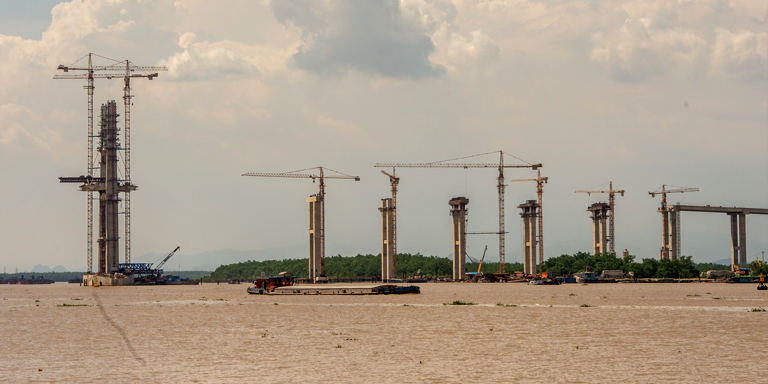 Published:
05 April 2017
Many transport projects include specific measures to prevent HIV/AIDS among migrant construction workers.
Introduction
An estimated 37 million people were living with HIV by the end of 2015. Globally, there were 2 million new cases in 2015, or one new infection every 15 seconds. In the People's Republic of China alone, an estimated 500,000 people are living with HIV.
In 2005-2014, the Asian Development Bank funded three projects to assist companies to implement the HIV prevention clauses along four expressway development projects in the People's Republic of China.
The program delivered HIV/AIDS prevention education to migrant workers working at the sites, as well as to members of the communities near the sites. HIV prevention and health education were embedded in the construction company's organizational structure through the training of company managers and work team foremen. These individuals benefited directly from this training and also passed on what they had learned to the migrant workers at various different "touch points" on the construction sites: health and safety orientations, work stoppages, and after work in the dining halls where the workers ate and the dormitories where they slept.
More than 10 years on, the program is recognized as one of four international good practice examples of how to embed health education in an informal setting.
Analysis
What does HIV/AIDS have to do with road construction?
The concentration of men (single and married) living away from their families at road construction sites
Often the forms of entertainment available to workers on-site involve alcohol, gambling and sex
The extent of the demand for sex work this generates is such that some brothel owners are known to follow different construction companies from one site to another
Transport construction projects can significantly increase the number and frequency of men buying sex, and this is a key factor in determining the extent of HIV spread.
HIV Prevalence Prior to and Post Construction or Improvement of Transport Corridors
| Highway Routes | HIV Prevalence Before | HIV Prevalence After |
| --- | --- | --- |
| Myanmar, 1997 | Injecting drug users HIV+, 1996 | Injecting drug users HIV+, 1998 |
| Mandalay | 51% | 88% |
| Lashio | 34% | 74% |
| Muse | 86% | 92% |
| China, 1996 | # of HIV+ cases, 1995 | # of HIV+ cases, 1998 |
| Yunnan-Nanning, Guangxi | 10 | 525 |
| Viet Nam, 1998 | # of HIV+ cumulative cases, 1997 | # of HIV+ cumulative cases, 1998 |
| Hanoi | 51–100 | 101–1,000 |
| Hai Phong | 0–50 | 101–1,000 |
| Ho Chi Min City | >1,000 | >1,000 |
Facts and figures
Yunnan Province

13,118 Deaths
70,477 Living with HIV, including
22,906 Cases of people with HIV infection
4,603 Cases reported in the first 5 months of 2010

Guangxi Province

10,858 Deaths
57,356 Living with HIV, including
17,290 Cases full-blown AIDS
6,668 Cases reported in the first 6 months of 2010 (76% sexually transmitted)
Solutions
What worked?
Contract clauses
Including HIV provisions in existing health and safety monitoring systems helps ensure that companies implement HIV prevention contract clauses and provides them with guidance on how to do so.
Starting early
Starting initial advocacy work in the preconstruction period allows access to managers and key staff when they are less busy and helps avoid possible tension during peak construction periods.
Peer leaders
Extending the concept of "peer education" to include "peer leaders", such as foremen and site monitors, who are more likely to remain and carry on advocacy work throughout the construction period.
A visual Introduction
Establishing a mandatory worksite induction which includes a viewing of a training DVD is an opportunity to ensure all workers receive basic and accurate HIV and AIDS information.
Knowing your audience
Information materials should be tailored for the construction sites, both in terms of messages and type. After noticing that the workers were always playing cards, the project team decided to include HIV and AIDS information on playing cards. Because research showed that clients of sex workers often care more about placing their families at risk themselves, a poster was developed by the project team, depicting a letter written by a worker to his family back home. Written in simple language, the letter assures them that is taking care of himself.
Driving the point home
Speaking to workers individually or in small groups, often in the form of short interactive exercises in informal settings, allowed educators to stimulate discussion on specific issues.
Setting a good example
The behavior of individuals is often influenced less by knowledge and more by the behavior of their peers and role models. The biggest challenge to reinforcing safe behavior on the construction sites, was drunkenness. As a solution, peer leaders gave refresher talks before major social events and holidays. Foremen were also encouraged to come to the worksite with their wives to set a good example.
Providing general health education
Including education and testing on other health problems together with HIV/AIDS and sexually transmitted infections can:
Increase efficiency
Increase the interest of the workers
Help to de-stigmatize HIV/AIDS as a disease
Promoting HIV testing
Aside from encouraging people living with HIV to practice safe behavior, a key strategy for prevention is for people to know their HIV status. Oral HIV testing kits offer the opportunity for voluntary low-cost unobtrusive testing on construction sites for all workers.
Evaluating success
The project team found that the best assessment results came from mixed methods such as short and simple surveys and focus group discussions. Though they provide less "hard data", the approach offers more accurate insights into change.
Resources
ADB. 2016. Taking the Safe Route: Embedding HIV Education During Expressway Construction in the People's Republic of China: 10 Years of Experience.
S. Zhang, H. Chen, S. Zhu, Jorrit de Jong, and G. Stuart. 2017. HIV/AIDS Prevention on Southern China's Road Projects: A Case of Embedded Education.
Asian Development Bank. 2014. Implementing HIV Prevention in the Context of Road Construction: A Case Study from Guangxi Autonomous Region in the People's Republic of China.
Asian Development Bank. 2008. More Safety—A Resource Manual for Health and Safety in Infrastructure.
Evidence-Based Strategic Investment to Sustain the HIV Response
Related links
Policy Brief: HIV And International Labour Migration
HIV/AIDS Prevention on Southern China's Road Projects
Preventing HIV/AIDS On Mongolian Road Projects
Leave your question or comment in the section below:
---
YOU MIGHT ALSO LIKE
---
---
Disclaimer
The views expressed on this website are those of the authors and do not necessarily reflect the views and policies of the Asian Development Bank (ADB) or its Board of Governors or the governments they represent. ADB does not guarantee the accuracy of the data included in this publication and accepts no responsibility for any consequence of their use. By making any designation of or reference to a particular territory or geographic area, or by using the term "country" in this document, ADB does not intend to make any judgments as to the legal or other status of any territory or area.
---
Was this article useful?
---