INSIGHT
The Ingredients of a Successful Partnership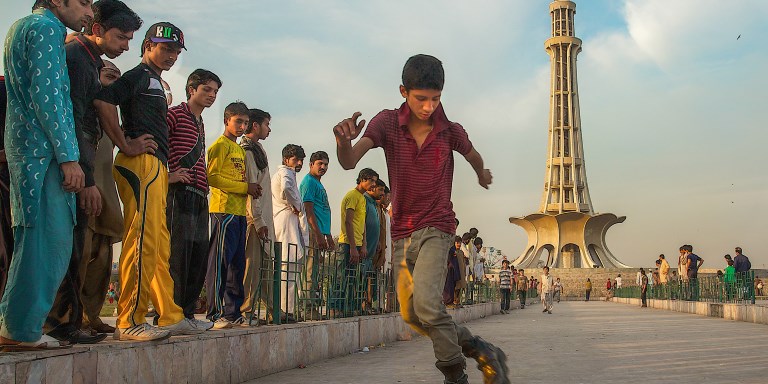 Published:
20 November 2017
Pakistan has worked with the Asian Development Bank and other partners to bring development goals, despite major challenges.
Introduction
On 8 October 2005, the mountainous northeast regions of Pakistan were devastated by a 7.6-magnitude earthquake that killed more than 70,000 people and left 2.8 million homeless.
Within weeks of the disaster, the Asian Development Bank and other international partners were coordinating one of the most successful and rapidly executed recovery efforts ever seen in an earthquake area. ADB established the Pakistan Earthquake Fund to help meet the country's most urgent emergency needs, and launched the Earthquake Emergency Assistance Project later to cover a broad range of reconstruction and rehabilitation needs.
ADB teams were on the ground fast. A satellite office was set up close to the quake's epicenter to assess the damage, identify priority reconstruction areas, and quickly channel aid to the worst-affected areas. Today, many of the hard-hit areas are more prosperous than they were before the disaster.
Analysis
The fast action in 2005 was the result of a partnership that began in 1966 and continues today, with ADB being one of Pakistan's largest and most active development partners. The earliest project undertaken was to augment the foreign exchange resources of the Industrial Development Bank of Pakistan for the development of industry in 1968. That was followed by support for the vital rice, cotton, and fisheries sectors.
In the 1970s, the partnership broadened and ADB stepped into the area of power generation and transmission. The Tarbela hydropower plant, one of Pakistan's largest, was originally supported by ADB in 1974 and has been extended with assistance from other development partners in subsequent decades.
With a field office established in 1989, ADB primarily supported government efforts to grow the economy through free enterprise, privatization, deregulation, and liberalization. This support included promoting exports, bringing private sector efficiency into health care and education, and prioritizing energy.
By the mid-1990s, ADB's work in Pakistan was focused on education, population welfare, public sector management reform, and government decentralization. Particular emphasis was placed on promoting the welfare of women.
In the early 2000s, a new government built on past reforms and opened up the economy. This move, along with other factors, provided a major boost to the economy. During 2004–2008, Pakistan's annual gross domestic product growth rose to an average of 7.0%, compared with 3.6% in 1999–2003.
Although poverty remained widespread, particularly in the rural areas, conditions improved. The proportion of the population living below the national poverty line dropped from 64.3% in 2001 to 29.5% in 2013.
Insights
ADB is one of Pakistan's biggest development partners in upgrading the country's power infrastructure.
In the 2000s, ADB continued its long-term support for Pakistan's efforts to provide reliable, affordable energy. ADB's $355 million Energy Sector Restructuring Program, in the first half of the decade, helped to relieve Pakistan's immediate financial crisis in the energy sector.
The energy crisis continued to pose a major challenge to Pakistan's economy, however, and the government sought help from ADB and other partners to expand the supply of energy and improve power distribution.
In 2006, ADB launched the Renewable Energy Development Sector Investment Program to harness Pakistan's rich clean energy potential to broaden and strengthen the country's energy mix.
The Ranolia run-of-river hydropower project is one of two hydropower projects being built by the Khyber Pakhtunkhwa provincial government under the ADB-supported Renewable Energy Development Sector Investment Program. The $510 million program, which is also financing four hydropower plants on irrigation canals in Punjab Province, is part of a national plan aimed at generating 1,700 gigawatt-hours of power each year—enough to supply electricity to about 4.8 million people.
In addition to large sovereign hydropower projects, ADB's investments in Pakistan's power sector have diversified to include support for private sector power projects, such as the New Bong Escape Hydropower Project, near Islamabad, the country's first independent hydroelectric power project. The project is now producing 84 megawatts of low-cost hydropower and has triggered more private sector investments.
A pioneering privately financed and owned wind farm, near Karachi, in Jhimpir, Sindh Province, has been operational since 2013. The wind farm has had considerable demonstration impact, spurring the development of several follow-up wind projects elsewhere in Pakistan. The private company Zorlu Energy Group received an ADB loan of $36.8 to install new wind turbines to increase the output of its wind farm from 6 megawatts to 56 megawatts.
Smaller, community-level off-grid initiatives, such as the Sindh Coastal Community Development Project, are another integral part of the overall power infrastructure program. Launched in 2007, this project raised the incomes of people in eight of the poorest coastal areas by providing access to solar power. The project also extended access to fresh water, toilets, water tanks, cyclone-resistant school buildings, flood protection embankments, and new roads and bridges.
These projects are part of a broad-based, 50-year partnership that has involved more than $27 billion in investments designed to help Pakistan improve the lives of its people.
Resources
Asian Development Bank (ADB). 2017. Together We Deliver
Asian Development Bank (ADB). 2017. Pakistan: Country Operations Business Plan (2018–2020)
Asian Development Bank (ADB). 2015. Pakistan: Country Partnership Strategy (2015-2019)
Related links
Development Asia Summary: One Way to Measure Regional Integration
Development Asia Insight: If Poverty Is the Problem, Remittances Are a Solution
Development Asia Insight: Smart Strategies for Getting More Women into the Workforce
Leave your question or comment in the section below:
---
YOU MIGHT ALSO LIKE
---
---
Disclaimer
The views expressed on this website are those of the authors and do not necessarily reflect the views and policies of the Asian Development Bank (ADB) or its Board of Governors or the governments they represent. ADB does not guarantee the accuracy of the data included in this publication and accepts no responsibility for any consequence of their use. By making any designation of or reference to a particular territory or geographic area, or by using the term "country" in this document, ADB does not intend to make any judgments as to the legal or other status of any territory or area.
---
Was this article useful?
---