INSIGHT
Giving Public Transport a Push through Seamless Travel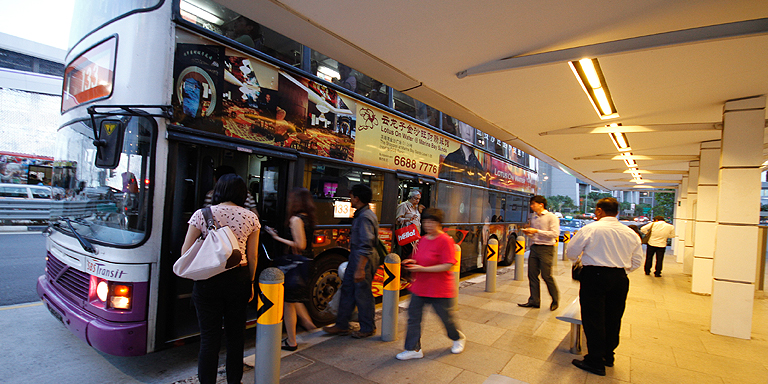 Published:
09 July 2020
The Republic of Korea improved mass transit efficiency through the integration of transport nodes, fare systems, and information services.
Introduction
Access to safe and efficient transportation is a basic requirement for sustainable and inclusive growth. However, many countries struggle with traffic congestion in rapidly urbanizing areas and with transportation gaps in rural and remote areas. Building an integrated transport system is key to easing traffic gridlock and improving connectivity.
In Asia, the Republic of Korea is one of the countries that have made inroads in integrating its mass transit system, starting with reforms in its capital Seoul in 2004. The city rationalized its bus network and linked it to the metro system, adopted an integrated fare system, and set up a transport control tower, among others. The strategy was to make public transportation more efficient and convenient for commuters to use than their own vehicles to reduce congestion as well as pollution. The country also sought to address uncoordinated transport planning. Its goal was to create a seamless mass transit system.
Linking different modes of transportation minimizes the demand for high-cost investments in individual facilities, such as urban railways, light rail, and provincial airports. Improved accessibility to public transport could also help revitalize regional economies by increasing mobility.
This article is adapted from a paper presented in 2012 by the Korea Transport Institute (KOTI), which discussed policy considerations in developing an integrated transport system. Insights shared in the paper remain relevant today.
Public Transport Issues
A decade ago, passenger vehicles had the edge in the country in terms of cost and effectiveness. The inefficiency of mass transit increased travel distance and cost due to lack of transfer systems and transport nodes. For example, a trip of a three-member family to Cheongju, North Chungcheong Province from Ilsan, Gyeonggi took 190 minutes and cost 38,700 Korean won (about $30 today) based on a fare of 12,900 KRW per person if they used public transport. In contrast, travel by car only took 127 minutes and cost 11,433 KRW (less than $10).
Payment convenience was also an issue as travel from Ilsan to Cheongju required taking three to four different types of transport, with a different type of payment for each mode. An integrated fare system has been implemented in Seoul and other metropolitan areas, but not in intercity public transport.
Those arriving at train stations and airports preferred to take a passenger vehicle. For example, intermodal transfers at Gwangmyeong Station were done using taxis (27%) and private cars (25%). Passengers arriving at Cheonan Asan Station also preferred taxis (35%) and private cars (20%).
Another factor that affected the choice of transport is the availability of advanced information. The Ministry of Land, Transport and Maritime Affairs operated nationwide integrated transport information systems, but these were not able to provide sufficient information on real-time intercity traffic and transfer connections. Given the limited scope of public transport information, many gave up their travel plans or opted to use private vehicles.
In some regions, few had access to public transport at major terminals due to unbalanced placement of transport hub facilities. Routes and vehicles were in short supply for travel between metropolises and medium or small cities. In contrast, movement between metropolises was convenient as there were sufficient routes and operating vehicles, compared to demand.
Why Integration Is Necessary
Nationwide public transport integration can help achieve the following:
Build an environment-friendly national transport system.
Provide transport options for universal mobility and accessibility.
Promote balanced regional development.
Secure competitiveness of public transport.
Promote the optimization of social systems through public transport services.
Develop technologies related to transfers, information service, revenue settlement, and facilities.
Create employment through the construction of a public transport linkage system.
Figure 1. Expected Impacts of Integration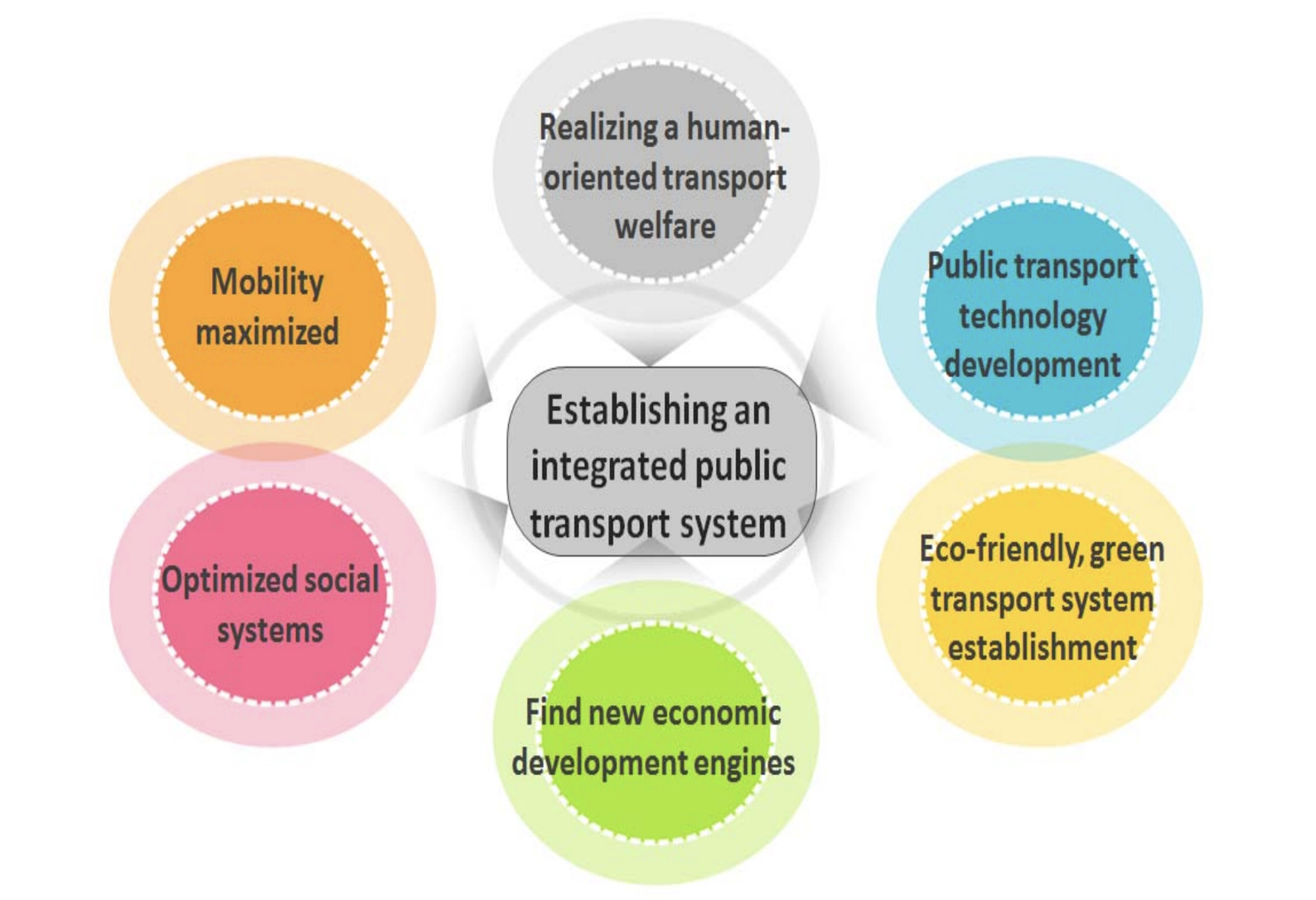 In particular, nationwide transport integration should aim to establish an environment-friendly national transport system designed to limit unfavorable impacts related to climate change and socioeconomic external diseconomies. It should also ensure universal mobility and accessibility of people in low-income brackets, residents in remote communities, and those living in areas with an excessively low supply of public transport.
Another consideration for integration is balanced regional development by improving public transport connection systems and facility expansion. Improved transport systems could provide access to regional hubs, possibly reducing the need for investments in regional access facilities, such as roads and railways.
Also, initiatives should be taken to increase the competitiveness of public transport in terms of costs, time, and convenience. This can be done through a shift in policy emphasis from individual modes to organic integration of public transport. An integrated system could link the various means of public transport that will be developed to cope with growing demand for high-performance and high-speed transport modes.
Analysis of social benefits resulting from the supply of public transport is further needed to ensure the equitable supply of public transport among regions and classes. At the same time, policies that promote the development of public transport-related technologies concerning information integration, linkage and transfers, and fare integration should be put in place.
Figure 2. Five Ways to Integrate Public Transport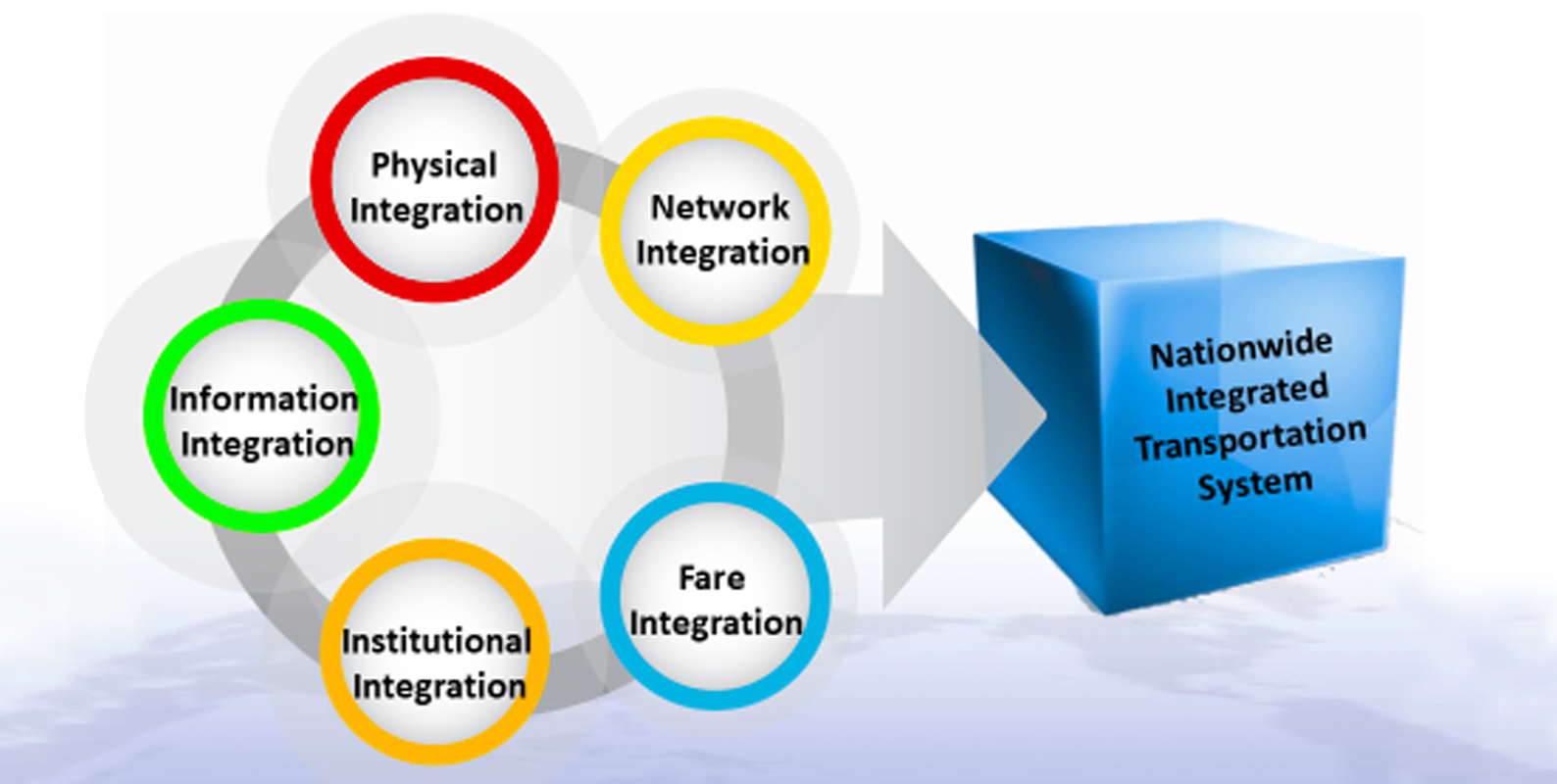 Public transport integration requires four measures.
Establish an intermodal public transport transfer system wherein travel from one point to another within the entire country would take half a day at most, as well as ensure transport welfare.
Implement a user-oriented integrative fare system.
Establish an intelligent public transport information service system.
Ensure efficiency through integrated operation and management of public transport.
A seamless nationwide public transport network based on these measures will result in improvements in transfer facilities. Passenger experience is then enhanced as transfer distance and time are reduced. With the increased competitiveness of the public transport system, more people are expected to use mass transit systems instead of passenger vehicles.
Resources
International Transport Forum and Korea Transport Institute. 2013. Seamless Public Transport for All: Proceedings of a Joint Seminar held in Paris, France on 6 March 2012.
Development Asia. A Smart Way to Introduce an Integrated Fare System.
Development Asia. TOPIS: A Control Tower for Managing Urban Mobility.
Development Asia. Taking the Bus to Sustainability.
Leave your question or comment in the section below:
---
YOU MIGHT ALSO LIKE
---
---
Disclaimer
The views expressed on this website are those of the authors and do not necessarily reflect the views and policies of the Asian Development Bank (ADB) or its Board of Governors or the governments they represent. ADB does not guarantee the accuracy of the data included in this publication and accepts no responsibility for any consequence of their use. By making any designation of or reference to a particular territory or geographic area, or by using the term "country" in this document, ADB does not intend to make any judgments as to the legal or other status of any territory or area.
---
Was this article useful?
---