EXPLAINER
A Smart Way to Introduce an Integrated Fare System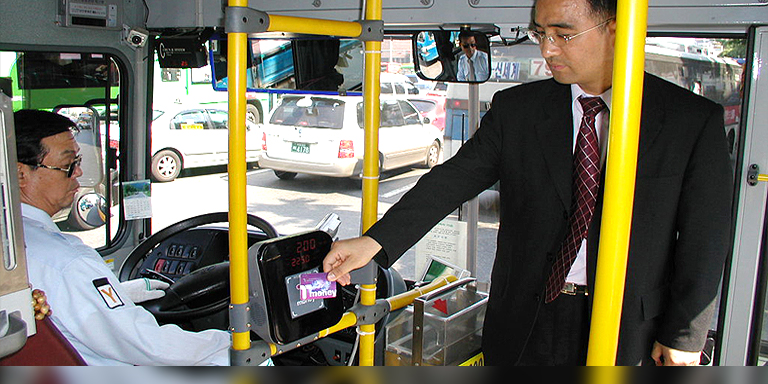 Published:
16 December 2019
In Seoul, commuters use a smart card to pay for travel on any mode of public transport.
Introduction
In the Republic of Korea, the capital Seoul launched a new integrated fare system and the T-Money smart card in 2004 to reduce the cost of commuting and ease traffic congestion by promoting public transit.
Under the old fare system, commuters who lived far from transport hubs had to pay double or even triple fares for transferring from one mode of public transport to another to complete their journey. In addition, there was inconsistency in the fare rates with a flat-rate scheme for travel within city limits and a distance-based system for travel outside city boundaries. This meant that fares for the same travel distance varied depending on whether the journey was made in or outside of Seoul.
The Seoul Metropolitan Government formed a joint venture with an information technology firm to set up T-Money. This public–private partnership enabled the efficient development of the integrated fare system that was commercially viable and did not require huge resources from the government.
This article is adapted from One Card Fits All: Integrated Fare & T-Money, part of a series of briefs on public transportation published by the Seoul Urban Solutions Agency.
What is T-Money and how was it used to integrate Seoul's fare system?
T-money is Seoul's proprietary public transport payment card, which replaced its old transport cards. With T-Money, commuters only needed to use one card to pay for public transport services, including taxi services.
Since cash payments are not eligible for integrated fare discounts, T-money quickly established itself as the dominant means of payment for public transport. As of 2014, almost all payments made on subway or bus used T-money with over 14 million card transactions taking place every day across the metropolitan area.

T-Money is available as a stand-alone card, an add-on to credit/debit cards, or even as a SIM for  mobile devices. It can also be used at various public facilities, parking lots and convenience stores as a means of payment.
The card is embedded with a smart chip that helps the Seoul Metropolitan Government provide comprehensive operation and management and conduct an analysis of public transport service and usage. It uses the ISO 14443, an international standard technology for chip or identification cards.
How does T-Money work?
All payments made with T-money are electronically transmitted via satellite communication. When a T-money card makes contact with a terminal (card reader), the terminal immediately receives the location information from a satellite. Through radio frequency communication with the card reader, information is received and sent. The information provides the location of boarding and whether any transfers were made, then completes payment of the fare.
In addition to offering convenience and transparency in fare collection, collected data also contributes to Seoul's smart transport management and big data analysis.
How does the integrated fare system work?
Introduced as a part of the 2004 public transport, the integrated fare system—which uses distance-based rates—charges passengers based on the combined distance traveled on any modes of public transport.
The basic fare covers a total distance of up to 10 kilometers and allows passengers to make up to five transfers without paying an extra fee. The final fare calculation is solely based on the total distance traveled. A 100 Korean won surcharge is imposed every 5 kilometers after the first 10 kilometers.
The system also provides for concessions: 20% discount for young adults and 50% for children. Senior citizens over 65 years old get to travel for free.
What are the effects of the integrated fare system?
Resources
Seoul Urban Solutions Agency. One Card Fits All: Integrated Fare & T-Money. Seoul.
Urban SDG Knowledge Platform. Integrated Public Transport Fare System.
S. Lee, Y.G. Hur. 2017. One Card Fits All: Integrated Public Transport Fare System. Seoul Solution. 27 March.
Leave your question or comment in the section below:
---
YOU MIGHT ALSO LIKE
---
---
Disclaimer
The views expressed on this website are those of the authors and do not necessarily reflect the views and policies of the Asian Development Bank (ADB) or its Board of Governors or the governments they represent. ADB does not guarantee the accuracy of the data included in this publication and accepts no responsibility for any consequence of their use. By making any designation of or reference to a particular territory or geographic area, or by using the term "country" in this document, ADB does not intend to make any judgments as to the legal or other status of any territory or area.
---
Was this article useful?
---