EXPLAINER
Minimizing Water Supply Leaks through Digital Technology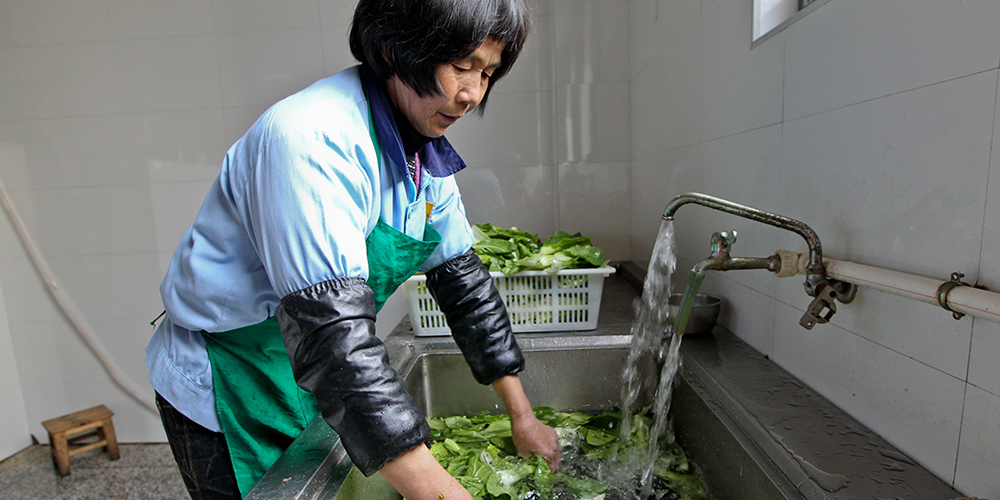 Published:
23 March 2021
A smart management system can improve supply and lower cost with its efficient detection and management of water leaks and overflow.
Introduction
Rapid urbanization and population growth have increased the demand for clean water. Water utilities in Asia strive to meet the people's needs, but challenges in distribution have resulted in high levels of water loss.
Nonrevenue water—the difference between the amount of water put into the distribution system and the amount of water billed to consumers—averaged 35% in Asian cities and can reach even higher levels, according to a report published by the Asian Development Bank in 2010. It further noted that with the annual volume of nonrevenue water in Asia's urban areas estimated at 29 billion cubic meters (m3), water utilities lost almost $9 billion every year from 1999 to 2009, assuming a value of water of $0.30 per m3. Heavy losses due to nonrevenue water make it difficult to keep water tariffs reasonable and affordable.
Digital technology can help reduce high water loss by improving data collection and analysis, which are essential to effective water supply management. Smart solutions include digital meters and sensors, supervisory control and data acquisition (SCADA) systems, and geographic information systems (GIS).
Water Intelligent Platform (WI.Plat), a spin-off venture of the Republic of Korea's K-Water, has developed an intelligent water leakage management platform service that aims to provide efficient water delivery at less cost.
What are the causes of nonrevenue water?
High water losses need immediate attention. They often lead to intermittent supply and pose significant health risk as contaminated groundwater, or sewerage, can enter leaking pipes.
There are three major causes of water loss:
leakage from all parts of the system and overflows at the utility's reservoirs due to poor operations and maintenance, the lack of active leakage control, and poor quality of underground infrastructure;
improper metering, theft and illegal connections; and
authorized water use, such as for firefighting.
How can water loss be managed?
A successful water leakage management requires geographic information and data communications systems, real-time data analysis, and technological devices, among others. These would require huge investments on multiple software systems and also take time to be implemented.
WI.Plat's intelligent water leakage management platform service integrates three to four existing software systems used in leakage monitoring and maintenance into one cloud-based system. It uses artificial intelligence (AI) and big data technologies that would reduce the need for experts. The platform develops a data protocol using existing devices and new industrial Internet of Things (IoT) devices.
How does the WI.Plat platform work?
The intelligent water leak management platform enables anyone to manage water leak efficiently as long as they can access the telecommunications network. The platform allows customers to report water leaks, water utilities to manage water leaks, and local staff to collect the data on water leak sounds using detectors and a smart phone. It is composed of detectors (Sonic M1 and Sonic M2), an application (NELOW App) for the smart phone, and a cloud server (NELOW Web). Data on water leaks collected from the field are transferred to the cloud server (NELOW Web). The intelligent algorithm then analyzes the data to pinpoint the leaks.
The Hardware. The Sonic M1 detector is a hand-held portable device that collects, stores, and transfers the data to a smart phone via Bluetooth. The Sonic M2 detector is the fixed version of Sonic M1 and collects and stores the data, such as water leaking sound, pressure, and flow. Sonic M2 sends the data via IoT communication protocol to the cloud system. When the city does not have an existing IoT infrastructure, other telecommunications protocol may be used to share the field data with the cloud server.
The Software. The NELOW App is installed in the smart phone mounted on the Sonic M1 detector. The app locates the site of data collection and shares the data with the cloud server. The intelligent algorithm analyzes the data and then illustrates the results on the map. The NELOW Web integrates the geographic information system, the storage and analysis of the field data, and the information related to maintenance and customer complaints.
Figure 1. Intelligent Water Leakage Platform's Hardware and Software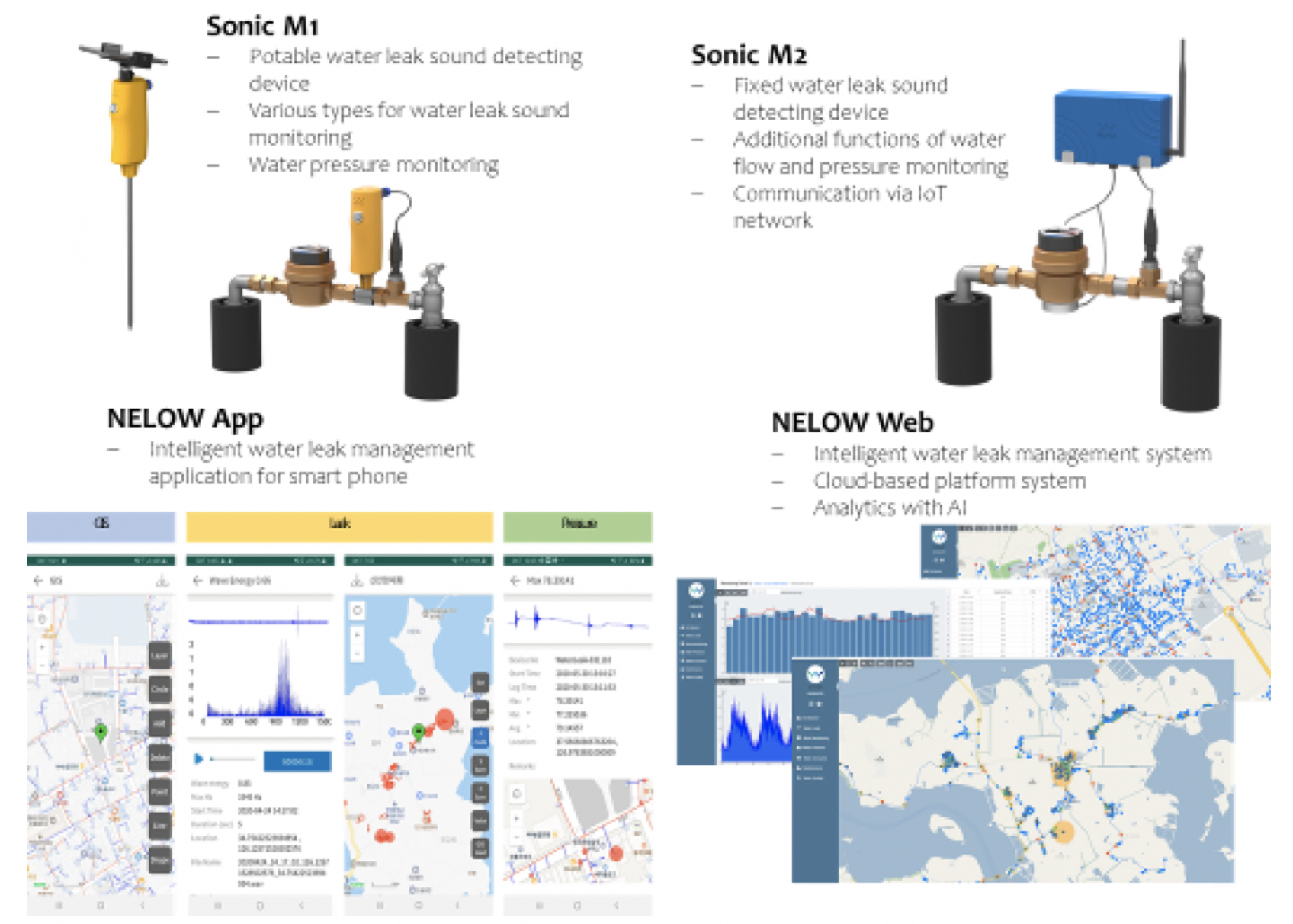 Where is it being used?
Full-scale implementation in five cities in the Republic of Korea—Kimje, Kyungjoo, Wanjoo, Wooleung, and Young Duck—began between January and March 2021. It covers an area of 3,505 square kilometers, and services 232,610 households that comprise a total population of 475,341. It took around 2 to 3 months to set up the system for each city after a short period of pilot testing. Implementation is being done with Korea Water Resources Corporation and the respective county waterworks offices.
Outside the Republic of Korea, WI.Plat is carrying out pilot projects in Da Nang, Viet Nam; Terengganu, Malaysia; and Jakarta, Indonesia to show proof of concept. This enables city administrators to check and confirm the solution's performance prior to full-scale implementation. In each area, the pilot project roughly covers an estimated 2,000 households composed of 7,000 to 8,000 persons. Implementation to verification of project results may take about 5 months.
How much water loss is reduced by the system?
The platform was tested for 2 days at limited areas in the water supply districts of Naju City and Chung Song City in the Republic of Korea. In Naju City, the staff found six points in the system with water leaks. The amount of water leakage found and recovered was estimated at 62,000 cubic meters per year. The recovered physical water loss translated to a value of $46,000 per year and 0.01% water leakage reduction. This represents 15.4% of the city's nonrevenue water.
In Chung Song City, staff detected and recovered nine water leak points. The recovered physical water loss was estimated at 463,000 cubic meters per year, equivalent to $180,000 per year and 0.22% water leakage reduction. This represents 28.9% of the city's nonrevenue water.
How much does it cost?
WI.Plat has cut costs of deploying such a system in half by reducing capital and operating expenses as it uses a cloud-based platform and requires no additional server for water treatment plants.
Figure 2. Cost structure of WI.Plat solution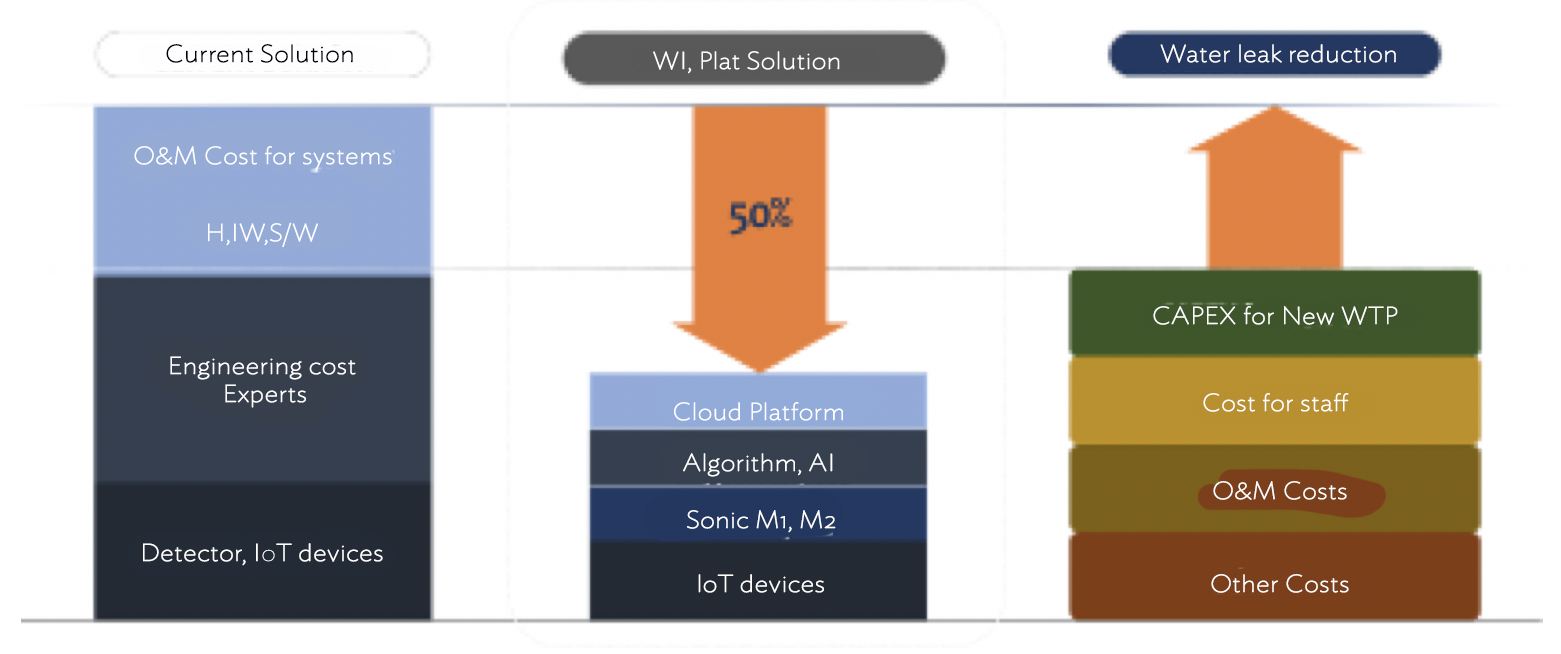 This solution can also be implemented based on the water utility's financial and technical capabilities. Given a tight budget, the water supplier can choose to have the local staff conduct the fieldwork while the data storage and analysis is done by the cloud-based platform. Local staff or non-experts can operate the system since all they need to do is to gather data (energy profile) from the water supply system using the detectors and a smart phone. When the utility has enough resources, it can then opt for the fully automated solution.
Resources
Asian Development Bank. 2007. Water Brief: Curbing Asia's Nonrevenue Water.  
Cha, S.H., 2020. WI.Plat (NELOW, Sonic M1) Intelligent Water Leakage Management. August 20.
Cha, S.H., 2020. WI.Plat NELOW Application Manual 1. November 13.
Development Asia. What is Smart Water Management?
R. Frauendorfer and R. Liemberger. 2010. The Issues and Challenges of Reducing Non-Revenue Water. Manila: Asian Development Bank.
WI. Plat. Imagine H2O IR 3min of WI Plat. Youtube video. 3:10. 9 February 2021.
WI. Plat. WI. Plat Intro. YouTube video. 0:16. 21 September 2020.
Leave your question or comment in the section below:
---
YOU MIGHT ALSO LIKE
---
---
Disclaimer
The views expressed on this website are those of the authors and do not necessarily reflect the views and policies of the Asian Development Bank (ADB) or its Board of Governors or the governments they represent. ADB does not guarantee the accuracy of the data included in this publication and accepts no responsibility for any consequence of their use. By making any designation of or reference to a particular territory or geographic area, or by using the term "country" in this document, ADB does not intend to make any judgments as to the legal or other status of any territory or area.
---
Was this article useful?
---