EXPLAINER
A Holistic Approach to Improving Water, Sanitation, and Public Health
Published:
18 June 2021
Best practices in WASH initiatives consider the needs, culture, and behaviors of the poor and vulnerable who are most at risk of infectious diseases.
Introduction
The coronavirus disease (COVID-19) has brought the stark realization of the critical role of preventative health in protecting economies and societies.
As the pandemic continues to sweep the globe, the need to immediately address vulnerabilities and inequalities to ensure safe water, sanitation, and hygiene (WASH) has become more critical than ever for infection prevention and control. It is the primary line of defense against the spread of COVID-19 and water-borne diseases.
A Health Crisis
Poor water quality and inadequate sanitation are related to some of the most serious health risks around the world. Estimates indicate that even before COVID-19, the annual global toll from bacteria-related diarrheal diseases is at 820,000 deaths and 50 million disability-adjusted life years (DALYs) while respiratory disease causes 370,000 deaths and 17 million DALYs. DALY is a measure of the sum of years of potential life lost due to premature mortality and the years of productive life lost due to disability.
Other WASH-related health problems linked to poor sanitation include ascariasis (human worm infection), trachoma (infectious disease causing blindness), and schistosomiasis (parasitic disease). Chronic health issues linked to inadequate water, sanitation, and hygiene also include antimicrobial resistance and stunting.
The World Health Organization (WHO) has declared antimicrobial resistance as one of the top 10 global public health threats. Adequate WASH and wastewater treatment from households, livestock, and other industries can reduce environmental drivers of antimicrobial resistance.
Poor sanitation is the second leading risk factor for stunting worldwide. The link between undernutrition, failure to thrive, and stunting with enteric diseases has been a major focus of WASH researchers and funders over the last decade.
Access to safe water and proper sanitation, which are critical control measures against COVID-19, remain major challenges in many countries. Ensuring that adequate sanitation is in place and quality drinking water meets microbiological and chemical standards can protect an individual's health from an array of chronic and acute water-related diseases.
Multipronged Solutions
WASH practitioners from government, private sector, and civil society face an array of implementation challenges when working toward improving water, sanitation, and hygiene, and health.
Issues on funding, institutional and policy settings, human capacity, and behavioral and societal norms can help or hinder WASH initiatives. In such complex context, multipronged approaches are needed to ensure effective and sustained WASH investments and achieve the targeted health and disease reduction outcomes.
The following recommendations can help practitioners address some of the common challenges when implementing WASH interventions:
Mapping a Way Forward
Sanitation and water infrastructure investments should go hand in hand with hygiene initiatives to achieve the best health outcomes.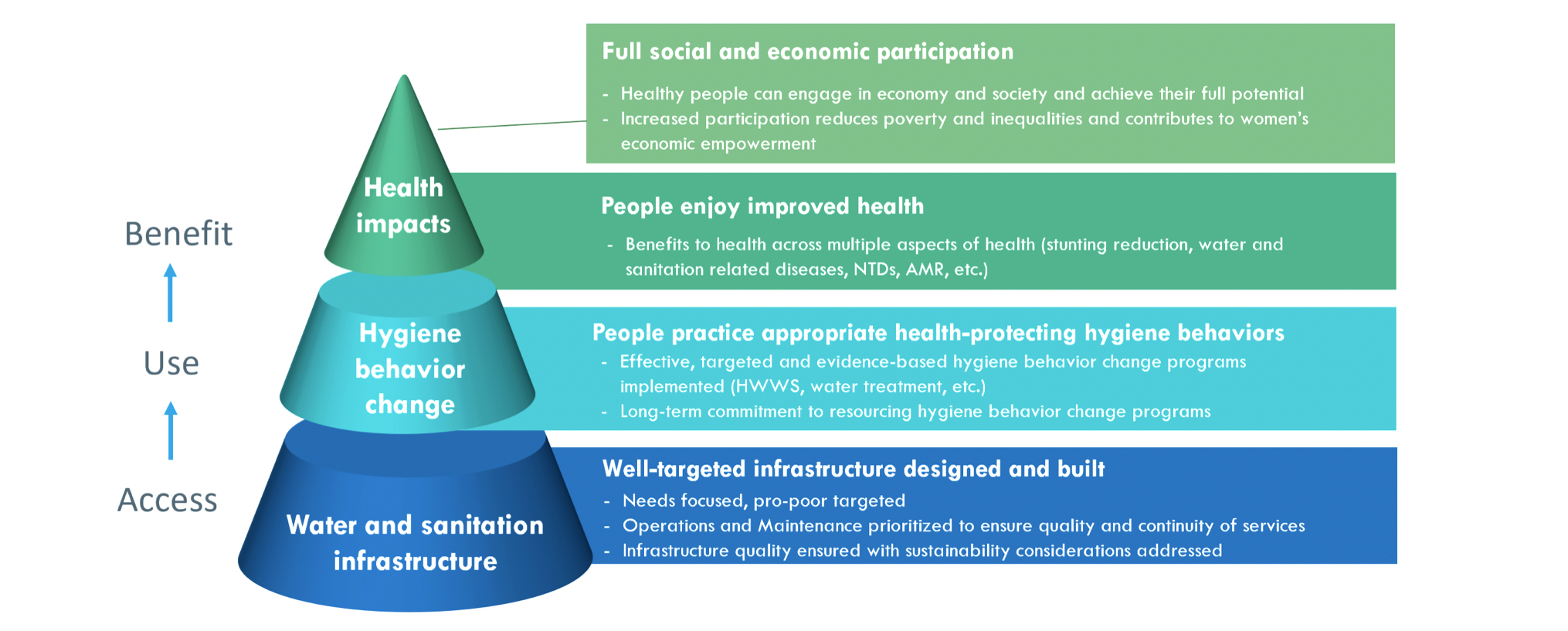 Access to safe water and sanitation infrastructure is fundamental to assuring peoples' health. To maximize the proper use of such infrastructure, it must be needs-focused, pro-poor, and cognizant of the users' cultures and behaviors.
In addition, WASH projects should consider people's attitudes and provide targeted hygiene behavior change programs.
At the macro level, improving people's health has broad benefits through increased social and economic participation. Healthy people can better engage in economic and social activities and reach their full potential. Increased participation also reduces poverty and inequalities and contributes to women's economic empowerment. 
The effects of the COVID-19 pandemic clearly show the need to take additional steps to expand the coverage and improve the effectiveness and targeting of WASH initiatives to reach the poor and vulnerable. The steps outlined in this article can help practitioners prioritize and broaden efforts, coordinate between sectors, and more comprehensively and effectively address hygiene interventions.
Resources
A. Ellis, J. Stoler, and Y. Adams. 2019. Water Insecurity and Urban Poverty in the Global South: Implications for Health and Human Biology. American Journal of Human Biology. 32 (1).
A. Prüss-Ustün et al. 2019. Burden of Disease from Inadequate Water, Sanitation and Hygiene for Selected Adverse Health Outcomes: An Updated Analysis with a Focus on Low and Middle-Income Countries. International Journal of Hygiene and Environmental Health. 222 (5). pp. 765–777.
ADB. 2021. Economic Analysis at Completion: Water Supply, Solid Waste, Sanitation, and Flood Prevention Projects. Manila.
Asian Development Bank (ADB). 2012. Handbook on Poverty and Social Analysis: A Working Document. Manila.
Independent Evaluation Department. 2018. Leading Factors of Success and Failure in Asian Development Bank Urban Sanitation Projects. Manila: ADB.
S. Boisson et al. 2016. Water, Sanitation and Hygiene for Accelerating and Sustaining Progress on Neglected Tropical Diseases: A New Global Strategy 2015–20. International Health. 8 (Suppl 1). pp. i19–i21.
United Nations Children's Emergency Fund (UNICEF). 2020. Overview of Water, Sanitation and Hygiene (WASH) COVID-19 Responses from Governments, Regulators, Utilities and other Stakeholders in 84 Countries. New York.
United Nations Development Programme. 2020. Leaving Poverty Behind: Using Multidimensional Poverty Measures to Tackle Poverty and Achieve the SDGs in Asia and the Pacific. Bangkok.
WaterAid. 2019. Practical Pathways to Integrate Nutrition and Water, Sanitation and Hygiene (WASH).
World Bank. 2020. The Human Capital Index 2020 Update: Human Capital in the Time of COVID-19. Washington, DC.
World Health Organization (WHO). 2020. Anti-Microbial Resistance.  
WHO/UNICEF. 2020. Water, Sanitation, Hygiene, and Waste Management for SARS-Cov-2, The Virus That Causes COVID-19: Interim Guidance.
Leave your question or comment in the section below:
---
YOU MIGHT ALSO LIKE
---
---
Disclaimer
The views expressed on this website are those of the authors and do not necessarily reflect the views and policies of the Asian Development Bank (ADB) or its Board of Governors or the governments they represent. ADB does not guarantee the accuracy of the data included in this publication and accepts no responsibility for any consequence of their use. By making any designation of or reference to a particular territory or geographic area, or by using the term "country" in this document, ADB does not intend to make any judgments as to the legal or other status of any territory or area.
---
Was this article useful?
---