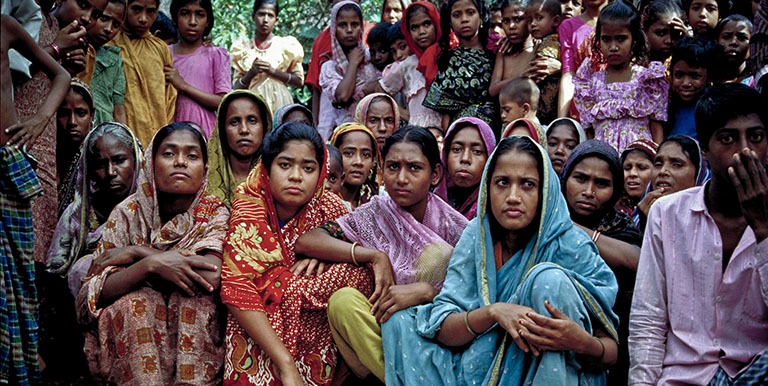 Published:
17 December 2018
Empowered women in Bangladesh are taking the lead in bringing much needed urban improvements.
Overview
Unplanned and rapid urbanization creates large unmet demand for urban infrastructure and services. A number of pourashavas or secondary towns in Bangladesh have not managed to meet this challenge because of weak governance, limited financial and human resources, and lack of proper planning.
In 2008, Asian Development Bank (ADB) supported urban development in Bangladesh with a series of projects targeting pourashavas. The results showed that urban infrastructure and service delivery can be improved more effectively through governance reforms.
Project information
Project snapshot
28 October 2008: Approval Date
29 October 2016: Close Date
US$ 87.00 million:Amount of Loan from ADB
US$ 4.70 million:Grant (w/ LoA) from Germany
US$ 36.10 million:Grant from KfW Bankengruppe
Executing agency
Local Government Engineering Department, People's Republic of Bangladesh
Development Challenges
A number of Bangladesh's pourashavas suffer from poor sanitation, inadequate drinking water, unsafe streets and alleys, and the misuse of already limited resources. Likewise, several have no capacity to generate sufficient revenues.
Context
These towns are home to about 40% of the country's urban population and are an alternative destination to Dhaka, Chittagong, and Khulna. They have the potential to ease the pressure on resources and infrastructure in these bigger cities. This is why the development of pourashavas is very important for Bangladesh, especially with the predicted influx of people to urban areas over the next five decades.
Solution
ADB's Second Urban Governance and Infrastructure Improvement Project (UGIIP-2) is working with these pourashavas to produce sound and balanced urban development and addressing infrastructure improvements while ensuring better, participatory urban governance.
Performance-based fund allocation strategy
This project followed a performance-based fund allocation strategy under the Urban Governance Improvement Action Program (UGIAP), which considers women's active participation in the development process as a vital requirement to establishing good governance. It aimed for six key results:
citizen awareness and participation;
women's participation;
integration of the urban poor;
urban planning;
financial accountability and sustainability; and
administrative urban transparency.
Phased approach
UGIIP-2 was implemented in phases, each phase with more stringent performance requirements than the previous one.
At the initial phase, pourashavas were required to form community-based organizations, encourage women's active participation, and produce gender action plans to be integrated into the pourashava's development plan, among other requirements.
In the subsequent phases, they were required to allocate up to 2%–3% of their total revenue budget to implement gender action plans.
This approach fostered a culture of responsiveness and accountability towards good governance while creating tangible development impacts.
Actual Outcomes
Women's active participation
UGIIP-2 emphasized the qualitative aspects of women's participation and ensured that women were given increased opportunities to discuss their needs.  Women's opinions were noted in meeting resolutions and considered in decision making. As a result, women became more vocal about their concerns and roles, and effectively participated in the formation of community-based organizations, town- and ward-level coordination committees, gender committees, and slum improvement committees. Some of them even chair these committees.
Now, more than ever, they are taking part in decision-making processes in the community.
More in the pipeline
Drawing from the lessons from the first UGIIP, implemented from 2003 to 2010 that supported 33 pourashavas, UGIIP-2 was implemented from 2009 to 2015 and supported 51. UGIIP-3, approved in 2014 is now being implemented in 30 pourashavas until 2020. Plans for additional financing to further scale-up UGIIP-3 are expected.
Lessons
Using governance performance as basis
Allocation of investment funds on the basis of governance performance is an effective approach to introduce good policies and practices at local levels without much controversy and motivate local governments to improve public services.
Pourashavas that met the requirements under the UGIAP now had the workings of good governance that made them prime examples for other municipalities. Those that did not meet the requirements within the given timeframe were excluded.  
Citizen involvement
Complete representation of citizens (both men and women) in pourashava planning and development helps establish transparent decision making and improve the quality of works.
Design and monitoring
Good design and robust monitoring framework are keys to successful implementation of a complex, multi-component project.
Resources
Asian Development Bank. Bangladesh: Second Urban Governance and Infrastructure Improvement (Sector) Project.
ADB. Transforming Poor Communities, Changing Lives in Bangladesh.
Leave your question or comment in the section below:
---
YOU MIGHT ALSO LIKE
---
---
Disclaimer
The views expressed on this website are those of the authors and do not necessarily reflect the views and policies of the Asian Development Bank (ADB) or its Board of Governors or the governments they represent. ADB does not guarantee the accuracy of the data included in this publication and accepts no responsibility for any consequence of their use. By making any designation of or reference to a particular territory or geographic area, or by using the term "country" in this document, ADB does not intend to make any judgments as to the legal or other status of any territory or area.
---
Was this article useful?
---