CASE STUDY
Fixing a City's Broken Public Bus Service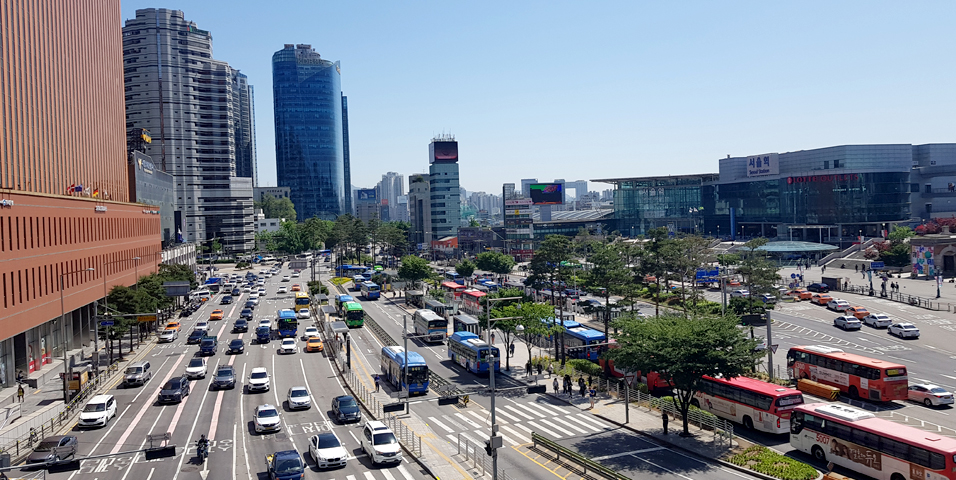 Published:
25 September 2019
Seoul established a quasi-public bus system, restructured routes, created median lanes, built transfer centers, and integrated its fare system to improve service.
Overview
Worsening traffic congestion around Seoul—Republic of Korea's capital and its largest city—made it difficult for buses to run punctual services so more people turned to using their private vehicles, which clogged the streets even further. Faced with a declining number of passengers and revenues, bus operators competed for more profitable routes, which left some commuter routes underserved.
To address these problems, the city implemented radical transport system reforms in 2004, which upgraded the bus service system and integrated it with other modes of mass transit.
This case study was adapted from Upgrading Seoul's Public Transport: 2004 Public Transport Reform and Accessible, Affordable & Reliable: Seoul's Bus Rapid Transit System, which are part of a series on public transportation from the Seoul Urban Solutions Agency.
Challenges
With more people choosing to drive and causing further road congestion, it was critical for Seoul to improve its public bus service to become an alternative to private cars. However, Seoul's bus service faced multiple challenges: (i)) poor customer satisfaction, (ii) low service quality, (ii) privately owned and managed bus service, (iv) uncontrolled bus route changes, (v) demoralized drivers, and (vi) buses took too long to reach the bus stops.
Context
By the early 2000s, Seoul's transport network continued to face considerable challenges on many fronts despite continuous infrastructure development. Although the city enjoyed an expanded subway network, the bus network saw mounting issues. 
Heavy traffic was one of the major problems. A rapid rise in car ownership meant that 72% of the road traffic was taken up by private vehicles—79% of which carried only one passenger. The severe traffic congestion in Seoul was costing the city about 5 trillion Korean won (approximately $4.5 billion) in social and economic losses. 
Solutions
The Seoul Metropolitan Government implemented reforms in 2004 that upgraded the public bus service by reorganizing its operations and implementing a bus rapid transit (BRT) network. 
Numbers and facts
4.6% increase in on-time arrival
9.4% increase in bus ridership (between 2004 and 2017)
32% increase in service satisfaction
80% increase in bus speed
30% deduction in public transport fare
Results
Improved bus arrival time and ridership
Since the introduction of the quasi-public system, Seoul's bus service saw a 4.6% improvement in on-time arrival. The number of bus riders also increased by about 17.8% or 710,000 to 4.7 million in 2006 from 3.99 million in 2004.
Increase in speed of buses
On average, bus traffic speed during rush hour increased by 25.9% to 19.9 kilometers per hour from 15.8 kilometers per hour. The biggest improvement was on the Dobong-Mia-ro corridor where a remarkable 81.8% rise in bus speed was observed—20 kilometers per hour from 11 kilometers per hour before the introduction of median bus lane.
Improved service punctuality
Bus service punctuality improved greatly as buses became more reliable than private cars. For the 15.8-kilometer Dobong-Mia-ro corridor, which takes an average of 44.3 minutes to pass through, bus passage time varies only by ±2.7 minutes, compared to a private car's passage time variance of ±15.3 minutes.
Easier and faster transfer
Located near subway and railway stations, the transfer centers facilitate quick and easy transfer between bus lines to different transport modes like subway, railway or taxi. At the Seoul Station Transfer Center, transfer time between bus and subway was drastically reduced from 12 minutes to three minutes while the transfer distance at Cheongnyang-ni Transfer Center was reduced to 50 meters from 300 meters.
In addition, four Metro Transfer Centers (Gupabal, Cheongwang, Gaehwa, and Dobongsan) were established along city boundaries with ample parking space to encourage those commuting into Seoul to leave their cars there and get on public transport. The "park & ride" facilities greatly reduced the number of private cars going to the city center.
Lower transport fare
Under the new integrated fare system, passengers paid on average about 30% less in public transport fare.
Lessons
Extensive public engagement and participatory decision-making were key to the successful implementation of the comprehensive bus system reform. The Seoul Metropolitan Government made efforts to reach out to every stakeholder.
It established the Bus Reform Civic Committee to work with bus operators, drivers' union and other stakeholders. The committee—with members from civil organizations, bus companies, experts, city council, and other related entities—served as an independent inter-organizational body to discuss and negotiate the reform.
Aside from various hearings and meetings, official letters were written to 16,000 bus drivers to ask for their support for the bus reform. Drivers were also given special training sessions.
In addition, Seoul learned a valuable lesson from the bus-only lanes it introduced in 1990, which failed to significantly improve travel speed because the curbside bus lanes saw bus traffic disrupted by illegal roadside parking, right-turning traffic, and traffic entering and exiting side streets.
The exclusive median bus lanes gave priority to buses on Seoul's roads—separating them from the rest of road traffic with a dedicated lane, which allowed for faster travel.
Resources
Seoul Urban Solutions Agency. Upgrading Seoul's Public Transport: 2004 Public Transport Reform. Seoul.
Seoul Urban Solutions Agency. Accessible, Affordable & Reliable: Seoul's Bus Rapid Transit System. Seoul.
Urban SDG Knowledge Platform. Semi-Public Bus System. 
Urban SDG Knowledge Platform. Exclusive Median Bus Lane Network. 
Urban SDG Knowledge Platform. Integrated Public Transport Fare System. 
Leave your question or comment in the section below:
---
YOU MIGHT ALSO LIKE
---
---
Disclaimer
The views expressed on this website are those of the authors and do not necessarily reflect the views and policies of the Asian Development Bank (ADB) or its Board of Governors or the governments they represent. ADB does not guarantee the accuracy of the data included in this publication and accepts no responsibility for any consequence of their use. By making any designation of or reference to a particular territory or geographic area, or by using the term "country" in this document, ADB does not intend to make any judgments as to the legal or other status of any territory or area.
---
Was this article useful?
---