INSIGHT
A Strategy for Boosting Tourism Recovery in the Bay of Bengal Region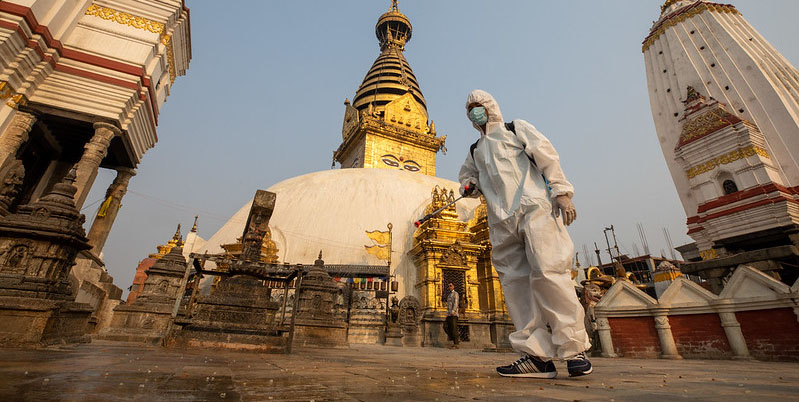 Published:
04 October 2021
Activating theme-based, cross-border circuits can help BIMSTEC tourism recover from the impacts of COVID-19.  
Introduction
Prior to the coronavirus disease (COVID-19) pandemic, tourism was a fast-growing sector supporting economic development in Asia and the Pacific, including in the BIMSTEC subregion.
BIMSTEC, which stands for the Bay of Bengal Initiative for Multi-Sectoral Technical and Economic Cooperation, is a multilateral organization composed of Bangladesh, Bhutan, India, Myanmar, Nepal, Sri Lanka, and Thailand.
As the disease spread in the first quarter of 2020, international tourist arrivals and receipts sank worldwide to levels never seen before. By April 2020, tourism had dropped to zero as countries closed their borders. The slump in tourism highlighted how closely it was intertwined with nearly every other sector of a country's economy. Jobs and incomes were seriously affected directly or indirectly.
To recover from the impacts of COVID-19, BIMSTEC needs to update its tourism action plan with strategic objectives, such as focusing on thematic circuits as a chief path for cooperation and sustainable development.
"Circuits" are itineraries that many tour operators offer throughout the region. They have the potential to develop, organize, and manage sustainable tourism within and between countries since they could bring together public and private sector stakeholders for improvements in destinations along the circuit route. Fully realizing the benefits of cross-border tourist circuits, however, requires addressing multiple issues throughout the region.
Impact of the Pandemic
The tourism outlook for BIMSTEC and the rest of Asia and the Pacific was still grim when this piece was being written in late August 2021. Most countries had remained closed through 2020 and into at least the first three quarters of 2021 as COVID-19 and its variants continued to spread quickly and vaccine distribution was relatively slow.
Majority or 60% of UN World Tourism Organization's (UNWTO) panel of experts do not expect a rebound of global tourism until 2022. Nearly half of the experts did not expect a return to 2019 levels until 2024 with vaccination rates and new variants as key factors affecting recovery.  As of May 2021, UNWTO reported that international tourism was down by 95% in most countries in Asia and the Pacific, compared with the same period in 2019.[1] Cross-border international travel among BIMSTEC countries was also down—an average of 94.95% less than 2019 levels.
Table 1: BIMSTEC International Tourist Arrivals in 2021 vs 2019
(% decreases, January-May)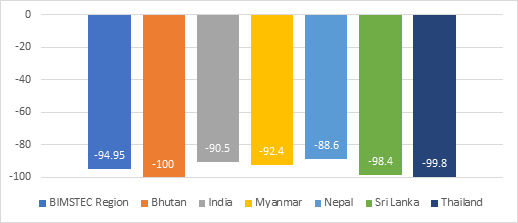 BIMSTEC member states lost a total of 42.45 million tourism-related jobs and $177.4 billion in the gross domestic product (GDP) in 2020.[2] International tourism receipts were down in January–May 2021 from the same period in 2019 for those BIMSTEC countries reported by UNWTO: Bangladesh, -75.1%; Bhutan, -100%; India, -55.8%; Nepal, -89.9%; Sri Lanka, -98.9%; and Thailand, -94.1%.[3]
Table 2:  Share of Tourism in Employment and GDP in BIMSTEC Countries
Countries

 

Total Employment (million)

Share of Tourism in Employment (%)

Total Contribution of Tourism to GDP (%)

Total Share of Tourism in GDP (billion)

 

2019

2020

2019

2020

2019

2020

2019

2020

Bangladesh

1.86

1.45

2.9

2.3

2.7

1.7

9.4

6.3

Bhutan*

0.050

n.a.

6.0

n.a.

7.0 (est.)

n.a.

0.345

n.a.

India

40.0

31.7

8.8

7.3

6.9

4.7

191.0

122.0

Myanmar

1.4

1.0

6.3

4.8

5.9

2.2

5.5

2.0

Nepal

1.0

0.84

6.9

5.5

6.7

3.6

2.0

1.1

Sri Lanka

0.89

0.67

10.9

8.4

10.4

4.9

$8.9

4.0

Thailand

8 .0

6.8

21.4

18.4

20.0

8.4

106.5

41.7
While international travel remained highly restricted or closed in 2020 and 2021 for BIMSTEC countries, most of them were able to sustain approximately two thirds of their pre-pandemic domestic visitor spending, which helped stave off even worse unemployment.
Table 3: Domestic Visitor Spending in BIMSTEC Countries, 2019 and 2020
 

Countries

 

2019

 

2020

Change

Amount ($ billion)

Rate (%)

Bangladesh

8.0

5.3

-2.7

-34.0

India

140.0

97

-43.0

-30.7

Myanmar

1.5

0.974

-0.525

-35.0

Nepal

1.0

0.677

-0.408

-37.6

Sri Lanka

2.6

1.8

-0.835

-31.8

Thailand

27.3

19.6

-7.6

-28.0
Issues to Be Addressed
To promote business recovery and return tourism to its pre-pandemic uptrend, BIMSTEC must address the following key issues:
Slow vaccination rates, with fully vaccinated populations ranging from 3.28% in Myanmar to 26.14% in Sri Lanka and 60.96% in Bhutan.[4]
Lack of uniform travel-related health and safety measures.
Recovery of 42 million travel and tourism jobs lost due to COVID-19.
Lack of marketing and product development that leverages opportunities, such as thematic circuits.
Insufficient cross-border ground and air transport connectivity to propel BIMSTEC's multi-country thematic circuits.
Multiple visa requirements between BIMSTEC members hindering cross-border traffic particularly for multi-country thematic circuits.
Lack of equipped and trained staff capable of implementing enhanced health and safety standards, which are expected by the tourism industry and travelers.
Limited BIMSTEC Secretariat staff and budget for implementing tourism-related activities.
Updating of the BIMSTEC Tourism Action Plan, which was adopted by all member states in August 2006.
Strategies and Recommended Actions
Since resources are limited at the BIMSTEC Secretariat, an updated action plan that builds on the 2006 plan and activates theme-based, cross-border circuits as a chief path for cooperation and sustainable development could be the most effective way to help address these issues. The following are the six strategic objectives that could comprise the core of an updated BIMSTEC Tourism Action Plan:
Leave your question or comment in the section below:
---
YOU MIGHT ALSO LIKE
---
---
Disclaimer
The views expressed on this website are those of the authors and do not necessarily reflect the views and policies of the Asian Development Bank (ADB) or its Board of Governors or the governments they represent. ADB does not guarantee the accuracy of the data included in this publication and accepts no responsibility for any consequence of their use. By making any designation of or reference to a particular territory or geographic area, or by using the term "country" in this document, ADB does not intend to make any judgments as to the legal or other status of any territory or area.
---
Was this article useful?
---