INSIGHT
Accelerating Digital Transformation in Water: Lessons from Water Managers, Solution Providers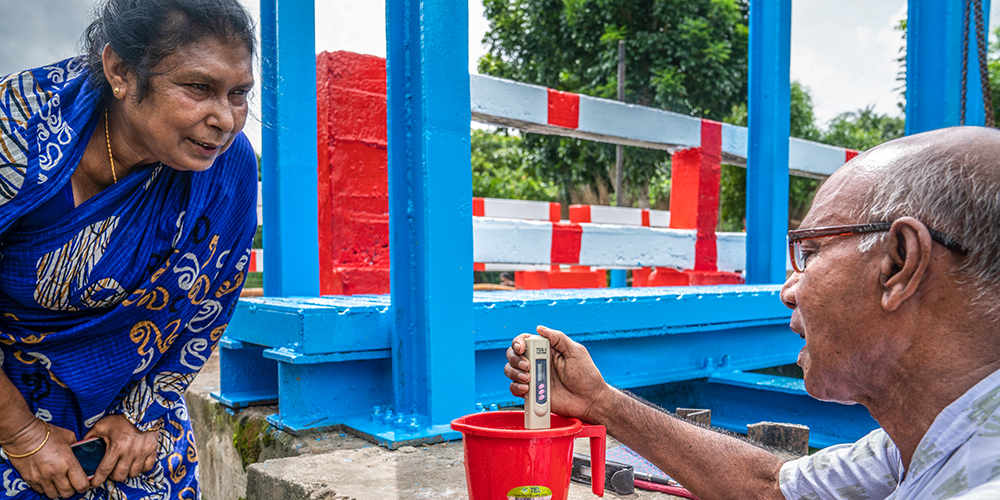 Published:
12 May 2022
Experience shows affordability, adoptability, and community support are critical for catalyzing digitalization efforts in the water sector.
Introduction
Clean water is a basic human need. In many remote and rural communities in Asia and the Pacific, however, access to safe water is a daily challenge. Often, people living in these areas must wake at dawn to trudge to the nearest water source—only to have to trek all the way back carrying but a few liters of the precious commodity. Without clean water and proper sanitation, diseases spread and communities suffer.
The United Nations Sustainable Development Goals rightly set the bar high when it comes to water: safe and affordable drinking water for all by 2030 by establishing adequate infrastructure, providing sanitation facilities, encouraging hygiene, and protecting and restoring water-related ecosystems. That target date is fast approaching, and we are quite off-track on progress.
Meeting the goal will be hard, especially for Asia and the Pacific. There are still over 500 million people who do not have access to safe drinking water supplies, and 1.4 billion lack adequate sanitation services. Worse, while progress slowly advances in many countries to meet this goal, climate change effects are increasingly cutting into advances. To have any chance of success in providing clean water to communities that urgently need it, one must use the best that modern technology has to offer.
However, the adoption of technology has been frustratingly slow in the water sector, despite evidence of its success across a wide range of applications. Overcoming this hurdle requires both the expertise of solution providers and the willingness and contextual knowledge of water managers for the adoption and the applicability of new systems—as well as connecting these providers and water entities to collectively address the region's water challenges.
Multilateral development banks, such as the Asian Development Bank (ADB), can serve as a critical link between these groups, helping to strategically link innovations and new technologies with water managers who would benefit most from them. ADB fosters this connection and collaboration through its funding support (loans, technical assistance and grants) to its developing member countries, and through knowledge support (conferences, knowledge products, dialogues, training and learning forums) to demystify the idea of smart water systems and speed the take-up of technology in countries throughout Asia and the Pacific.
Through experiences in the field and knowledge-exchange efforts, several lessons have been identified—both from water managers and service providers—for catalyzing and increasing digitalization efforts in the water sector.
Water Managers Perspectives
Digitalization requires incremental steps
Demonstrating that users can choose the speed at which they apply technology is key to its adoption. Massive digital overhauls are not always needed to begin to implement smart water services. A solution that involves little maintenance and simple operation may succeed where a more complicated technology fails, if the demands of operating that technology are too cumbersome. For example, through mobile phones—a ready-made tool prevalent across all of developing Asia—services can be delivered and managed by self-configuring, low-cost "Internet of Things" devices.
Smart water implementation can and should start incrementally—with simple and practical use cases with minimum functionality that demonstrate tangible and clear value for users. Small demonstration or pilot projects with minimal investment can also be used to test and adapt solutions to local conditions. Once work processes within the government unit or local utility are established, systems can be gradually expanded with more functionality.
Digitalization requires alignment with wider system changes
The transition to digital architecture for water services cannot happen overnight, and it will not be a simple switch from one system to another. Digitalized services must operate alongside traditional water infrastructure projects for many years to come. The build-out of smart water services cannot be encased within a typical design-and-build project. Government agencies need long-term assistance with the continual development of organizational strategies, structures, and work processes to adjust to the digital environment.
Digitalization requires championing, incentivization, and local support systems
Technology is advancing faster than can be absorbed by many government agencies in the region. Simply introducing new digital tools and solutions is not enough. Adoption of smart water solutions often depends on technology "champions"—a top manager in a local government or water utility who drives the process. Assistance from the private sector helps maintain momentum for digital uptake, as well as using standards or goals that publicly highlight local authorities who have succeeded in adopting smart technologies.
Transformation needs to be managed over the long term. It is important to develop a local digital ecosystem to support it that includes information technology services, data management services, instrumentation management, and repair services. This ensures water utilities are not dependent on expensive consulting and expert services from overseas or from large urban centers.
Service Provider Perspectives
Digitalization depends on affordability
Digital solutions have the potential to drastically improve the ways in which safe and clean water is managed and provided. However, these solutions—from simple data collection and management to harnessing space technology —need to be low-cost and affordable to have wide application for the water sector. Service providers also need to match the costs of their solutions to the potential revenue generation for any given project.
Overall affordability or cross-subsidy solutions should be geared toward the poor and marginalized in Asia and the Pacific. Exciting technology must not overwhelm the primary goal of improving water services: helping those who need them the most. Paying attention to the needs of poor and vulnerable groups will allow demand to shape solutions, rather than technology providers searching out problems to solve.
Digitalization depends on adoptability
While tech-based solutions offer efficacy advantages, they are only useful if adopted by those for whom they are designed. To encourage widespread adoption of digital technologies, efforts must be made toward inclusive community outreach and participation.
Involving the community from the outset will help encourage ownership and maintenance of new systems. Community buy-in should be secured through consultations so that local, context-specific needs can be matched with the most appropriate and effective digital solutions and innovations.
Capacity building for community members should be provided through training and follow-up support. These community outreach and training efforts should prioritize the inclusion of women to improve sustainable water management, increase uptake, and promote gender equality.
Digitalization depends on usability
In the development and rollout of digital solutions, a focus on the end-user experience is paramount. Advanced technology in the water sector should not equate to complexity of operation for those it serves. Instead, functionality should be a priority design criterion for all digital solutions—ensuring efficiency and ease-of-use for customers and operators.
Further, new technology must first be used to demonstrate its value and generate feedback for additional improvement. When service improvements can be attributed to the new technology through sustained user experience, adoption of these digital solutions will increase. Simplifying the end-user experience also allows for broad rollout of solutions across diverse countries.
Opportunities Ahead
The imperative to assist countries in Asia and the Pacific to improve water solutions remains urgent, particularly amid the complex challenges of the ongoing coronavirus disease pandemic. However, drawing on learning from both service providers and water managers—and facilitating coordination and strategic partnerships between them—allow for catalyzing digitalization efforts toward the common goal of ensuring clean and safe water solutions for those who need them most.
ADB recognizes the need to use technology to spur change in addressing water and sanitation issues in the region. ADB's Strategy 2030 commits to proactively seek ways to promote the use of advanced technologies across its operations and provide capacity building support to its developing member countries. ADB's forthcoming Asia Pacific Water Resilience Hub will further the learning, connection, and collaboration between digital solution providers and water managers.
For more digitalization case studies from ADB water projects, industry best practices, expert interviews, and practical suggestions for applying smart water technologies in the region, download Digitalizing H20, a new ADB e-magazine on digitalizing for water security and resilience in Asia and the Pacific.
Resources
Asian Development Bank. ADB's Focus on Water.
ADB. 2022. Digitalizing H2O: Digitalizing for Water Security and Resilience in Asia and the Pacific. Manila.
Leave your question or comment in the section below:
---
YOU MIGHT ALSO LIKE
---
---
Disclaimer
The views expressed on this website are those of the authors and do not necessarily reflect the views and policies of the Asian Development Bank (ADB) or its Board of Governors or the governments they represent. ADB does not guarantee the accuracy of the data included in this publication and accepts no responsibility for any consequence of their use. By making any designation of or reference to a particular territory or geographic area, or by using the term "country" in this document, ADB does not intend to make any judgments as to the legal or other status of any territory or area.
---
Was this article useful?
---