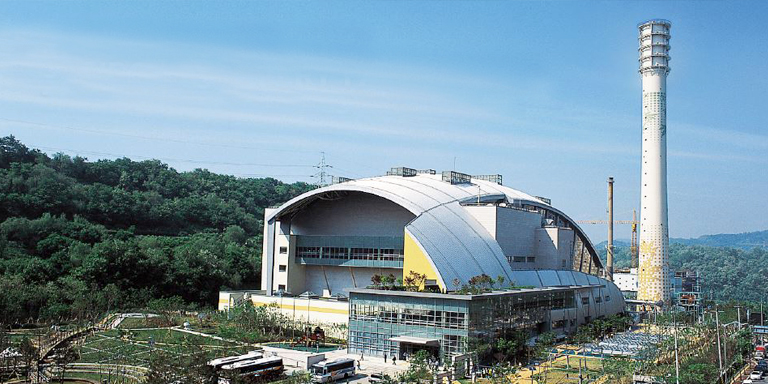 Published:
06 August 2019
In Seoul, 90% of landfill-bound wastes were instead used to produce energy enough to heat 518,000 households.
Overview
A rapidly growing population, improving standards of living, and increasing consumption levels have contributed to a steep rise in Seoul's waste generation.
When the existing landfill space neared its capacity limit, it was urgent for Seoul—Republic of Korea's capital and its largest city—to find a solution for its mounting waste problem. Seoul implemented a clean incineration measure by setting up resource recovery facilities. The facilities do not only burn solid waste but also generate renewable energy for the city.
This case study was adapted from Turning Waste into Energy: Resource Recovery Facility, part of a series of briefs on Waste Management published by the Seoul Urban Solutions Agency.
Challenges
Limited landfill space became a challenge to Seoul's waste management. The growing population coupled with the people's higher standard of living and consumption level translated into a steep rise in the city's waste generation.
Context
As early as the 1980s, Seoul saw an urgent need to manage the city's wastes as its existing landfill space neared its capacity limit. The goal was to develop a clean, sustainable alternative to burying its waste. It wanted to reduce the amount of waste going to a landfill, and to find innovative ways to put its waste to good use.
Solutions
Seoul's choice was clean incineration which not only burns solid waste but also generates renewable energy in the process. Starting with the Yangcheon Resource Recovery Facility in 1996, four such facilities were built over a decade. The four resource recovery facilities are now capable of dealing with 2,850 metric tons of solid waste every day, with each resource recovery accepting non-recyclable solid waste from a number of adjacent districts.
As the name highlights, resource recovery facilities are more than simple trash burners. The idea is to recover valuable energy resources from waste. State-of-the-art incinerators burn solid waste at 850-950℃ and produce heat energy that is used to provide heating for the surrounding area and to generate clean electricity.
Even bottom ash, the non-combustible residue from incineration, also finds its use as a recycled construction material.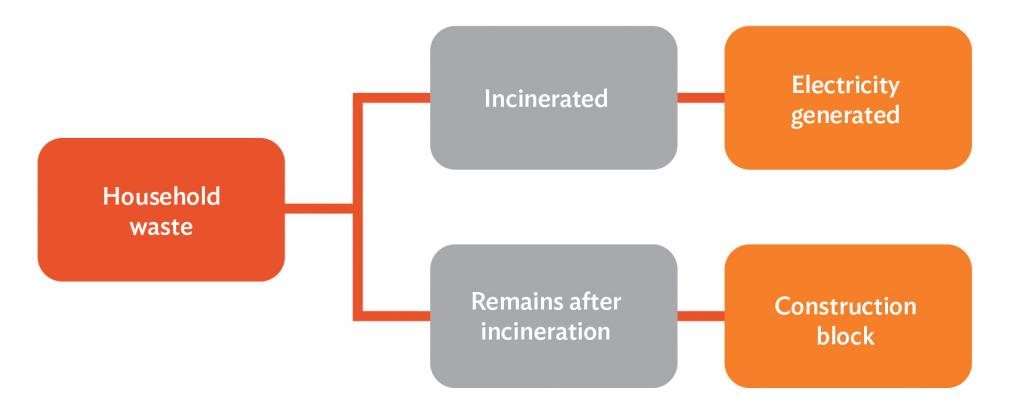 Numbers and facts
4 resource recovery facilities built from 1996 to 2006
2,850 metric tons daily capacity of the four facilities
90% reduction in waste going to landfill since 1996
518,000 households heated with energy generated by the facilities
60,000 metric tons greenhouse gas reduction per year
Results
Less waste for landfill
Since 1996, the amount of waste from Seoul going to landfill has fallen by almost 90%. Over the same period, clean incineration has increased by three to four times, replacing 30% of waste that would have ended up in the landfill.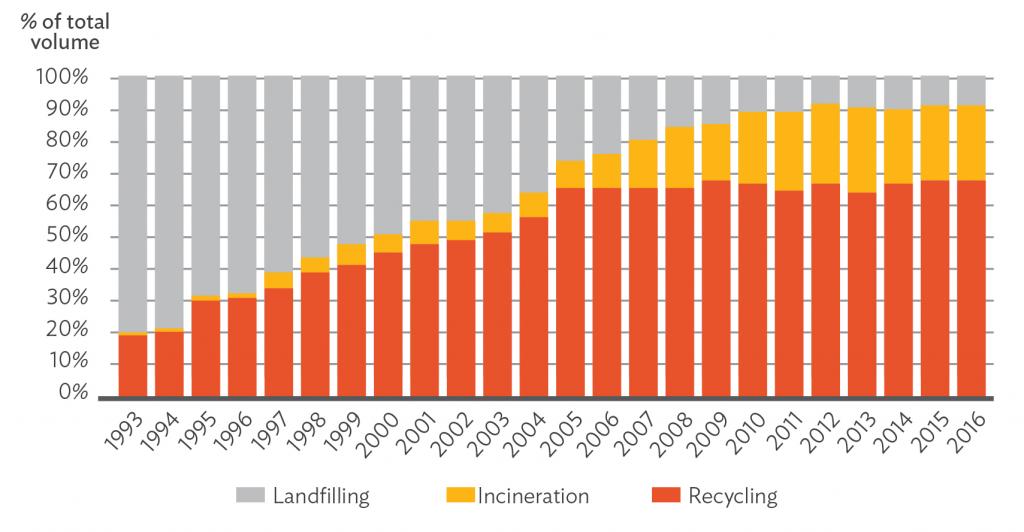 Energy from waste
The four facilities across Seoul generate enough energy to provide heating for 518,000 households. This renewed supply of heating energy reduces over 60,000 metric tons of greenhouse gas emissions every year by replacing liquefied natural gas.
Steam from incineration is also used to generate clean electricity which is fed back into the national power grid. Two facilities have gone further with on-site solar panels for power generation.
Clean waste management
Over 50% of construction costs for resource recovery facilities were dedicated to installing cutting-edge equipment for filtering and removing pollutants. Regular inspection of flue gas shows all four facilities emitting only a small fraction of legal standards for pollutant emission.
Lessons
It was important to build public consensus and overcome the "not in my backyard" mentality of residents who did not want to have one of the recovery facilities built in their areas.
Public consultations
Seoul held more than 600 resident consultations over a decade to garner public support for resource recovery facilities against widely-held fears about the negative impact of incineration. For each facility, residents in the area are invited to form a citizen's council to monitor the facility's operation and discuss the terms of community incentives.
Community incentives
In return for hosting resource recovery facilities in their neighborhood, residents living within 300 meters from the facilities receive various benefits such as a discount on their electricity bill, housing maintenance subsidy, medical support, and the use of public space on facility sites for public education and entertainment programs.
Full disclosure of operations
From waste intake to emission rates, every aspect of facility operation is meticulously monitored around the clock. Real-time emission data from the facilities are made public through display boards on the site and websites.
Resources
Seoul Urban Solutions Agency. Turning Waste into Energy: Resource Recovery Facility. Seoul.
Urban SDG Knowledge Platform. Waste Heat Recovery Project.
Leave your question or comment in the section below:
---
YOU MIGHT ALSO LIKE
---
---
Disclaimer
The views expressed on this website are those of the authors and do not necessarily reflect the views and policies of the Asian Development Bank (ADB) or its Board of Governors or the governments they represent. ADB does not guarantee the accuracy of the data included in this publication and accepts no responsibility for any consequence of their use. By making any designation of or reference to a particular territory or geographic area, or by using the term "country" in this document, ADB does not intend to make any judgments as to the legal or other status of any territory or area.
---
Was this article useful?
---