INSIGHT
The Key to Unlocking Development Gains: Empowering Women and Girls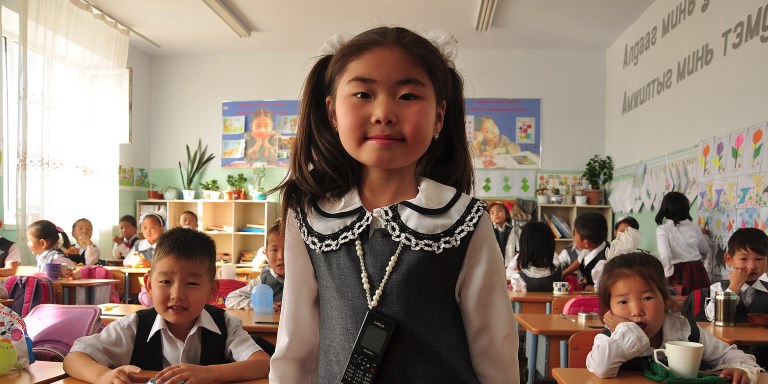 Published:
30 October 2017
Leveling the playing field for women opens opportunities for countries to increase development gains.
Introduction
Closing the Gender Gap
Asia's greatest potential can be found in its women and girls
Although women make up about 50% of the population in many countries in Asia and the Pacific, their ability to participate in all aspects of society is often limited due to discrimination, societal restrictions, and a lack of access to education and job opportunities.
Consider these facts.
By one estimate, $12 trillion could be added to global gross domestic product by 2025 by advancing women's equality.
In developing Asia, only 49% of women of working age participate in the labor force compared with 80% of men. Further, a woman in developing Asia is paid only 77% that of her male counterpart, on average.
Only about 10% of women in the region own land, and this makes it difficult for them to borrow money to start a business. The region also has far to go to reach gender parity in the boardroom and in legislative bodies: women occupy only 6% of seats on corporate boards and only 18% of seats in legislatures across the region.
These disparities must be eliminated for Asia and the Pacific to reach its full potential.
An evolving policy
Since it was founded in 1966, ADB has recognized that to reduce poverty rates, helping women and girls must be a priority in its work. In 1985, ADB adopted its first official policy on the topic—the Policy on the Role of Women in Development, which encouraged projects that targeted improving the well-being and empowerment of women. It also advocated projects with a gender component to ensure that women share in the benefits of development.
In 1998, the policy was expanded to incorporate gender considerations into all aspects of ADB's work, with a focus on health, education, agriculture, natural resource management, and financial services—especially microcredit. This strategy entailed including gender considerations in projects starting from initial consultations and design, and running through to final evaluation.
ADB's commitment to gender equality was further enhanced in 2008 with the approval of Strategy 2020, which identified gender equity as one of the five "drivers of change" that will be stressed in all ADB operations.
An unusual plumber
The results of ADB's work to help women and girls can be felt around Asia and the Pacific. In Nepal, it can be seen in the work of Sumitra Shrestha.
As a master plumber, she can often be found supervising men on construction sites. Women plumbers are rare in Nepal and senior women plumbers are even more scarce. Shrestha is an exception, but other women plumbers are following her example.
"Some clients ask me, 'Can a woman do this kind of work? Can you handle this?'" she said. "I tell them, 'Just watch me work. Talk to my former clients. If you see how I work, you won't be worried.'"
As a single mother supporting a young son on her earnings as a weaver, Shrestha used to struggle to make enough money to keep him fed. When she heard about a program that offered training for women to learn how to be plumbers, she wanted to know more.
"I had not heard of a woman plumber before," she said. "I thought, 'Why don't I take this challenge?'"
"You have to be willing to work hard to be a plumber and it can be dangerous working on construction sites," she said. "But it is skilled labor, the pay is good, and the work is secure—there is always a need for plumbers."
Shrestha is a graduate of one of several training institutes supported by ADB's Skills for Employment Project, which helped women and disadvantaged people in society, including Dalits, or low-caste individuals, learn in-demand skills.
She now earns five times more than she did as a weaver, and can afford to send her son to a good school.
The best investment
The first primary education project ADB supported was also ADB's first loan that exclusively targeted women. The Primary Education (Girls) Sector Project in Pakistan was approved in 1989, at a time when the literacy rate among women in the country was 15%—and just 4% in rural areas—among the lowest in the world. Due to a lack of girls' schools in many areas, only one-third of girls attended school and more than half dropped out before completing 5 years of schooling.
Besides improving school access and the quality of the learning environment, the project's major contribution was its sociocultural impact: mostly illiterate rural people, who put a premium on girls' work at home or in the fields, more readily accepted girls' education.
Since then, ADB has supported many more projects to bring more girls into classrooms and keep them learning for longer.
In the Lao People's Democratic Republic, ADB's work in gender equality was felt by Yen Fo, a young girl who desperately wanted to go to school but could not because her mother did not have the money.
Yen Fo's father died and she was being supported by her mother, who worked as a day laborer to support Yen Fo and her two sisters. The young girl was given the chance to attend school by a village outreach program that sought out the poorest children in the area and helped them obtain what they needed to enroll. The program was part of the ADB-supported Second Education Quality Improvement Project.
Now that Yen Fo has been given the chance for an education, she is making the most of the opportunity. One of the school administrators commended Yen Fo, saying, "she has a perfect attendance record."
Traditional gender bias meant that other daughters risked being pulled out of school when a family's income falls so that sons can continue their education. Community awareness programs supported under the project tackled this issue by helping villagers understand that school attendance was mandatory for both boys and girls, and that assistance was available for those who needed it.
"This situation of pulling girls out of school has changed," says Sinsay Phengleu, the principal of a Paxang village primary school in the north of the country. "Now, all children go to school. There is no difference between boys and girls."
Resources
Asian Development Bank (ADB). 2017. Together We Deliver.
ADB. 2015. Women in the Workforce: An Unmet Potential in Asia and the Pacific. Manila: Asian Development Bank.
ADB. 2016. Gender Equality Results Case Study: Nepal Gender Equality and Empowerment. Mandaluyong City: Asian Development Bank.
J. Kim, J. Lee, and K. Shin. 2015. A Model of Gender Inequality and Economic Growth. ADB Economics Working Paper series. Manila: Asian Development Bank.
S. Tanaka and M. Muzones. 2016. Female Labor Force Participation in Asia: Key Trends, Constraints and Opportunities. ADB Briefs No. 71. Manila: Asian Development Bank.
United Nations Development Programme (UNDP). 2013. Human Development Report: The Rise of the South, Human Progress in a Diverse World. New York.
Role: Director, Women Advancing Through Education and Resistence
Leave your question or comment in the section below:
---
YOU MIGHT ALSO LIKE
---
---
Disclaimer
The views expressed on this website are those of the authors and do not necessarily reflect the views and policies of the Asian Development Bank (ADB) or its Board of Governors or the governments they represent. ADB does not guarantee the accuracy of the data included in this publication and accepts no responsibility for any consequence of their use. By making any designation of or reference to a particular territory or geographic area, or by using the term "country" in this document, ADB does not intend to make any judgments as to the legal or other status of any territory or area.
---
Was this article useful?
---