EXPLAINER
What Makes Floating Solar Farms a Cool Solution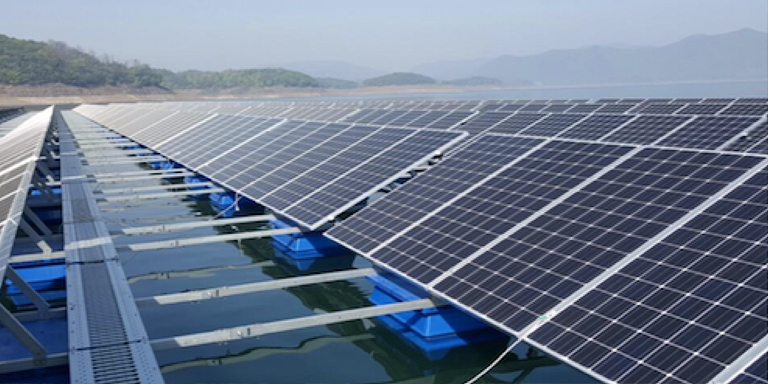 Published:
12 November 2020
Floating photovoltaic facilities could be an environment-friendly option for countries with limited land.
Introduction
Floating solar farms gained traction in 2018, particularly in countries with high population density and with competing uses for limited available land. These also operate at high efficiency since installing the solar panels on water helps cool the equipment.
The Republic of Korea was among the first to pilot floating photovoltaic (PV) systems. State-owned Korea Water Resources Corporation (K-water) began testing a 2.4-kilowatt (kW) model in 2009 on the surface of Juam Dam reservoir in Suncheon, South Jeolla Province. In October 2012, it constructed a 500-kW commercial plant at the Hapcheon Dam in South Gyeongsang Province after it developed a 100-kW demonstration plant in Hapcheon Dam the year before. This was the world's first commercial floating solar PV installation using the surface of a dam reservoir and the country's first floating solar farm.
The country currently operates three commercial floating solar power facilities that aim to contribute toward increasing the share of renewables to 20% of the energy mix by 2030 from the current level of 7%.
What is a floating solar photovoltaic system?
It is an eco-friendly method of generating electric power that combines marine technology and renewable energy technology. Solar modules are made to float on the surface of water, such as a dam or a reservoir. Electricity is sent through underwater cables to a transmission tower.
Figure 1: Floating PV Generation Concept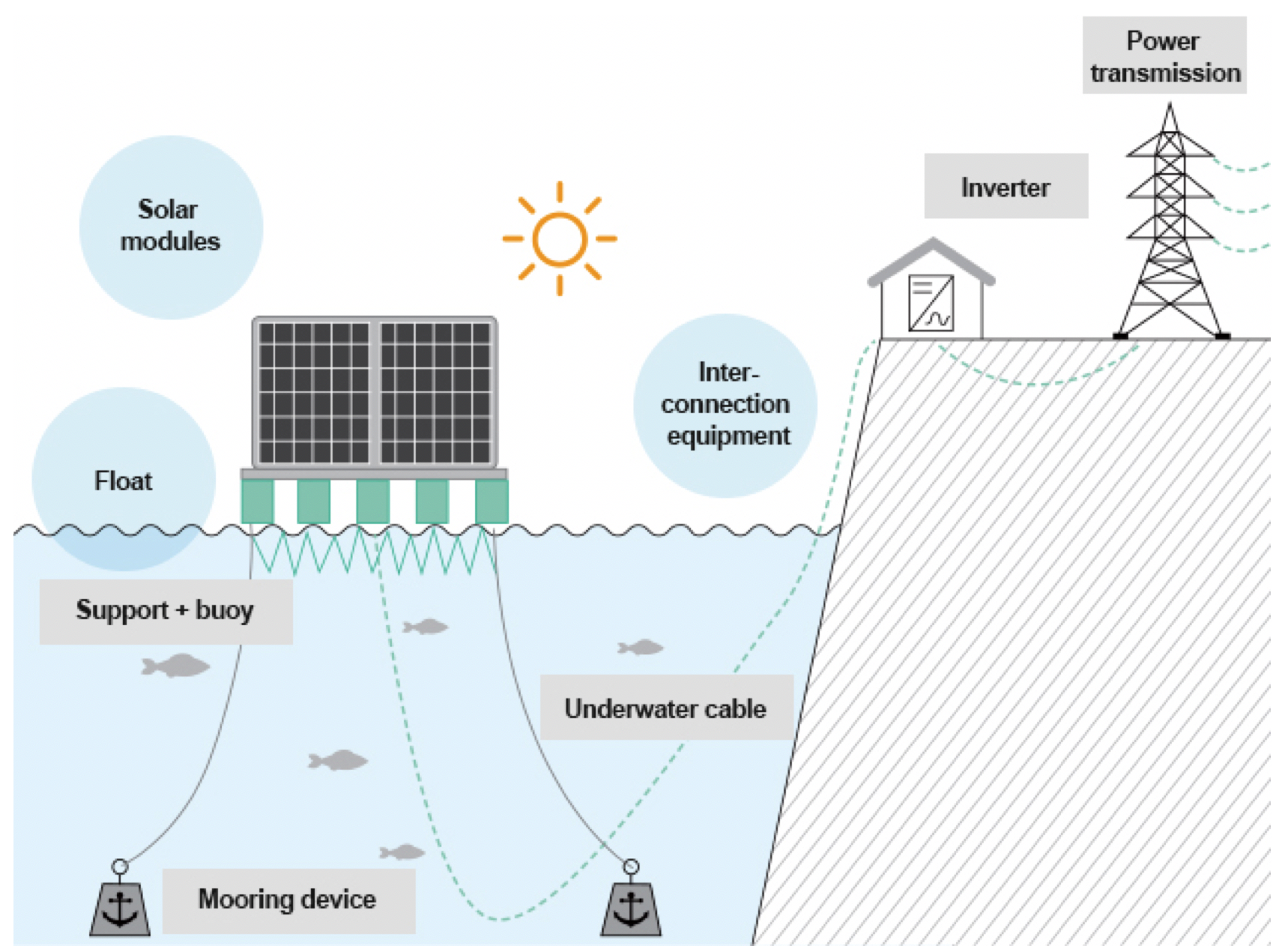 What are the benefits of a floating PV system?
Promotes land-use efficiency. As the floating PV energy systems are set up on water, the land can be used for other purposes. It requires no construction on land or conversion of forest and farmlands for solar power facilities.
Provides high-energy yield. The increased energy generation is due to the natural cooling effect of the water, which reduces rises in temperature of the solar modules.
Saves water resources. It reduces the evaporation of water in the reservoir since the floating PV system blocks the sunlight.
Uses an eco-friendly system. Natural fish farms thrive under the platform.
Four environmental impact analyses by the Korea Environmental Policy and Evaluation Institute (KEI) from 2011 to 2019, showed that the floating PV facilities caused no harm to the environment, developed a ground for fish spawning, increased aquatic plants, and reduced algae. Also, as of 2018, the floating solar farms in the country has reduced the amount of carbon emissions by 52,414 tons.
What are its features?
A floating solar power plant is composed of the solar module, buoyancy body, and anti-rust material, which includes the vertical frame and horizontal frames, inspection footrest, and module mount assembly.
The solar module should be highly resistant to humidity, lead-free, dust-proof, and protected against the effects of temporary jets of water, and it should have passed the drinking water test. The buoyancy body is made of polyethylene that is designed to endure 2.5 times the weight. K-water's floating structure is made of Magnesium Alloy Coating Product, a highly corrosion-resistant alloy steel developed with steel maker POSCO.
Figure 2: Floating PV Plant Components

Figure 3: Floating PV Buoyancy, Assembly

How does the floating PV system help meet electricity needs?
Aside from the Hapcheon Dam, there are two other commercial floating solar power plants in the country. The 2-megawatt (MW) facility in Boryeong Dam was built in March 2016. The Boryeong solar power plant can produce 2,781 MW hours of electricity annually, which can power 920 households. The 3-MW Plant in Chungju Dam was constructed in December 2017. The Chungju power plant can produce 4,031 MW hours of electricity annually, which can power 1,340 households. Another facility, the 40-MW Plant in Hapcheon Dam, which has more than 1,000 local residents involved as investors, is expected to be completed by December 2021.
Resources
POSCO. What is PosMAC (POSCO Magnesium Aluminium Alloy Coating Product)?
REN 21. 2019. Asia and the Pacific Renewable Energy Status Report. Paris: REN21 Secretariat.
Leave your question or comment in the section below:
---
YOU MIGHT ALSO LIKE
---
---
Disclaimer
The views expressed on this website are those of the authors and do not necessarily reflect the views and policies of the Asian Development Bank (ADB) or its Board of Governors or the governments they represent. ADB does not guarantee the accuracy of the data included in this publication and accepts no responsibility for any consequence of their use. By making any designation of or reference to a particular territory or geographic area, or by using the term "country" in this document, ADB does not intend to make any judgments as to the legal or other status of any territory or area.
---
Was this article useful?
---