EXPLAINER
Cutting Remittance Costs in a Click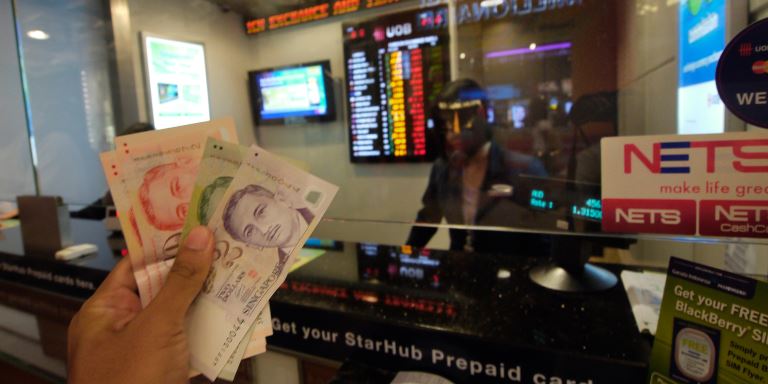 Published:
15 September 2016
Digital technology is a game changer in reducing remittance costs between overseas workers and developing countries in Asia.
Introduction
Remittances are the hard-earned product of workers whose migration is usually driven by poverty and lack of job opportunities in their home countries. And, with over 240 million people living outside their countries of birth, remittances are the saving grace for many economies.
But the costs associated with transferring money are steep. Globally, the average cost of sending remittances stands at 7.6% of the amount sent as of the second quarter of 2016.1 On average, remittances to East Asia cost 8.5%, while fees to South Asia are less expensive at 5.6%.
Reducing remittance costs would have a huge impact on migrants and their families as well as a multiplying effect in terms of financing health, education and other spending beneficial to society.
Bringing down the cost of remittances has emerged as one of the sustainability goals of global policy leaders who recognized the importance of remittances both as a foreign exchange source and an economic lifeline. At the G-20 Leaders' Summit in Brisbane, Australia in November 2014, a commitment was forged to reduce the global average cost of transferring remittances to 5%.
This is where technology has become a game changer.
Through digital technology, money transfer operators are now able to offer remittance services at significantly lower costs than traditional over-the-counter services. Digital service providers are also able to pass on the benefit of being subjected to less stringent anti-money laundering and counter-terrorism financing regulations than those imposed on formal channels such as banks.
How big is the remittance market in Asia?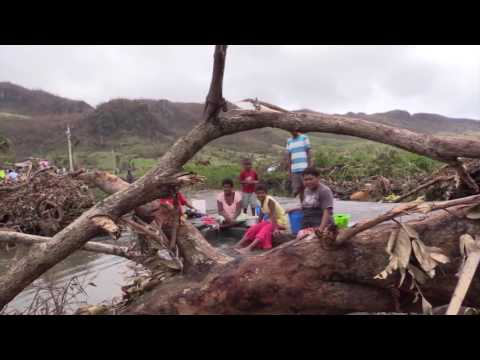 In 2015, remittances exceeded $430 billion in 2015 worldwide, more than two-thirds of which went to developing countries, according to World Bank estimates. 
Of this amount, developing countries in Asia received roughly $200 billion in remittances—more than any other region.
In countries such as India and the Philippines, remittances can even exceed foreign direct investment inflows. In Nepal, a low-income country with a large proportion of overseas workers, remittances account for nearly 30% of the gross domestic product (GDP), the largest share in Asia.1
Below are the Asian countries ranked according to the size of their remittance market:
| Country | $ billions (2015) | Share of GDP (%) |
| --- | --- | --- |
| India | 70.4 | 3.4 |
| Republic of China | 62.3 | 0.6 |
| Philippines | 27.3 | 9.6 |
| Bangladesh | 15.0 | 8.7 |
| Viet Nam | 12.0 | 6.4 |
| Sri Lanka | 7.0 | 8.9 |
| Nepal | 6.6 | 29.2 |
| Republic of Korea | 6.6 | 0.5 |
| Thailand | 5.7 | 1.4 |
| Japan | 3.7 | 0.1 |
| Myanmar | 3.1 | 4.8 |
| Malaysia | 1.6 | 0.5 |
| Mongolia | 0.3 | 2.1 |
---
What is the cost of remitting money in Asia?
Among low- and middle-income countries, remittance costs totaled roughly $47 billion in 2015, according to the World Bank. Globally, the average cost of sending remittances is currently at 7.6%.1 On average, remittances to East Asia cost 8.5% of the transaction value as of the second quarter 2016 while fees to South Asia are less expensive at 5.6%.
Digital channels are helping reduce remittance costs, as mobile payment services charge roughly 4.1% transaction fees—more than 50% less than the average rate in East Asia.
In comparison, the average remittance cost through commercial banks stood at 11.3%, although bank-based transfers remain the most dominant mode of remittance in Asia due to the proliferation of banks.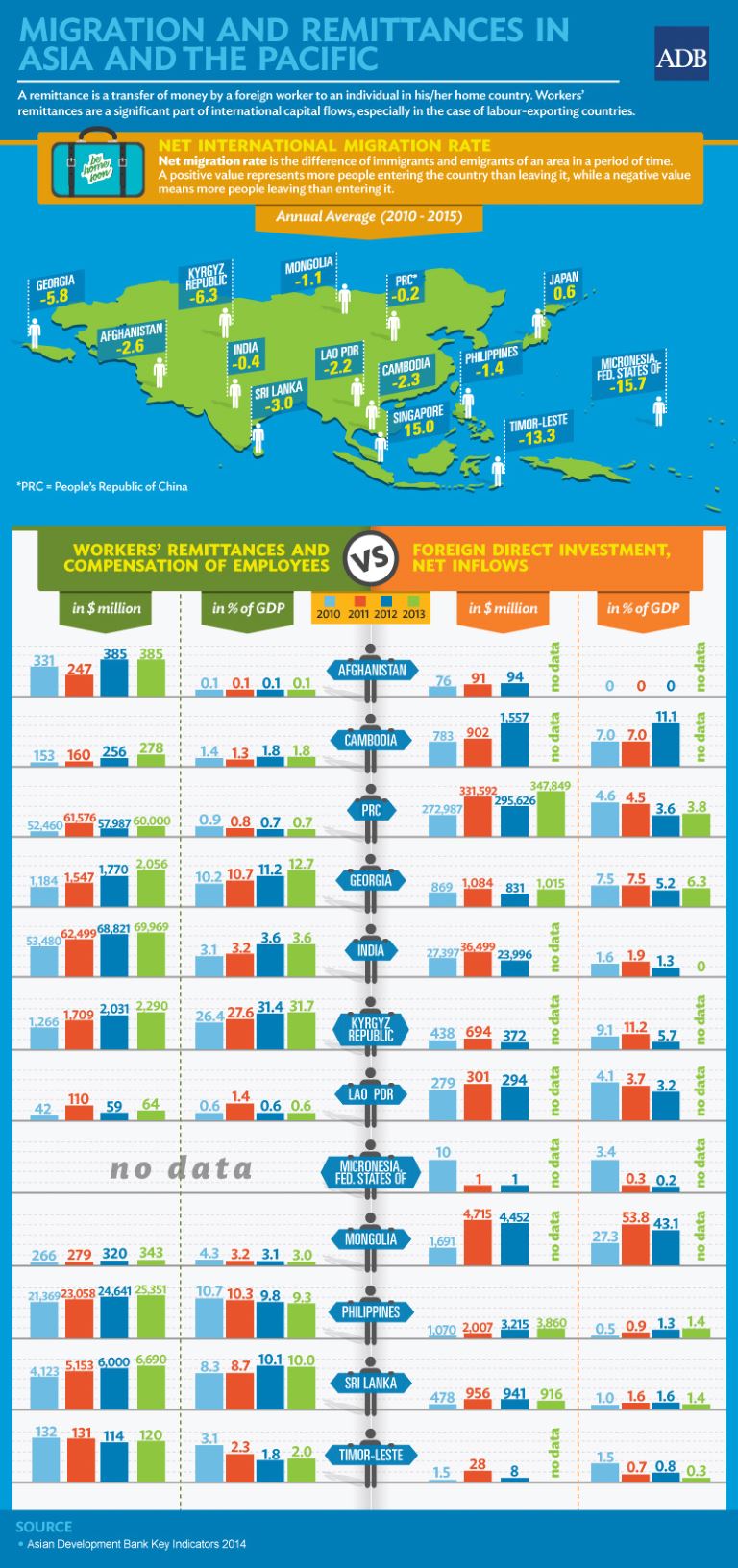 ---
What drives the cost of remittance?
The following factors are instrumental in driving up the cost of remittances:1
Underdeveloped financial infrastructure of countries
Limited competition
Lack of transparency
Regulatory obstacles
Lack of access to the banking sector by remittance senders and recipients
Difficulties for migrants to obtain the necessary documentation on their national identification
In addition, in 2014, concerns emerged that renewed focus on Anti-Money Laundering and Combatting the Financing of Terrorism regulations in Australia, the United Kingdom, and the United States are pushing up remittance costs. These came about after the closure of bank accounts of Money Transfer Operators and their agents due to rising global concerns about cross-border money transfers, and the subsequent risk of liability for breaching regulations. These developments were suspected to have increased remittance prices, reduced competition, and encouraged the use of informal channels.
---
How are digital channels helping reduce the cost of remittance in Asia?
According to the World Bank, the cost of sending money to the Pacific has been dramatically reduced by over 62% with the use of digital channels.
In a May 2016 conference on "Financial Inclusion in the Digital Economy," organized by ADB, the Consultative Group to Assist the Poor, and the ADB Institute, representatives of various financial technology companies shared several examples of digital innovations that are drastically reducing remittance costs through a combination of new technology and government-led awareness campaigns.
Resources
World Bank. The cost of remittances worldwide.
Video showing the importance of remittances
What drives the increase in remittance cost
Catalysts for Financial Inclusion: Remittance and Digital Finance
Leave your question or comment in the section below:
---
YOU MIGHT ALSO LIKE
---
---
Disclaimer
The views expressed on this website are those of the authors and do not necessarily reflect the views and policies of the Asian Development Bank (ADB) or its Board of Governors or the governments they represent. ADB does not guarantee the accuracy of the data included in this publication and accepts no responsibility for any consequence of their use. By making any designation of or reference to a particular territory or geographic area, or by using the term "country" in this document, ADB does not intend to make any judgments as to the legal or other status of any territory or area.
---
Was this article useful?
---