CASE STUDY
Using Big Data to Design Night Bus Routes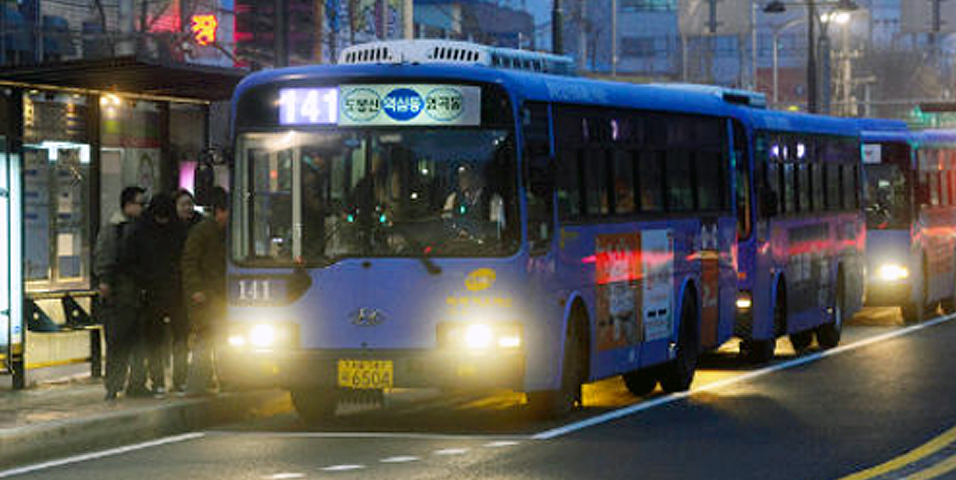 Published:
03 October 2019
Seoul's Owl Service has reduced the use of passenger cars by more than 2 million trips per year.
Overview
With Seoul's metro system closed from midnight to 5:00 am, the only option for many commuters was to take a taxi, which is expensive. Night taxis were also notoriously difficult to catch, putting many at risk on the road.
The Seoul Metropolitan Government in 2013 launched an all-night bus service, which it dubbed as the "Owl Service." It used big data to analyze the optimum bus route to reach the most number of people.
This case study was adapted from Big Data Governance: Night Bus Route Optimization, published by the Seoul Urban Solutions Agency as part of a series on Big Data.
Challenge
Designing routes for the night bus service proved difficult. Daytime traffic data could be misleading since commuter behavior might be different at night. Relying on the intuition and guesswork of experts, which was the convention for route design, would fall short of providing optimal routes and service frequency. 
Solution
The key to solving the difficult challenge was to identify accurately the movement pattern of commuters at night. This is where the use of big data analysis came in. 
Routes were first planned in the conventional way and then optimized using big data analysis. 
Public-private partnership was central to the success of this project. The Seoul government reached out to a major telecommunications provider to gain access to a huge set of anonymous mobile communication data. 
The idea was since virtually everybody uses a mobile phone, Seoul would use the location of mobile users as a proxy for the movement pattern of commuters. Over 3 billion mobile call logs were gathered over a period of 1 month to map the distribution of late-night travelers across the city. Journey data from over 5 million taxi rides, collected through the T-Money card system, were also used.
Once the floating population distribution was identified to show starting locations, the billing addresses of the anonymous mobile users were used to find their destinations—which showed that the billing addresses are usually home addresses. 
Seoul was then divided into 1,250 cell units of 1-kilometer radius each. The geographic information system-enabled Night Bus Route Design Support System then overlaid the data onto the cells to produce a visualized pattern of the late-night floating population. 
Numbers and facts
3 billion mobile call logs
5 million taxi ride data
80/100 average citizen satisfaction
7,900 passengers per night
2.3 million less car trips per year
500 metric tons reduction in greenhouse gas emission per year
$13 million fare savings
Results
The Owl Service demonstrated the viability of applying big data analysis methodologies to deliver public transportation options for the city. In particular, it showed that in instances where resources cannot be allocated to establish or adjust public transportation routes, big data analysis can provide an alternative to conventional practices, and can often be more cost effective and accurate. 
After 3 months of operating two routes, the Owl Service received a satisfaction score of 82 points, and 88.4% of 1,000 respondents indicated that they want more bus routes. The service was increased to nine routes starting September 2014.
As of December 2016, the Owl Service has served an average of 7,900 passengers per night. This is equivalent to a decrease in individual car trips of about 2.3 million per year and a reduction of an estimated 500 metric tons of greenhouse gas emissions per year.
Passengers save about 6,000 Korean won (more than $5) when they take the owl bus instead of a taxi. The Seoul Metropolitan Government estimates over 14.1 billion Korean won worth of economic benefits to have been redistributed as of 2016.
In addition, the Owl Service has led to an 11% increase in women's activities at night, and reduced taxi rejection of passengers at night by 8.9%.  
Lessons
The Owl Service highlights an innovative use of proxy measures to accurately develop transportation options in instances where traditional data sources are insufficient. Traditionally, the Seoul government relied on origin-to-destination data tracked through automated fare collection data. However, the planned Owl Service routes needed to operate outside of normal operating hours. By augmenting historical data with mobile call data that acts as a proxy for mobility patterns at night, the government was able to overcome this challenge, and enhance its route planning accuracy. 
In addition, collaboration with the private sector—particularly in obtaining relevant data—was key to the success of the Owl Service. It was important for the Seoul Metropolitan Government to provide a set of incentives for the telecommunications provider it worked with to gain access to the necessary data. In this case, working with the city government offered the private sector a testbed to pilot the applicability of big data solutions in developing new strategic product lines. It also provided them an avenue for further advertisement and generate positive public relations with the city government and residents. 
In order to allay the private sector's concerns on data protection, the city government and telecommunications providers agreed to remove all personal information tied to the provided data.
Resources
Seoul Urban Solutions Agency. Big Data Governance: Night Bus Route Optimization. Seoul.
Urban SDG Knowledge Platform. Seoul Night Bus (Owl Bus) Based on Big Data Technology.
Leave your question or comment in the section below:
---
YOU MIGHT ALSO LIKE
---
---
Disclaimer
The views expressed on this website are those of the authors and do not necessarily reflect the views and policies of the Asian Development Bank (ADB) or its Board of Governors or the governments they represent. ADB does not guarantee the accuracy of the data included in this publication and accepts no responsibility for any consequence of their use. By making any designation of or reference to a particular territory or geographic area, or by using the term "country" in this document, ADB does not intend to make any judgments as to the legal or other status of any territory or area.
---
Was this article useful?
---